WWE/TNA/ROH: My Top 10 Moments of the Week (Dec. 31-Jan. 4)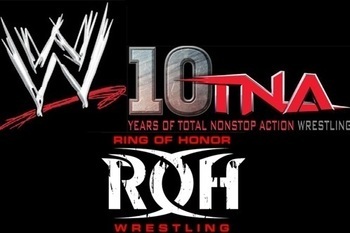 wwe.com, impactwrestling.com, rohwrestling.com
The first week of 2013 has come to an end, and it was an overall good week for professional wrestling.
I unfortunately wasn't able to watch WWE Monday Night Raw this week due to the holiday, so I can't really comment on how the show went. Despite not being able to watch, there will be one moment from the show included here.
I watched WWE Main Event for the first time on Wednesday and I thought it was quite good. While there were only two matches, WWE puts together a solid hour of television.
TNA Impact Wrestling delivered a decent show. It featured a few good matches and decent build for Genesis, but there was an equal amount of let downs.
Since Ring of Honor still doesn't air in my state, I continue to be a week behind. Last week's episode was a "Year in Review" episode, so nothing will be included this week since there is no new content.
WWE Friday Night SmackDown put on a good show this week. Superstars delivered a couple of good matches, and hype for the Royal Rumble went well.
As for Superstars and NXT, I was did not have the time to watch those shows this week. Due to that, nothing from either show will be included.
Who was the best show this week? I want you to decide! Click here to cast your vote on what you thought was the best show this week. Thought more than one show was equally as good? Well for the times time since I started using a poll in these articles, you will now have the choice to vote for more than one show!
Here are my top 10 moments of the week!
Worst Moment of the Week
Even though I wasn't able to watch Raw on Monday, WWE did air a clip from the show during SmackDown. That clip was Mae Young pregnant once again.
Twelve years ago, Young was pregnant with the child of Mark Henry. As older fans would remember, and younger fans have no doubt heard of, she would give birth to a hand. WWE did it again here, though she didn't give birth to a rubber hand covered in Jell-O.
This time around, the 89-year old woman gave birth to a New Year's baby. Of course, it wasn't a baby at all, it was Hornswoggle.
As I watched the clip, I couldn't help but shake my head. In what was probably supposed to be funny, I just sat there with my face in my palm. I couldn't believe WWE would do something that ridiculous again.
I could only hope that 2013 isn't going to bring anything quite as stupid as this.
No. 10: Another Member of the Aces and 8s Finally Unmasked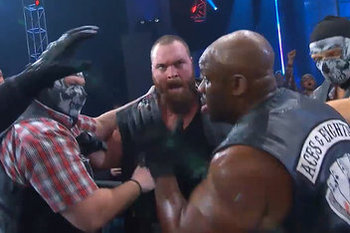 cagesideseats.com
At Bound for Glory on Oct. 14, Devon was unmasked as the first member of the Aces and 8s. The reveal was actually a shocking one as nobody saw it coming. Devon was not expected to be a member, so TNA did a great job with the first reveal.
The second would occur almost three weeks later on an episode of Impact Wrestling when Luke Gallows, now the Director of Chaos, was unmasked. His involvement wasn't too surprising, but it was great to see another member revealed so soon.
It took TNA two months to finally reveal another member and it occurred this past Thursday on the first Impact Wrestling of 2013. After Sting took out seven members of the Aces and 8s by himself, Kurt Angle unmasked Mike Knox as a member of the group.
Like Luke Gallows, this wasn't too surprising, but another member was revealed, so that's all that really mattered.
I like seeing Knox in TNA. He didn't really do much in WWE outside of being jealous of Kelly Kelly's male friends, so it would be great to see him actually get the chance to perform.
This is last on the list, though, because I saw Knox's reveal coming a mile away.
No. 9: Randy Orton and Sheamus vs. Big Show and Antonio Cesaro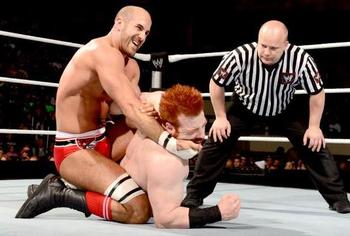 wwe.com
The main event of SmackDown made me feel like Teddy Long was still in charge of the show, but it was a good match. All four superstars performed well during it and had a good showing as a result.
Two things really stood out to me here. The first was Antonio Cesaro. Not only was he in the main event of one of the main shows, he fit right in there with Orton, Sheamus and the Big Show. As far as I'm concerned, he was the star of the match.
For the first time in quite some time, the United States Championship isn't looking like a waste of space to me. Cesaro has brought some prestige back to the title, though it's going to take a lot to bring the belt back to its former glory. His reign as champion is proving something to me, though, and that he is ready for the main event.
He probably won't get a permanent spot until late in the year, but when he gets it, it's going to be great.
The second thing I noticed was the interactions between Orton and Sheamus. Seems to me like WWE are planting the seeds for a Orton/Sheamus feud, which would mean a heel turn for the Viper.
It's about time, too! I always thought Orton worked best as a heel, so it looks like he'll be returning to what he does best soon!
No. 8: Antonio Cesaro Neutralizes the Great Khali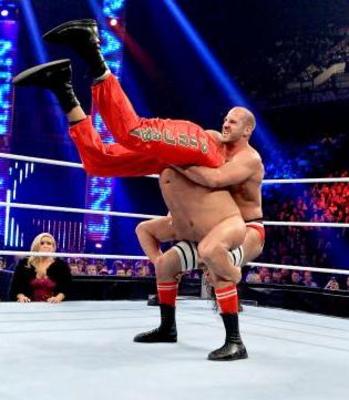 wwe.com
United States champion Antonio Cesaro is one of the most impressive new faces in the WWE.
Whether it's his intense style of wrestling or catching Kofi Kingston mid-air for a slam, Cesaro has shown that he is the future of the WWE. The champion did another feat this past Wednesday on Main Event that was quite impressive.
During his title defense against the Great Khali, Cesaro managed to hook his arms between Khali's legs, lift him and slam him down to the mat. Sure, Cesaro did that to Brodus Clay once, but Brodus is at least six inches shorter than Khali. To pick up a man of that size is truly impressive.
The superstar from Switzerland is quickly becoming one of my favorites in the WWE. He's got great in-ring talent, he can cut a good promo and he's incredibly strong for someone that doesn't look like Ryback.
I think 2013 is going to be his year!
No. 7: Kurt Angle and Samoa Joe vs. Aces and 8s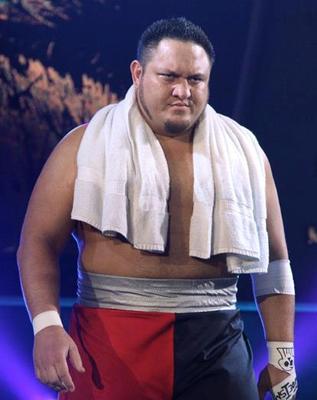 facebook.com/ImpactWrestling
This was more of a handicap match than a tag match since Kurt Angle was taken out briefly and locked out of the cage, but it was still a good match.
Samoa Joe was impressive in the ring as he was up against the team of Devon and the soon-to-be-revealed Mike Knox by himself. He is an intense performer and he used all of that intensity here in this match.
Samoa Joe has been one of my favorite wrestlers for years and he continues to be so when he has performances like this.
When Angle did finally make it into the match, he found himself busted open, but that blood turned the machine on that is the Olympic gold medalist.
When I watch him walk down the ramp, it looks like he's about to fall apart, but as soon as he steps foot inside the ring, he's as good as he ever was. Angle is still one of the absolute best in the business today.
As for the Aces and 8s, Devon and Knox showed that they had good chemistry as a team, but the stars here were Samoa Joe and Kurt Angle.
No. 6: The Main Event Gauntlet Match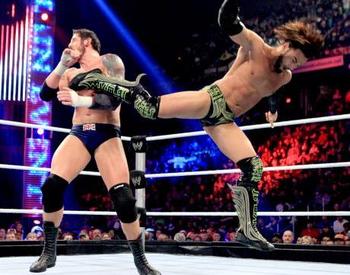 wwe.com
To celebrate his Intercontinental Championship win, Wade Barrett decided to run the gauntlet on Main Event against anyone who wanted to fight. Yoshi Tatsu was first and was immediately knocked out with the Bull Hammer, but JTG got in a few bits of offense before he was taken out.
The most impressive part of this match was his third opponent, Justin Gabriel. I don't see Gabriel that much, so when he pops up it's quite the treat. The former Tag Team champion is very talented inside the ring and he showed that here against Barrett.
He held his own with the Intercontinental champion and I hope WWE was taking notice during that time. I would love to see Gabriel actually get a push, whether it's in the midcard with the Intercontinental title or the United States Championship, or in the tag team division with his partner Tyson Kidd.
Then again, are they even still a team? It's been a while since I've had the chance to watch Superstars. Either way, it would be great to see him on television more often.
Barrett's final opponent turned out to be Kofi Kingston, who was on commentary during the match. Their portion of the match was more one-sided with Kingston making quick work of the champion, but I thought that was good.
Kingston needed some momentum going into his rematch on SmackDown and he got exactly that here.
No. 5: James Storm vs. Kazarian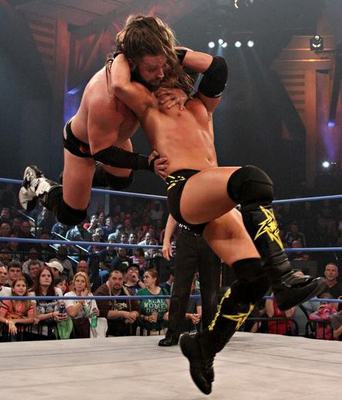 facebook.com/Impactwrestling
James Storm and Kazarian had the first match this past Thursday on Impact Wrestling and they delivered. With a good pace and great back-and-forth action, Storm and Kazarian had a good match to open the show.
Christopher Daniels was at ringside to support his partner and got involved a couple of times as well. For me, interference can sometimes ruin a match as it gets in the way of the action. Daniels' meddling ways didn't get in the way, though, as it contributed to the pace and overall flow of the match.
I am intrigued by this feud as it kind of came out of nowhere. It confuses me a bit as well since Storm is by himself against the team of Bad Influence. Does that mean the Daniels/AJ Styles feud isn't over and that Styles is returning to back up Storm? Is he just going to take them on by himself?
I think Bad Influence should be fighting for the Tag Team Championship right now as they are the best team in the company, and the most entertaining, while Storm joins the fight against the Aces and 8s.
No matter what's happening in this storyline, though, I'll just enjoy the matches these three will put on!
No. 4: Wade Barrett vs. Kofi Kingston from SmackDown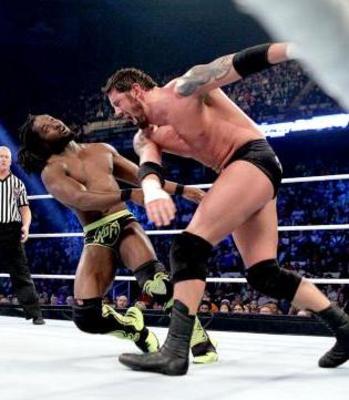 wwe.com
This match for the Intercontinental Championship was quite the good one. I heard that their match on Raw was good, so I wasn't surprised when this one delivered. Both Wade Barrett and Kofi Kingston delivered a solid, back-and-forth match here and it gets me excited for the midcard in WWE.
The midcard has been on the rise since the spring when Christian won the title and things can only go up from here with Barrett now the reigning champion. Don't get me wrong, I am a fan of Kingston; have been for years. It's just that he has been champion four times already and it has gotten him nowhere but the midcard and tag team division.
While Kingston has the potential to grow, WWE just won't pull the trigger. Barrett, on the other hand, is primed and ready to grow, and I think that this, his second reign as champion, will see him grow all the way to the top!
No. 3: The Miz vs. Heath Slater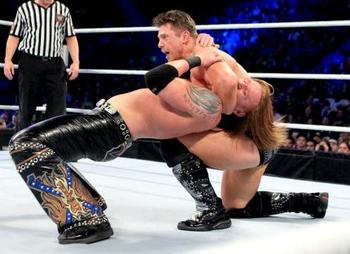 wwe.com
The first match on the first SmackDown of 2013 featured the Miz vs. 3MB leader Heath Slater in a one-on-one match. They had what I felt was the best match of the night. They stole the show, which surprised a lot of people including myself.
Both the Miz and Slater are solid in-ring performers and have both delivered good matches before. The Miz has been great since his reign as WWE champion, but Slater was only seen having a solid match on Superstars or NXT, which are shows that not many get to watch.
Usually when he's on one of the main shows he gets squashed, but WWE gave him the chance to shine here.
Both superstars clicked here in this match and showed that they had chemistry in the ring. They were given a good chunk of time as well and were able to deliver a good, back-and-forth contest for the WWE Universe.
The Miz is coming along great as a face while Slater is really coming into his own with the 3MB gimmick. This match gives me hope that he won't just be a comedy gimmick but will be taken seriously, at least in the ring.
No. 2: Mickie James and Miss Tessmacher vs. Tara and Gail Kim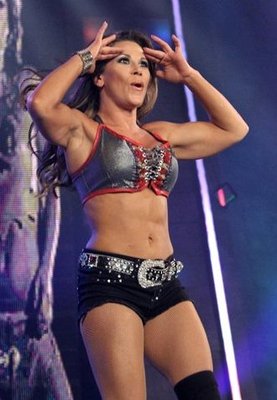 facebook.com/ImpactWrestling
Since its creation, the Knockouts division in TNA Wrestling has always been better than the WWE Divas division. The women of TNA aren't just pretty faces, they're wrestlers. They proved that once more in this tag team match.
Sure, all four of them are former WWE Divas, but the talents of Mickie, Tara and Gail were wasted towards the end of the respective runs while Tessmacher wasn't even a trained wrestler at the time. With this very good tag team match, these four showed that TNA not only has the better women's division, but that WWE dropped the ball in the end with them.
All four performed great here, especially Tessmacher, who's the least experienced of the four. She played the face in peril during part of the match and she sold for Tara and Gail very well.
One of the best parts about this match was the crowd response. TNA needs to get out of the Impact Zone as it can sometimes seem like there's nobody there since fans are so used to the product. The Knockouts brought them to life here, though, which they deserve major props for.
The Knockouts division is alive and well in 2013, and if this match was any indication, it's going to be a great year for the women of TNA.
No. 1: Wade Barrett Wins the Intercontinental Championship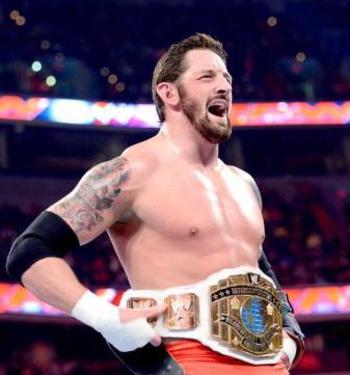 wwe.com
When Wade Barrett returned from injury in September, I was hoping to see him elevated to the top by 2013. Unfortunately he went the way of someone like Ryback and just squashed the lower midcard talent for about a month. Thankfully he started having lengthy matches and began to target the Intercontinental Championship after Survivor Series.
When I read that he finally won the title on the final Raw of 2012, it put on a smile on my face. Barrett is one of the most talented wrestlers on the roster and has true potential to rise to the top of the WWE.
His rise was rushed during the Nexus and WWE dropped the ball with his last Intercontinental title reign. This time around, WWE built him up before giving him the title, which is a great thing.
The Intercontinental Championship was once a great stepping stone to the WWE World Championship, but over the years it has lost its meaning. I feel that Barrett as champion could do wonders for the title.
I think he'll be the first Intercontinental champion in years, one that wasn't already a former World champion beforehand, that will be catapulted to the World Heavyweight Championship.
Keep Reading