Why the Boston Red Sox Won't Be Substantially Better in 2013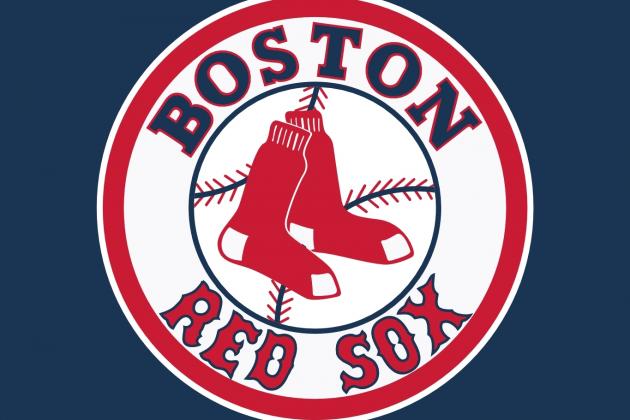 On two separate occasions this week, I suffered through articles on Boston.com in which the author declared that the 2013 edition of the Red Sox will be 'better than the current consensus projection' being bandied about by baseball pundits. In the first article, he declared the club "may be better than we think". In the second article, he back-tracked, amending his contention to say only that the ballclub will be 'much better' than last year's squad.
To the second argument, I respond, "No kidding Dick Tracy!" As if Red Sox fans need one of the writers at an agenda-driven website to tell us the 2013 club will be much better than one of the historically worst clubs in franchise history. The prediction contains as much hutzpah as stating that it will be much colder in the northern hemisphere in January than it will be in May. To the original contention I reply, "Only if everything goes right, and then still not by very much." This was the bolder of the two declarations and it is a coin flip whether he will be right.
Author Chad Finn did not boldly go where no man has gone before in these articles. To the contrary, he added little to the discussion about the 2013 season, essentially repackaging and regurgitating much of what has been discussed on talk radio ad nauseum over the last several weeks.
It was pablum for the masses, likely assigned by his editor and geared to appease the folks over on Yawkey Way: "Look folks, everything is going to be okay. The sky is NOT falling in! Get your credit cards out and buy your tickets!"
The consensus around the country is that the 2013 Red Sox may be a .500 team, possibly a game or two better. Finn contended the team 'may' be able to improve by 12 - 14 wins, and then he laid out his arguments why that 'may' happen. That is not a bold prediction!
Fortunately, there are places where fans can go to get an objective opinion (ie, here) that is not driven by the Boston Globe editorial board or BoSox management. My only agenda is to be brutally honest with my assessment of the facts I know and the things I perceive. And right now that analysis doesn't render an especially favorable opinion regarding what the Red Sox front office has accomplished this off-season.
GM Ben Cherington & Company has spent every dollar they saved in the Great Salary Purge of 2012. With the exception of one or two signings, they have signed middling talent on the wrong side of 30 years of age, and inked them to deals that pay too much money. The Sox front office has wasted the second chance that Los Angeles Dodgers management unwittingly handed them.
They have blown it. In trying to present the facade of fielding a competitive team, management has blown it, for 2013 and 2014 and, likely, even longer (because the extra wins they may have purchased will hurt their draft position in 2014, which will impact the on-field product later in the decade).
The responses to the Shane Victorino and Mike Napoli contracts were universally one of disbelief. Too much money annually for too many years for increasingly marginalized talent.
Evan Brunell and the writers over at Firebrand of the AL enumerated management's primary objectives for the 2012-13 off-season, but in analyzing management's performance within the parameters of those goals and the team's prospects for 2013 (90+ wins?), I believe they completely missed the boat.
They supposed the priorities for Cherington & Co this off-season included
fielding a competitive team over the short term
protecting the draft picks and retaining the top prospects
maintaining payroll flexibility
being able to make any necessary adjustments in case the prospects don't pan out
I would have re-ordered the first three and added a new fourth—making payroll flexibility the top priority, followed by protecting prospects and picks, fielding a decent team in 2013, and adding new assets (prospects) via trade.
In a poll conducted early this winter, Red Sox Nation overwhelmingly indicated it would rather see the club take a step back this winter in order to be able to take two or three steps forward next year. In other words, fans felt the front office needed to be more focused on 2014 and beyond, and not the on-field product for 2013.
The primary goal should have been eschewing contracts such as those given to Victorino and Napoli ($39M each over the next three years). That is money that should have been banked and spent on younger, better free agents next winter or the winter thereafter) while pursuing contracts like those given to Jonny Gomes and Koji Uehara. I would add Ryan Dempster's contract to the list of dumb contracts.
In total, more than $65M will be wasted over the next three years. Adding insult to injury, those deals will buy the club a half-dozen extra wins, in turn (likely) costing the team three or four slots in the 2014 First Year Player Draft.
It seems the fans know better than Henry, Werner, et al (who are undoubtedly presenting Cherington with his marching orders). Pinocchio, meet Gipetto
It says here that Red Sox ownership and management do not know what they are doing. They have not established the salient game plan, rather they are flying by the seat of their pants. They can't do what needs to be done pursuing their current course of action. As a result I don't believe the team will be substantially better than the consensus expectation in 2013 (that being a .500 record), and I believe it will be an uphill battle to turn this team into playoff contender for 2014.
And as for 90 wins in 2013—no chance!
Begin Slideshow

»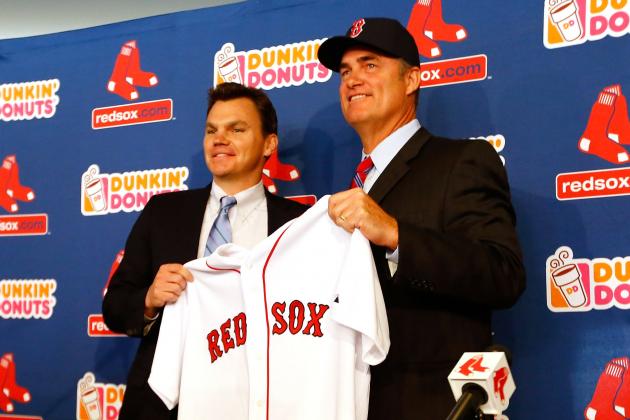 Jared Wickerham/Getty Images

I was a fan of the 'trade' for John Farrell. I have met him, spoken with him, and believe he is a very bright baseball man. So, this critique is not meant as an abject criticism of the new manager, but an objective assessment of his abilities.
I do not believe he is capable of managing a team in such a way that its collective performance is greater than the sum of its individual parts—as Sparky Anderson or Tony LaRussa or Jim Leyland have been able to do. I don't believe Farrell has the force of personality to be able to pull this off. He's a bright and well-spoken individual, but I would have to describe him as being kind of bland. Dull. Uninspiring. You get the point.
Analytical people make excellent accountants and statisticians and baseball wonks; but, they do not make very good motivational speakers, counselors, or cheerleaders. Or managers.
The proof of the pudding rests in the performance of his teams in Toronto. He had some very good talent (Jose Bautista, Edwin Encarnacion, Brett Lawrie, Brandon Morrow, Casey Janssen, etc), yet his teams performed abysmally. This fact is indisputable.
It is my opinion that he will manage the talent he is given very well. But he needs to be given an ample supply of talent with which to work, and Ben Cherington & Company have not done that. So while many fans view him as a big part of the answer to what ails the ballclub, he is not a cure-all.
The best thing that can be said at this point is that he is not Bobby Valentine. That will be good for two or three wins all by itself, nothing more, and that still leaves them 20 games under .500!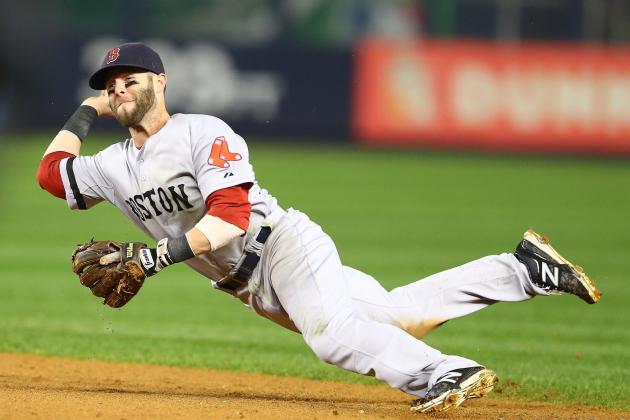 Al Bello/Getty Images

When was the last time you could break down a Boston Red Sox team and answer 'no' to each and every one of the following questions:
"Do the Red Sox have one of the 10 best infields in baseball?"
"Do the Red Sox have one of the 10 best outfields in baseball?"
"Do the Red Sox have one of the 10 best starting rotations in baseball?"
"Do the Red Sox have one of the 10 best bullpens in baseball?"
As we head into the 2013 campaign, you'd have to answer 'no' to each of those questions.
Yet, we can go even further still—when was the last time the ballclub didn't have one of the 10 best infielders, or 10 best outfielders, or 10 best starting pitchers or 10 best closers in the game? Yet, as we head into 2013, they do not have one of the 10 best players at ANY of those positions.
The best that can be said is that they have one of the 10 best Designated Hitters in baseball (there are only 15, so this is not necessarily a great achievement)—if and when David Ortiz is healthy.
As the team entered the 2012 season, The Nation hoped the ballclub would rebound from the horrific implosion of September, 2011. Around the infield, Red Sox Nation hung its collective hopes on first baseman Adrian Gonzalez and second baseman Dustin Pedroia, and prayed the left side of the infield would come around.
Well, AGon is gone. Pedroia played through another season in which his performance was greatly diminished by injury. Rookie third baseman Will Middlebrooks was unable to get through the season without losing significant time to injury. Shortstop Mike Aviles proved a worthy performer, but was dealt to the Toronto Blue Jays as compensation for Farrell. Catcher Jarrod Saltalamacchia socked 25 home runs, but was barely able to keep his batting average above the Mendoza Line.
As the team gets ready to head to Florida in a month, questions abound around the infield. In fact, there are probably more questions than answers surrounding the infield corps.
The front office has yet to replace Gonzalez, who was dealt to the Los Angeles Dodgers in The Great Salary Purge of 2012. Management made the mistake of focusing on Mike Napoli, whose approach at the plate can best be characterized as all-or-nothing (low batting average, lots of strikeouts, and a couple dozen home runs) and whose defense leaves quite a bit to be desired. Napoli's swing-for-the-fences style is something the team has historically eschewed but now seems willing to embrace.
Of course, if the front office had been so tolerant with former prospect Josh Reddick, he would have provided The Olde Towne Team with Gold Glove defense and a couple dozen bombs last year at a minimal salary. Instead, Reddick wore an Oakland uniform after being shipped westward for oft-injured Andrew Bailey. Reddick had to go because of his undisciplined approach at home plate, yet Napoli (in spite of his hip problems and defensive failings) is someone we apparently can't live without.
Remember what I wrote earlier about the lack of a consistent plan? The proof is in the pudding.
[NOTE: It says here the team would have been much better off walking away from Napoli and claiming Russ Canzler on waivers this week, allowing the front office to hold onto its $39MM until next winter!]
Pedroia is a warrior. His 'dirt dog' approach to the game—both at the plate and in the field—has always endeared him to the Fenway Faithful, but his style of play often leaves him hobbled. And even when he is able to play, he is at something less than 100 percent.
He has managed 600 at-bats just once in the last three seasons, and drove in only 65 runs last year. As a result, you can no longer consider him to be a perennial all-star performer.
Talent is a wonderful thing, but a player needs to stay on the field to utilize his talents and as Pedey ages (he will turn 30 years old this season), it will become harder for him to remain a healthy and highly productive player throughout the season. Will he be able to give the club 600 at-bats in 2013, or will he manage just 400 at-bats, with Pedro Ciriaco being asked to fill the void for a month or two? What can his teammates EXPECT from him in 2013?
Will Middlebrooks is believed to be one of the organization's cornerstones for the future, but he is unproven. He started last season in Triple-A, but forced management to recall him with a torrid start in Pawtucket. He was promoted on May 2nd and proceeded to hit 15 home runs and drive in 54 runs over the next 14 weeks, but he sustained an injury and was shelved on August 11th.
He never played again.
And while there is ample reason to be excited about his future, there are also cautionary signs as well—his 13 walks and 70 strikeouts in 267 at-bats.
Free agent signee Stephen Drew was once one of the bright young stars in the game. As Finn pointed out, he had 76 extra-base-hits in 2008 (easily outdistancing Derek Jeter's career-best mark of 70 extra-base-hits in 1999). With that said, he hasn't had more than 400 at-bats since 2010 and has totaled just 12 home runs over the last two seasons. His WAR last year was 0.0. In other words, he performed precisely as you may expect a replacement player to perform.
Here is a chilling fact for Red Sox Nation: according to baseball reference dot com, one of the players he most favorably compares to is Julio Lugo. Please note that I use the word 'favorably' very loosely.
So I ask you, is the club's infield better than it was on the last day of the 2012 season? Even with first base still unresolved, I would have to declare, "certainly!" But is it better than it was on opening day of 2012? "Certainly not!"
So it can be said that the quality of the infield is somewhere between the infield that helped to produce a .500 record at the all-star break and the one that finished 24-games-under-.500. That does not inspire confidence or suggest the club will be competitive in 2013.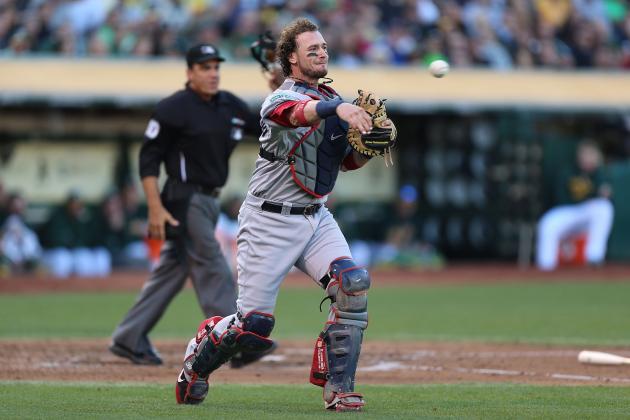 Jed Jacobsohn/Getty Images

Jarrod Saltalamacchia led the Boston Red Sox in home runs last year. He also posted a .222/.288/.454 slash line while providing a marginal defensive skill set behind the plate. When you consider there are teams out there that are desperately seeking a catcher, it seems likely he will be backstopping for someone else by the middle of the upcoming season, possibly even before the season gets underway against the New York Yankees.
Salty posted a career-high 1.1 WAR last year. The front office seems committed to replacing him with heir apparent Mike Napoli, whose WAR was 1.4. Can someone tell me why the front office believed the incumbent needs to be replaced by an almost-identical hitter whose defense is worse and who will cost $13M per year—for THREE years?
Yeah, I know, Napoli would split his time between catcher, first baseman, and designated hitter—if he is healthy—answering the question of who replaces Gonzalez, but at what cost in terms of money and future flexibility?
The current issue of Napoli's bad hip notwithstanding, Ben Cherington & Co long ago made the decision to bring in Napoli to split time at catcher and first base for $39M over the next three years. The question is: what were they thinking?
Let's face facts: this club is not going to sniff the playoffs. Meanwhile, management, the manager, the coaches and his teammates need to determine whether Ryan Lavarnway can become the franchise's next full-time catcher. He isn't going to do that playing in Triple-A or sitting on the bench. The team acquired David Ross to mentor him. Fine. Trade Salty and others for another piece of the puzzle and let Lavarnway play!
The 2013 edition of the Red Sox does not need Mike Napoli, and it may not need Saltalamacchia.
The front office lost a tremendous opportunity to correct its bone-headeness last week when it allowed the Yankees to claim Canzler off waivers, ensuring the Sox will have to continue pursuing damaged goods (Napoli). The decision-makers should have turned things over to the youngsters for a year to see what they can do—after all, a bridge year is a bridge year.
I would have preferred to watch Canzler play first base and Lavarnway learn how to catch at the big league level. Instead, Canzler may end up serving as the Yankees full-time designated hitter, possibly outhitting an oft-injured Napoli.
Remember when the Yankees wondered what they would have done with David Ortiz? I fear the Red Sox front office debated whether the could find a role for Russ Canzler in 2013 and beyond. Not that the big guy will turn out to be anything approaching Ortiz, but I'd rather see him get his shot in a Red Sox uniform than in pinstripes.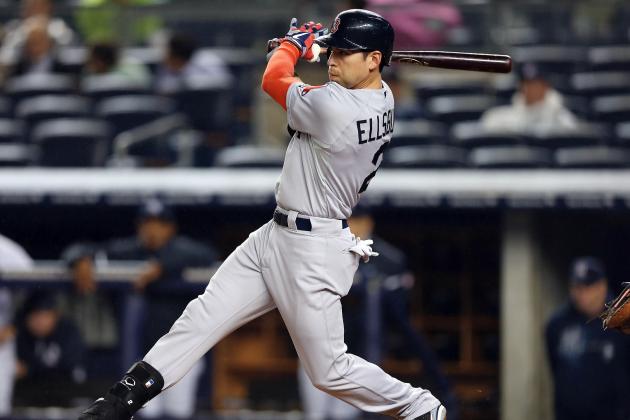 Elsa/Getty Images

Quick—name the Boston Red Sox projected starting outfield on Opening Day, 2013.
I'll wait.
Were you able to come up with the answer in less than five seconds? Were you able to come up with the answer at all?
It isn't quite Jim Rice, Fred Lynn and Dwight Evans, is it? Heck, it isn't even close to Manny Ramirez, Johnny Damon and Trot Nixon!
The answer is: Jonny Gomes, Jacoby Ellsbury and Shane Victorino. And if you had that in your office pool on the last day of the 2012 season I owe you an autographed baseball!
Pitiful!
Here's hoping Ellsbury gets off to a great start and re-builds value by the trade deadline. And please allow me to suggest the front office should trade him IMMEDIATELY if he gets off to a torrid start and they get a viable offer (let's say he is hitting .350 with 10 HR on June 1st). At that point, the General Manager needs to trade him—fast!—before he gets injured (again) and renders himself untradeable.
It would be hard for Ellsbury not to equal last year's production level, but he can't be counted on to do anything more than that. He had a combined total of 407 at-bats in 2010 and 2012, sandwiched around a near-MVP campaign in 2011. Which Ellsbury can his teammates depend on seeing in 2013?
The truth is I have been down on Ellsbury since he punted his original agent on the evening of his first big payday and signed with Scott Boras. He walked away from his friend—the guy who had been with him during the tough times—so he could partner with Boras. The poor agent was just about to get his first decent commission on a contract and Ellsbury said, "Take a hike!" It was immediately after that he started suffering a succession of injuries that has hindered his career development.
Have you ever heard of karma?
His paradigm is the reason I believe he has been loathe to return quickly from injury. He is looking for his first big contract and doesn't want to jeopardize his big payday. Of course, he may have done just that by creating the perception he is a fragile player.
Or maybe it's just that he really is that fragile.
Gomes has a career .244 batting average with 136 HR and 411 RBI over a 10-year career. That works out 14 homers and 41 RBI per season. Cherington & Co. determined that production level is worth $5M per year for two years. Seriously?
In fairness, Gomes hit .262 with 18 home runs and 47 RBI over 279 at-bats last season in the cavernous Oakland Alameda County Coliseum, so it's hard to imagine he won't hit 25 bombs and knock in 80 runs in 2013 playing half of his games at Fenway Park (similar stats to those produced by Cody Ross last season). With one less year of contractual commitment and a savings of $17M +/- over the next three years.
In spite of my initial reservations about Gomes, this could end up being a pretty good signing. Ross had a WAR of just 1.6 in 2012. Gomes had a WAR of 2.1 in slightly more than half of Ross' at-bats. Call this one a net gain for the ballclub.
As for the Victorino signing, it portends that Ellsbury will soon be traded (or that he will be allowed to walk after the season). In either event, he'll assume the role of place-holder until Jackie Bradley, Jr is ready to make the jump to the big leagues.
If healthy, Victorino replaces Carl Crawford, Daniel Nava and Darnell McDonald in the lineup. In 600 at-bats he hit 11 home runs with 55 RBI while the Sox trio combined for 15 home runs and 61 RBI (in 468 at-bats). It is hard to say the offensive production will be any better, though the defense certainly should be improved. The best aspect of this signing is Victorino gives the front office the flexibility to dump Ellsbury if and when the opportunity presents itself.
Again we have to ask whether this outfield will be better than the group that started and ended the 2012 season.
It is quite possible it WILL be better if Ellsbury stays healthy, Gomes makes an effective transition to the pressure-packed big market in Boston (unlike Carl Crawford), and Victorino doesn't lose a step to Father Time any time soon. It is also possible it will be worse if Ellsbury again spends the majority of the season on the DL, Gomes struggles to produce for a big market team, and age starts to catch up to Victorino.
Questions, questions, questions...
My guess is that it will be marginally better this season, but not so much so that it will be "better than we think". In fact, I think it may not be as good as most of The Nation expects it to be. The 2012 outfield combined for a 3.8 WAR, while the projected 2013 starting outfield combined for a 6.2 WAR—that's a difference of just 2.4 games. That would surpass only the most tepid of expectations (such as mine).
Assuming a wash at catcher and in the infield and an improvement of a couple of games by virtue of the change at manager, the club would now be a 73-win team in 2013.
Jared Wickerham/Getty Images

The 2013 starting rotation HAS TO BE better than the 2012 rotation, doesn't it?
Let's start with the addition-by-subtraction column. The clubhouse cancer that was Josh Beckett has been shipped off to The City of Angels. I called for him to be traded more than two years ago because he had bad work habits, an arrogant attitude and a sense of entitlement. He infected Jon Lester with his disposition (which is precisely the reason I urged management to dispatch him back in 2010).
The financial drain and eternal tease that was Daisuke Matsuzaka has thankfully departed, and even if he rediscovers his potential elsewhere, I'll be happy it happens elsewhere. Like Beckett, his personality was never a fit in Boston, and like Jacoby Ellsbury he was oft-injured and slow to return to action. Aaron Cook has left town and taken his 5.65 ERA and 1.468 WHIP with him. Daniel Bard? The former set-up man and would-be closer is back in the bullpen after a disastrous stint as a starter.
So, who remains?
Lester is coming off the worst campaign of his sever-year career. He was awful and should be able to be much better—by accident! Last year's implosion can be attributed to a combination of things: Beckett's influence, the fallout from the 2011 late-season free-fall, and the pressure he placed on himself to answer the criticisms leveled at him in the wake of the beer-and-wings revelations.Whatever the reasons, 2013 will be a fresh start.
Again.
That said, he has never taken the step forward that was expected of him. He is not, and will not become, the staff ace everyone envisioned. He doesn't have the personality. He seems able to put his game face on for extended periods, but it always melts away. He gets distracted. One of his infielders makes an error? He loses focus rather than buckle down. The umpire makes a bad call on an apparent strike? He moans and whines and then leaves the next pitch out over the plate.
He has not developed mental toughness, and in my opinion he isn't going to suddenly grow a pair if he hasn't grown them by now.
A similar critique can be laid at the feet of Clay Buchholz.
For years I have expressed my expectation that he will step up and become the staff ace, yet he has consistently failed to seize the opportunity to do so. He often seems to have a deer-in-the-headlights look after experiencing some adversity, but, in spite of this fact, and in spite of the fact he has not developed a consistent strikeout pitch, I still have much greater confidence in him than in Lester.
Buchholz' failings seem to be more health-related than anything. In 2010, he was brilliant. In 2011 he was very good through mid-June, then had his season cut short by a stress fracture in his back. As 2012 began, I expected he would take a significant step forward; instead, his game took an enormous step backward.
While it would be comforting to be able to attribute his struggles to the esophagitis that afflicted him after mid-June, the fact is that he started the season poorly and did extremely well to post semi-respectable stats by the end of the season (he had a 7.19 ERA on June 1st and lowered it to 4.16 by September 20th, before backsliding in his last two starts. But what can we expect of him in 2013?
Felix Doubront had a respectable first half, but wore down as the season progressed (he posted a 4.41 ERA in the first half but struggled with a 5.54 ERA thereafter). It was his first full season in "The Show" so the fall-off is somewhat understandable, but we cannot extrapolate any expectations for the future based on his one inconsistent season.
As with Lester and Buchholz, he often let adversity get the best of him, though his struggles likely had more to do with his walk rate (4.0/9IP) and struggles with runners in scoring position (.894 OPS with RISP) than anything else (those two factors led to an ERA of nearly a run more than his x-ERA).
John Lackey will return to the rotation in 2013. Some pundits think this is a good thing, but I am not numbered among that group. I will again point out that he does not pitch well at Fenway Park, the place where he will get approximately half of his starts (his career ERA at The Friendly Confines is a robust 5.45, and before you chalk that up to facing the Red Sox lineup, be advised it was 4.34 in '10 and 6.65 in '11—facing other lineups).
So while he may be better than Matsuzaka in 2013, he is not going to be in the Cy Young conversation in October. He will likely post an ERA somewhere between his 2010 and 2011 numbers, which could make him next year's version of Aaron Cook. Argh!
So what about the back end of the rotation?
GM Cherington signed free agent Ryan Dempster to lay claim to the last spot in the rotation, but I'm not certain he'll be any better than the in-house option the organization already possessed (Franklin Morales, once the #8 prospect in all of baseball according to Baseball America).
Dempster comes to the Red Sox as a career National Leaguer, save for the dozen starts he made for the Texas Rangers last season. He is a career .500 pitcher (124-124), with a 4.33 ERA (5.09 last year with Texas). He has appeared in just three games at Fenway Park, registering a 6.06 in those games. Finn stressed the fact he had seven quality starts in the 12 games with Texas.
I'm not impressed. If you want to know why, re-read what I just wrote about Lackey. I suspect Dempster will be as inept in Fenway Park as Lackey.
As for Morales, he throws harder than Dempster (according to fangraphs.com, his fastball is nearly 5 mph greater—94.4 mph versus 89.7 mph), and while his x-ERA for 2013 is a half-run more than Dempster, those numbers were published long before the former Cub signed to pitch half of his games in Fenway Park.
Given the salary, age and potential of the two pitchers, I would have preferred the Red Sox sign another option as insurance against injury and give Morales the first chance to slide into the rotation on a permanent basis (his WAR was 0.5 last year, whereas Dempster's was 0.3 after the trade to the AL).
Of course, it is also possible Cherington is trying to emulate Oakland GM Billy Beane (ie, sign a veteran with upside to an affordable contract, give him a few months to build trade value, and then deal him to a contender for a prospect or two).
In fairness to Cherington & Co., there is statistical support for the decision to sign Dempster. He has made at least 28 starts and won at least 10 games in each of the last five seasons, and his 3.74 ERA during that stretch ranks 13th among all Major Leaguers with 950 plus IP.
I just don't believe those numbers provide any insight into what can be expected from him moving from the NL Central to the AL East, where he will not have the benefit of facing the opposing pitcher a couple of times every outing, and where his opponents will include the NY Yankees and Toronto Blue Jays instead of the Chicago Cubs and Houston Astros.
Will there be improvement in the starting rotation in 2013?
The answer is almost assuredly, yes.
But just how much improvement they enjoy will likely depend more on Farrell's ability to influence Lester and Buchholz and less on the replacement of Cook and Matsuzaka. Lets give Lester and Becket 14 wins each, Dempster and Lackey 10 wins apiece, and Doubront 9 wins (primarily due to the typical struggles of a sophomore). Based on my stated expectations (+2 for the manager, +2 for the outfield and +8 for the rotation), the 2013 club is now a .500 team.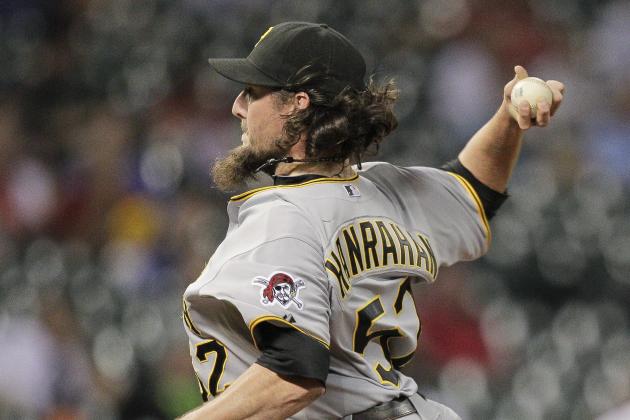 Bob Levey/Getty Images

Last spring we looked at the Boston Red Sox bullpen, post-Jonathan Papelbon, and held out hope that a couple of new faces would prove capable of replacing Cinco-Ocho and Danny Bard at the back of the bullpen, but that didn't happen. To the contrary, the failure of the relief corps underscored the reasons management may have been better off re-signing Papelbon and holding onto Josh Reddick.
Fast-forward one year, and Red Sox Nation is once again praying that a couple of new faces, and the return of Bard to the bullpen, will prove capable of protecting leads late in games.
I have grave doubts.
Ben Cherington pulled the trigger on a trade for former Pittsburgh Pirates closer Joel Hanrahan, sending the Bucs reliever Mark Melancon, prospect Stolmy Pimental, and recently-acquired spare parts Jerry Sands and Ivan DeJesus, Jr (who were both acquired from the Los Angeles Dodgers in last summer's salary purge). The front office immediately installed Hanrahan, a hard-throwing righty, as the team's closer for 2013.
The acquisition of Hanrahan would have been universally hailed last winter, but it's hard for Sox fans to become overly excited by this acquisition, one year removed from the ill-fated acquisition of former A's closer Andrew Bailey. Bailey was acquired last winter and was viewed as Pappy's replacement, but he was injured in spring training and never saw the field until August 14th. When he returned to action, he was hit hard.
But just because Year One was lost to injury, I don't believe Bailey's tenure in Beantown should come to an ignominious end. He was very good in Oakland, posting 75 saves and compiling an ERA of around 2.00 during his first three seasons. So I don't understand why the front office would want to turn the page on this talented young pitcher during a sell-low period? I cannot answer that question, but the team seems to have lost faith in him and appears committed to dispatching him in the near future.
The prospect of unloading Bailey is utter nonsense, especially since Hanrahan is coming off a year during which he struggled mightily, causing his trade stock to plummet like it was Black Monday. Bailey should be retained, if for no other reason than to provide him an opportunity to rehabilitate his value and (possibly) reclaim the closer's role if and when Hanrahan struggles (which seems likely to me). Last year Hanrahan walked more than five hitters for every 9 IP and posted a FIP of nearly 4.50 in spite of the fact he posted scary-good peripherals, suggesting he may struggle immensely in the upcoming season).
And then there is Bard, whose arrogance and hubris knows no bounds. Did last year stick a pin in his ego? I hope so.
Let's turn the page back a few years. Bard was battered as a starting pitcher in the minor leagues. His fastball is straight and his off-speed pitches are just okay. While he hits 100 mph or more as a reliever, he routinely throws in the low- to mid-90s as a starting pitcher. When I interviewed him in 2009, he told me the move to the bullpen during a stint in Hawaii several years ago, his professional fortunes radically improved. History (before and after that interview) bares this out.
Yet, after two great seasons IN THE RED SOX BULLPEN, his arrogance drove him to push for a spot in the starting rotation—for no other reason than he wanted to start (he told me he would eventually go into the rotation because starting pitchers make more money than relievers).
Last winter, the front office foolishly acquiesced to his request and allowed him to compete for the #5 spot in the rotation during spring training. He was horrible. Guess what? His fastball was straight and major league hitters proved fully capable of hitting it a very long way when it crossed home plate at 92-94 mph. This shouldn't have been a surprise. Last winter I wrote the front office should have been able to foresee that major league hitters would tee off against him as a starter in consideration of the fact that A-ball hitters had consistently done so when he was a starter in the minor leagues. A year ago, he was coming off a season in which he had been dominant... this winter he is coming off a season in which he was routinely pummeled by both major league and minor league hitters. What can we expect from him as we look toward 2013 and beyond?
Maybe he learned a lesson. Maybe he has come to understand that he would be better off serving as a dominant set-up man or closer than as being battered as a starter. Maybe his 6.22 ERA in the big leagues, combined with embarrassing struggles in Pawtucket after his demotion, had a humbling effect on him. Maybe he will recognize where his strengths and weaknesses lie, and be content to resume his place as the club's closer-of-the-future. Maybe. But in all honesty, based on my conversations with him, I am not sure it is likely. Pride goeth before a fall.
I am thrilled with the acquisition of Koji Uehara. It was an under-the-radar acquisition that could be of great significance down the road. If everyone else stumbles, Uehara has the stuff to close. If everyone else performs well, he lengthens the bullpen and gives John Farrell the luxury of moving Aceves around to his highest utility. It has also been suggested he will be a positive influence on Japanese-born Junichi Tazawa, who might have the stuff to eventually assume the closer's mantle for the organization (in 2014 or 2015?).
Add Morales and Breslow from the left side and the Sox could have a very good bullpen; though, as I have pointed out, it's possible that it could struggle immensely. Again.
Due to these considerations I cannot assign any improvement to the bullpen. If Bailey sticks around and is healthy I would feel more confident in projecting an improvement for the relief corps, but based on what I have seen from the front office I suspect he will be traded. And because it seems Hanrahan may struggle, we could find the bullpen in nearly as much turmoil this season as it was last season.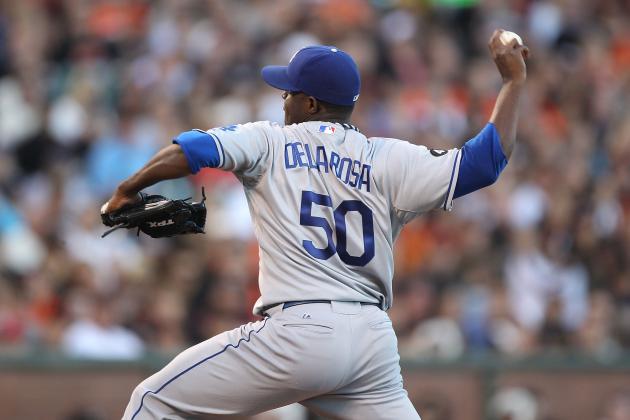 Jed Jacobsohn/Getty Images

The good thing about compiling a club with marginal talent is that the front office likely won't be tempted to trade the core of the future for one really good player. This team is not going to contend, so those fans who are clamoring for the front office to swing a deal for Giancarlo Stanton or Justin Upton should take a chill pill and cool out.
Stanton or Upton are not going to make this collection of old-timers and misfits a playoff team. They have not been able to make their own clubs a world championship team, and both of their teams had a LOT more talent last season than the Boston Red Sox will have in 2013. The front office needs to keep the eye on the big prize and eschew pandering to the talking heads, the get-a-lifers and the pundits.
The front office would be well-advised to protect their current top prospects, collect a few more, and hold onto their draft picks.
The future of the franchise should be built around current big leaguers Dustin Pedroia, Will Middlebrooks, Clay Buchholz and Jon Lester, and prospects such as Xander Bogaerts, Jackie Bradley Jr, Matt Barnes, Allen Webster and Rubby de la Rosa (the latter two acquired from LA in the Great Salary Purge).
If and when it becomes time to trade Jarrod Saltalamacchia, Jacoby Ellsbury, Andrew Bailey, et al, Ben Cherington will have the opportunity to add to this list, thereby helping to ensure the future success of the franchise. Additionally, this year's First Year Player Draft will be critical, as the ballclub will be drafting in the Top Ten for the first time in years (they have pick #7 in the first round).
In my opinion, last year's draft was an unmitigated disaster, so it is essential they don't swing and miss in 2013. While the seventh spot in the draft likely won't land them someone like Stanford's Mark Appel, who will probably be the first player to come off the board, they could get lucky and see someone like GA high-schooler Austin Meadows or ISU southpaw Sean Manaea fall to them. Certainly they should be able to fare better than Devin Marrero!