Chris Weidman vs. Michael Bisping Head-to-Toe Breakdown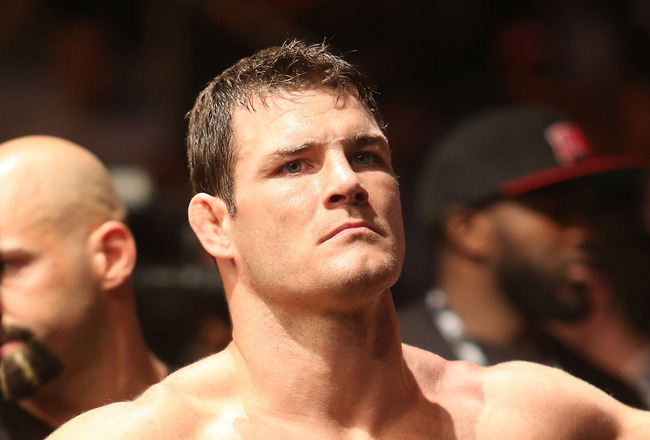 Tom Szczerbowski-USA TODAY Sports
There are two clear front-runners for a shot at Anderson Silva's middleweight title. Both Michael Bisping and Chris Weidman have staked their claim over the last year, with an intense rivalry emerging between them in recent months.
Many consider Weidman as the one most capable of ending Silva's six-year reign as the UFC's 185-pound champion. However, an injury to him and some consistent performances from Bisping have put the Brit next in line for a title shot, if he can get past Vitor Belfort at UFC on FX 7 on Jan. 19.
But that hasn't stopped the verbal jibes between him and Weidman, making an eventual meeting between the two that much more likely.
Here's how a potential fight between Weidman and Bisping would break down.
Striking
Mike Dinovo-USA TODAY Sports
Striking is, perhaps, Michael Bisping's strongest attribute. With an aggressive Muay Thai style he can "stand and bang" with the best of them.
We saw that in his last fight against dangerous striker Brian Stann, whom he dominated on his feet for three rounds.
We're less familiar with Chris Weidman's striking. The New York native is more known as a grappler and is probably the best in that department in the middleweight division. However, he has three TKO and KO victories in his short nine-fight career. In his last fight against Mark Munoz, he was devastating on his feet.
But whether he can "stand and bang" with Bisping is another matter.
Advantage: Bisping
Submissions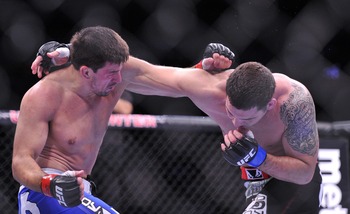 Mike Dinovo-USA TODAY Sports
Bisping has an underrated submissions game, mainly because he's never submitted anyone in the UFC. However, he's never been submitted in his career either, which is a testament to his very aggressive ground game.
Weidman, on the other hand, does have a submission win in the UFC—his standing guillotine choke against Jesse Bongfeldt at UFC 131 won him submission of the night. And Bongfeldt is a pretty mean submission artist himself.
Advantage: Weidman
Takedowns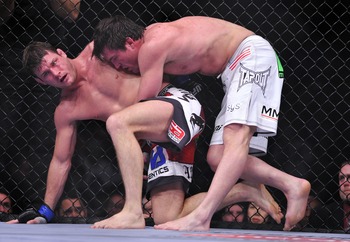 Mike Dinovo-USA TODAY Sports
There's no question that Bisping is a well-rounded fighter who can wrestle with the best of them. He gave Greco-Roman supremo Chael Sonnen his toughest fight in years and out-wrestled him in large parts of that contest.
But his wrestling in no way matches up to Weidman's. The Serra-Longo-trained fighter has had a storied career in NCAA Division I wrestling and has adapted it exceptionally well to MMA.
His destruction of Munoz in his last fight made the entire MMA community take notice. Bisping has never produced that kind of a wrestling attack and won't compete with Weidman in this aspect of the game.
Advantage: Weidman
Strength and Conditioning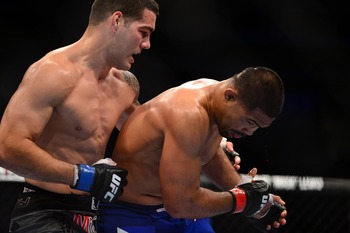 Kyle Terada-USA TODAY Sports
Both Bisping and Weidman are disciplined enough to bring themselves into the cage in peak condition. Bisping's cardio has helped him go the distance with some of the best finishers in the UFC—including Wanderlei Silva and Rashad Evans.
Similarly, Weidman can always handle going the distance and shows growing strength in the later rounds. It would be tough to give either man the edge in this quality.
Advantage: Even
Intangibles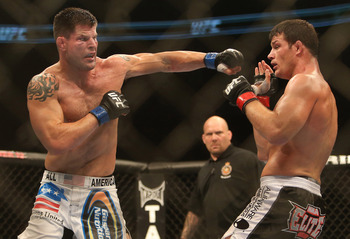 Tom Szczerbowski-USA TODAY Sports
It's easy to see that both Weidman and Bisping are at the peak of their careers and must be feeling like their time has come.
Bisping stands on the verge of a title shot after fighting in the UFC for more than six years, while Weidman has shot through the rankings to become a contender after just five fights. That shows remarkable determination and composure in the face of ever-growing threats.
Weidman is five years younger than Bisping but is just as experienced as an athlete having been in competitive sports most of his life. This has allowed his transition into the UFC to be more seamless as he's demonstrated the ability to perform on the big stage.
Advantage: Even
Keep Reading