Final 2012 NFL Draft Report Card Grades for Every Team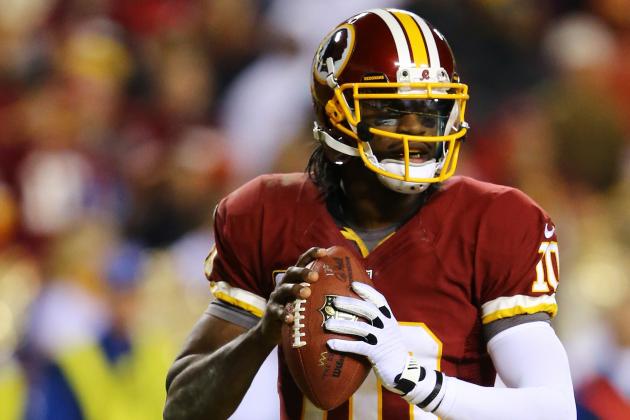 Al Bello/Getty Images

This was a memorable season as far as the rookie class was concerned. We saw three rookie quarterbacks lead their teams to the playoffs and a few others show a ton of promise. There were also two running backs, Doug Martin and Alfred Morris, who finished in the top five in the NFL rushing race.
The upcoming slides give a breakdown of each team's rookie class. These classes were assigned grades based on overall production, depth and star talent.
Begin Slideshow

»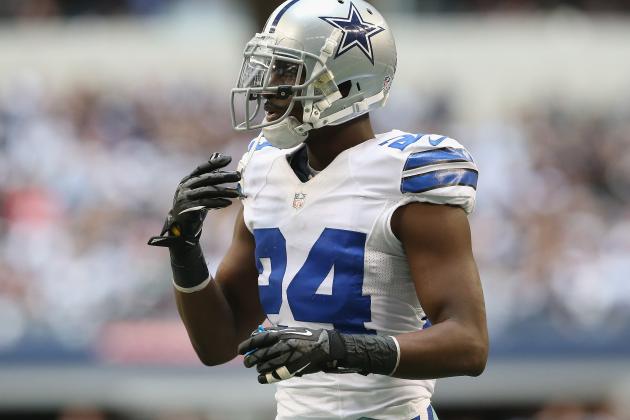 Ronald Martinez/Getty Images

Impact Rookies: Morris Claiborne, Tyrone Crawford and James Hanna
The Dallas Cowboys' rookie class only received a major contribution from cornerback Morris Claiborne. Others, like tight end James Hanna and defensive end Tyrone Crawford, saw limited action. Both Hanna and Crawford have potential to develop into contributors, though that's hard to predict due to their limited playing time.
Claiborne had his share of ups and downs. However, he provided the Cowboys with an upgrade at the position. His physical play and ability to hold up in man coverage allowed Dallas to run a lot of blitz packages.
Overall, the Cowboys' grade isn't that high because of the lack of depth. Claiborne didn't play well enough to raise Dallas' grade.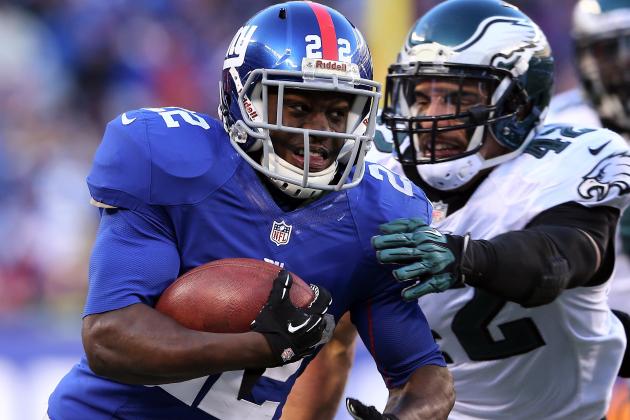 Elsa/Getty Images

Impact Rookies: David Wilson and Rueben Randle
It wasn't a great start of the season for the New York Giants' rookies. However, running back David Wilson and wide receiver Rueben Randle improved down the stretch. Both players have excellent athleticism and the ability to make a major impact.
Don't be surprised if Wilson takes a large number of carries away from Ahmad Bradshaw next season. His explosiveness makes him a threat to score every time he touches the football. That type of playmaking ability has the potential to open up the offense.
It's also important to note the impact Wilson made as a kick returner. New York enjoyed a lot of excellent field position because of his return ability.
Randle's combination of size and quickness gives the Giants another big-play threat in the passing game. Toward the end of the season, Randle established himself as a real red-zone threat.
Look for New York to give him more opportunities next season.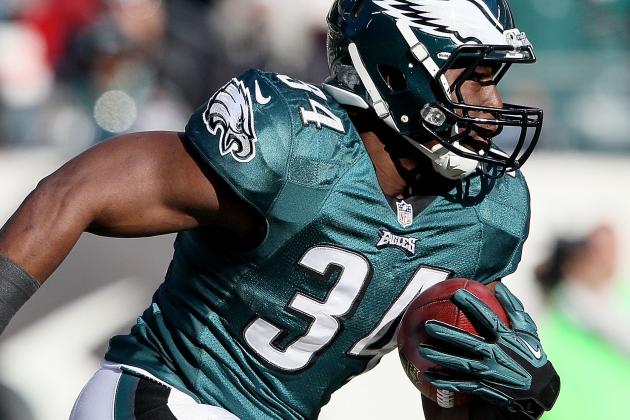 Alex Trautwig/Getty Images

Impact Rookies: Nick Foles, Bryce Brown, Dennis Kelly, Fletcher Cox, Mychal Kendricks and Brandon Boykin
This past season was a disaster for the Philadelphia Eagles, but the the performance by their rookie class was a bright spot. As many as five rookies established themselves as building blocks for the future. This group receives such a high grade because of the unexpected performances.
Quarterback Nick Foles, running back Bryce Brown and cornerback Brandon Boykin all exceeded expectations. Foles has given the Eagles a young signal-caller to build around. He showed enough poise and talent to earn a shot to compete for the starting job next season.
Brown overcame his college struggles to establish himself as an excellent backup option to LeSean McCoy. In fact, if it weren't for McCoy, the Eagles could move forward with Brown as the starter. Boykin excelled as a nickel corner and kick returner.
Those unexpected contributions were combined with the strong play of defensive tackle Fletcher Cox and linebacker Mychal Kendricks. Both players helped the Eagles defense put together some solid performances.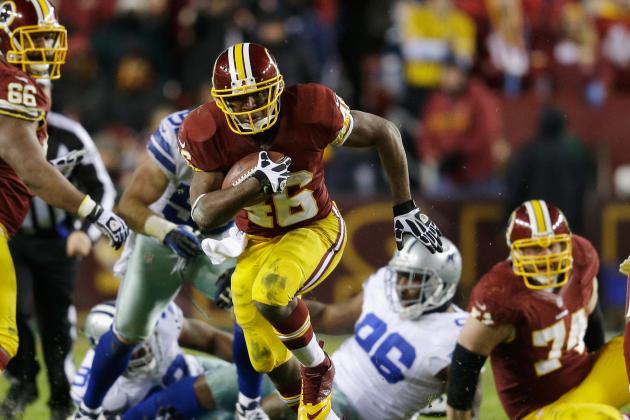 Rob Carr/Getty Images

Impact Rookies: Robert Griffin III and Alfred Morris
The Washington Redskins have two rookies who can make a legitimate case to be the NFL's Offensive Rookie of the Year. Both quarterback Robert Griffin III and running back Alfred Morris have put together excellent seasons, which helped the Redskins earn a playoff berth.
It's safe to say that Washington would be nowhere near the playoffs if it weren't for these two difference-makers.
Griffin gets all the media attention, but Morris' consistency has been equally important to the team's success. His running style features a combination of power, patience and quickness. It's impressive watching the way he sets up his blocks and gets upfield.
This class doesn't have a lot of depth, but Griffin and Morris are elite playmakers.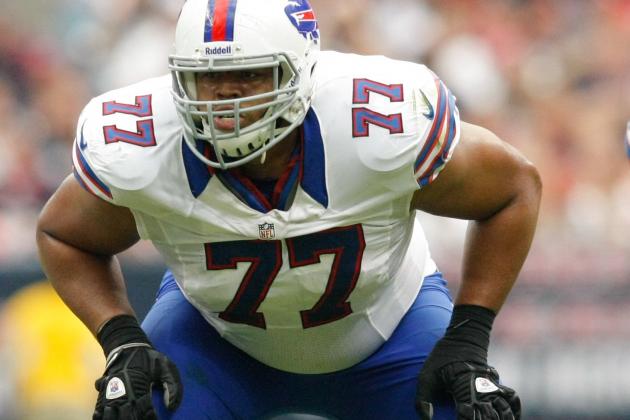 Brett Davis-USA TODAY Sports

Impact Rookies: Cordy Glenn, T.J. Graham, Nigel Bradham and Stephon Gilmore
The Buffalo Bills added some important pieces through the 2012 draft. Players like offensive tackle Cordy Glenn, cornerback Stephon Gilmore and linebacker Nigel Bradham have shown enough to head into next season as starters.
Of the group, Glenn was the most consistent performer. His well-rounded game helped the Bills in the running and passing game. Most pinned him as a right tackle or guard through the draft process. However, his quick feet and balance make him more than capable of holding up at left tackle.
Gilmore made his share of mistakes, but he still showed a ton of upside. The important thing to note is that he used each situation as a learning experience. This is why he has a bright future.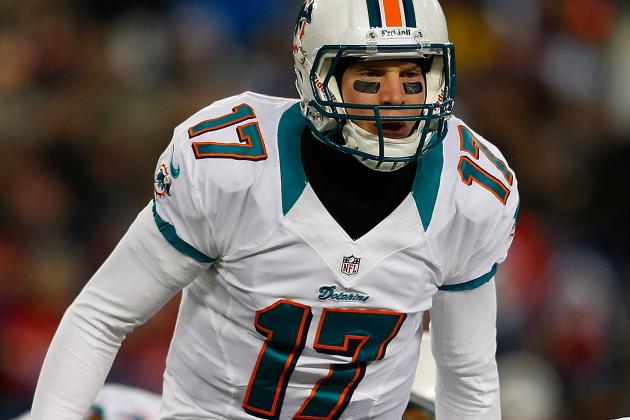 Jim Rogash/Getty Images

Impact Rookies: Jonathan Martin, Ryan Tannehill, Olivier Vernon and Kheeston Randall
Ryan Tannehill possesses all the physical tools needed to succeed in the NFL. His limited college experience could've caused him problems during his rookie season, but head coach Joe Philbin and offensive coordinator Mike Sherman developed a strong game plan to help Tannehill's development.
The rookie quarterback showed a lot of poise and the ability to learn. He made mistakes but worked to avoid them the next time. The Miami Dolphins have to feel good about his progress.
Offensive tackle Jonathan Martin took time to get fully comfortable but improved a lot by the end of the season. He showed real promise at left tackle when he was forced to fill in for the injured Jake Long. Miami has the framework of an excellent offensive line.
The combination of Long (if he re-signs), Martin and Mike Pouncey gives this group a ton of potential.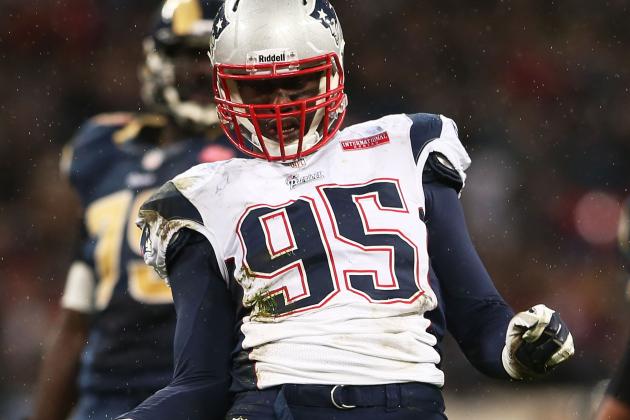 Scott Heavey/Getty Images

Impact Rookies: Chandler Jones, Dont'a Hightower, Alfonzo Dennard, Tavon Wilson and Nate Ebner
The New England Patriots defense is a much improved group. This has a lot to do with the additions of rookies Chandler Jones, Dont'a Hightower, Alfonzo Dennard and Tavon Wilson. Each of these players made a solid contribution throughout the season.
Jones' impact at defensive end might be the most important, as his pass-rush ability helped the defense in all areas. He's a high-motor player who never stops working toward the football. Jones isn't just a pass-rusher, as he also does a good job setting the edge against the run.
Prior to the midseason trade for Aqib Talib, Dennard saw time as a starter at cornerback and made a solid contribution. His playing time has decreased, but he still sees plenty of action on passing downs. The same can be said for defensive back Tavon Wilson.
Wilson does a good job supporting the run and in coverage.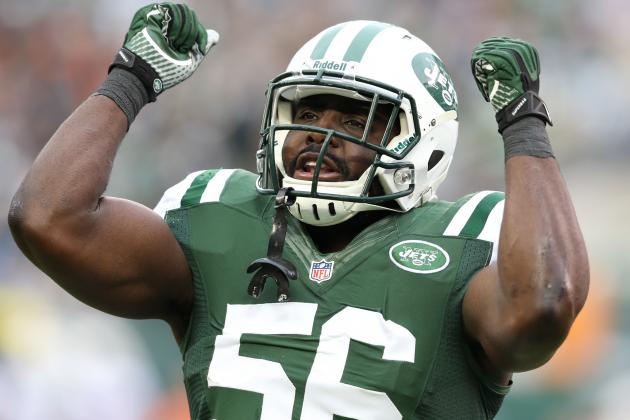 Debby Wong-USA TODAY Sports

Impact Rookies: Stephen Hill, Quinton Coples and Demario Davis
I've been outspoken about how poorly the New York Jets used defensive end Quinton Coples this season. He saw limited action, and when in the lineup, he had major run-stopping responsibilities when his best attribute is rushing the passer.
With that said, he still found a way to record 5.5 sacks.
Wide receiver Stephen Hill flashed his big-play potential. However, he also showed his rawness and inconsistency. Hill is a nice building block for the future, but he needs more time to fully develop.
New York received solid production from linebacker Demario Davis. His quickness and tenacity allowed him to earn time on defense, as well as make plays on special teams.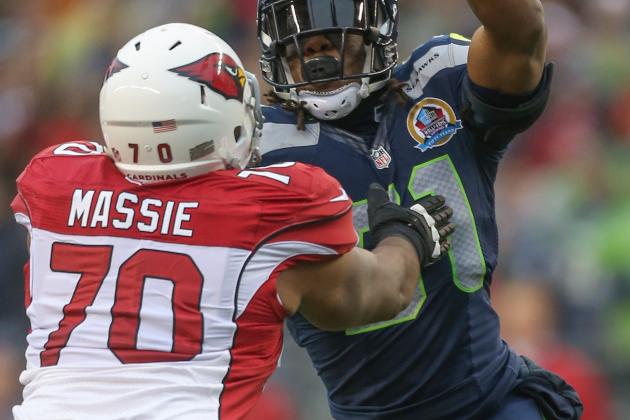 Otto Greule Jr/Getty Images

Impact Rookies: Michael Floyd, Bobby Massie, Nate Potter, Ryan Lindley and Jamell Fleming
Because of injuries, a handful of rookies were forced into action for the Arizona Cardinals. This includes both starting offensive tackles, Bobby Massie and Nate Potter. Neither had an impressive season. However, they did show some potential.
Of the two, Massie has the bigger upside, with the potential to develop into a long-term starter at right tackle.
Wide receiver Michael Floyd's season was a disappointment, but that has a lot to do with the poor play at the quarterback position. That also limited the production of superstar Larry Fitzgerald.
Ken Whisenhunt didn't do quarterback Ryan Lindley any favors by inserting him into the lineup. He was nowhere near ready to start an NFL game, let alone throw the ball more than 50 times in one of those starts.
It's tough to evaluate this group because of the issues on offense. We'll get a better feel for this class next season.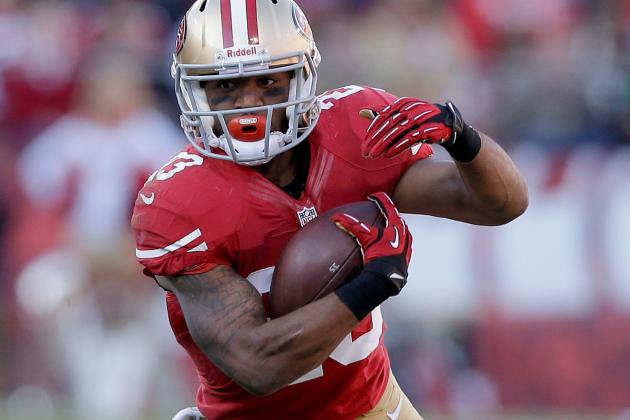 Ezra Shaw/Getty Images

Impact Rookies: LaMichael James
The San Francisco 49ers basically got no production from their rookie class. Most of the rookies were inactive on game day for the majority of the season. Only running back LaMichael James ended up getting a few touches toward the end of the year.
A.J. Jenkins' lack of development is the biggest disappointment of this class. San Francisco isn't ready to give up on the talented wide receiver, but I'm sure there's plenty of concern within the organization.
It feels like the 49ers got too cute with their draft. They went with players who had upside and took a risk in doing so.
Otto Greule Jr/Getty Images

Impact Rookies: Russell Wilson, Robert Turbin, Bruce Irvin, Bobby Wagner
The Seattle Seahawks would've struggled to make the playoffs if it weren't for their rookie class. They got major contributions from rookies on both sides of the ball. Obviously, quarterback Russell Wilson is the star of this group. His development has put the Seahawks in position to make a Super Bowl run.
However, the play of defensive end Bruce Irvin and linebacker Bobby Wagner also made a major difference. Wagner immediately established himself as a leader on defense. He not only made plays all over the field but also did a great job calling the defensive signals.
Irvin's quickness off the edge helped bolster the Seahawks' pass rush. He's still a little raw but showed tremendous potential.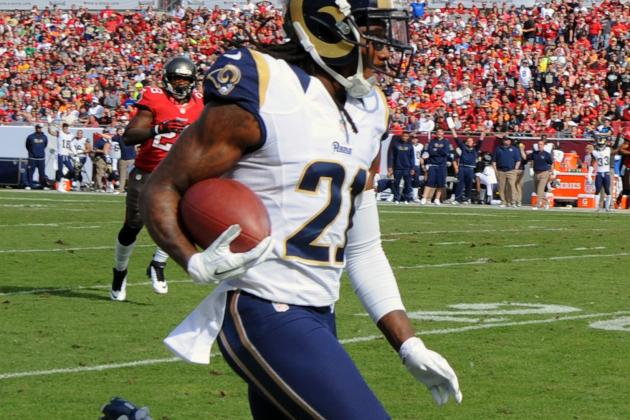 Al Messerschmidt/Getty Images

Impact Rookies: Janoris Jenkins, Michael Brockers, Daryl Richardson, Chris Givens, Brian Quick and Greg Zuerlein
The St. Louis Rams took a risk by selecting cornerback Janoris Jenkins in the second round, and that risk has really paid off. Jenkins provided solid coverage and game-changing plays. He finished with four touchdowns, returning three interceptions and a fumble for scores.
Defensive tackle Michael Brockers' season got off to a slow start because of an injury. However, he finished strong. His ability to stuff the run helped solidify the middle of the Rams defense. He also surprised a few people with his quickness and disruptive play.
The Rams offense got a decent spark from the quickness of wide receiver Chris Givens. He gave them a deep threat who was capable of taking the top off the defense.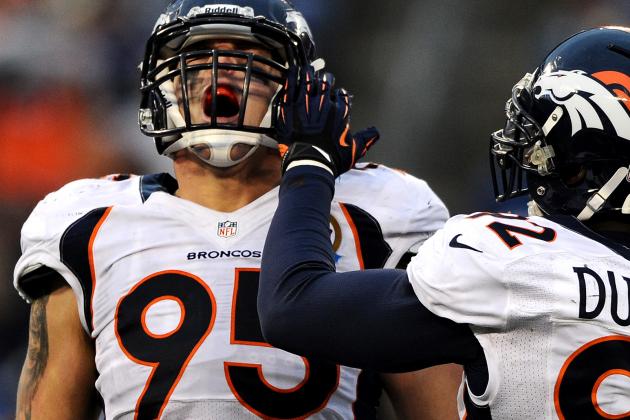 Patrick Smith/Getty Images

Impact Rookies: Derek Wolfe, Ronnie Hillman and Danny Trevathan
The Denver Broncos' only rookie to make a consistent impact was Derek Wolfe. Denver used him at defensive end in its 4-3 alignment, but he had more run-stopping responsibilities because Denver used Von Miller as a pass-rusher from his outside linebacker position.
Running back Ronnie Hillman's inability to earn a role in the offense was a disappointment. This was especially true after Knowshon Moreno surpassed him on the depth chart following Willis McGahee's injury.
The Broncos received a surprise contribution from linebacker Danny Trevathan. His quickness allowed him to make plays on special teams and eventually earn a spot on defense. He stepped up when linebacker D.J. Williams was suspended.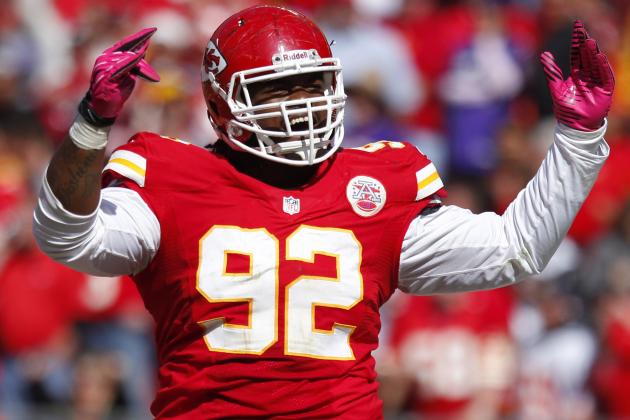 Kyle Rivas/Getty Images

Impact Rookies: Dontari Poe, Jeff Allen and Donald Stephenson
The Kansas City Chiefs' rookie class didn't do too much to help the team avoid its terrible season. However, players like offensive linemen Jeff Allen and Donald Stephenson did a good job filling in after injuries struck. Things didn't start off great for Allen, but he started to improve down the stretch.
Nose tackle Dontari Poe is a raw and naturally gifted player who needs time to develop. However, each week it was easy to see improvement. Most of those improvements came because he improved his technique. The more he kept his pads low, the more success he had.
He has a chance to develop into a real difference-maker along the defensive line.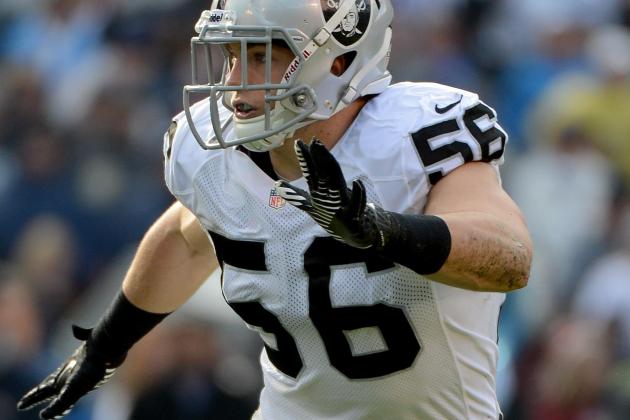 Donald Miralle/Getty Images

Impact Rookies: Miles Burris, Juron Criner and Rod Streater (undrafted free agent)
The Oakland Raiders needed the contributions Rod Streater and Juron Criner provided early in the season. Both players stepped up when the Raiders' other wide receivers were out with injury. The problem is that neither player will be more than a No. 3 wide receiver down the line.
Linebacker Miles Burris is the only player out of this draft class with good upside. He finished second on the team with 96 tackles. His quickness and tenacity give him the potential to be a building block for the future.
It's important to note that the Raiders traded away most of their 2012 draft picks. That is why the group had such limited impact.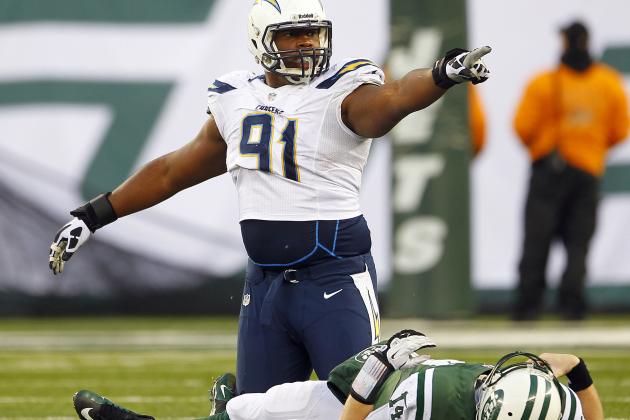 Rich Schultz/Getty Images

Impact Rookies: Kendall Reyes, Melvin Ingram and Michael Harris (undrafted free agent)
The San Diego Chargers have to be disappointed by the lack of production from outside linebacker Melvin Ingram. He was brought in to help provide a pass rush. However, he finished with only one sack. This lack of production from a first-round pick is always a cause for concern.
However, the play of second-round pick Kendall Reyes made some forget about Ingram's struggles. Reyes quickly established himself as a force along the Chargers' defensive line. He did a good job holding his own at the point of attack and working his way into the backfield.
The combination of Reyes and Corey Liuget has the potential to be an excellent defensive-line tandem.
Offensive tackle Michael Harris was forced into action because of an injury to Jared Gaither. Despite being an undrafted rookie, he did a decent job. Harris had his share of struggles, but he could've played much worse.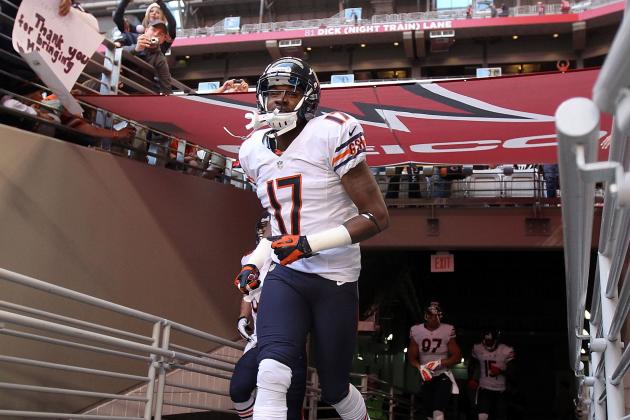 Christian Petersen/Getty Images

Impact Rookies: Alshon Jeffery, Evan Rodriguez and Shea McClellin
Just like the rest of the team, things started off great for the Chicago Bears' rookie class. Wide receiver Alshon Jeffery showed that he has the potential to be a big-play threat, and defensive end Shea McClellin was generating good pressure on the quarterback.
However, an injury to Jeffery slowed his development, and McClellin's lack of consistency allowed Corey Wootton to steal playing time. Both players still have a lot of upside, but they just didn't finish the season on a strong note.
Evan Rodriguez did a great job converting from tight end to fullback. His lead-blocking skills helped spring some big gainers for Matt Forte.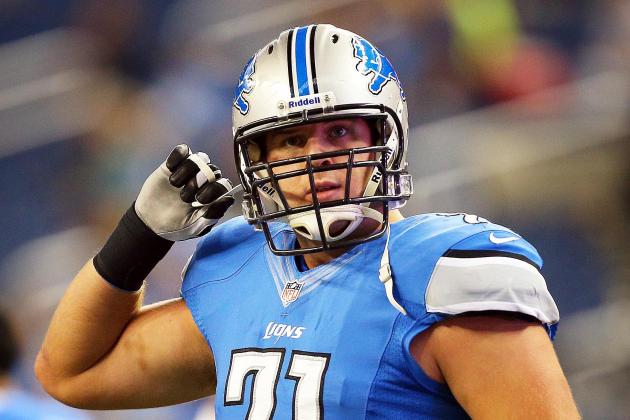 Mike Carter-USA TODAY Sports

Impact Rookies: Riley Reiff, Jonte Green and Bill Bentley
The Detroit Lions didn't get much production from their rookie class. However, players like cornerbacks Jonte Green and Bill Bentley stepped up when forced into the lineup because of injuries. Green finished the season as the lone rookie making a consistent contribution.
Offensive tackle Riley Reiff saw some spot action, mostly as an extra lineman in running situations. He still has a bright future, as Detroit is counting on him to eventually replace the aging Jeff Backus at left tackle.
Travis Lewis and Tahir Whitehead provided some solid special-teams play and depth to the linebacking corps.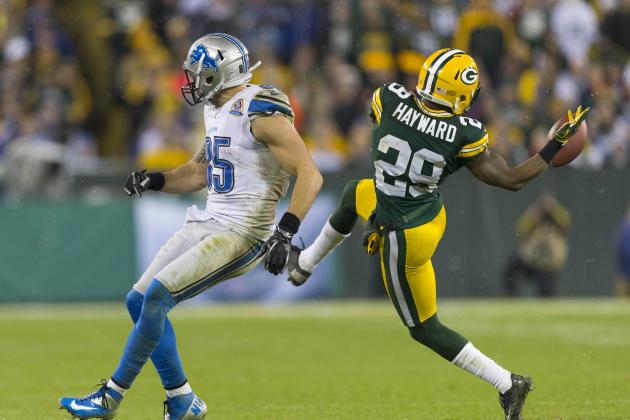 Jeff Hanisch-USA TODAY Sports

Impact Rookies: Casey Hayward, Nick Perry, Jerron McMillian, Mike Daniels, Jerel Worthy and Don Barclay (undrafted free agent)
The majority of the Green Bay Packers' rookie contributions came on defense. Cornerback Casey Hayward provided solid coverage and made six interceptions. Those turnovers played a major role in the Packers' ability to win 11 games.
Don Barclay's contribution has been the biggest surprise. He was forced into the lineup at right offensive tackle after a series of injuries. Barclay has had his share of struggles, but he continues to work and improve.
Green Bay should be a little disappointed in the limited production by linebacker Nick Perry. His season was cut short by an injury, but he didn't do much while in the lineup. He was selected to help generate pressure on the quarterback. However, he finished with only two sacks.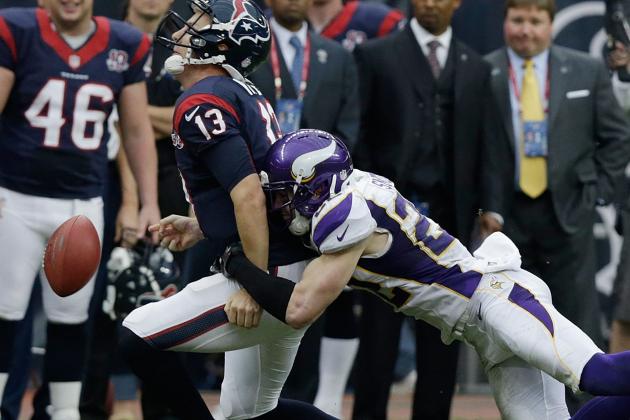 Scott Halleran/Getty Images

Impact Rookies: Matt Kalil, Harrison Smith, Blair Walsh and Jarius Wright
The Minnesota Vikings added two important pieces through the 2012 draft. Both offensive tackle Matt Kalil and safety Harrison Smith played a major role in the team's ability to earn a playoff berth. These two players also represent the future of this team.
Kalil has stepped in and immediately solidified the left tackle position. He's a well-rounded player who can open running lanes and protect the passer. It's safe to say he's already one of the better young left tackles in the league.
The Vikings defense showed a lot of improvement this season, and Smith played a role in the turnaround. Smith is a fiery competitor who supports the run and can quickly close on the ball in the passing game. He has already established himself as a team leader.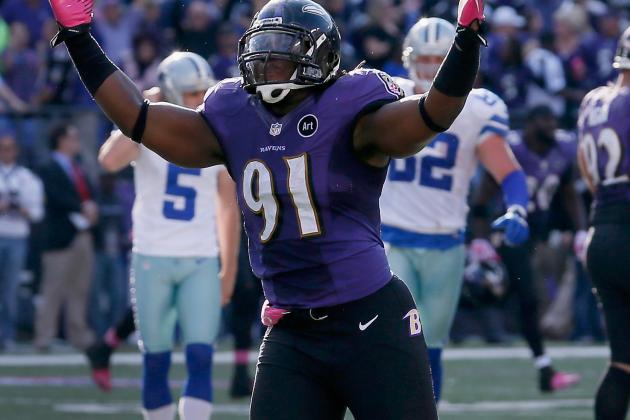 Rob Carr/Getty Images

Impact Rookies: Courtney Upshaw, Kelechi Osemele, Justin Tucker and Bernard Pierce
Because of the injury to Terrell Suggs and loss of Jarret Johnson (free agency), the Baltimore Ravens needed linebacker Courtney Upshaw to step up. He quickly earned a major role on the defense and provided more-than-solid play.
Upshaw is a well-rounded player who rushes the passer and sets the edge against the run. He has a ton of upside and will be a building block for the future.
Kelechi Osemele started the majority of the season at right tackle. He did a solid job and made the necessary adjustments. However, in the playoffs, the Ravens decided to shake up the offensive line by moving Michael Oher to right tackle and inserting Bryant McKinnie on the left side.
This move is more about taking a win-now approach. Osemele has a bright future and is still in the team's long-term plans.
Ray Rice is the Ravens' top offensive weapon, but even he needs some rest. Bernard Pierce has shown real promise as Rice's backup.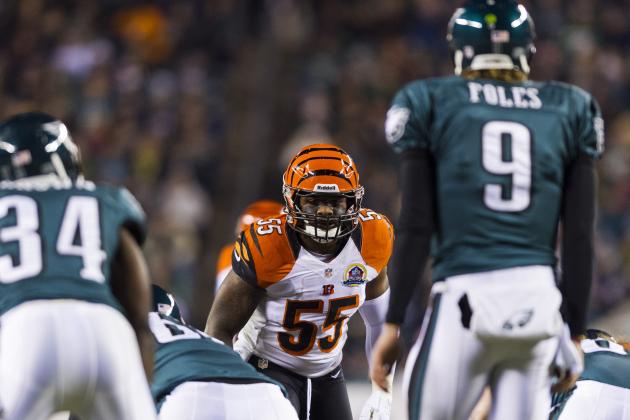 USA TODAY Sports

Impact Rookies: Kevin Zeitler, Marvin Jones, Vontaze Burfict (undrafted free agent) and Trevor Robinson (undrafted free agent)
The Cincinnati Bengals received great production from two undrafted rookies. Linebacker Vontaze Burfict went undrafted because of questions about his maturity, but there was little doubt he had raw talent. Cincinnati's risk has paid off, as Burfict looks like a long-term starter.
Center Trevor Robinson also surprised a lot of people with his ability to contribute. Robinson didn't only contribute; he helped solidify the offensive line. The center position was an issue for the Bengals all season until Robinson took over.
Robinson teams with rookie guard Kevin Zeitler to give the Bengals a strong interior offensive line and two more building blocks along the O-line.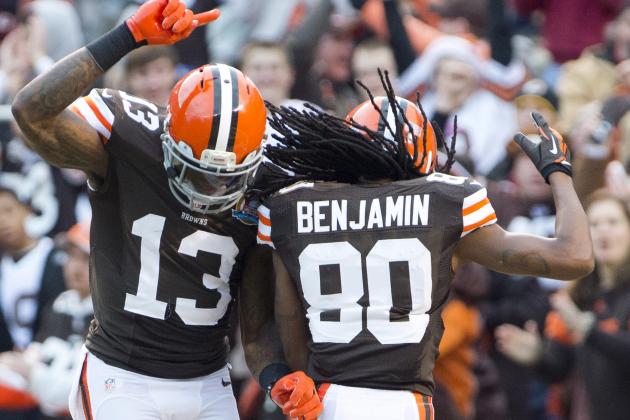 Jason Miller/Getty Images

Impact Rookies: Trent Richardson, Brandon Weeden, Mitchell Schwartz, Josh Gordon (supplemental draft), Travis Benjamin, John Hughes, Billy Winn, James-Michael Johnson and L.J. Fort (undrafted free agent)
The Cleveland Browns' roster is filled with young talent, as at least nine rookies made major contributions. Running back Trent Richardson and quarterback Brandon Weeden get most of the media attention. Both players did a lot this season to help improve the Browns offense.
However, this draft class gets such a high grade because of its depth. Less heralded players like offensive tackle Mitchell Schwartz, wide receiver Josh Gordon, defensive tackle John Hughes, linebacker James-Michael Johnson and linebacker L.J. Fort all solidified themselves as pieces for the future.
The big-play ability displayed by Gordon is very encouraging. He has the potential to develop into a real difference-maker. Gordon's explosiveness can be utilized because of the protection provided by Schwartz and the offensive line.
Basically, Cleveland did a great job adding tons of talent during the 2012 draft.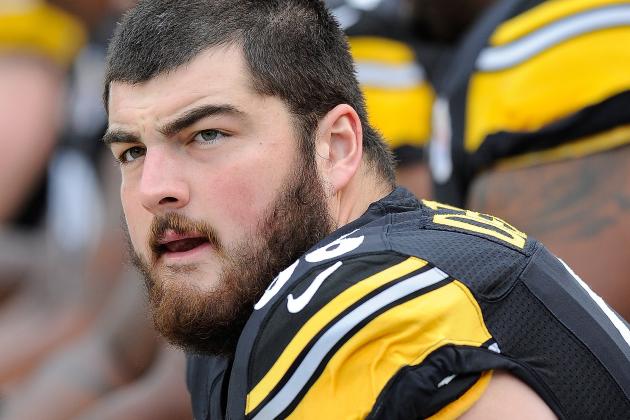 Joe Sargent/Getty Images

Impact Rookies: Chris Rainey and Mike Adams
A preseason injury to guard David DeCastro hurt the Pittsburgh Steelers' chances to have a top-notch rookie class. However, that injury was coupled with inconsistent play by offensive tackle Mike Adams and lack of an impact by running back Chris Rainey.
Adams' struggles were the most disappointing, as Pittsburgh gave him a great chance to win the starting left tackle position. However, mistakes and inconsistent technique forced the Steelers to go in a different direction. There's still some upside here, but Adams must improve his concentration.
The Steelers were hoping that Rainey would be able to provide some explosiveness out of the backfield. He just wasn't able to make the big plays the Steelers were looking for, though, and eventually saw his playing time diminish.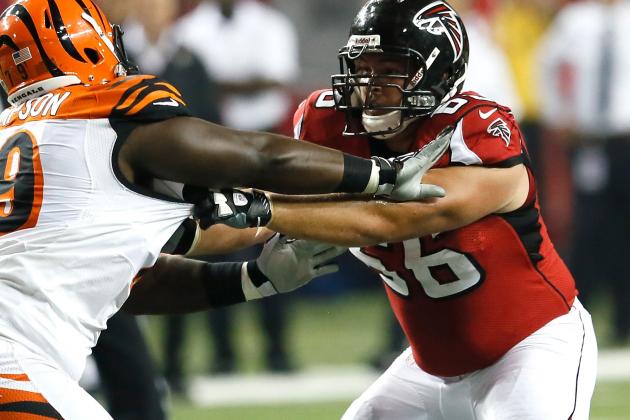 Kevin C. Cox/Getty Images

Impact Rookies: Peter Konz
Because of the trade to land Julio Jones in the previous draft, the Atlanta Falcons had limited draft picks in 2012. The only rookie to make an impact was Peter Konz. It took several weeks, but Konz was eventually inserted into the starting lineup at right guard.
Konz is a powerful and smart offensive lineman. His natural position is center, but he quickly showed he can succeed at guard.
Look for Konz to move to center when 35-year old Todd McClure decides to retire.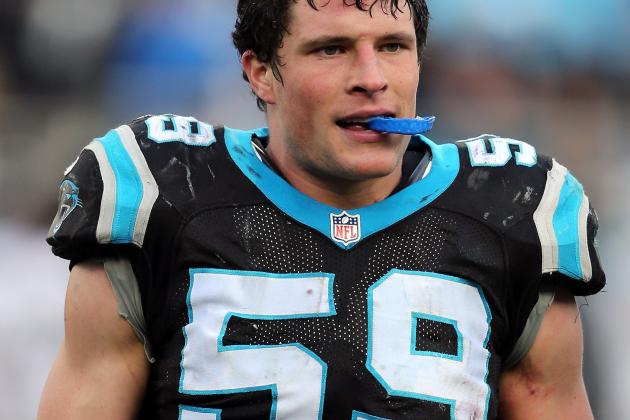 Streeter Lecka/Getty Images

Impact Rookies: Luke Kuechly, Amini Silatolu, Josh Norman and Frank Alexander
Luke Kuechly has an excellent chance to win the Defensive Rookie of the Year Award. He led the league with 164 tackles. His play helped the Panthers defense find stability at linebacker, which had been missing because of the injuries that continued to hit the unit.
Kuechly is joined by Josh Norman and Frank Alexander as solid contributors on the defensive side of the ball. Norman is a physical cornerback who doesn't back down from a challenge. Defensive end Alexander provided a decent pass rush opposite Charles Johnson.
The Panthers also got great production from guard Amini Silatolu. It took time for him to get comfortable in the offense, but he was able to make an impact because of his natural abilities.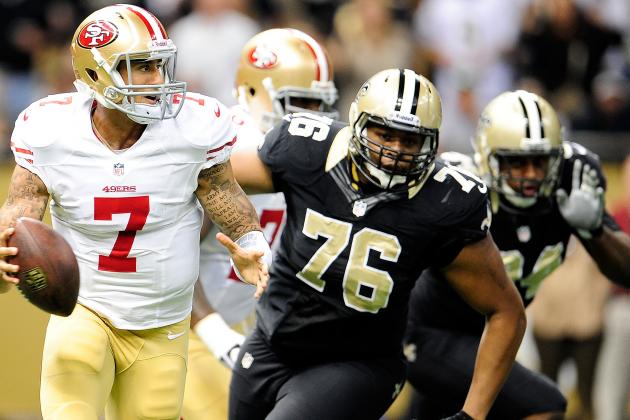 Stacy Revere/Getty Images

Impact Rookies: Akiem Hicks and Corey White
The Saints lacked the draft picks needed to add a lot of talent through the 2012 draft. However, they were able to land defensive tackle Akiem Hicks in the third round.
Hicks is a raw player who possesses a ton of natural ability. He started to show signs of improvement as the season progressed, which earned him more playing time. This is a player who could make a major impact in the upcoming seasons.
Corey White was used throughout the season as an extra defensive back. He's a big hitter who made some mistakes in coverage. However, he should stick with the team to provide depth.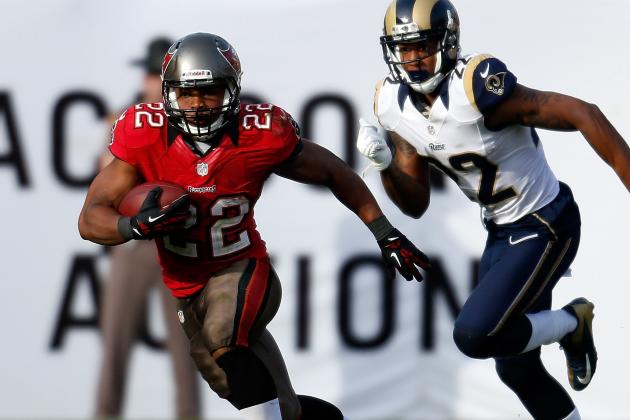 J. Meric/Getty Images

Impact Rookies: Doug Martin, Lavonte David and Mark Barron
The Tampa Bay Buccaneers' draft class didn't offer much depth, but it provided the team with three long-term starters. Running back Doug Martin, linebacker Lavonte David and safety Mark Barron all showed the potential to develop into elite playmakers.
Martin's explosiveness in the running game helped the Buccaneers offense find some consistency. He wasn't just a big-play threat, as he also carried the load. Martin finished fifth in the NFL with 1,454 rushing yards.
David finished as the team's leading tackler with 139. His quickness and nose for the ball allowed him to make plays from sideline to sideline. If Luke Kuechly wasn't in the equation, David would be one of the leaders for the Defensive Rookie of the Year Award.
Barron finished with 89 tackles and an interception.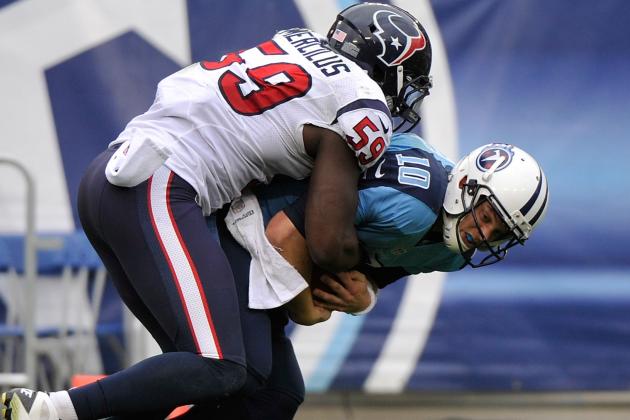 Frederick Breedon/Getty Images

Impact Rookies: Whitney Mercilus, Ben Jones, Brandon Brooks and Keshawn Martin
It took an injury to Brooks Reed for linebacker Whitney Mercilus to get meaningful snaps on defense. He took advantage of the extended playing time by finishing with six sacks. Houston needs to do a better job next year finding a way to get him on the field. Mercilus is just too talented a pass-rusher to keep on the sideline.
The Houston Texans were forced to use center Ben Jones and guard Brandon Brooks at times along the offensive line. Brooks has the most upside of the two, but Jones was more consistent. The Texans are likely to give both players a shot at a starting job next season.
Keshawn Martin and DeVier Posey didn't show enough to solidify a long-term role with the team. Both look like nothing more than a No. 3 wide receiver at best.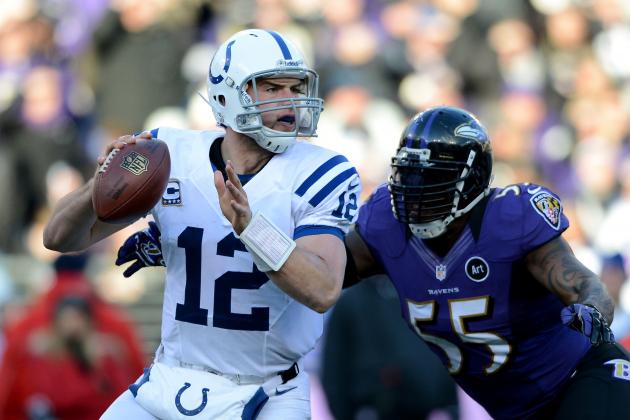 Patrick Smith/Getty Images

Impact Rookies: Andrew Luck, T.Y. Hilton, Vick Ballard, Dwayne Allen and Coby Fleener
Andrew Luck has already shown that he has the potential to be one of the best quarterbacks in the NFL. In his rookie season, he led the Indianapolis Colts to a playoff appearance. He did this despite playing on a team with a leaky offensive line and average defense.
However, he did get a lot of help from fellow rookies on offense. The vertical passing game got a major boost from T.Y. Hilton. He used his speed to make several big plays.
Running back Vick Ballard came on late in the season and helped establish a solid running game. His production came despite issues along the offensive line.
The Colts selected Coby Fleener a round earlier than Dwayne Allen, but Allen had a bigger impact. He fell on draft day because he didn't run a great 40-time. However, his college career showed he could make plays in the passing game.
Both tight ends will play a major role in this offense for years to come.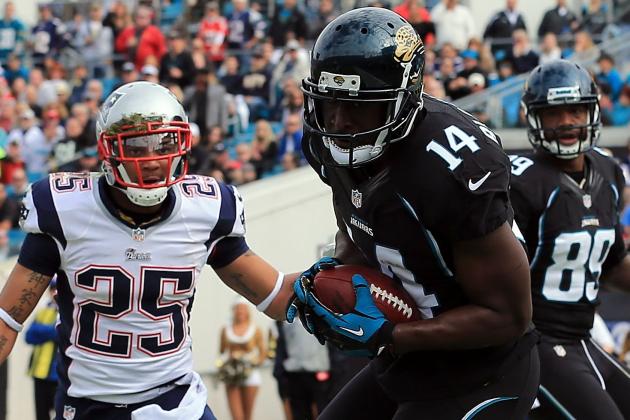 Sam Greenwood/Getty Images

Impact Rookies: Justin Blackmon, Bryan Anger and Julian Stanford (undrafted free agent)
It took an injury to quarterback Blaine Gabbert for Justin Blackmon to finally show his talent. His play down the stretch should give the Jacksonville Jaguars hope for the future. Blackmon just needed time to improve his route running and gain a better feel for the offense.
Outside of Blackmon, Jacksonville got contributions from linebacker Julian Stanford and punter Bryan Anger. Stanford had a solid season after taking over for the struggling Kyle Bosworth.
Anger finished in the top 10 in the NFL, averaging 40.8 net yards per punt. He definitely earned his third-round billing.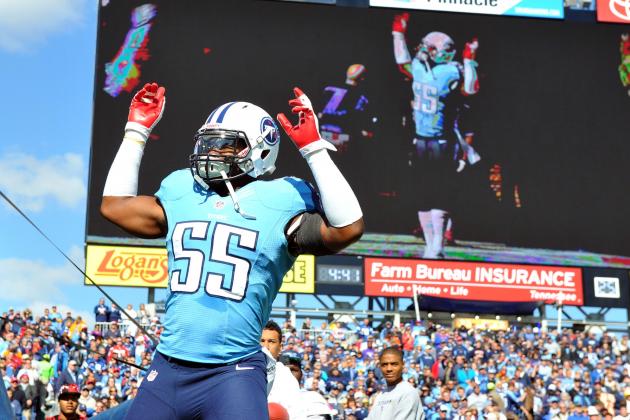 Don McPeak-USA TODAY Sports

Impact Rookies: Kendall Wright, Zach Brown, Mike Martin and Taylor Thompson
Kendall Wright led the Tennessee Titans with 64 receptions. He failed to provide the number of explosive plays many expected, but his consistency was a major contribution. Wright could've had a much more productive season if Tennessee had consistency at quarterback.
The biggest surprise of the Titans' draft class was the quick development of Zach Brown. He started the season getting by on his raw talent but quickly started to gain a better feel for the game. Brown established himself as an important part of the Titans' linebacking corps.
Taylor Thompson saw extended action toward the end of the season and started to show the type of potential he has.