Boston Celtics vs. Atlanta Hawks: Postgame Grades and Analysis for Boston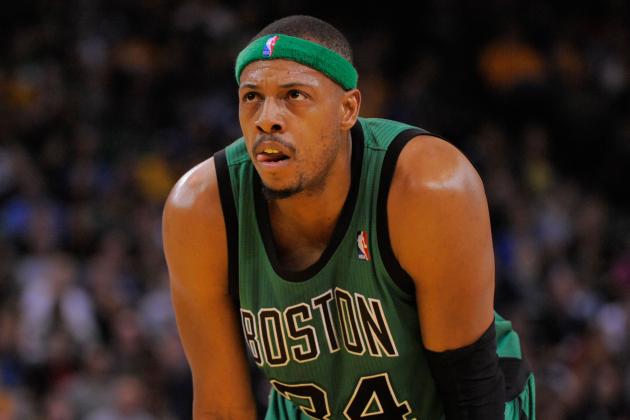 USA TODAY Sports

It was a tale of two halves as the Boston Celtics shook off a sloppy start to come roaring back in an 89-81 win over the Atlanta Hawks.
The C's showed amazing resilience in their second game in as many nights after falling behind early. Lou Williams and Jeff Teague torched the Celtics guards early, but after halftime, the floodgates that had been open for the game's first 24 minutes stayed shut.
Rajon Rondo put up a triple-double, and Paul Pierce keyed a third-quarter surge that saw the C's turn a 15-point halftime disadvantage into a nine-point lead heading into the fourth quarter.
Boston won its second game in a row and moved to 16-17 on the year, while the loss knocked the Hawks down to 20-12.
If we'd stopped grading at halftime, every Celtics player would have failed, but thanks to an defensively dominant effort after the break, Boston came out of this one with some impressive marks.
Begin Slideshow

»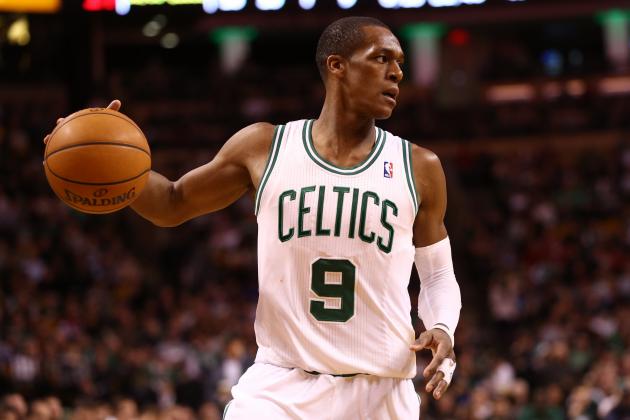 USA TODAY Sports

Rajon Rondo: A-

Rajon Rondo was up to his usual stat-stuffing ways against the Hawks, but his triple-double was necessary to offset his atrocious defense, particularly in the first half.
The Celtics point guard matched up with Lou Williams and allowed him to register a season-high 28 points on 9-of-12 shooting. Williams bombed away early, as Rondo surrendered four triples in the first quarter alone.
After the break, Rondo tightened things up, though. Williams hardly saw the ball on his end and Rondo went to work for the C's on the other.
He put up a final line of 14 points, 11 rebounds, 10 assists and three steals.
In an interesting moment, Rondo actually bumped an official late in the third quarter, but avoided a technical foul somehow. This turned out better than the last time he made contact with a ref.
Overall, the only criticism we can make of Rondo is that he waited until after halftime to start playing. That's the reason he doesn't get a solid "A."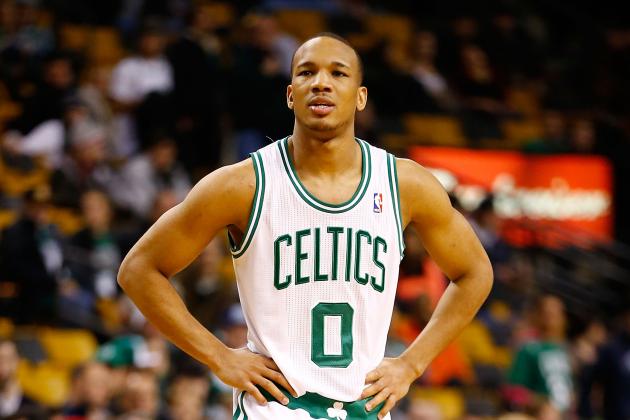 Jared Wickerham/Getty Images

Avery Bradley: C-
Avery Bradley was clearly rusty in his first two games after returning from a shoulder in jury, and his third effort might have been his worst yet. After totaling 10 points on 5-of-17 shooting in his last two contests combined, Bradley managed just six points on 3-of-9 shooting.
And like his backcourt mate, Rajon Rondo, he struggled mightily to contain his defensive assignment. Jeff Teague put up 17 points, most of which came in the early going.
After so much time away from the court, the back end of a back-to-back proved to be a bit much for Bradley, who may not yet be in game shape. Owed to his lack of conditioning and Teague's offensive outburst, Bradley played little in the second half.
Going forward, Bradley will be an important piece for the Celtics, as he gives them a solid defender and an athletic body on the wing. He's not there yet, though.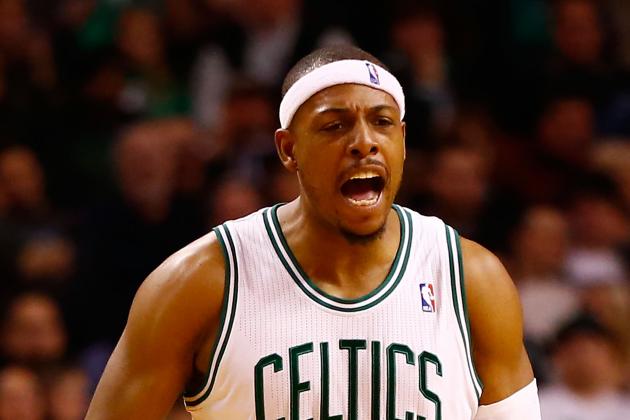 Jared Wickerham/Getty Images

Paul Pierce: A
After starting the game ice cold, Paul Pierce came to life after halftime.
His 18 points in the third period were twice as many as the entire Hawks team scored in the quarter, as the Celtics erased Atlanta's lead.
Pierce finished the game with 26 points, nine rebounds and five assists, which is a heck of a stat line. But he was even more valuable than the numbers suggest.
Without his leadership in the third quarter, Boston could easily have bowed out of this one. Instead, he gave maximum effort and set an example his team couldn't help but follow.
As a veteran leader and surefire Hall of Famer, Pierce did exactly what he was supposed to do.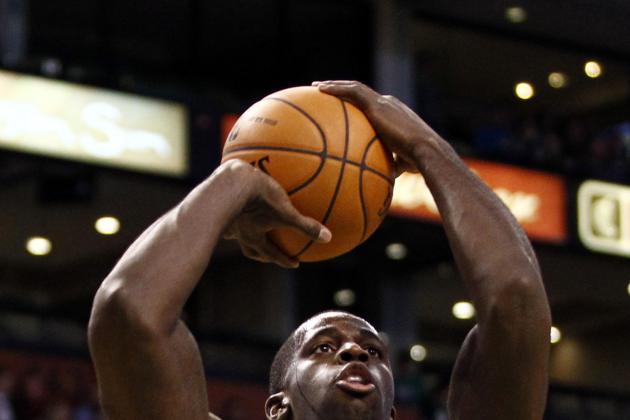 Mark L. Baer-USA TODAY Sports

Brandon Bass: B
Bass had a funny way of disappearing against the Hawks for long stretches, only to suddenly re-emerge with a mid-range jumper or timely offensive board when you least expected it.
In one key fourth-quarter sequence, Bass came up with a loose ball after Rondo bobbled it and put in a jumper to give the Celtics a nine-point lead with less than four minutes left. He followed that play up with a steal and an assist to a streaking Rondo, whose layup expanded Boston's advantage to 11.
In 36 minutes, Bass put up 10 points, four rebounds and three steals, but for about 90 percent of his time on the floor, he was basically invisible.
In the other 10 percent, he was really good.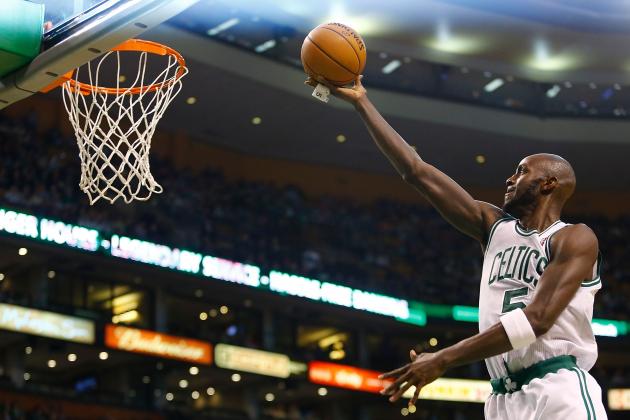 Jared Wickerham/Getty Images

Kevin Garnett: B+
Kevin Garnett didn't earn any flagrant fouls for elbows to the face against the Hawks, so in many ways, this game was an improvement over his performance against the Indiana Pacers on Jan. 4.
Don't be mistaken, though, KG was still plenty feisty. He induced an elbow from Zaza Pachulia and got into a little scrum on the floor as he tried to save a possession with a timeout call. Pretty pedestrian stuff by Garnett's standards.
From a production perspective, the Celtics' center was good, but not great.
Garnett finished with 14 point, five boards and three assists on 7-of-12 shooting, but he looked a little slow on some of his rotations—especially in transition. In one instance, journeyman Anthony Tolliver finished over him on the break while drawing a foul.
To be fair to KG, this was the second leg of a back-to-back set. So he gets a little bit of a pass for looking old. At 36, he deserves credit for scoring very efficiently and playing good half-court defense, especially in the game's final minutes as the C's closed out the Hawks.
David Butler II-USA TODAY Sports

Jared Sullinger: B+
Sullinger was second among all Celtic reserves with 24 minutes against the Hawks, but he was the team's most valuable contributor off the bench.
Sully scored eight points on eight shots, committed three fouls, and most importantly, created a handful of extra possessions on the offensive glass. His nine boards, four of which were on the offensive end, were more than any Boston player not named Rajon Rondo.
Whatever criticisms there were about his athleticism seem petty now, as Sullinger has shown he's capable of giving the Celtics a real boost off the bench.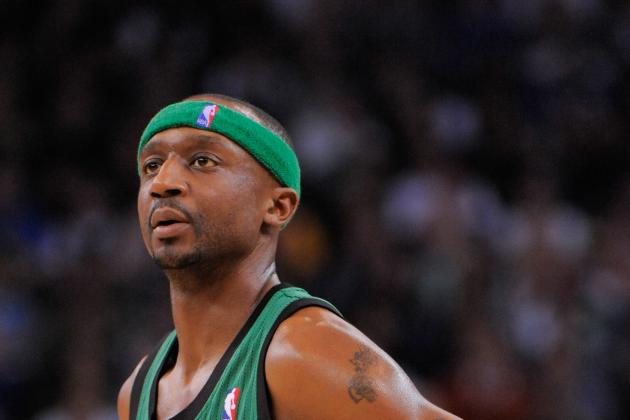 USA TODAY Sports

Bench Grade: D+
Even though Rajon Rondo and Avery Bradley had a hard time covering Atlanta's guards, Jason Terry made their efforts look pretty darn good.
Jet's not known as a stopper, and he certainly lived up to that reputation as he tried unsuccessfully to prevent Jeff Teague and Lou Williams from doing pretty much whatever they wanted. You could practically see the Hawks guards salivating when Terry switched onto them.
Offensively, Terry didn't provide the Celtics with any sort of spark, totaling four points on 2-of-8 shooting.
Jeff Green was bad, too. He made just one of his four attempts and somehow found himself getting back-cut to death on a couple of unfortunate defensive switches.
Other than Terry's struggles, the rest of Boston's bench didn't contribute much one way or the other. Courtney Lee and Jason Collins hardly played, but each was 1-of-1 from the floor.
Excluding Sullinger, the Celtics reserves made just 5-of-14 shots and didn't play roles in Boston's big push in the third quarter. As such, they get relatively low marks in this one.