New York Knicks vs. Orlando Magic: Postgame Grades and Analysis for NYC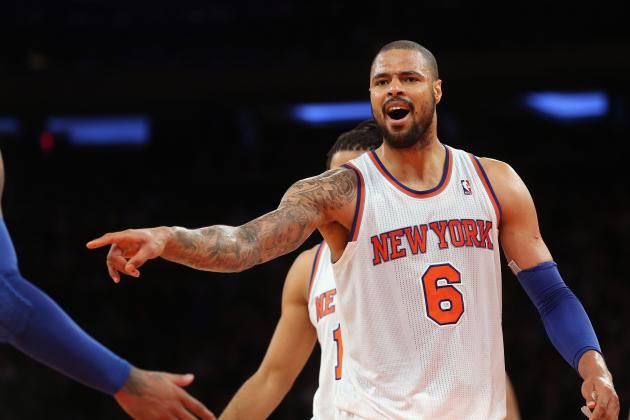 Bruce Bennett/Getty Images

The New York Knicks topped the Orlando Magic, 114-106, in a back-and-forth affair Saturday night. The Magic jumped out to an early 14-2 lead behind some red-hot shooting, but the Knicks quickly climbed out of the hole and grabbed the lead heading into halftime.
There was a period during the third quarter when Orlando looked as if it had regained control, but New York rebounded behind 40 total points from Carmelo Anthony and key defensive stops late in the game. Anthony was simply brilliant, putting forth what was possibly one of his best performances as a Knick.
The Knicks had a lot of trouble with Jameer Nelson through the first three quarters, as the Magic guard dropped 29 points on them during the first 36 minutes. Mike Woodson's club buckled down in the fourth, though, holding the Saint Joseph's product scoreless and cutting off Orlando's main source of offense in the process.
This was a solid road win for New York against a Magic team that isn't playing as poorly as its record may indicate.
Begin Slideshow

»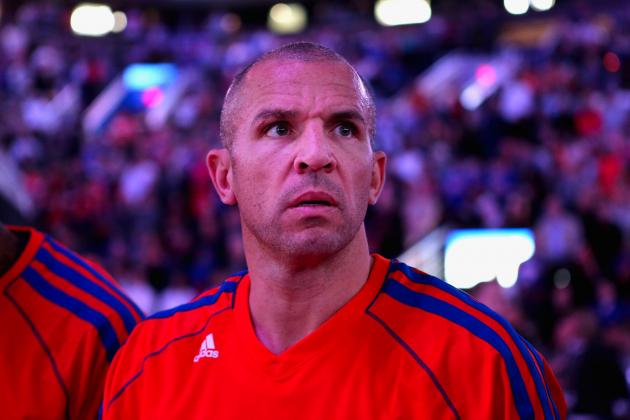 Christian Petersen/Getty Images

Overall Game Grade: A-
As you can tell from the quarter-by-quarter grades, Jason Kidd was extremely consistent on the night. The savvy veteran neared a triple-double with 15 points (all coming off three-pointers), eight rebounds and seven assists.
He was magnificent, doing an incredible job of keeping the Knicks under control when it looked like the game could get away from them at times. His value goes beyond statistics. The funny thing is, you could actually see it on the stat sheet.
Q4: A-
Kidd did a much better job against Jameer Nelson in the fourth, holding him in check after the Orlando guard exploded in the third. He also kept on crashing the boards and hit a dagger three from the corner with 1:45 left.
Q3: A-
Kidd continued his high level of play in the third, knocking down a pair of threes early and continuing to orchestrate the offense. He did have some trouble defending Nelson during the period, but so did everyone else on the Knicks. Nelson was simply on fire.
Q2: A-
Kidd carried his very nice first-quarter performance into the second. He continued to make good, clean passes and maintained great control of the offense. At the half, Kidd was filling up the stat sheet: six points, five assists, four rebounds and two steals.
Q1: A-
After a lackluster effort against the San Antonio Spurs, Kidd got off to a great start. He ran the offense extremely fluidly, making some pinpoint passes to his teammates for easy buckets.
The future Hall of Famer also knocked down a three and did a nice job on the glass, hauling in three early rebounds.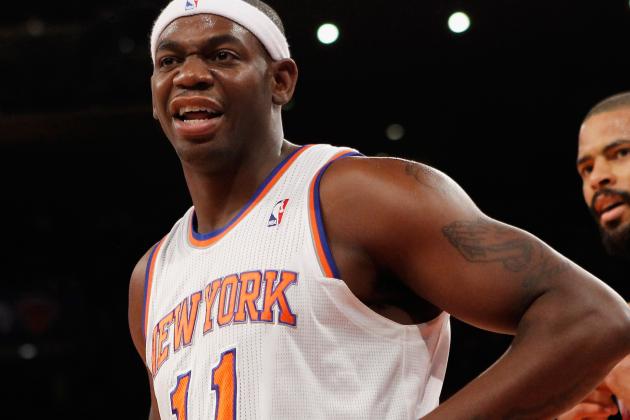 Bruce Bennett/Getty Images

Overall Game Grade: B-
Ronnie Brewer put up a minus-15 plus/minus stat, so a B- might actually be a bit generous. However, he did force some Orlando turnovers with pesky defense. He failed to grab a rebound, though, and ended up with only two points. Brewer isn't there for scoring, but you have to at least get a board in 16-and-a-half minutes of play.
Q4: N/A
Brewer did not play during the fourth quarter.
Q3: A-
This was a great defensive quarter for Brewer, as he forced some turnovers which led to some points for the Knicks. He also knocked down a jumper from the corner.
Q2: B-
Brewer received limited minutes in the second quarter and did his usual thing. He focused on the defensive end and tried to set himself up for corner threes offensively. The one three he attempted was blocked, but it was thanks to a great play from Moe Harkless.
Q1: C
The highlight of Brewer's first quarter was when he got an earful from head coach Mike Woodson after blowing a defensive assignment.
Woodson was so irate with Brewer that he actually called a 20-second timeout to talk to him about the miscue. He was pulled from the game shortly thereafter and didn't return until there were 27 seconds left in the quarter. Brewer went 0-of-1.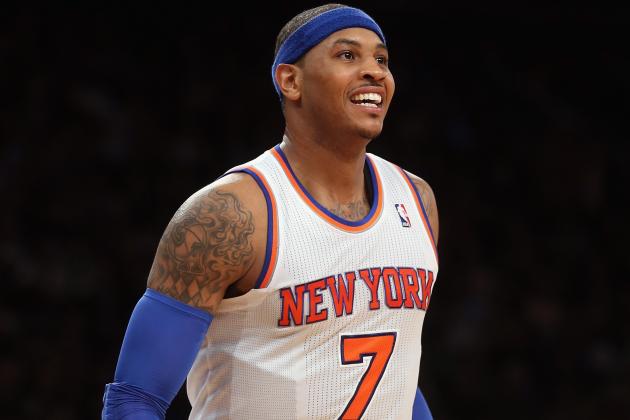 Bruce Bennett/Getty Images

Overall Game Grade: A+
To put it plainly, Anthony was tremendous Saturday night. The star forward scored 40 points off 14-of-29 shooting (4-of-9 from three), handed out a season-high six assists and grabbed six rebounds.
He did it all, and he scored from all over the floor. You know what may be most impressive about Melo's scoring output in this one? Only eight of those points came from the free-throw line.
He was knocking down shots from all over the floor, scoffing at any Magic player who dared try to defend him (and imagine he was laughing in his head at Josh McRoberts' attempts to do so).
Q4: A+
After making a layup early in the period, Melo winced as he came down the floor. He appeared to be OK, but it's clear something (maybe the knee?) is still bothering him.
Oh, and why in the world is McRoberts defending Anthony? That's just a recipe for disaster right there. Come on—you at least have to help McRoberts out by bringing a double-team. Melo saw his opportunity and took advantage, abusing McRoberts from everywhere on the floor.
He also drained an enormous shot-clock-beating trey to tie the game with just under seven minutes to go, and on the next possession, he picked up his season-best sixth assist on a great pass to Chandler. Carmelo demonstrated the rest of the way why he is one of the best scorers in the league, scoring 16 fourth-quarter points off 7-of-11 shooting.
Melo pretty much sealed the deal with a turnaround jumper with 44 seconds to go.
Q3: A-
Anthony did get frustrated during the third, particularly when he fouled Arron Afflalo from behind the three-point line, which resulted in a four-point play. He regained his composure, though, and canned a big trey to stop an 8-0 Magic run and then converted an and-one later on. Melo also equaled his season high in assists during the period, picking up his fifth dime.
Q2: A
Melo did a very good job of creating mismatches in the second quarter, shaking Arron Afflalo in order to draw smaller defenders like J.J. Redick and Jameer Nelson. He did plenty of other things during the period, as well, making some great passes (he ended up with four assists at the half, one shy of his season high) and playing some very nice D.
Q1: A
Anthony got off to a very solid start. He was very active early on, running off screens and getting off quick some quick shots. Unlike against the San Antonio Spurs, Melo didn't have to deal with constant double-teams in the first quarter.
That obviously helped, as he was able to get into somewhat of a comfort zone from the get-go. All of that resulted in 10 first-quarter points for the star.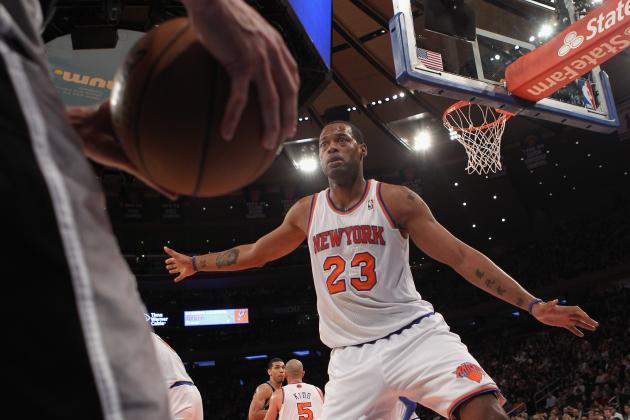 Bruce Bennett/Getty Images

Overall Game Grade: B+
Marcus Camby made some beautiful passes in this one, as he actually equaled the amount of assists he had all season with the four dimes he had against Orlando. He only had one rebound in 13 minutes, though, so that detracts from his overall grade. It appears that Mike Woodson really seems to like starting Camby now, though.
It will be interesting to see if that continues.
Q4: N/A
Camby did not play during the fourth quarter.
Q3: A
Camby came out of the gate fast in the third with another gorgeous lob to Chandler for an alley-oop. He followed that up with yet another lob to Anthony, which Melo could not finish, and then another lob to Chandler, which Tyson converted.
Camby is a very underrated passer for a big man, as that is something he has been doing all season long.
Q2: N/A
Camby did not play during the second quarter.
Q1: B-
Camby had all sorts of problems defensively with Andrew Nicholson in the first period, as the rookie out of St. Bonaventure utilized his younger legs to score a few buckets on the seasoned veteran, including a three-point play.
Camby also failed to grab a rebound in the quarter. He did knock down a 15-footer and made a great pass to Tyson Chandler for an alley-oop, as well.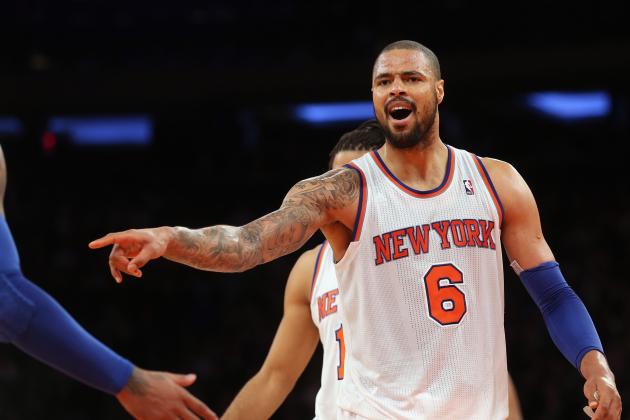 Bruce Bennett/Getty Images

Overall Game Grade: A-
Another double-double for Tyson Chandler, as the reigning Defensive Player of the Year tallied 14 points and 12 rebounds. He shot 6-of-6 from the floor and made his presence felt around the rim, deterring the Magic from getting to the basket.
He did have a bit of a rough patch during the fourth when he allowed Nikola Vucevic to really have his way on the glass, but for the most part, this was a very solid outing for Chandler.
Q4: B-
After showing great tenacity on the boards throughout the first three quarters, Chandler allowed Vucevic to get the best of him for parts of the fourth. Tyson only pulled down one rebound during the period. He also committed a very silly foul on a made Afflalo jump shot. Fortunately for Chandler, Afflalo missed the free throw.
Q3: A-
Another nice period for Chandler, who notched a double-double during the third. He remained present on the offensive glass, keeping possessions alive for his ballclub. Through three quarters of play, handler was a typically efficient 5-of-5 from the floor.
Q2: A
Chandler was very effective in the second, working the offensive glass to create points for himself. He even had a three-point play off a tip-in. Chandler's presence inside was clearly a factor in this period, as Orlando had to settle for mostly perimeter jumpers. When the Magic did get the ball inside, they were generally stymied.
Q1: B
It was a rather uneventful first period for Chandler.
Fortunately for him, the Magic don't have an offensive-minded big man like New York's last opponent (the Spurs with Tim Duncan), so lockdown defense from him wasn't as necessary. Chandler did make a couple of easy buckets, one off a lob.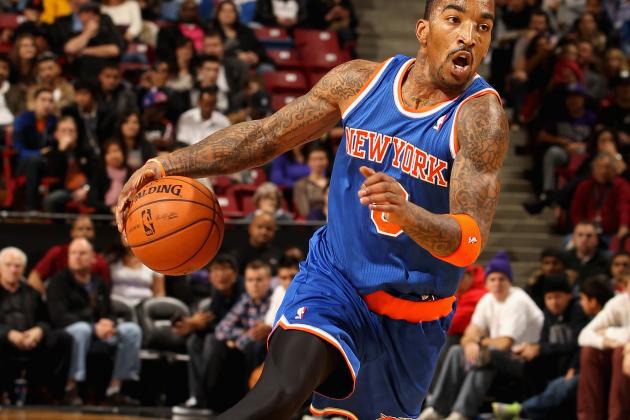 Ezra Shaw/Getty Images

Overall Game Grade: B+
While J.R. Smith wasn't as dazzling as he has recently been, he was good enough, scoring 18 points off 8-of-18 shooting and playing some good D to help New York earn the win. Smith hauled in six rebounds, as well.
He got into foul trouble early on, and that issue reared its ugly head when he was whistled for his fifth foul with five minutes to go in the fourth quarter, but he was able to play conservative enough defense the rest of the way to keep from fouling out. That's growth right there.
Q4: B+
You had to be impressed with the beautiful pass Smith made to a backdoor-cutting Stoudemire for an easy dunk early on in the fourth. He also made a couple of nice plays defensively, including batting away an inbounds pass which resulted in a shot clock violation for Orlando (there were 0.4 seconds left on the clock at the time of the pass).
Smith was still a bit over-zealous defensively, though, as he picked up his fifth foul with about five minutes to go in the period.
Q3: B-
Kind of a quiet third period for Smith. He didn't look for his shot too much offensively, but New York looked so disoriented during the second half of the quarter that you can't really fault him. Smith had 12 points through three. Maybe he's waiting for the fourth to really make his imprint on the game.
Q2: A
Smith banged knees with Nikola Vucevic in the quarter, and although he was gimpy, he stayed in the game. He didn't force any shots, and he made a great pass to Steve Novak for a trifecta. Smith's most notable moment of the frame was when he crossed over DeQuan Jones and finished at the rim while drawing the foul.
The guard's defense was also solid during the second.
Q1: B
Smith was a little over-aggressive in the first period, picking up a couple of silly fouls, one resulting in an and-one. He did make two buckets.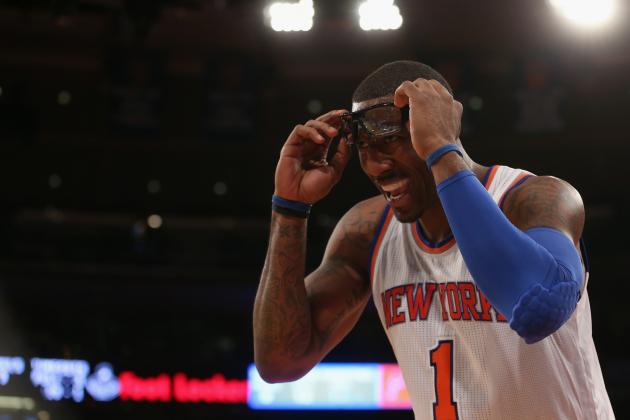 Bruce Bennett/Getty Images

Overall Game Grade: B
Decent outing from the Knicks bench. Amar'e Stoudemire, while sloppy, scored 11 points off 3-of-7 shooting in 17 minutes. He also went 5-of-5 from the charity stripe. Still, he is having a lot of trouble defensively, and you can see the drop-off in New York's interior D when Stoudemire enters the game.
Steve Novak connected on a couple of big threes in the second quarter, but that was really it for him the rest of the way. Also, after an incredible effort against the Spurs, Pablo Prigioni was rather non-existent Saturday night, posting a minus-six plus/minus stat.
Q4: B
New York's bench didn't even see much of the floor in the fourth. Stoudemire is still having his minutes monitored, and with the game as tight as it was, the Knicks couldn't really afford to dip too deep into their reserves.
Q3: C
Amar'e continues to get chances around the basket, but he looks over-eager and is having trouble finishing. Opposing defenses continue to hound him and get their hands on the basketball whenever he touches it.
Also, he is missing assignments defensively, and the Magic are able to get to the basket when he is on the floor. Stoudemire is fighting, though, and you have to appreciate that. Novak got some burn during the period, but he wasn't able to can any treys.
Overall, the Knicks bench did nothing to stop the Orlando third-quarter run.
Q2: A-
While Stoudemire is still a little sloppy with the basketball, you have to love the aggressiveness. He is making a clear effort to get to the basket nearly every single play; it's not like in previous years where he'd settle for mid-range jump shots.
As a result, Amar'e is drawing contact and getting to the free-throw line. Novak also got it going during the second quarter, nailing a couple of threes.
Q1: B
Some more encouraging signs from Stoudemire here, as he was able to pick up four quick points in the first quarter. Two came off a dunk, the other two came off free throws. The dunk was set up courtesy of a beautiful pass from Prigioni. Other than that, there wasn't much else to discuss concerning the Knicks bench in the first period.