Houston Rockets vs. Cleveland Cavaliers: Live Score, Results and Game Highlights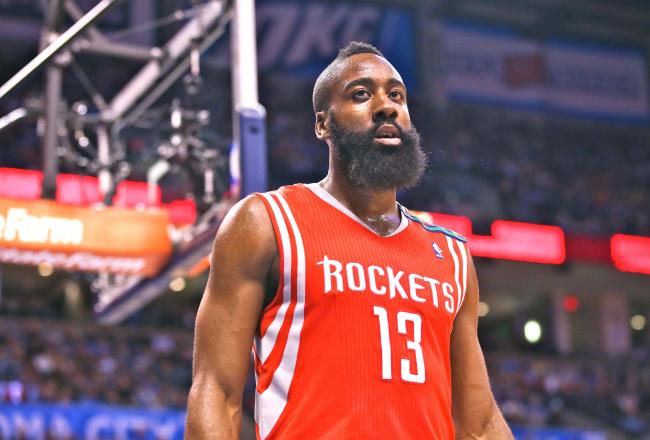 The Houston Rockets (19-14) take on the Cleveland Cavaliers (8-26) in the first meeting between these two teams of the season. Keep it here for all the updates and analysis throughout the game.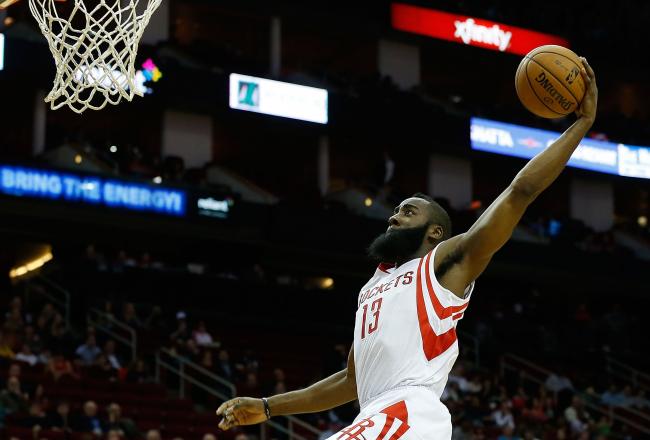 Keys to the Game
As far as looking at the box score, this was an incredibly strange game. Ignoring the shooting percentages, Houston was outrebounded, turned the ball over more, gave up a whopping 17 offensive rebounds, and shot 12 fewer shots than the Cavaliers, yet they won.
In the end, Houston was just able to make the most of their possessions, while Cleveland struggled to shoot.
The Rockets shot 46.8 percent from the field, a fine percentage, and more than enough to beat the Cavs, who shot 39.6 percent from the floor.
Elsewhere, Houston was able to get to the line more than Cleveland, and even though they struggled from the line with 26 of their 36 free throws falling, Cleveland still ended up with fewer points from the free throw line, even though they missed just three freebies (25 of 28).
Both teams turned the ball over a lot, both teams missed quite a few three-pointers, but both teams ended up playing well.
Houston was just able to knock down more shots down the stretch as James Harden out-fourth-quartered Kyrie Irving.
It was a fun one, and hopefully they'll hook up for another fun game next time they meet.
Rockets 112, Cavs 104, Final.
Let's grab a look at the box score from this one. First the Rockets:

And the Cavs:

Rockets 112, Cavs 104, Final
A freebie from Tristan Thompson will end it.
Rockets 112, Cavs 104, Final.
The Rockets will end up finishing this one out, but Harden vs. Irving should be a fun psuedo-matchup for years to come.
Rockets 112, Cavs 103 with 0:05 left in the fourth.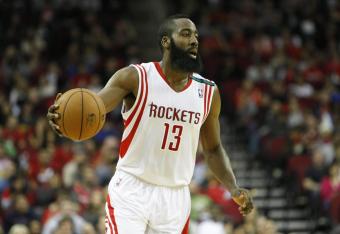 Jeremy Lin might be getting a warning from the league after this one. Definitely sold a bit of contact on the Irving offensive foul.
None of it matters with James Harden coming to life in the fourth. A long jumper and two free throws will ice this one.
Rockets 110, Cavs 103 with 0:29 left in the fourth.
Kyrie got so much game I've never seen nothing like that since Dajuan Wagner in HS

— Shallow Hal (@ComplexGenius) January 6, 2013
I don't think Cavs fans will like that comparison.
Rockets 106, Cavs 103 with 1:09 left in the fourth.
Kyrie's going off on the same deal. And-one, Delfino three, Kyrie three.
Irving's going to the free throw line with the Cavs down by four.
Rockets 106, Cavs 102 with 1:09 left in the fourth.
I can't recall a play ending in simply two points for the Rockets in this quarter. All three-balls and buckets plus a foul for Houston.
They're really adept at creating contact and knocking down buckets in the process.
Rockets 103, Cavs 96 with 2:23 left in the fourth.
Harden has 7 steals so far. That's a career high. Previous high for him in his career was five. #RedNation

— Howard Chen (@ho_chenCSN) January 6, 2013
He's also got a quiet 23 points, seemingly out of thin air.
What was a bad one has turned into a halfway decent game for James Harden.
Rockets 100, Cavs 92 with 3:58 left in the fourth.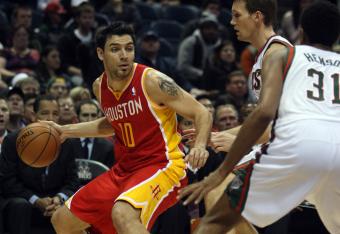 Free throws, Houston turnover and a Kyrie dime to C.J. Miles brings this one back within two points.
Of course, Carlos Delfino makes his only positive basketball move of the evening, puts in a bucket and draws the foul.
Rockets 97, Cavs 92 with 4:26 left in the fourth.
Kevin Jones is playing the rare meaningful minute or two here in the fourth with six points and three rebounds. This is the most he's done since playing at West Virginia.
Of course, if Harden makes three-pointers from five feet behind the line at the end of the shot clock, none of it will matter.
Rockets 94, Cavs 88 with 5:37 left in the fourth.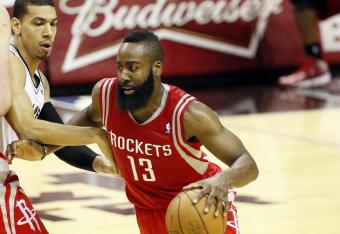 James Harden continues to play terribly, but he's getting to the line. 10 of his 16 points are from the line tonight.
Rockets 91, Cavs 86 with 6:34 left in the fourth.
This is why you eat dinner before you watch basketball before you settle down to watch basketball for the evening.
You hungry or what? #CondimentKing RT @samradford94: @houstonrockets look like ketchup and mustard and Cavs look like mustard and bbq sauce

— Houston Rockets (@HoustonRockets) January 6, 2013
Cavs 86, Rockets 85 with 8:00 left in the fourth.
Toney Douglas is not as good a basketball player as Kyrie Irving. That is all.
Cavs 84, Rockets 83 with 8:39 left in the fourth.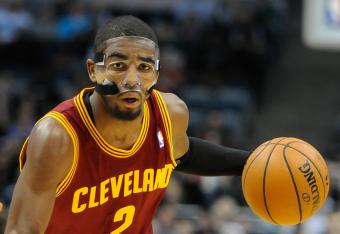 Kyrie Irving leads the game with 19 points, piling that on top of his five assists and three steals. Cleveland is rounded out with 18 points from Alonzo Gee, 13 from Tristan Thompson and 10 from Tyler Zeller.
Jeremy Lin leads the Rockets with 15 points and five assists, Patrick Patterson and Omer Akik check in with 13 apiece and Marcus Morris and Greg Smith each have 11 points.
Rockets 83, Cavs 82 with 9:48 left in the fourth.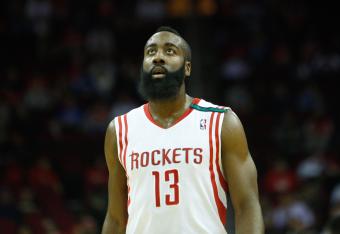 How I revel in being wrong.
Cleveland stayed in it thanks to Kevin Jones and Tyler Zeller, what else did you think would happen.
Hey, at least James Harden finally hit a three-pointer after missing his first four.
Rockets 78, Cavs 78 after the third.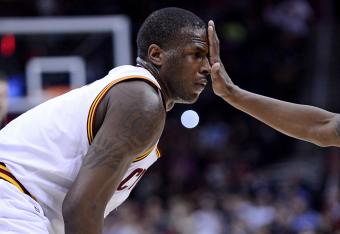 Kyrie's out of the game so Dion Waiters and Shaun Livingston are running things on offense for Cleveland.
I would guess a Houston run is upcoming.
Rockets 74, Cavs 74 with 1:21 left in the third.
Houston's winning the rebound battle tonight, and it's not the usual suspects getting things done on the glass.
Greg Smith's first rebound of his second half gives him a career high 10.

— Jonathan Feigen (@Jonathan_Feigen) January 6, 2013
Rockets 74, Cavs 72 with 2:12 left in the third.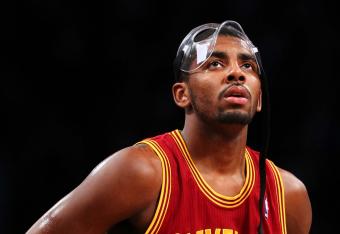 Few people in the NBA shoot the nonchalant, slow dribble up to line, three-pointers, as well as Kyrie Irving.
Rockets 70, Cavs 69 with 3:10 left in the third.
Here's a grab of some of the most notable parts of the first half. Once again, weep for the lack of Youtube action tonight with NBA.com's media player.
Rockets 67, Cavs 64 with 4:38 left in the third.
One of Cleveland's more underrated aspects is Alonzo Gee's defense, but it's been more of Harden just missing shots than anything.
James Harden is not having a good night, not sure it's all Alonzo Gee's defense. Harden now 1-for-8, 6 pts. Rockets still lead 60-56, tho.

— M.S. Boyer/J. Valade (@PDcavsinsider) January 6, 2013
Rockets 64, Cavs 60 with 5:50 left in the third.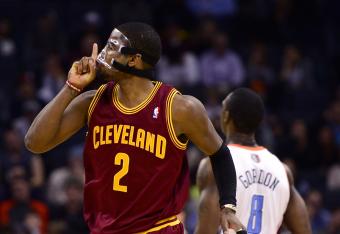 I praised Lin earlier for his defense on Kyrie Irving, now he just can't seem to stay in front of him.
There's no shame, however. Lesser men have tried and failed to keep Kyrie from scoring in the past.
Of course, it doesn't help Lin that Irving seems to be able to score with his left hand even better than his right.
Rockets 62, Cavs 60 with 5:50 left in the third.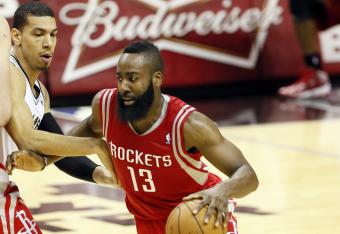 James Harden's having an incredibly rough shooting night, shooting just 1-8 from the floor. He's been attacking and drawing fouls more frequently in the early goings of the second half.
Harden's got six points so far.
Rockets 60, Cavs 58 with 7:08 left in the third.
Houston's getting a lot of open looks from the three-point line to start the third, the shots just aren't falling like they were in the first half.
Rockets 58, Cavs 54 with 9:04 left in the third.
Here's Kyrie Irving's intercepted pass, speedy spin around Carlos Delfino and finish at the rim from the first quarter.
Rockets 56, Cavs 50 with 10: 30 left in the third.
This article is
What is the duplicate article?
Why is this article offensive?
Where is this article plagiarized from?
Why is this article poorly edited?

Houston Rockets: Like this team?