New York Knicks vs. Orlando Magic: Live Score, Results and Game Highlights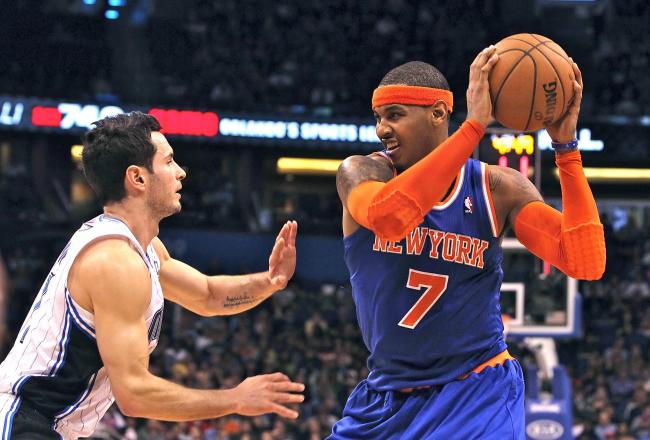 The Magic extended their losing streak to eight games with tonight's 114-106 loss to the Knicks, who improved to 23-10 on the season.
Have a look at tonight's action below!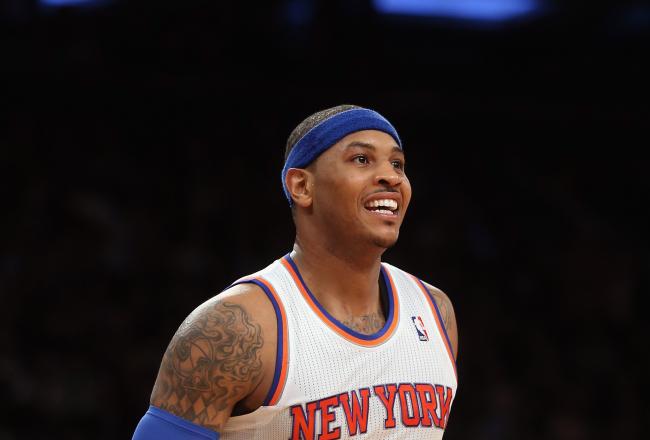 Despite an impressive third quarter in which the Magic outscored the Knicks by 12 in the period, the Knicks took the Magic to school in the final period and the Magic had no answer for Carmelo Anthony.
Anthony continues to make his push for the league MVP award, and the Knicks improve to 23-10 on the season with the victory.
The Magic have lost eight straight, but a lot of positives can be drawn from the game. Nikola Vucevic's play on the boards was impressive. Jameer Nelson nearly had a career high with 29, and Aaron Afflalo matched his output with 29 of his own.
Getting 58 points from the backcourt is a huge boon, and the Magic are better this season than most expected they would be. The Vegas over/under on Magic wins was set at 22 for the year, and they're sure to beat that mark.
Really, the take away from this game is that teams need closers to win games. The Magic had no one to match Melo's output down the stretch and he ended up with 40 points on the night.
FINAL SCORE: KNICKS 114, MAGIC 106
Jason Kidd slows it down for the Knicks with a five point lead and under a minute left. Having a veteran point guard has its benefits, and there's no one better to control the ball with the clock waning.
Kidd found Melo for another bucket and the Knicks put the lead back to seven, after Aaron Afflalo had scored on a take to the basket on the prior play.
KNICKS 111, MAGIC 104 — 44.1 Remaining in Game
Melo drew a double team, predictably, but found the sharpshooting veteran Jason Kidd for a wide open three. Kidd nailed it.
Jason Kidd has prolonged his career by becoming an effective spot up shooter. Remember when they called him "Ason" Kidd? No J? Those days are long gone.
KNICKS 109, MAGIC 102 — 1:45 in 4th, Magic Timeout
The issue about closing this game out has come to the surface. The Knicks are isolating Melo on in the post and on the wings, and the Magic don't have any defenders capable of bodying up the physical forward.
There's not too many guys in the league that can match Melo on defense, and the Magic certainly don't have any answer for him.
KNICKS 106, MAGIC 102 — Under 2:00 in Game
The Knicks are on a 14-7 run, which led to the Magic timeout. With four minutes to go, the Magic are going to have to start getting some key stops to win this game. Carmelo Anthony has 33 points and is having another MVP-like night. With MVP chants coming on the road, what else can be said?
KNICKS 102, MAGIC 100 — 3:20 in 4th
J.R. Smith picked up his fifth foul being backed down by Aaron Afflalo. That's not good news for the Knicks, as Smith has been one of their most consistent scoring options. Moreover, Smith's 20-plus point streak is in danger, as he has 16 points at the moment.
KNICKS 101, MAGIC 98 — 4:03 in 4th
The Magic are looking to reward Nikola Vucevic for his hard work on the boards, but he drew a double team and the pass was deflected out of bounds.
MAGIC 97, KNICKS 97 — 5:43 in 4th, TV Timeout
What might hurt the Magic coming down the stretch in this game is not having a premier closer. There's no player on Orlando that can be effectively isolated late in games, though Hedo Turkoglu once could have been that guy.
Then again, with the way Jameer Nelson is playing, he could be that superstar to square off against Melo in this game. Nelson can get to the basket to create for himself and others, and is on pace to have a career night.
Can the Magic close it out at home?
MAGIC 95, KNICKS 95 — 6:40 in 4th
Nikola Vucevic continues to work the boards, but he couldn't finish it with his putback after grabbing another offensive rebounds. 18 boards for him now, and he has more rebounds since Dec. 1 than anyone in the league.
MAGIC 93, KNICKS 90 — 7:45 in 4th
Nikola Vucevic hasn't been involved in the offense as much as usual, but that hasn't stopped him from continuing to crash the boards. 14 boards for the second year-man.
Jameer Nelson is closing in on his career high (32), and has 29 points on 10-of-19 shooting. He clearly doesn't miss that big No. 12 fella much.
MAGIC 91, KNICKS 88 — 9:13 in Game, Timeout in Play
Aaron Affllalo's hip pointer isn't slowing him down much. He hit a three from the corner to give the Magic a five point lead and has 20 points on 7-of-10 shooting. Between Afflalo and Jameer Nelson both feeling it, the Magic may come away with an upset in this one.
The Knicks were 6.5 point Vegas favorites.
MAGIC 89, KNICKS 81 — End of 3rd
DeQuan Jones is an undrafted rookie from Miami, and he's doing his best with Carmelo Anthony. But Melo is just too strong for most small forwards in the NBA.
Anthony bullied his way to the hole for a basket and a foul to pull the Knicks within one. He'll likely tie it with the free throw when play resumes.
Too strong for 3-men; too quick for 4-men. That's Melo.
MAGIC 79, KNICKS 78 — 2:58 in 3rd
Amar'e Stoudemire just has no lift in his legs. He got the ball down under the basket again and Nikola Vucevic just stood straight up and forced a missed Stoudemire layup.
Again, three or four seasons ago, that would have been a tomahawk dunk. No wonder no teams are interested in Stoudemire, despite the Knicks trying to essentially give him away "for nothing."
MAGIC 77, KNICKS 76 — 3:35 in 3rd
The fans at the Amway love Andrew Nicholson's heart & hustle. Following a Tyson Chandler offensive rebound, Nicholson grabbed the ball immediately and forced a jump ball.
Nicholson is pretty talented, but his hustle is what could set him apart from the rest of the Magic bigs (if Al Harrington ever comes back).
The Magic take the lead back on a Jameer Nelson layup and the momentum is shifting.
MAGIC 72, KNICKS 71 — 5:12 in 3rd
WOW.
Aaron Afflalo banked in a three and got fouled on a second chance shot provided courtesy of Nikola Vucevic beasting the boards.
It was an ugly three, and he had no intention of banking it (given), but the Magic will take offense as it comes with the Knicks scoring the way they are. Four. Point. Play.
KNICKS 71, MAGIC 70 — 6:10 in 3rd
Melo is embracing the role of point-forward with Raymond Felton injured. Jason Kidd likes playing off the ball better, anyway, at this point in his career.
Unfortunately for Kidd, Melo isn't keeping his head up and took it straight to the hole without even looking for his teammates on the possession. He missed.
KNICKS 71, MAGIC 66 — 7:30 in 3rd
Another Marcus Camby to Tyson Chandler alley oop. Nikola Vucevic needs to push Chandler out of the paint and protect the basket. He's making it too easy.
Jason Kidd also hit his third three of the game.
KNICKS 68, MAGIC 61 —9:05 in 3rd
The Knicks first two possessions of the second half have been alley oops. The first was to Tyson Chandler, and though he didn't dunk it, he tipped it up into the basket and got to the line. Melo wasn't as lucky, missing his layup off the alley oop.
The Magic have to watch these backdoor cuts to the basket.
KNICKS 63, MAGIC 59 — 9:56 in 3rd
So now I've heard "MVP" chants for Carmelo and "Let's go Knicks" from the @AmwayCenter O-Zone. Ugh #Magic via Twitter -Adam Papageorgiou @adamosgp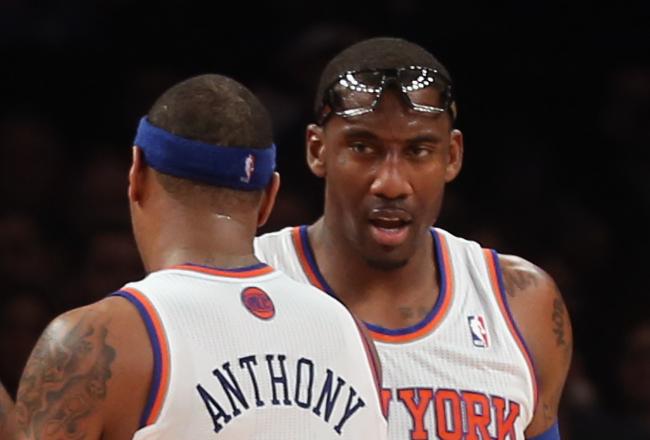 The Knicks isolated Melo on the final play of the quarter (big surprise, right?). Josh McRoberts drew the assignment of covering him though (and that is a surprise). Melo got right by McRoberts and got to the line to give the Knicks a four point lead to close the half.
The Magic started out the half impressively, but one could sense the Knicks would get back in it. They have a lot of firepower and it's impossible to count a team out with J.R. Smith and Melo. The tandem combined for 28 first half points.
The Magic got 16 points from point guard Jameer Nelson, who is having possibly his finest game of the season. Nelson may not eclipse Scott Skiles' all-time assist total tonight, because he's looking for his shot far more than usual, but he's feeling it.
"I'm comfortable...first and foremost, though, we gotta get stops..." -Jameer Nelson
Yes, they do have to get stops. The Knicks had 32 points in the second quarter.
KNICKS 59, MAGIC 55 — Halftime
The Knicks have 14 points off Orlando turnovers, and the Magic have to take better care of the ball. The Knicks aren't generally a fast break team (nine fast break points per game), but tonight they're pushing the ball off the turnovers.
The Knicks are on an 18-3 run, and the Amway Center crowd is filled with cheering Knicks fans. It's hard to call this a home game.
KNICKS 55, MAGIC 50 — Under 1 Minute in Half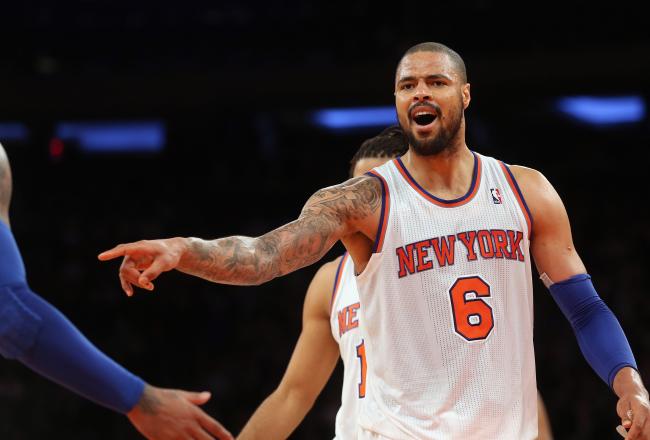 Tyson Chandler won Defensive Player of the Year last year but didn't make the All-NBA First Defensive team.
How is that possible?!
Chandler is making an impact so far this game, on both ends of the court. He had an impressive three point play on a tip in, fouled by Vucevic. Chandler has eight points and five boards thus far.
Oh, and don't leave Steve Novak open. Just don't. Another Novak-caine three to take the lead for the Knicks. 2-of-3 from the floor for Novak—all three point shots.
KNICKS 51, MAGIC 48 — 2:58 in Half, Timeout in Play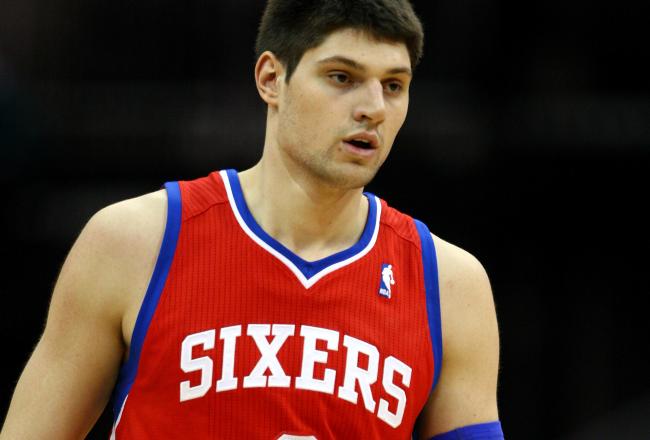 Nikola Vucevic scores his first basket, a dunk, on a Jameer Nelson dump off in the paint. He drew a foul on the play. Vucevic already had eight rebounds, but these were his first points of the game.
The 76ers might regret trading him away, in light of the fact that Andrew Bynum has yet to play this season. Overstatement? I'm not so sure. Nikola has game, and Bynum's career is in the air.
MAGIC 48, KNICKS 44 — 4:37 in Half
J.J. Redick and Steve Novak exchanged threes. I think I'm a prophet. Seriously, don't leave Novak open.
MAGIC 45, KNICKS 40 — 5:58 in Half
J.J. Redick is matched up against Steve Novak. A showdown between the two best shooters in the NBA?
Again: best shooters. Not best players.
Novak shot 52.5 percent from three two seasons ago. Redick is in instructional videos for jumpshooting ("Better Basketball").
Bang, bang.
MAGIC 42, KNICKS 35 — 7:10 in 2nd
This article is
What is the duplicate article?
Why is this article offensive?
Where is this article plagiarized from?
Why is this article poorly edited?