Boston Red Sox: Predicting Boston's 25-Man Opening Day Roster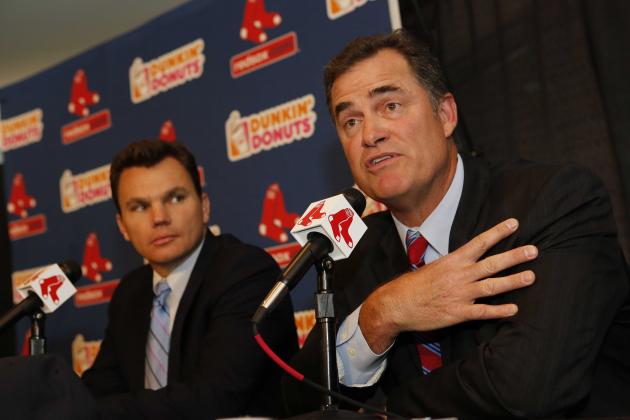 Greg M. Cooper-USA TODAY Sports

There are still a few weeks before pitchers and catchers report to spring training, but the Boston Red Sox's 25-man roster is nearly set after several offseason moves.
General manager Ben Cherington has been working nonstop this offseason to give the Red Sox a new look in 2013, and Boston's new manager, John Farrell, will have plenty of options to work with throughout the season.
Cherington has brought in a backup catcher, some help in the infield and outfield, a veteran starting pitcher and a slew of relievers to give Boston a chance at winning a World Series in 2013.
Spring training games are still to be played and positional battles are still to be had. Boston won't kick off its regular season until April 1 at Yankee Stadium, but here's a look at how the 25-man roster could end up looking.
Begin Slideshow

»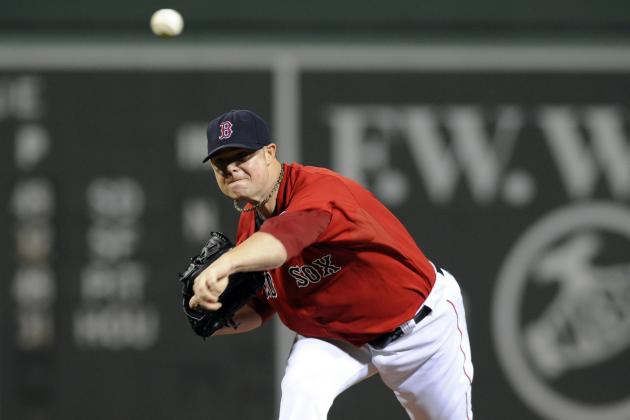 Bob DeChiara-USA TODAY Sports

Left-Handers: Jon Lester, Felix Doubront
Right-Handers: Clay Buchholz, Ryan Dempster, John Lackey
One of Boston's biggest tasks this offseason was finding someone—either a free agent or someone on the trade block—to add to the starting rotation.
Jon Lester had a down year in 2012, as did Clay Buchholz. Felix Doubront was inconsistent in his first full season and the rest of the rotation was in shambles. With John Lackey scheduled to return in 2013 after missing all of last season recovering from Tommy John surgery, the Red Sox needed one more arm this offseason.
Boston could have decided to try out Alfredo Aceves in the rotation or go with Franklin Morales—who started a handful of games last year—but the Red Sox instead signed Ryan Dempster. Dempster provides the Red Sox with a veteran presence in the clubhouse and in the rotation. Morales will pitch out of the bullpen.
Lester will likely be the Opening Day starter with Dempster and Buchholz battling for that second game of the year, and then Doubront and Lackey will follow.
Notable Omissions: Alfredo Aceves, Franklin Morales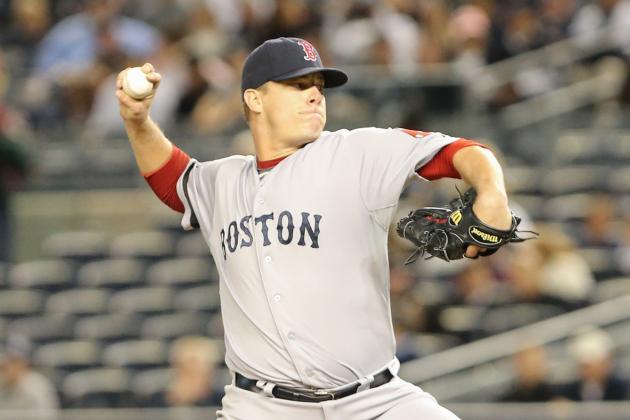 Anthony Gruppuso-USA TODAY Sports

Left-Handers: Franklin Morales, Andrew Miller, Craig Breslow
Right-Handers: Joel Hanrahan, Andrew Bailey, Daniel Bard, Junichi Tazawa, Koji Uehara
The Red Sox had a relatively good bullpen last season—having the 10th-highest WAR (via FanGraphs)—but that didn't keep them from making a few changes for 2013.
Boston has brought in two relievers this offseason: Koji Uehara via free agency and Joel Hanrahan via a trade with the Pittsburgh Pirates. The Red Sox will also be without a couple of relievers who contributed to 2012, including Vicente Padilla and Scott Atchison.
Looking toward next season, Boston will likely go with three left-handers out of the bullpen. Craig Breslow will be used for situational spots against left-handed hitters, Andrew Miller has the capability of going multiple innings and Franklin Morales can do either—as well as start, if needed.
Right-handed relief is one of Boston's biggest strengths as nearly all of Boston's weapons have the ability to throw a scoreless inning each outing, but each will be restricted to an inning or two.
The acquisition of Hanrahan will push Andrew Bailey to the setup man role, as Hanrahan will take over the closer duties—but as I recently wrote, Bailey will be just fine.
Notable Omission: Clayton Mortensen, Alfredo Aceves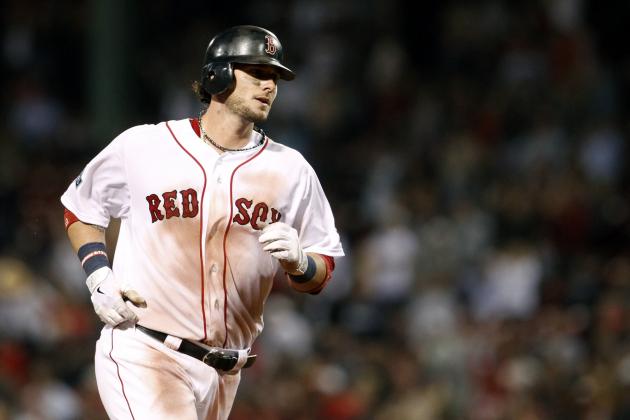 David Butler II-USA TODAY Sports

Starter: Jarrod Saltalamacchia
Bench: David Ross
The Red Sox have a slew of catchers going into next season, and it doesn't make any sense to keep more than two guys who can get behind the plate.
Jarrod Saltalamacchia could end up getting dealt by the time Opening Day rolls around, but for now, he's the starting backstop.
Boston went out and signed David Ross to be a backup catcher during this offseason. He needs to be the primary backup, which means that Ryan Lavarnway needs to start the season in Triple-A. The only way Lavarnway makes the 25-man roster is if the Red Sox ditch Saltalamacchia. He needs to play every day and that will only come in the minors unless a change is made.
Note that putting Lavarnway in Triple-A is the smart move, whether Boston ends up finalizing the deal with Mike Napoli or not. Napoli will be able catch at times, but he will not be a primary catcher. Keeping more than two primary catchers is a dumb move by the Red Sox.
Notable Omission: Ryan Lavarnway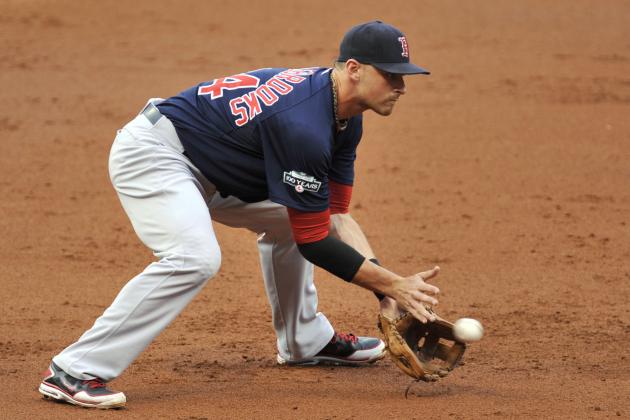 David Richard-USA TODAY Sports

Starters: Mike Napoli, Will Middlebrooks
Let's go with the easy selection first. Will Middlebrooks missed considerable time in 2012 with a wrist injury, but he should be healthy enough to be Boston's starting third baseman in spring training and on Opening Day.
Now, on to the more difficult one. The Red Sox agreed to sign first baseman/catcher Mike Napoli in early December. The two sides, however, have not finalized a deal because of a red flag in his team physical.
I believe that eventually the deal for Napoli will be finalized. Boston hasn't really been rumored to be interested in any other first baseman on the market, and the Red Sox most likely won't go after free agent Adam LaRoche because that will cost them a draft pick.
Mauro Gomez cannot be Boston's starting first baseman. Although he was named the 2012 International League MVP, he lacks defensive skills and experience. It would be a mistake for the Red Sox to just throw him into the starting role.
Napoli will end up being the starter on Opening Day, even if the Red Sox don't announce the deal until just before first pitch.
Notable Omission: Mauro Gomez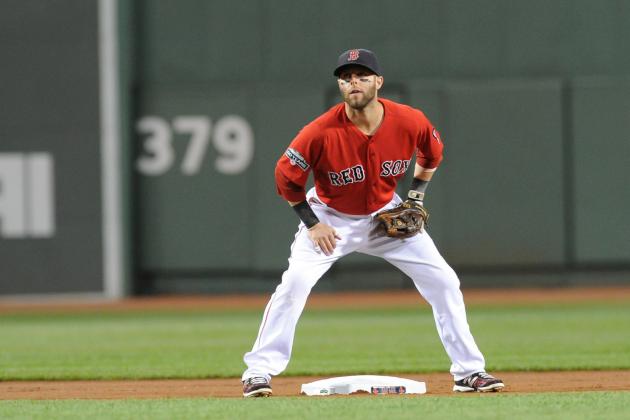 Bob DeChiara-USA TODAY Sports

Starters: Dustin Pedroia, Stephen Drew
Bench: Pedro Ciriaco
Another easy projection to make is that Dustin Pedroia will absolutely be Boston's starting second baseman, despite being restricted by a thumb injury in 2012.
And now to the mess that is the current state at shortstop.
First, let's beat a dead horse. This season looked to be the year that Jose Iglesias would finally get a shot to start in the big leagues. But, as every Red Sox fan is well aware, although the kid has an incredible glove, he simply cannot hit.
Iglesias' shot got taken away once the Red Sox signed free-agent shortstop Stephen Drew to a one-year deal. Now, it seems as if Drew will get the nod at shortstop and Iglesias will be back in Triple-A to start the season. If Iglesias is every going to be a major league shortstop, he has to get better offensively.
After a great spring training last season, Pedro Ciriaco was somehow left off the 25-man roster. He played well in the minors, then came up and played great in the Majors in the middle of the season, but eventually ended up playing at an average level for the remainder of the season. Since Iglesias should start the season in the minors, Ciriaco will likely be the backup middle infielder.
Notable Omission: Jose Iglesias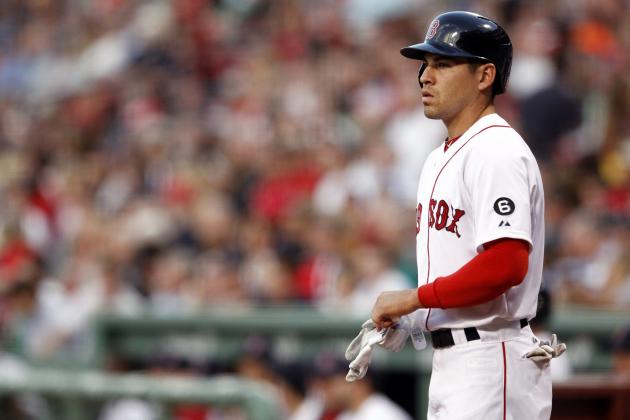 Mark L. Baer-USA TODAY Sports

Starters: Johnny Gomes, Jacoby Ellsbury, Shane Victorino
Bench: Daniel Nava
By trading Carl Crawford to the Los Angeles Dodgers during the season and seeing Cody Ross walk during free agency, the Red Sox had two clear-cut holes in the outfield going into the offseason.
Boston filled those voids with a pair of free agents: Johnny Gomes and Shane Victorino. Gomes will likely platoon in left field while Victorino should be alright on his own in right.
The Red Sox have the ability to trade Jacoby Ellsbury—who will enter the final year of his contract in 2013—but I think that they will end up hanging onto him, at least until the July trade deadline.
With Gomes, Ellsbury and Victorino as the likely starters, Boston has room for one backup outfielder. In my opinion, that should be Daniel Nava—instead of Ryan Kalish.
Nava is more versatile at the plate since he's a switch hitter. Taking into consideration that he'll likely only play against right-handed pitching—since Gomes is right-handed—Nava also has better splits than Kalish.
Notable Omission: Ryan Kalish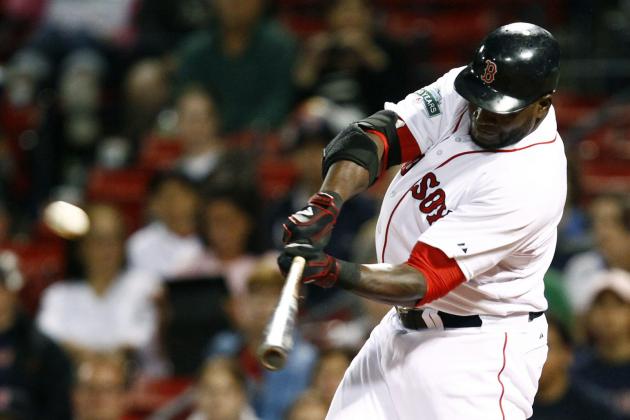 Mark L. Baer-USA TODAY Sports

Starter: David Ortiz
There's only one designated hitter for the Boston Red Sox and that's David Ortiz.
Despite his injury woes last season, the Red Sox are bringing him back for at least two more seasons. As long as he stays healthy, he'll be the DH for the entire season.
If Ortiz doesn't come into camp healthy, the two best candidates to take his job are Ryan Lavarnway and Mauro Gomez—who will be in Triple-A otherwise.
Boston could also give random players days off from the field like it did last season when Ortiz was sidelined. In that case, Mike Napoli, Will Middlebrooks and Johnny Gomes would be the ones stepping up to the plate in his absence.
Notable Omission: None