Green Bay Packers vs. Minnesota Vikings: Live Game Grades & Analysis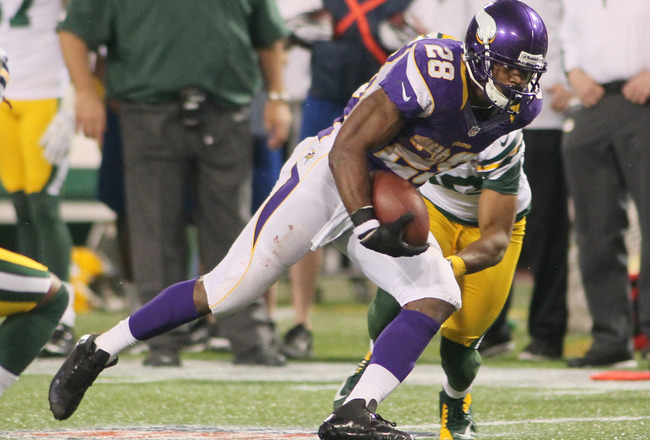 Adrian Peterson looks to run for over 195 yards for the third time this season vs. the Packers.
Andy King/Getty Images
Final:
At the end of the third quarter we knew this one was over. We just didn't know what the final score would be.
We now have an answer: 24-10.
Joe Webb proved he had no answers to get Minnesota's passing attack going (11 of 30 passing for 180 yards with an interception and a touchdown; rushed for 68 yards on seven attempts).
Aaron Rodgers and the Packers did more than enough to win. The Packer defense faced a miniscule test tonight.
After Third Quarter:
This game has been open for Green Bay to begin preparations for the second round of the postseason.
At 24-3 this game looks over.
Minnesota's offense has been nowhere to be seen while Green Bay's is doing more than enough to win against its anemic counterpart.
At the half:
The Vikings really let the game get away towards the end of the second quarter. They're down 17-3 at the half with Green Bay getting the ball back to start the second half.
The defense hasn't gotten crushed for any big plays, but a couple of above average plays coupled with chunks here and there have hurt the unit.
The offense needs a lot of work. Let's leave it at that.
After First Quarter:
Green Bay is up on Minnesota 7-3.
The Vikings have kept up with the Packers and this should be a good game.
There's plenty of room for improvement for the defense and the offense, but it's early. And the Vikes are only down four.
Pregame:
Round three: FIGHT!
The Green Bay Packers and Minnesota Vikings are meeting for the third time this season on Saturday. And this is for all the marbles.
Green Bay is the favorite at home with Charles Woodson and Randall Cobb returning from injury. Quarterback Aaron Rodgers has all of his weapons at his disposal and the defense is out to prove it can hold Adrian Peterson under 199 yards rushing.
Minnesota needs its quarterback Christian Ponder to play at a level similar to his Week 17 performance when he led Minnesota to a 37-34 victory. Ponder completed 16 of 28 passes (57.1 percent completed) for 234 yards, three touchdowns (a season-high) and zero interceptions.
The Vikings defense has to get to Rodgers with its front four to create pressure. For my money, that will determine the game (along with Ponder playing turnover-free football).
Green Bay won the Week 13 affair at Lambeau Field 23-14 on the back of two Ponder interceptions.
With the series tied at one, this one will leave no doubt.
Check back here throughout the game for quarter-by-quarter grades and analysis.
Quarterback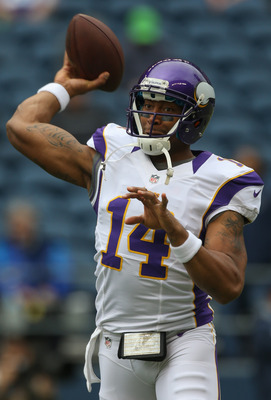 Joe Webb will make his first start of the season in Minnesota's wild-card affair.
Otto Greule Jr/Getty Images
Final Grade: D+
Joe Webb finished 11 of 30 for 180 yards with a touchdown and an interception.
When it mattered Webb played awfully. When it didn't matter Webb played better. But it's much easier to succeed against a MASSIVE prevent defense than in any other situations.
Webb proved his athleticism is as real as ever, but this performance should silence fans clamoring for him to play quarterback. He's not an NFL quarterback.
Again, Minnesota should find a way to incorporate him into the offense as a wide receiver, running back or a wildcat quarterback because he did rush for 68 yards on seven carries.
Fourth Quarter: C
Joe Webb finally got his team on the board with a touchdown. Too bad for Minnesota that it was too little too late and on a pass where Michael Jenkins was WIDE OPEN.
But something's better than nothing.
Webb still struggled in the fourth but played better with the pressure off of him.
Third Quarter: D+
Joe Webb's final throw of the quarter about summed up his evening: He tried to do too much and it resulted in an interception. It was ugly, as has his night.
He had a good run with Minnesota's first drive, but that resulted in a fumble by him in the pocket on fourth down.
Webb clearly wasn't prepared for this game, and should anyone have expected him to be?
Second Quarter: D
Well, it's getting uglier for Joe Webb. He had a nice third down completion to Jerome Simpson. The problem was that it was thrown in front of the first down marker. Put some of the blame on Simpson for not having good enough field awareness but Webb could have helped him too.
The troubling thing is that Minnesota is allowing Webb to operate within the pocket. Christian Ponder, the starter all season, isn't a pocket passer. Why would the backup, who's light years more athletic, be a pocket passer?
Get Webb in the open field and he'll have better opportunities for success.
At the half he's 3 of 11 for 22 yards and rushed four times for 43 yards.
First Quarter: C-

When Joe Webb's been put into passing situations it has been painful to watch. He looks even less comfortable in the pocket than Christian Ponder does, which says a lot as Ponder loathes life in the pocket.
Webb made a nice third down conversion with his legs but then nearly was intercepted while trying to throw a pass away to avoid a sack.
Both are examples of what we can expect from Webb the rest of the way.
He's had some nice runs and has 33 yards on three rushes. Look for that to continue.
Pregame:
In the breaking news of the NFL day, Joe Webb will start over Christian Ponder in today's game.
Ponder is out with an elbow injury, which shoves Webb into the spotlight for the first time this season. He hasn't started a game and hasn't thrown a pass on the year.
Remember, Webb led Minnesota into Philadelphia and secured a 24-14 victory two seasons ago. In that game Webb completed 17 of 26 passes for 195 yards and zero interceptions and touchdowns. He also rushed six times for 31 yards and a touchdown.
It's not ideal for Minnesota but the Packers didn't prepare for the mobile passer.
Minnesota just needs Webb to manage the game, much like it did with Ponder.
Offense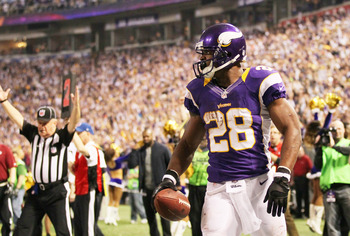 Without Christian Ponder not much changes for the offense. It still needs a big game from Adrian Peterson.
Andy King/Getty Images
Final Grade: C
The offense did its damage when the game was already passed and only fell two yards short of matching Green Bay's output (326-324). Green Bay went into a massive stall, which allowed Minnesota to catch up.
It was proven, again, that when Adrian Peterson is slowed then the entire offense is slowed.
This was just the second time in 11 games that Peterson was held under 100 yards (99 yards on 22 carries).
Joe Webb never got comfortable when the game mattered, eliminating any chance for a Minnesota victory.
Fourth Quarter: B-
Minnesota finally got on the board with a touchdown but it was far too little too late. Joe Webb found a wide open Michael Jenkins. You or I could have hit Jenkins.
The offense showed signs of life, but as I just mentioned: too little too late. It was already in the bag. The fat lady had sung and was already in her bed dreaming of the following morning's breakfast.
Gaining large chunks of yards after the point isn't impressive. It's expected.
Third Quarter: D+
The offense needed to pick up that fourth down at midfield. The offense needed a response to Green Bay's third touchdown. But none was to be had.
The other possession ended in a pick.
Adrian Peterson has been held in check (19 carries, 69 yards), which has limited Minnesota's offense. At some point this was bound to happen.
The Packers got DESTROYED in the first two games by him (409 total yards). Third time is the charm.
Second Quarter: D+
Without any semblance of a passing attack and the run game failing to break anything big this will be a LONG game for Minnesota.
It puts all the pressure on the defense to make a play, a recipe that won't mix well as the game progresses. Aaron Rodgers doesn't throw many picks, which means the defense would have to force a fumble.
The offense has 97 yards at the half.
First Quarter: B-

The opening drive featured eight runs on the first eight plays. That's no surprise. The play calling wouldn't have varied much with Christian Ponder under center.
Outside of that first drive that resulted in points, Minnesota was stagnant. Joe Webb looks VERY awkward as a passer, which will work against Minnesota.
Adrian Peterson has 33 yards on seven carries (4.71 yards per carry) and is on pace to eclipse 100 yards again.
Pregame:
Without Christian Ponder not much changes for the offense.
Just like Ponder, Joe Webb needs to be a good game manager and limit his turnovers. Webb, more so than Ponder, is very mobile and will cause the Packers some problems.
The recipe for success doesn't change: ride Adrian Peterson and hope that the quarterback can make some clutch throws on third down.
The wide receivers need to step up like they did last week (Michael Jenkins, Jarius Wright).
Charles Woodson is back for this one after having missed Week 17's affair for Green Bay, so the secondary should be improved.
Defense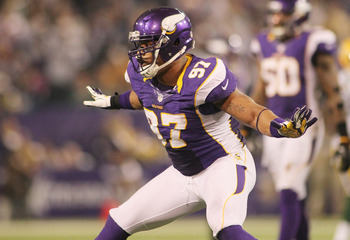 Everson Griffen recorded three sacks the last time these two teams met.
Andy King/Getty Images
Final Grade: C
Aaron Rodgers was limited to under 300 yards and just one touchdown (274 yards, one touchdown). But on a night when the offense had nothing to bring to the table the defense needed an outstanding performance.
It gave an average one.
A turnover or something along those lines was needed to alter the game. More than three sacks were also needed to win.
Green Bay's overall offensive output was limited by the massive stall it put on in the fourth quarter once it knew victory was imminent.
Fourth Quarter: B+
The defense posted its first shutout in a quarter in this game. Of course, it was the one quarter that did not matter. Green Bay had the game locked up before the quarter began.
Third Quarter: C-
Green Bay's opening drive was devastating to the Vikings. The 12 men on the field, the multiple plays of 10-plus yards culminating in a touchdown.
Outside of that the defense held strong, but the 24-3 score looks like it will be too much to overcome.

Second Quarter: D+
The goal-line stand to hold Green Bay to a field goal was HUGE. Down 14-3, Minnesota would have been in GRAVE danger of this game getting blown wide open. Down 17-3 isn't easy, but it could be 21-3.
Two touchdowns in a quarter ... that's not a winning recipe.
Jared Allen notched Minnesota's first sack of the game early in the quarter. The Vikings will need more and more of those. It was a huge play as Green Bay was gaining momentum with that drive.
The secondary loses the battle with Green Bay's receivers throughout this game without a pass rush.
First Quarter: B
The last drive by Green Bay was a back-breaker and allowed the game's first touchdown.
The defense allowed Green Bay to do whatever it wanted underneath, but the defense didn't allow anything deep. It was a bunch of average chunks building up over time.
It was surprising to watch Green Bay try to establish a run game. The Packers had seven rushes and six passes in the quarter.
The pass rush needs to get after Aaron Rodgers better.
Pregame:
The defense has the tall order of slowing down the Green Bay Packers passing attack.
Aaron Rodgers cannot be stopped via the blitz. He thrives when blitzed.
Minnesota must find a way to get after Rodgers with its front four, something it has had success doing in the past.
The Vikings got five sacks last time around, all by defensive linemen (Jared Allen, Brian Robison and Everson Griffen).
The pass rush will determine how successful the back seven can be.
Special Teams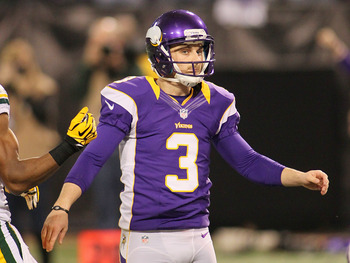 Blair Walsh may need to drill a big kick for Minnesota to win this one.
Andy King/Getty Images
Final Grade: A-
The Vikings knew they had a large special teams edge entering this one. But when the offense and defense both lose the game that renders special teams basically useless.
Blair Walsh made his lone field goal attempt and Chris Kluwe booted the ball across the field whenever possible.
Marcus Sherels looked very explosive as a return man (two kickoffs for 60 yards and three punt returns for 25 yards).
Fourth Quarter: A
Blair Walsh nailed his extra point and had an awkward kickoff after Minnesota's lone touchdown.
Chris Kluwe punted his lone punt of the quarter 56 yards, although it is easy to punt further with plenty of field to work with due to an inept offense.
Third Quarter: A
Blair Walsh booted his one kickoff attempt deep into the end zone.

Second Quarter: B
There was a holding penalty on a kickoff return that limited a nice Marcus Sherels return. Penalties are unacceptable in this affair.
Chris Kluwe has had some nice punts with one of 54 yards and of 52.
First Quarter: A
Blair Walsh made his 33-yard field goal attempt, but it wasn't pretty. He continues to be one of (if not) the best kicker in the NFL.
Marcus Sherels had two nice returns: a 37-yard kickoff return and 17-yard punt return. He looks explosive as a return man.
Pregame:
Blair Walsh kicked the game-winning field goal for Minnesota in Week 17 to send Minnesota into the postseason.
He may need to kick another big one to send Minnesota to the next round (if the Vikings win this one it will be a close one).
Field position will be vital, so punter Chris Kluwe will need to bring his "A" game.
Coaching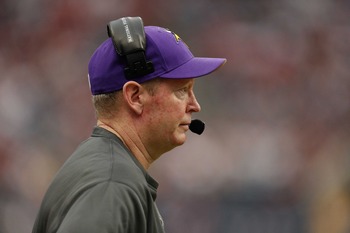 Offensive coordinator Bill Musgrave will have to utilize Joe Webb's legs.
Thomas Campbell-USA TODAY Sports
Final Grade: C+
Minnesota came out ready to play. The defense and the offense made big plays in their first series' on the field.
It was an uphill battle from there.
Joe Webb never looked comfortable. Why he wasn't put into more rollout situations is beyond me. Why the halfback screen wasn't utilized is beyond me.
Leslie Fraizer came off as egotistical and arrogant during his pregame interview on NBC. He'll feel silly on Sunday.
Fourth Quarter: B-
The Vikings didn't quit but it's because of many of the decisions of the coaching staff that the Vikings were so far out of it at this stage of the game.
Minnesota scored a touchdown in the quarter, and Joe Webb finally looked comfortable.
The defense shutout the Green Bay offense but all it had to do was make the basic plays to ensure that.
Third Quarter: C
Well, for some reason Bill Musgrave continues to treat Joe Webb as a pocket passer. It showed promise on Minnesota's first drive, but that resulted in him fumbling in the pocket.
The defense bent enough to blow this game open.
We're just waiting for the Metrodome's roof to collapse.
Second Quarter: C-
After a strong start I question the coaching staff, especially the offense.
Joe Webb should not be sitting in the pocket attempting passes. That's not his game. He's at his best out in the open where he can use his athleticism and strong arm to scare opponents.
The running back screen is a very useful play Minnesota should be utilizing, too. That would loosen up the pass rush and keep the defense on its toes.
Bill Musgrave, think outside the box.
The defense just got flat out beat. It just has to tighten up its zones and never blitz Aaron Rodgers.
First Quarter: B+
Minnesota came ready to play and the game is on.
The defense needs to find a way to slow the run better and get after Aaron Rodgers.
The coaching staff must comfort Joe Webb so he can make some passes.
Pregame:
It will be interesting to see how the offense responds to the absence of Christian Ponder.
It's on the coaching staff to ensure Joe Webb is ready and that the offense is focused.
The defense will have to keep the Packers in check early on to give the offense time to get going.
There shouldn't be any difficulty in building the team's energy for this one as it is this coaching staff's first playoff game together. If there is, then this game will turn into a blowout quickly.
Keep Reading

Minnesota Vikings: Like this team?