Strikeforce: Nate Marquardt vs. Tarec Saffiedine Head-to-Toe Breakdown
Scott Olmos-USA TODAY Sports
No matter the result, Nate Marquardt's first attempt to defend the Strikeforce welterweight title will be his last.
Against Tarec Saffiedine, Marquardt will headline the final fight card in Strikeforce history, as it has been announced the organization will close down following the event (via MMAFighting.com). The event was originally expected to feature three championship bouts, but Marquardt has been the only titleholder to remain healthy enough to compete.
Marquardt was released from the UFC after failing a pre-fight medical exam prior to his scheduled main event bout with Rick Story at UFC on Versus 4.
Should he win in his final Strikeforce appearance, Marquardt would almost surely make a return to the Octagon. Even if he loses, Marquardt would be a solid addition to the UFC's welterweight roster.
As Strikeforce's final days wind down, let's take a look at Marquardt's chances of winning its final title fight.
Striking
Scott Olmos-USA TODAY Sports
Tarec Saffiedine appears to have some solid striking technique, but he hasn't been able to utilize it against elite competition like Nate Marquardt has.
Marquardt won his Strikeforce belt by knocking out Tyron Woodley. He has also put Demian Maia, Martin Kampmann and several others away with strikes.
With nine knockout victories compared to Saffiedine's one, Marquardt is much more capable of ending this fight should it stay standing.
Edge: Marquardt
Wrestling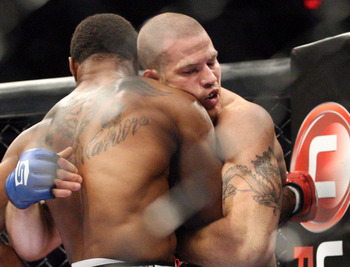 Scott Olmos-USA TODAY Sports
In Tyron Woodley, Nate Marquardt and Tarec Saffiedine have a common opponent who tested their wrestling.
Marquardt passed that test with flying colors, allowing only one takedown in four rounds and even scoring one of his own. Saffiedine, on the other hand, was taken to the ground in each of his three rounds inside the cage with Woodley.
Considering Marquardt was also able to stuff eight of nine takedown attempts against an excellent wrestler like Yushin Okami, he should have a significant advantage over Saffiedine in the wrestling department.
Edge: Marquardt
Submissions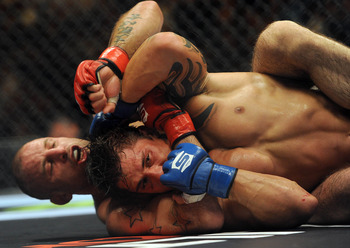 Jayne Kamin-Oncea-USA TODAY Sports
Though he has not submitted an opponent in nearly five years, jiu-jitsu black belt Nate Marquardt does have 15 submission wins and is capable of picking up one more against Tarec Saffiedine.
Saffiedine has submitted five foes throughout his career, but all of those came against lower-level competition prior to him joining Strikeforce.
Marquardt has been forced to tap twice, but those losses came against much more proven grapplers than Saffiedine in Ricardo Almeida and Genki Sudo. Those defeats also both came more than nine years ago.
If either fighter is going to finish this fight on the ground, it will most likely be Marquardt.
Edge: Marquardt
Intangibles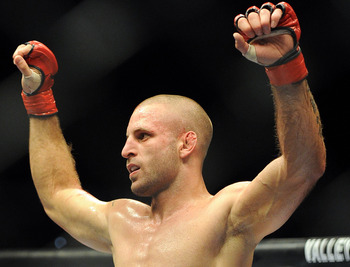 Jayne Kamin-Oncea-USA TODAY Sports
Despite Strikeforce cancelling multiple events in 2012, Nate Marquardt and Tarec Saffiedine were both able to compete this past summer. Rust should not be a factor for either competitor.
What will be a factor is Marquardt's experience. The UFC veteran has been competing in MMA for well over a decade, while Saffiedine has only five years under his belt.
Marquardt has proven himself against the best of the best in the sport. Saffiedine's toughest opponent to date has been Tyron Woodley.
Edge: Marquardt
Prediction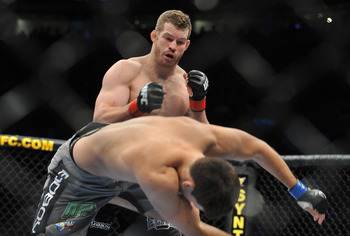 Jon Kopaloff/Getty Images
Nate Marquardt is the clear favorite to win this matchup, but Tarec Saffiedine has never been finished and will make his opponent work for the victory.
In all areas, Marquardt is the better fighter, so he should look to mix things up and keep Saffiedine guessing.
If Marquardt finishes Saffiedine impressively, there's a possibility he could earn an immediate title merging fight with whoever the UFC welterweight champion is following an upcoming bout between Georges St-Pierre and Nick Diaz.
However, it is equally important that Marquardt doesn't take any unnecessary risks that would get him caught and defeated.
Prediction
Marquardt defeats Saffiedine by unanimous decision (50-45, 50-45, 50-45).
Keep Reading