Boston Celtics vs. Atlanta Hawks: Live Score, Results and Game Highlights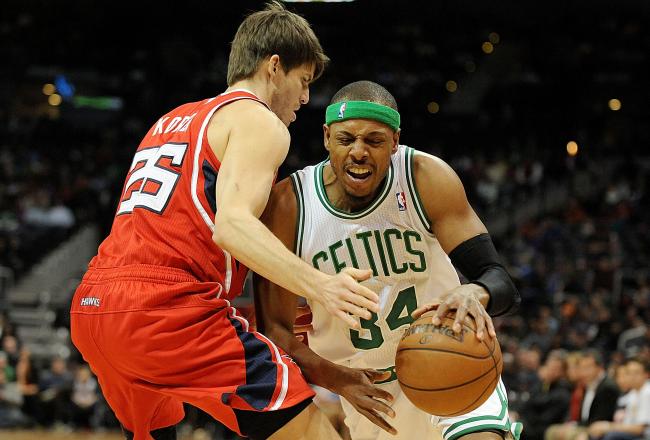 After a 33-9 third quarter, the Boston Celtics recovered from an early deficit and never looked back. Behind Paul Pierce's 26 points, the Celtics topped the Atlanta Hawks 89-81 in the matchup of last year's first round playoff series.
The Celtics improve to 16-17, just one game under .500. The win marks their second straight, as they look to recover from a difficult start to the season.
The Hawks drop to 20-12, losing their second in a row.
The Hawks seemed to be in good shape after the first half, but the Celtics came out strong in the third quarter, and never looked back. Here are a few reasons why Boston was able to rally and win this thriller of a contest.
Paul Pierce and Rajon Rondo: It appears that Atlanta couldn't handle the Truth tonight. Despite a mediocre start to the game, Pierce carried the team to a second half comeback, finishing with 26 points and nine rebounds.
Rondo also had an indifferent start, with four points, four assists and five rebounds. In the second half, however, he completed the triple double, completely dominating and controlling the game the way many expect him to every day, while anchoring the defense and holding Jeff Teague to just four second half points.
Turnovers: In the first half, Boston seemed to turn over the ball every possession. However, they finished with just 13 on the night, a number extremely close to their total after a half. Atlanta, however, watched the ball sail out of bounds or into the Celtics' possession every other drive. They finished with 21 turnovers in the second half, with the majority coming late in the game.
Defense: As good as Boston's offense was in the second half, their defense was what caught the eye. Allowing just 28 points in the entire second half—including just nine in the third quarter, they heeded Doc Rivers' request, ultimately winning the game for their efforts.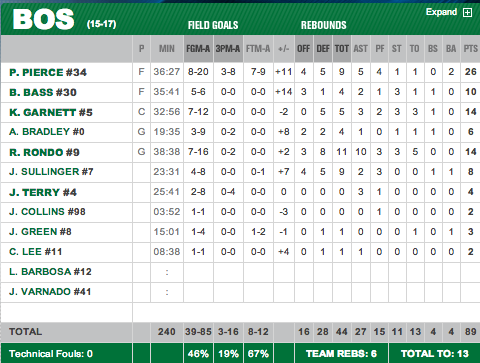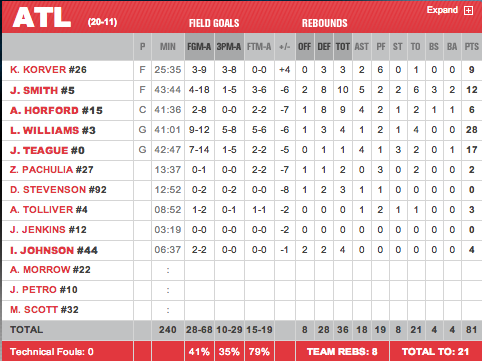 Here are your box scores from tonight's thriller.
Paul Pierce dribbles out the final few seconds, as Boston finishes on top 89-81.
What a comeback for Boston, and what a terrible collapse by the Hawks.

Lou Williams, for all the good he gave ATL earlier, is killing the Hawks now with mental mistakes

— John Karalis (@RedsArmy_John) January 6, 2013
Boston 89, Atlanta 79; 0:45 remaining in 4Q
Well, by not fouling, the Hawks have all but given up. Larry Drew calls a timeout, but it may be too little, too late.
Walked by Ferry in the tunnel...needless to say, he did not look happy.

— Robby Kalland (@RKalland) January 6, 2013
Boston 87, Atlanta 79; 1:43 remaining in 4Q
A nice time-killing possession ending with a Rondo layup may be enough to put the Hawks away.

It's not over yet... not if the C's don't finish it.A lot can happen in 2:00.

— John Karalis (@RedsArmy_John) January 6, 2013
Boston 85, Atlanta 79; 2:12 remaining in 4Q
Lou Williams hits a pair from the line. He is now just three away from his career-high.
Josh Smith knocks down a three to make it a two possession game.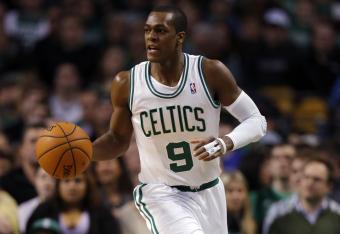 Boston 85, Atlanta 74; 3:10 remaining in 4Q
An offensive rebound by Rondo allows Brandon Bass to hit a jumper. Crucial second-chance conversion by Boston.
A steal on the other end leads to a Rondo layup—and the Hawks call a timeout, down 11.
In case you didn't realize, Rondo now has a triple-double.
Boston 81, Atlanta 74; 5:14 remaining in 4Q
A put-back slam from Ivan Johnson helps the Hawks convert on a crucial possession. Terry answers for Boston with a long two-point jumper.
Rondo is now just a rebound away from a triple-double.

Ivan just took out all the Celtics...Literally, he crashed through their bench.

— Robby Kalland (@RKalland) January 6, 2013
Boston 79, Atlanta 72; 6:37 remaining in 4Q
And Kyle Korver fouls out. No more Hot Sauce tonight! Pierce at the line, as Ivan Johnson checks in.
Boston 79, Atlanta 70; 7:23 remaining in 4Q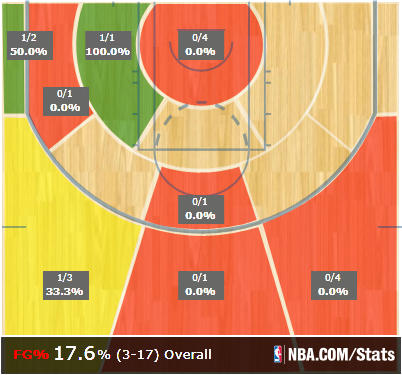 Hawks shooting in third and fourth. (h/t to Robby Kelland)
Triple-double alert.
By the way, Rondo has 10 pts, 9 rebounds and 9 assists.

— John Karalis (@RedsArmy_John) January 6, 2013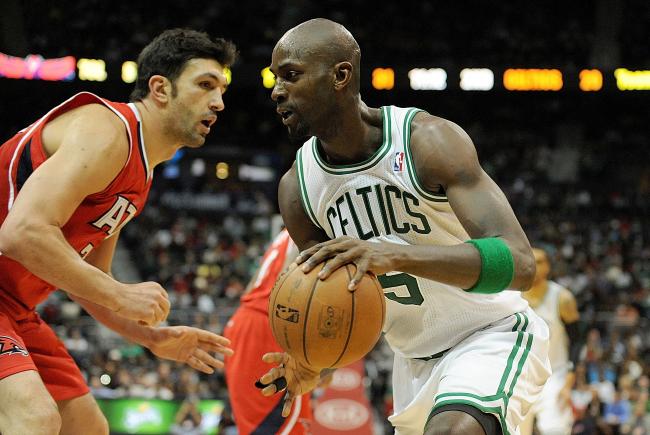 Boston 79, Atlanta 68; 8:41 remaining in 4Q
A dunk by Garnett completes a 30-point turnaround for the Celtics. Drew calls a timeout, and cannot be too happy with his squad. When we return, Kyle Korver is expected to return.
He has rode the bench since picking up his fifth foul in the middle of the third. Coincidentally (maybe) that was about the time Boston went on their run. Maybe his return will spark the Hawks.
Maybe.
Boston 73, Atlanta 64; 10:55 remaining in 4Q
After playing Where's Rondo? in the first half, he comes out strong, hitting a circus layup to put Boston up nine.
Boston 71, Atlanta 62; 11:38 remaining in 4Q
Zaza Pachulia at the line shooting two. Josh Smith at the scorer's table preparing to enter.
Boston 71, Atlanta 62; End of 3Q
Boston outscores the Hawks 33-9 in the third quarter, headlined by Pierce's 18 points in the period alone. If last game stopped the bleeding, a win here may give them to confidence to ensure it never comes back.
#Celticstalk: "Tonight was the night to stop the bleeding." - #Celtics KG on the C's snapping their season-long four game losing streak.

— A. Sherrod Blakely (@SherrodbCSN) January 5, 2013
Boston 67, Atlanta 62; 1:02 remaining in 3Q
Pierce hits a turn-around jumper, then gets fouled. He has taken over the game in this third quarter.
Boston 65, Atlanta 62; 1:54 remaining in 3Q
After the officials review, he only shoots two, sinking them both to reach his season high.
Lou will shoot 3 FTs w/ chance to tie it. 63-60 Celtics lead w/ 2:30 to play in the third.

— Robby Kalland (@RKalland) January 6, 2013

Hawks now trail by 3 as the Hawks have just 7 points in the third with 2:30 remaining. #ATLHawks

— Chris Vivlamore (@ajchawks) January 6, 2013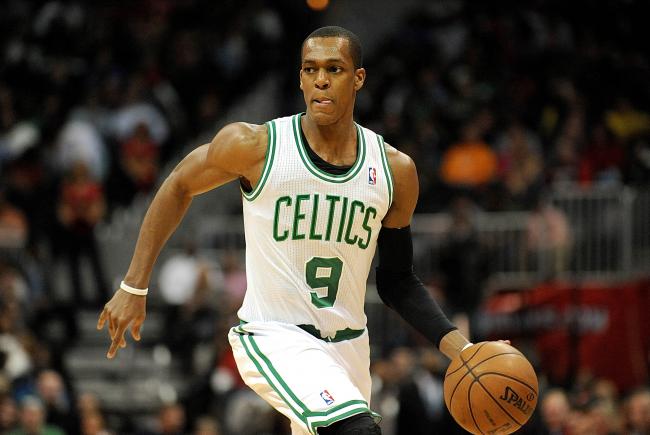 Boston 63, Atlanta 60; 2:36 remaining in 3Q
A steal from Rondo leads to a jumper from Brandon Bass. Now this, ladies and gentleman, is the Celtics that were once labeled contenders.
Timeout Atlanta.
Boston 61, Atlanta 60; 3:44 remaining in 3Q
And Boston responds after being down 19, and a lob to Sullinger puts them up one. What a comeback for Boston!
Sullinger comes in for Boston, and grabs a few offensive rebounds. If he can stay out of foul trouble, he can be a valuable asset for the C's.
Sullinger has fouled out twice in the past two game.
Doc on Sullinger: "He was awesome. Sully was phenomenal. I wish we could see him finish a game just once. (But) he stays in the fray."

— Boston Celtics (@celtics) January 5, 2013
Speaking of foul trouble, Korver is sent to the bench after picking up his fifth.
This article is
What is the duplicate article?
Why is this article offensive?
Where is this article plagiarized from?
Why is this article poorly edited?