2013 Mock Draft: The Smartest Pick Indianapolis Can Make at Every Spot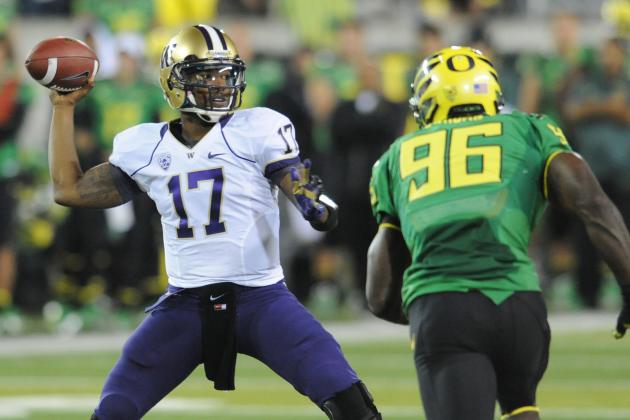 Steve Dykes/Getty Images

With the Indianapolis Colts' 24-9 loss to the Baltimore Ravens yesterday, the Colts secured the 24th pick in next years draft. That's hard to believe for a team in rebuild mode and is a huge improvement from having the top pick in last year's draft, where they selected quarterback Andrew Luck.
It's going to be hard to get the same production out of the 2013 draft class as they did with the '12 class. The Colts drafted Luck, tight ends Coby Fleener and Dwayne Allen, wide receivers T.Y. Hilton and LaVon Brazill and defensive tackle Josh Chapman.
With having a league high in cap room and such a young team, the Colts can upgrade tremendously next year, and that's going to start in the draft. I look for the Colts to take a lot of defense in April, as they went offense last year.
These are the guys I suspect the Colts will pick.
Begin Slideshow

»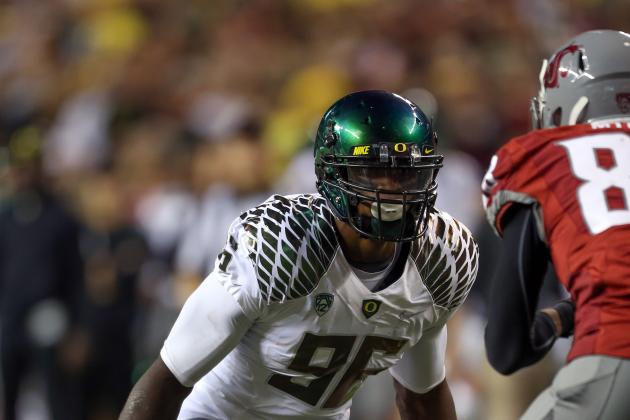 Otto Greule Jr/Getty Images

This pick is going to be defense, as the only other need for the Colts is offensive line and all the top guys at those spots should be taken by then. The toughest decision for the Colts is going to be whether to take Dion Jordan or corner Xavier Rhodes out of Florida State.
I suspect Indianapolis will take Jordan and have him start immediately on the end of the defensive line opposite Cory Redding or take the spot that will be left voided by Dwight Freeney.
Jordan is a big 6'7", 243-pound defender and is the perfect fit for the new Colts system. He was a true defensive end as a freshman, where he had 44 tackles and five sacks. In 2011, Oregon moved him to more of a hybrid role like Indianapolis runs now, and he thrived.
Last year, he had 13 tackles behind the line of scrimmage and seven and a half sacks. He made first team All-Pac-12 and was among the leaders in the nation. He followed that up this season with yet another stellar year and made the All-Pac-12 first team again and is a Butkus Award finalist.
I watched a ton of video on Jordan, and he looks very fast and has great footwork. He doesn't give up on plays and has a big-time motor on him. I would compare him to San Francisco 49ers linebacker Aldon Smith.
He could make this Colts defense superb by himself by lining up opposite of Robert Mathis or Cory Redding.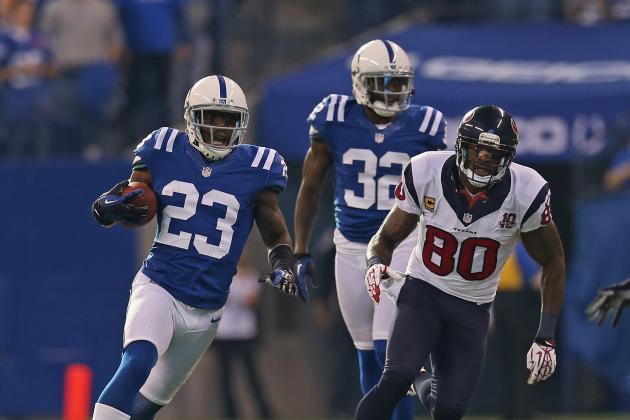 Jonathan Daniel/Getty Images

The Colts don't have a second-round pick this year, as they traded that away to the Miami Dolphins for cornerback Vontae Davis. If the Colts are smart, they could make a move to get a high second-round pick and possibly take Rhodes if he falls that low.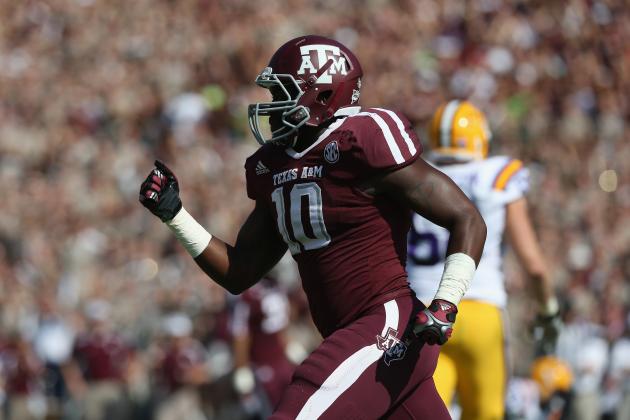 Ronald Martinez/Getty Images

I know the Colts took Dion Jordan with the first-round pick, but getting another linebacker of Sean Porter's magnitude would be huge. They could line up together when Robert Mathis leaves, or the Colts can move Jordan around on the defensive line and in the linebacking core and let Porter line up in Freeney's old spot.
Porter is big at 6'2", 230 pounds and is very good in both pass-rushing and rushing scenarios.
He had 79 tackles in which 17 of those were for a loss and nine and a half sacks in 2011. This season he was even better. What's remarkable is he improved against superior opponents compared to '11. His school, Texas A&M, moved from the Big 12 to the SEC and took on national powerhouses. He was the quarterback of the defense that led them to a Cotton Bowl victory.
In the video I saw of Porter, he's comparable to Von Miller and could play like him in the next level. Imagine where the Colts would be next year and the future with a Aldon Smith, Von Miller, Robert Mathis and Cory Redding.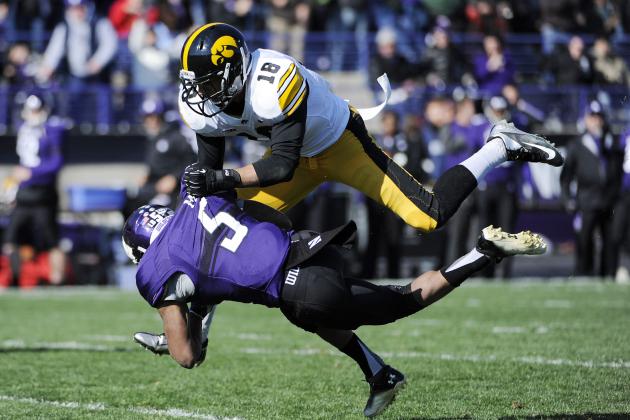 David Banks/Getty Images

The Colts can get their cornerback of the future in the fourth round by drafting Micah Hyde. They have Vontae Davis locked up for the next few years and are in dire need of a lockdown guy to line up opposite him.
Indianapolis will likely part ways with Jerraud Powers, as he's been injured the last two seasons and missed the entire second half of the season. Cassius Vaughn and Darius Butler filled in nicely, but they need a starting corner that would allow both Vaughn and Butler to come in during nickel and dime situations.
Hyde is a tall corner, which is something the Colts need. The NFL is transitioning to corners being taller, and the days of short guys defending taller receivers is nearing its end. Indianapolis can get in on it now.
Look at Seattle, they have two tall lockdown defenders, and they're among the best defenses in the league. Drafting Jordan and Porter would be a huge help and can immediately make the Colts among the best defenses in the NFL.
Hyde, is tall, fast and has the capabilities to play tight man coverage. He was first team All-Big Ten the last two years and will be a huge factor immediately.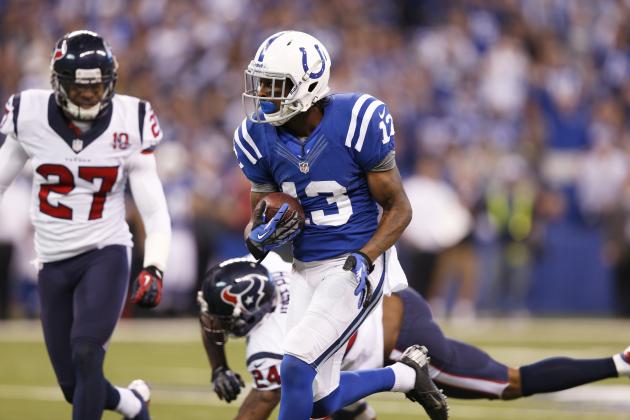 Joe Robbins/Getty Images

The Colts traded this pick away on draft night last year to pick T.Y. Hilton. This proved to be a smart move to trade the pick to the San Francisco 49ers. Unless the Colts make a move, they will not be picking in the fifth round.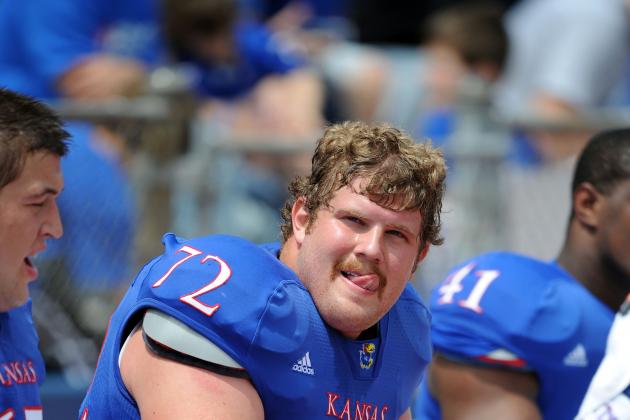 John Rieger-USA TODAY Sports

After getting the defense shored up, the Colts should take the best available here. Needing offensive line help, the Colts will take Tanner Hawkinson out of Kansas. He's a big 6'5", 300-pound tackle.
Hawksinson was among the best in the nation his freshman year and won tons of awards. He was a part of All-Big 12 teams his sophomore through senior seasons and was among the best offensive linemen in the history of the Jayhawks program.
If the Colts get Hawkinson, he can line up opposite of Anthony Castonzo and start at right tackle. That moves Winston Justice or Mike McGlynn to right guard and the other likely to left guard. This move helps the line just in case they can't get a stud in free agency.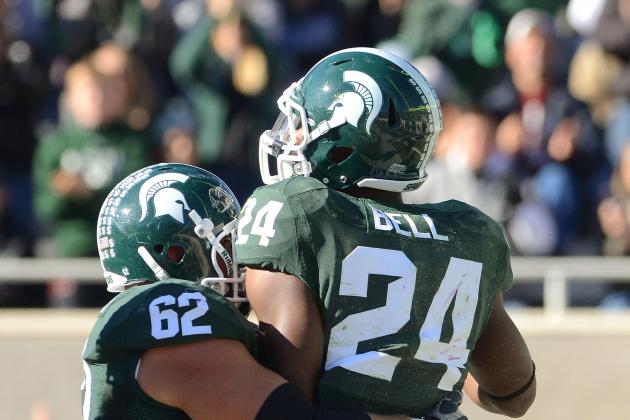 Mark A. Cunningham/Getty Images

The Colts should go offensive line with their final selection of the draft and take guard Chris McDonald. This will help the line get younger and provide more depth.
McDonald is a huge lineman, as he is 6'5", 295 pounds. He adds so much height and beef to the line and could help protect Luck next season.
He was among the best in the Big Ten during his time in East Lansing, and the Colts could get a gem in the seventh round.