Army All-American Game 2013: Live Scores, Commits, Analysis and Results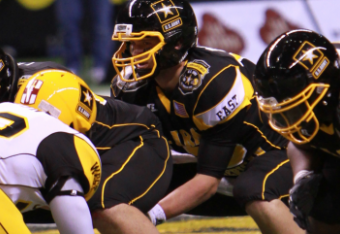 Photo Credit: goarmy.com

East 15, West 8 Final
Jeremy Johnson threw a 34-yard touchdown pass to James Quick late in the fourth quarter to propel the East to a 15-8 win over the West in the 13th annual US Army All-American game.
The play came on a fourth-and-16 with less than three minutes to play, and finally added some offensive flair to what had been a defensive struggle.
Stay tuned to B/R for reaction on all of the happenings in the 2013 US Army All-American game.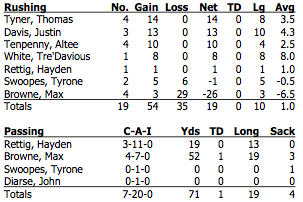 Here's a look at the final rushing and passing statistics for West team.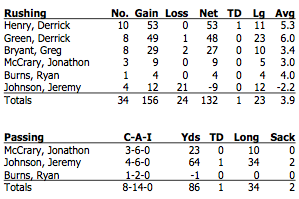 Here's a look at the final rushing and passing statistics for East team.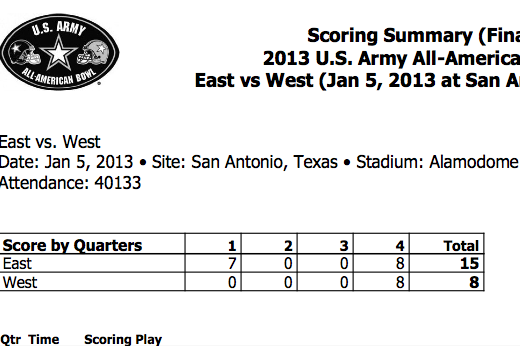 Here's the final box score for today's game.
Here's the gif version of game-winning touchdown pass from Jeremy Johnson to James Quick, via B/R's college football Twitter account.
Jeremy Johnson with the deep bomb to James Quick for the TD catch GIF. bit.ly/Wgp6Fi #ArmyBowl

— Bleacher Report (@BR_CFB) January 5, 2013
That came on a fourth-and-16 play.
Nonetheless, it was a huge play that ended up giving the East a 15-8 victory in the 13th US Army All-America game.
James Quick has been named the game's MVP, with his touchdown reception being the game's deciding score.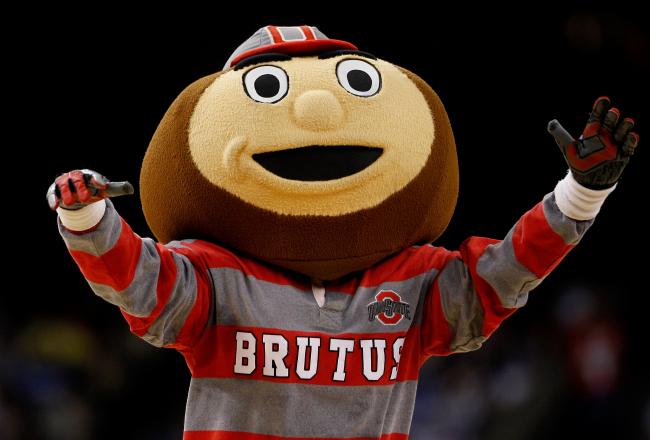 Mitchell will head north and become a Buckeye next season. Mitchell rounds out a nice linebacker class for Ohio State.
Plano, Texas linebacker Mike Mitchell is set to be the final player to announce his commitment today.
Texas A&M, Ohio State and Oregon are his finalists.
While the home state Aggies have been on a hot streak lately, the Buckeyes have been in front for most of this race.
I expect him to make it official and pledge to become the latest member of Urban Meyer's class.
Derrick Henry goes wide and runs to the pylon and gets in for two, and the East jumps ahead 15-8 with less than three minutes left to play.
The crowd in the Alamodome has been treated to a great game.
And there are a record number of fans in attendance, according to B/R's college football page via Twitter.
Army Bowl Facts: The #ArmyBowl all-time series record is tied at 6-6.

— All-American Bowl (@ArmyAllAmerican) January 1, 2013
There's 2:59 left to play in what has been a competitive game.
The West bows up on defense, and now the East must go for it on fourth-and-16.
Holy cow. Johnson lofts up a pass that stayed in the air forever, but it lands in the hands of James Quick in the end zone and the East retakes the lead 13-8. They take a timeout, likely to put together a two-point play. Absolutely huge play with less than four minutes left in the game.
Blink and you may have missed Virginia commit Taquan Mizell run the ensuing kickoff back 77 yards to put the East right back into scoring territory. Whew!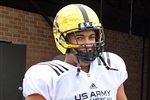 The West goes for two and Browne hits LSU tight end commit DeSean Smith and the West takes the lead 8-7 with 6:49 left to play.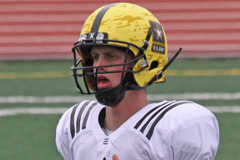 Browne throws a sweet fade pass to Texas A&M commit Derrick Griffin and he hauls in a 16-yard touchdown pass.
The West calls timeout with just under seven minutes remaining. Could they be mulling going for two here?
LSU defensive line commit Frank Herron joins the sack party by taking Browne down.
Ezekiel Elliot, and Ohio State pledge, makes a nice run on a screen pass to get a huge chunk of yardage and get the West a manageable fourth down here.
Browne converts with a nice throw to fellow USC commit Steven Mitchell, who takes it down near the doorstep of the red zone.
Another observation here: I think rotating series is a big factor in why you are seeing these quarterbacks struggle.
It happened in the Under Armour game yesterday, and none of the field generals in today's game have fared any better.
There's a lot of defensive talent in these games as well, and the 2013 class boasts one of the strongest defensive line classes in recent memory.
Those factors may be a small reason why points are at a premium.
Al-quadin Muhammad continues his big afternoon by sacking Brown, and promptly throwing up the U.
Between this game and last night's Under Armour All-American game, the defenses have allowed two touchdowns.
So much for the rules "favoring" the offenses.
Wow. The West runs a fake punt and Tre'Davious White executes it perfectly and gets the first down for the West near midfield.
Max Browne reenters the game at quarterback, and he will try to erase his club's goose egg on the scoreboard.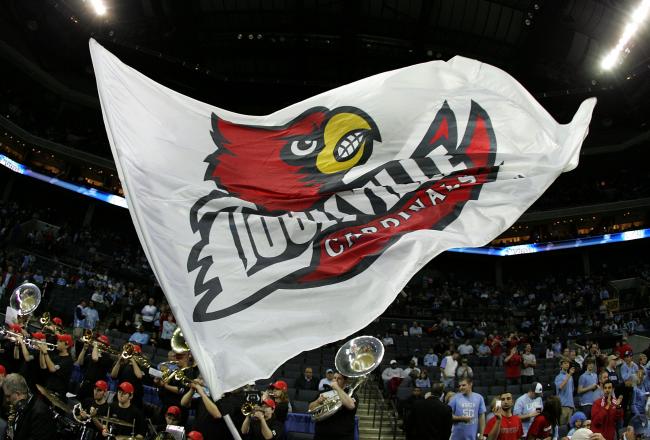 Quick selects Louisville, and Charlie Strong gets a huge victory by keeping Quick in the city limits.
Jaylon Smith apparently got a bloody nose on the play where he blocked the field goal.
The West gets some nice yardage behind Thomas Tyner and Altee Tenpenny before the the third quarter ends.
Receiver James Quick will begin the final period by announcing his college choice, with home-town school Louisville battling Ohio State and Oregon for his services.
Most expect this to be a nip and tuck battle between the Cardinals and the Buckeyes.
While this could go either way, I think Quick will stay home and play for Charlie Strong.
The West converted the fourth down, but a chop block penalty backs them up 15 yards one play later.
Jaylon Smith blew up Henry on the play nulled by the penalty.
A little Notre Dame vs. Alabama action just days before the national title game.
The drive stalls and Cooper's second filed goal attempt is once again blocked with Smith doing the honors this go around. Wow. East still leads 7-0.
Derrick Green busts loose for a huge gain on fourth-and-short, and the East is in the red zone again.
Bryant started the drive, and Green carried them into the red zone. And now the West has to try and stop Henry.
West defensive tackle Eddie Vanderdoes is another player that has had a nice game thus far, and he's a 5-star former USC commit.
Vanderdoes just blew up Green on a run play.
Fourth-and-one inside the 5-yard line, and the East goes for it by sneaking quarterback Jonathon McCrary.
Interesting choice with the sneak there, considering the 243-pound Henry was in the backfield.
Whoa. Safety Tahaan Goodman just blasted Bryant in the open field on a screen pass. Yikes, Bryant may feel that one for awhile.
Or not.
Bryant makes another grab a play later, and breaks a few ankles in the open field and the East is on the move.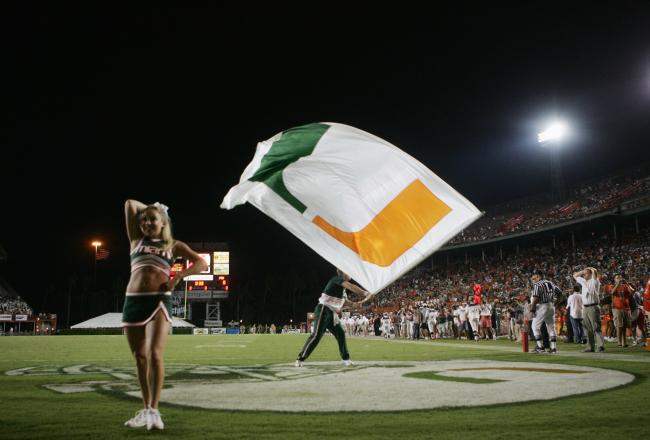 Muhammad selects the Hurricanes. Big-time get for Al Golden.
Notre Dame RB commit Greg Bryant starts off the second half with some nice runs for the East.
DE Alquadin Muhammad will make his college choice after the break, and he will choose between Alabama, Notre Dame and Miami.
While the Tide and the Irish will play for a national title in Miami, I expect Muhammad to spend the next three or four years in South Florida playing for Al Golden and the 'Canes.
Some players that stood out to me in the first half:
East
Jeremy Johnson, Derrick Henry, Derrick Green, Alquadin Muhammad, MacKensie Alexander, Kenny Bigelow and James Quick.
West
Thomas Tyner, Jaylon Smith, Tre'Davious White, Joe Mathis, Justin Davis and Steven Mitchell.
Who has stood out to you guys?
Let me know in the comments below.
This article is
What is the duplicate article?
Why is this article offensive?
Where is this article plagiarized from?
Why is this article poorly edited?