Colts vs. Ravens: 5 Bold Predictions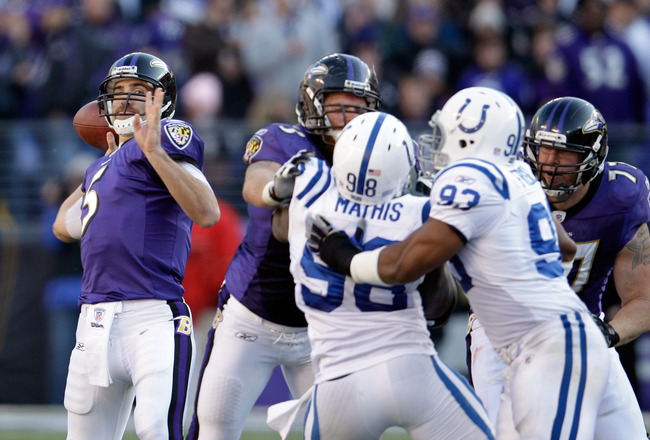 Rob Carr/Getty Images
When the Indianapolis Colts travel to Baltimore to face the Ravens Sunday, it will undoubtedly be one of the most emotional games in M&T Bank Stadium history.
First, after the Colts and Ravens were set to battle in the first round of the NFL playoffs, it marked a homecoming of sorts for Indianapolis head coach Chuck Pagano, the defensive coordinator for the Ravens last season.
In addition, Pagano has had one of the most difficult years a head coach has ever had to face. After being diagnosed with leukemia in September, Pagano battled the cancer all season long until he was able to return to his team a week ago.
The emotional ride the Indianapolis Colts have been on this season is nothing short of something from a story book. Not only have the Colts persevered through their first-year head coach's battle to survive, but they have one of the most amazing turnarounds for any franchise in just a one-year period.
A year ago, Indianapolis finished 2-14. After basically scrapping its team, Indianapolis rebuilt under the leadership of Pagano and the right arm of star rookie Andrew Luck—ending the regular season at 11-5 and a wild-card game against Baltimore.
To say the emotions on the Indianapolis Colts sideline Sunday will be held in check would be a lie.
Then we get to Baltimore, where the Ravens have been to the playoffs every year during head coach John Harbaugh's five-year tenure.
On Sunday, Baltimore and its fans may witness the last time Ray Lewis, the man who built the Ravens, steps onto the field at M&T Bank Stadium wearing a purple jersey with the No. 52 on it.
On Wednesday, Lewis made the announcement that after the season he would be retiring—ending a 17-year career that started in Baltimore's inaugural season.
After tearing his triceps in Week 6, Lewis vigorously rehabbed his way back—he is expected to make his return to field Sunday. An injury that would have shelved the normal NFL player for the season didn't shelve Lewis.
He knew he wanted to return to help his team make one last run for the Lombardi—so Lewis did everything in his power to return to the field and his football family.
On Sunday when Lewis walks out of the tunnel at M&T for what may mark his last game in Baltimore, you better believe that stadium will rocking for Lewis and the Ravens.
Here are five bold predictions for Sunday's game.
T.Y. Hilton Makes a Play That Goes for over 50 Yards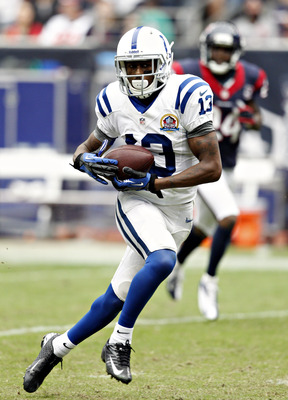 Bob Levey/Getty Images
After setting nearly every record he could while at FIU, T.Y. Hilton has brought his big plays to the Colts in just his first season.
Averaging 17.2 yards a catch, Hilton can turn a short pass into a long gain in the blink of an eye. Blessed with blistering speed (4.34 in the 40), Hilton caught 50 balls for 861 yards and seven touchdowns. In addition, the rookie ranked third in the NFL with five catches of over 40 yards.
Also a threat to take a punt back to the house, Hilton averaged 11.5 yards a punt return and returned one 75 yards for a touchdown.
Baltimore's normally stout defense has taken a step back this year and has been susceptible to the big play this season.
Whether it is special teams or offense, Hilton will make a big play Sunday.
Ed Reed Makes a Game-Changing Play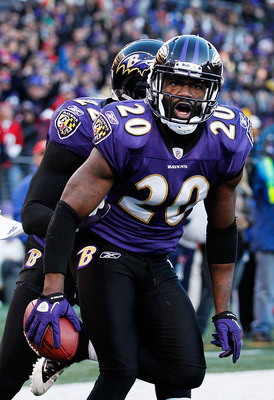 Rob Carr/Getty Images
Ray Lewis is often referred to as "The General" of Baltimore's defense. With the absence of "The General" for the past few months, Ed Reed had to become the leader and direct the defense.
With "The General" returning to direct his troops, Reed can return to his center field position at safety and not have to worry as much about his teammates because Lewis will be running the show again. This bodes well for Baltimore as it faces off against the rookie Luck.
In the past, Baltimore's defense has feasted on rookie quarterbacks. While Luck (18 INT) is not the normal rookie, he at times tries to do too much with the football and forces throws.
Always around the ball, look for Reed to make a game changing play Sunday.
The Former Ravens Players Have Great Games for the Colts
Andy Lyons/Getty Images
On Sunday, Pagano will not be the only former Raven returning to Baltimore. Cory Redding and Tom Zbikowski both spent a number of years on the Baltimore defense.
While both have battled injuries this season, there is no doubt that Redding and Zbikowski will be amped up to play their former teammates.
Zbikowski, a safety who totaled 38 tackles, one sack and one interception in the regular season, has been fighting a nagging knee injury that could keep him limited Sunday. Regardless of his health, the former professional boxer will look to put some punishing hits on the Baltimore offense.
Redding, a defensive lineman who was a staple on the Ravens defensive line for two years, recorded 36 tackles and two sacks this season. Look for Redding, a great run defender, to bottle up the Baltimore rushing attack.
Ray Rice Totals over 175 Total Yards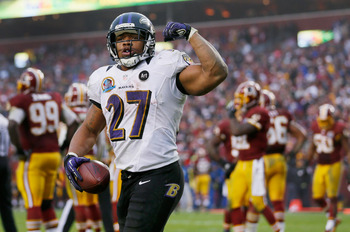 Rob Carr/Getty Images
Ray Rice is undeniably one of the most complete backs in the NFL. With Lewis set to retire at the end of the year, Rice, one of the young leaders in Baltimore, will be expected to take a bigger leadership role in the coming years.
Facing off against a defense that has been generous to opposing running backs, Rice will have a field day Sunday. This season the Colts have allowed 137.5 rushing yards a game, which ranks 29th in the NFL.
Look for Rice to break off some big gains Sunday as Baltimore gives its playmaking back a number of carries. Also a threat to catch the ball out of the backfield, Rice will be there all day for Joe Flacco on the check downs, where tackling Rice in the open field is a challenge.
Baltimore Wins by at Least 13 Points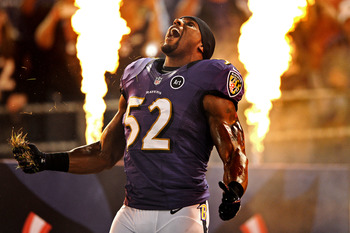 Patrick Smith/Getty Images
Baltimore enters the playoffs as one of the league's biggest enigmas—one game they look like one of the best teams in the league, then suddenly they look like a completely different team.
I firmly believe that when the Ravens play to their potential they can beat anyone in the NFL. There are some factors that may point to a Baltimore playoff run: Lewis retiring at the end of the season and Flacco looking for a new contract.
Take away those factors and Baltimore still wins Sunday. The Ravens defense is the healthiest it has been all season and the new offense under the direction of former Indianapolis head coach Jim Caldwell may just be ready to break through in the playoffs.
Expect Baltimore to play an inspired game Sunday where they dominate in all three facets of the game in front of a thunderous crowd at M&T Bank Stadium.
Keep Reading

Baltimore Ravens: Like this team?