Bengals vs. Texans: Players to Watch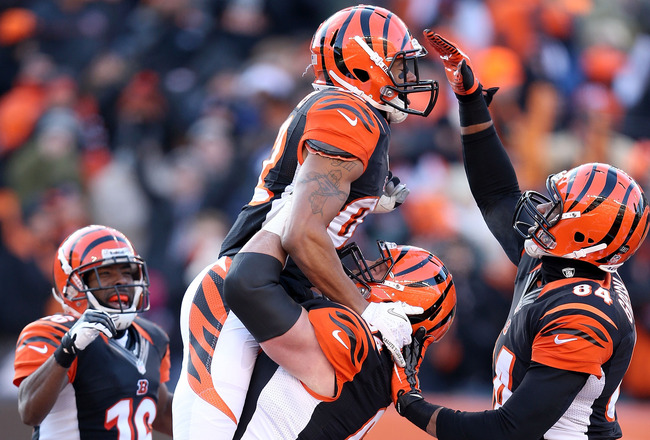 Saturday afternoon, the Bengals look to win their first playoff game since January 1990.
Andy Lyons/Getty Images
It's like déjà vu. Almost a year ago to the day, the Houston Texans and Cincinnati Bengals met at Reliant Stadium for what became the Texans' first playoff win in franchise history. Many things have changed in such a short span of time, but one thing remains the same—the Texans and Bengals will meet again in an AFC Wild Card Game.
The Texans beat the Bengals 31-10 behind an energetic young defense and 153 yards rushing and two touchdowns from Arian Foster. The Bengals weren't even expected to make the playoffs last year. With then-rookie QB Andy Dalton at the helm, a mere playoff appearance exceeded expectations.
Appearances aren't enough anymore. The 2012 Bengals made some key changes to their roster which they hope will help them into the playoffs. This year's team has higher expectations.
The Bengals' standards have been raised largely due to the 7-1 record the team posted to end the season and qualify for the No. 6 seed in the AFC. All three facets of the team contributed to that record, but none more so than the defense.
Behind veteran leadership from DT Geno Atkins and DE Michael Johnson, combined with the gap-stuffing abilities of MLB Rey Maualuga and LB Vontaze Burfict, the Bengals have held their opponents to 13.5 points per game since the bye.
This boost on defense came at an opportune time because the team's offensive performance waned towards the latter quarter of the season. The Bengals offense benefited from having several different flashes of brilliance at various points this season.
RB BenJarvus Green-Ellis had three games in which he accumulated 100-plus yards. The passing attack was featured when WR A.J. Green went a franchise-record nine straight games with a touchdown reception. Mohamed Sanu had a three-game stretch in which he caught four touchdowns. However, rarely have these great performance happened simultaneously.
In order for the Bengals to leave Houston victorious, these three players need to show up and bring their A-games...
Andre Smith Has the Responsibility of Stopping J.J. Watt
Andre Smith's assignment is to contain NFL sack leader J.J. Watt of Houston.
Jamie Sabau/Getty Images
Rarely are offensive linemen mentioned as key players but this is certainly a rare matchup. The Texans' J.J. Watt leads the NFL with 20.5 sacks. In addition, due to his unique pass-rushing ability combined with his long 6'5" frame, Watt has also accumulated 14 pass deflections.
For reference, passes defended is usually a statistic for defensive backs. J.J. Watt is tied for 10th in the NFL in PD. The next closest non-defensive back on the list is tied for 37th.
Bengals RT Andre Smith has the challenge of stopping Watt. Last year, Watt intercepted a short pass and returned it for a touchdown. Smith's No. 1 priority has to be to keep Watt's hands down. Smith needs to maintain contact with Watt at all times and not let Watt get separation.
The issue is that Watt also has the speed and quickness to get around tackles; hence his 20.5 sacks.
Smith has a lot on his plate this week. This is the type of game in which the Bengals hoped Smith would help them when he was drafted out of Alabama. Now it's time for him to show why.
A.J. Green vs. Johnathan Joseph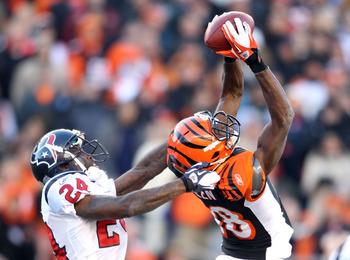 AJ Green pulled in five catches for 47 yards last year against the Texans.
Andy Lyons/Getty Images
Bengals WR A.J. Green is the best in the NFL according to NFL Network analyst and former Cowboys receiver Michael Irving.
Johnathan Joseph, the Bengals' first-round draft pick in 2006, is annually one of the best defensive backs in the league.
Both Green and Joseph will start for the AFC for the first time in the Pro Bowl later this month. However, first they meet in the AFC Wild Card Game.
Last year, Green was held to just 47 yards on five catches en route to the Texans' 21-point victory. Joseph had six tackles, two passes defended and an interception. Joseph clearly won this matchup last year.
This year, Green is looking for revenge. When asked about how the Texans defense will try to stop him, Green said, "This year I have the ability to move around a lot and the defense is not able to key on me in one spot on the field."
Johnathan Joseph will follow Green around the field today as much as possible. When Green has been targeted nine or more times, there have only been two games in which he hasn't either had a touchdown or 100 yards.
The winner of this matchup could very well indicate the winner of the game.
Rey Maualuga Must Stop Arian Foster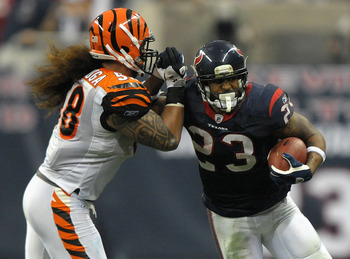 The winner of the matchup between Rey Maualuga and Arian Foster will likely win today's game.
Kirby Lee-USA TODAY Sports
The last time the Bengals met the Texans, Arian Foster went off for 153 rush yards, helped by a couple embarrassing defensive efforts by Cincinnati. The Bengals won't lack the effort today.
MLB Rey Maualuga is the leader of the Bengals defense. He and QB Andy Dalton were named captains during the season, and even though the honor was originally supposed to change weekly, Maualuga and Dalton earned permanent C's on their jerseys.
We just don't know which Arian Foster to expect as of late. We could get the Foster who showed up against Indianapolis and rushed for 165 yards or we could get the one who rushed for 15 against Minnesota.
Hopefully, the Foster from this time last year is long gone. Otherwise, it's going to be a long day for Bengal linebackers like Rey Maualuga.
Maualuga is second on the team with 122 tackles; only fellow linebacker Vontaze Burfict has more, with 127.
In order for the Bengals to make a run in the playoffs, they need to continue to enforce their defensive presence. That starts with middle linebacker.
And if the Bengals are looking to prove their worth, Rey Maualuga must be first in line.
Keep Reading

Cincinnati Bengals: Like this team?