Invicta FC 4: Esparza vs. Hyatt Live Results and Play-by-Play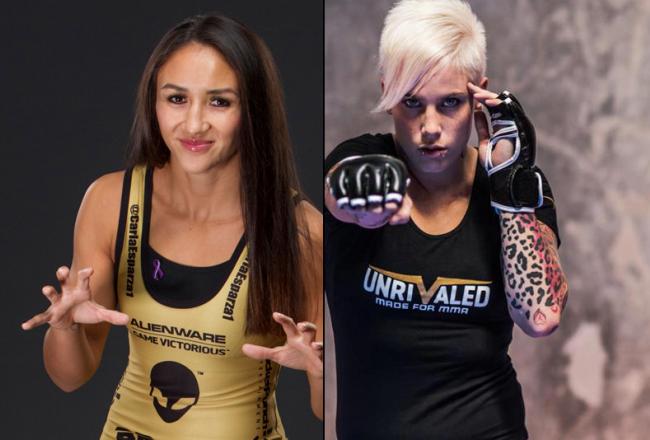 Photo Credit: Esther Lin/Peng Hyunh

Invicta FC 4 kicks off this Saturday night on Jan. 5 from Kansas City's Memorial Hall, and we're here to bring you live, round-by-round updates throughout the card.
Saturday's main event features a title bout for the Invicta Strawweight Championship between top-ranked Carla Esparza and Australian prospect Bec "Rowdy" Hyatt. In the co-main event, pound-for-pound MMA veterans Shayna "The Queen of Spades" Baszler and Alexis Davis will rematch from a previous March 2010 bout.
Our live coverage starts at 3:45 p.m. PT/6:45 p.m. ET on Bleacher Report MMA.
If you want to watch the event live, you can purchase a pay-per-view ticket via Ustream at Invicta FC's main website. Here's our current schedule for the main and preliminary cards.
Invicta FC 4: Full Results
Main Card
• [Strawweight Title] Carla Esparza (9-2) def. Bec Hyatt (4-2)
• Alexis Davis (13-5) def. Shayna Baszler (15-8)
• Leslie Smith (5-2-1) def. Raquel Pennington (3-3)
• Sarah D'Alelio (7-3) def. Amanda Nunes (7-3)
• Ediane Gomes (10-2) def. Hiroko Yamanaka (12-3)
• Joanne Calderwood (5-0) def. Livia Von Plettenberg (1-1)
Prelims/Undercard
• Cassie Rodish (4-3) def. Stephanie Frausto (4-5)
• Tamikka Brents (2-0) def. Amanda Bell (0-1)
• Jodie Esquibel (3-0) def. Liz McCarthy (1-0)
• Rose Namajunas (1-0) def. Emily Kagan (2-1)
• Tecia Torres (2-0) def. Paige VanZant (2-1)
• Veronica Rothenhausler (1-0) def. Katalina Malungahu (2-2)
• Laura Marcusse-Sanko (1-0) def. Cassie Robb (0-1)
Well, that's the end of Invicta FC 4 and thankfully, technical issues didn't ruin it.
Congratulations to all the fighters tonight, especially Invicta FC's newest champion.
If you missed any of the highlights from tonight's all-women's MMA card, make sure to catch up with "The Real Winners and Losers from Invicta FC 4" before you check out for the night.
'Tip your waiters and waitresses on the way out, folks.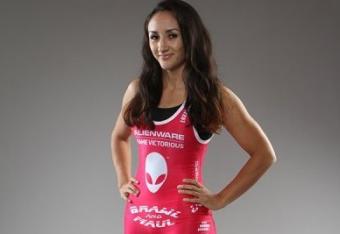 Strawweight Title Fight:
Carla Esparza (8-2) vs. Bec Hyatt (4-1)
Round 5 - Wash, rinse, repeat. Hyatt storms out of her corner swinging leather, and it lasts for a minute before Esparza lands a takedown and starts to smother from top control.
Some slight booing from the crowd is briefly heard as Esparza works in Hyatt's guard.
Esparza continues to land short punches and elbows while sitting high on Hyatt, and the referee stands them up after a minute.
Two minutes left in fight, and Hyatt pushes Esparza back with another monster punch. It goes nowhere, and Esparza lands another takedown with no resistance. Some more booing heard as the clock winds down, and Hyatt desperately tries to throw her legs up for a submission attempt while simultaneously eating punches on her back.
Esparza backs off for a few seconds and dodges an upkick. Hyatt drops Esparza! Esparza goes down and Hyatt tries to swarm for a finish!
'Nope. Close, but no cigar.
Time runs out on the fight clock as Hyatt misses her best chance of the match. That should be at least a 50-44 landslide decision victory for Esparza, who barely survives a final rush.
Result: Carla Esparza (9-2) def. Bec Hyatt (4-2), Wins the Invicta FC Strawweight Championship via Unanimous Decision
Strawweight Title Fight:
Carla Esparza (8-2) vs. Bec Hyatt (4-1)
Round 4 - Hyatt comes out guns blazing and tags Esparza with some big shots. Esparza presses a clinch and Hyatt misses a guillotine choke as they go to the mat.
Esparza stacks Hyatt, throws Hyatt's legs over her head, and takes her back as she starts to hunt for a rear-naked choke.
Hyatt can't do anything with Esparza stuck to her back as she resorts to hand fighting in order to keep Esparza's arms from getting around her neck. Action slows to a crawl, but the referee won't stand them up from a finishing position.
Esparza flips out to Hyatt's back as Hyatt turtles up. Hyatt attempts to transition, gets herself taught in an armbar, then slips out to top position. Hyatt lands a loud kick and stuffs actually stuffs a takedown, but Esparza adjusts and muscles Hyatt to the mat.
Round 4 ends with Esparza landing short punches on Hyatt as she holds onto a schoolyard-style headlock and it's 40-35 for "Cookie Monster" in another one-sided five minute stretch as they go into the final round of the night.
Strawweight Title Fight:
Carla Esparza (8-2) vs. Bec Hyatt (4-1)
Round 3 - It looks like Esparza's pretty tired going into the third, but that doesn't stop her from getting an easy takedown on Hyatt. That's been the story this whole fight, with Esparza using her dominant wrestling to dictate where the bout goes.
Hyatt tries to lock up an arm and throw her legs up for a submission, but Esparza continually stands up to create space when she needs to do so.
Esparza tries to slam Hyatt, but even as that fails, it looks like the Aussie just has no answer for Esparza's stifling top control. Some more grappling goes to a stalemate, and the referee stands them up for a few seconds.
Hyatt tries to use the opportunity to land some big punches on the feet, but Esparza drags her to the mat with no trouble.
Esparza stands up and starts kicking Hyatt's legs. Hyatt takes the bait, attempts to stand up, and Esparza nearly bowls her over as she tackles Hyatt back to her back. Both women end the round on the feet, and we go into the championship rounds with Esparza up 30-26.
Strawweight Title Fight:
Carla Esparza (8-2) vs. Bec Hyatt (4-1)
Round 2 - Hyatt comes out swinging, but Esparza wastes no time getting it to the floor. Esparza controls things from guard, moves to side control and slides back into Hyatt's guard.
Oh! Hyatt with an armbar attempt, but it goes nowhere.
No! She still has the armbar locked in! Esparza is desperately trying to stack Hyatt and get out of trouble. Esparza gets clear! Hyatt pushes Esparza to her butt with a well-placed kick from the floor, but Esparza answer right back with a dominant double-leg takedown.
Esparza's peppering Hyatt with punches while sitting half-guard. Hyatt can't create enough space to sweep or reverse Esparza, and she's flat on her back with nowhere to go.
Hyatt tries to sneak a triangle attempt, but her right leg isn't locked over her left ankle, so there's no choke attempt. Esparza shakes off the submission and finishes the round on top again. Hyatt needs a knockout or submission now, with Esparza likely up 20-17 on the scorecards.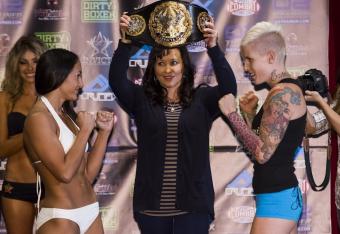 Strawweight Title Fight:
Carla Esparza (8-2) vs. Bec Hyatt (4-1)
Round 1 - Hyatt start off with winging punches and Esparza trades with her for a minute before snatching up a takedown. Esparza works towards side control, but Hyatt's legwork farms her into closed guard. Esparza lands a big flurry from the top and stifles Hyatt with some tight top control.
Esparza spins and works her way to Hyatt's back, and Esparza landing punches while hanging on Hyatt's back. Hyatt attempts to roll out, but Esparza sticks to her back like glue.
Esparza gets a hook under Hyatt's arm and completes the adjustment to lock in a rear-naked choke.
Hyatt is trying to fight off Esparza, but "Cookie Monster" is a step ahead of her at every turn. Esparza now dishing out more shots and finishes the round in Hyatt's guard. Hyatt kicks Esparza off of her after the end of the round, but it's still a clear 10-8 for Esparza.
Australian prospect Hyatt appropriately comes out to the cage to "Down Under" from Men at Work and gets ready for a steep challenge.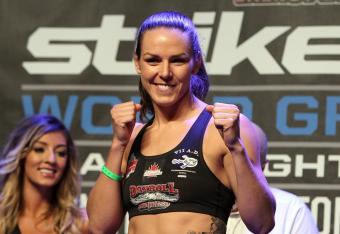 Shayna Baszler (15-7) vs. Alexis Davis (12-5)
Round 3 - Davis and Baszler are circling each other while trading shots, and Davis controlling the middle of the cage while Baszler circles around.
Despite the commentating team's high praise of Davis, both women are actually landing punches and kicks pretty evenly, with neither really committing to a flurry.
Baszler lands on her side after a failed attack, Davis follows up with strikes and OH BASZLER IS BLEEDING BAD.
OH MY. DAVIS JUST CHOKED BASZLER OUT COLD. Baszler wakes up covered in a puddle of her own blood, and the rematch ends with a rear-naked choke. Good Lord. Can't remember the last time I saw a women's MMA bout get so bloody.
Result: Alexis Davis (13-5) def. Shayna Baszler (15-7) via Technical Submission (Rear-Naked Choke), Round 3 (0:58)
Shayna Baszler (15-7) vs. Alexis Davis (12-5)
Round 2 - So much grappling in this round, it's hard to keep up. Baszler and Davis go to the ground early. Baszler ends up on top in the north-south position. Baszler works to side control and Davis works a tight triangle attempt. This is thrilling to watch.
Baszler is trying to control Davis on top and lands a BIG overhand right while diving back into guard!
Davis' high guard is making it very difficult for Baszler to mount any kind of sustained offense, and Baszler stands up, looking for another punch to land. Baszler walks away and both fighters reset on the feet in the middle of the cage.
Davis lands a sharp kick, and it's clear now that Baszler's foot is damaged from the late submission attempt in the first round. Davis drops Baszler! Baszler can't spin into a good position and eats hammerfists as the round comes to an end. That's a very close round, but Baszler's grappling for most of the round should give her 10-9 and tie this up at 19-19 going into the third.
Co-Main Event, Bantamweight Bout:
Shayna Baszler (15-7) vs. Alexis Davis (12-5)
Round 1 - If you're in the know, this is the real main event of the night. Let's do this.
Baszler is the first to start landing shots, but Davis catches her with a nice hook. Baszler briefly gets backed up to the cage, but meets Davis in the middle of the cage.
Both fighters test the distance and clinch for a brief moment. Wow! Baszler and Davis have a hard flurry, and Baszler gets taken to the mat. Davis is trying to posture up out of Baszler's half guard, but Baszler has a tight leg triangle on Davis' left leg.
Davis gets it out to side control, and Baszler nearly pulls off an amazing sweep. Davis rolls for a better position, but Baszler fight her way top position against the cage. Davis attempts a leg lock, but Baszler spins around starts landing punches.
NICE. Davis locks in a TIGHT heel hook! Baszler's not tapping! And Baszler's saved by the bell as she's trapped against the cage. That's a tough round to call, but I'll give it to Davis for more control and better striking. Could go either way, though.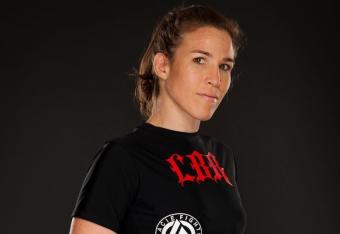 Leslie Smith (4-2-1) vs. Raquel Pennington (3-2)
Round 3 - Smith barrels right into the clinch and pushes Pennington against the cage. Smith tries a few foot stomps, and both fighters jockey for position. Pennington shoves Smith to the middle of the cage, and misses a telegraphed kick.
Smith lands a heavy combination and backs Pennington up to the cage, but Pennington catches a guillotine attempt on the feet. It looks way too high, and Pennington's forced to abandon it.
Smith tries a standing guillotine of her own, and it looks a lot deeper due to her height leverage.
Smith and Pennington back off to trade some more strikes. Pennington hangs out on the outside edge of the cage, and Smith pulls a "Nick Diaz"-style taunt, throwing up her hands repeatedly. Pennington tries to be patent and counter, but Smith's range is proving to be the difference maker.
Pennington lands a big sidekick followed by a solid straight right. Smith eats a leg kick, but lands a LONG combination of punches to wobble Pennington. Pennington is trying to hang in there, but Smith swarms her once again to put a stamp on the round.
Thankfully, there's no bro-hugging afterward as the two rivals wait for the judges' scorecard. That should be a clear-cut 29-28 decision for Smith, as Pennington's cheering section makes some more noise.
Result: Leslie Smith (5-2-1) def. Raquel Pennington (3-3) via Unanimous Decision
Leslie Smith (4-2-1) vs. Raquel Pennington (3-2)
Round 2 - Smith landing more jabs now as Pennington tries to work for a takedown. Smith isn't having it, and she's now walking down Pennington while landing long straight punches.
Pennington fires back with kicks and both fighters follow each other along the cage while trading shots.
Smith starts to land harder shots on Pennington as the two flurry! Smith now throwing punches at a high pace. Smith catches Pennington in the gut with a solid knee, and Pennington's spent the majority of this round with her back against the cage.
Pennington lands some uppercuts, but Smith keeps the pressure on even as she's taking shots to the body. Smith and Pennington flurry with punches and kicks as the round drags to an end. Smith taunts Pennington into getting off the cage, and the round ends with Pennington on her back after she misses a sidekick. That's 10-9 for Smith, with the fight tied at 19-19 so far.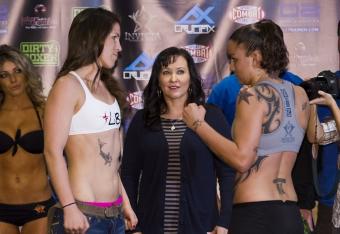 Bantamweight Bout:
Leslie Smith (4-2-1) vs. Raquel Pennington (3-2)
Round 1 - Total grudge match here between Smith and Pennington and they share a hard stare before starting out. Pennington and Smith battle against the cage and Pennington lands some knees. Pennington hits a sweep and takes Smith to the mat, working her way to side control.
Smith shifts on the bottom and grabs Pennington's foot. Pennington lands some hard hammerfists and slowly works her way free. Pennington stands up, gauges the situation and dives back into guard, transitioning to Smith's back.
Pennington tries to sink in a rear-nakes choke, but Smith scrambles to the cage fence. Pennington doesn't let up, landing some knees. Both fighters circles out of the middle of the cage and Smith grabs a high standing guillotine choke. Pennington shakes it off, tries foot stomps, and clinches for position.
Smith lands a few good punches before they clinch again, and the round ends as Pennington lands knees with her back against the cage. That's a good 10-9 for Pennington, who controlled most of the round and landed better shots throughout.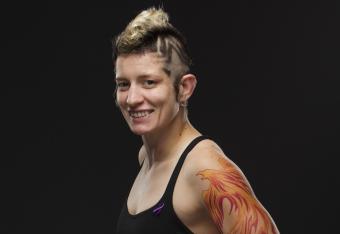 Amanda Nunes (7-2) vs. Sarah D'Alelio (6-3)
Round 3 - D'Alelio outright controlling Nunes on the mat and Nunes can't get back up to her feet.
D'Alelio stays busy enough to avoid a stand-up, and Nunes briefly gets it to the feet with 90 seconds left. Both fighters tie up against the cage and D'Alelio drags Nunes back down to the ground with 30 seconds left in the round.
That's a pretty smart fight by Nunes. D'Alelio wins a one-sided decision and makes peace with a visibly upset Nunes as she waits for the judges' scorecards.
Result: Sarah D'Alelio (7-3) def. Amanda Nunes (7-3) via Unanimous Decision
Amanda Nunes (7-2) vs. Sarah D'Alelio (6-3)
Round 1 - Nunes' leg doesn't look any worse for wear, and she even whips out a leg kick. That's quickly followed with a takedown from D'Alelio.
D'Alelio is controlling from the top and backs up a bit, but Nunes throws an illegal upkick that stops the fight briefly. D'Alelio has five minutes to recover, and the cageside doctor is checking her out.
Referee "Big John" McCarthy takes one point from Nunes and they restart on the feet instead of the ground for some bizarre reason.
Nunes tries a takedown of her own and winds up on bottom, fishing for a triangle choke. D'Alelio is forced defend, stacking Nunes on her head and ending up in side control.
Nunes traps D'Alelio's left leg, but D'Alelio puts her knee right on Nunes' head. D'Alelio works back to side control and lands some short punches while in full control of the round. That's a clear round for D'Alelio, and with the point deduction on Nunes, she's now up 20-17 on my scorecard.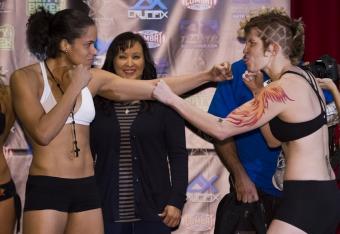 Bantamweight Bout:
Amanda Nunes (7-2) vs. Sarah D'Alelio (6-3)
Round 1 - Nunes hits a short punch as D'Alelio hunches forward with her stance. Nunes hits D'Alelio with a hard one-two combination and D'Alelio answers with a takedown against the cage. Nunes gets lifted and slammed in a single motion while D'Alelio gets to half guard.
D'Alelio going unorthodox with some elbows to Nunes' legs. Nunes is wrapped up pretty tight on her back against the cage, and it looks like she can't do anything.
Sounds like the referee told D'Alelio to watch out for 12-to-6 elbows (which are illegal) and the commentating team jokes that D'Alelio should use 12-to-5 strikes instead. D'Alelio gets too high in Nunes' guard and gets caught in a leg lock.
Nunes doesn't have time to do anything with it though, as D'Alelio smartly spins out of it and keeps up the pressure from the top. That's a pretty dominant 10-9 for D'Alelio, and it'll be interesting to see if that damage to Nunes' thigh piled up.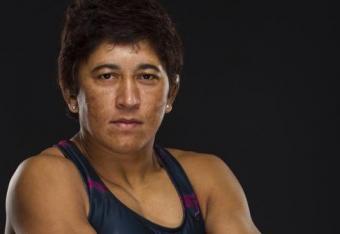 Ediane Gomes (9-2) vs. Hiroko Yamanaka (12-2)
Round 3 - Yamanaka landing the jab more consistently on a tired Gomes, but Gomes is walking right though it every time it lands so far. Yamanaka lands a nice leg kick and both fighters go back to probing strikes.
Gomes' range is working against her here and she can't connect cleanly with a finishing blow. Gomes pops Yamanaka hard with a straight right and Yamanaka keeps pumping the jab.
Gomes gets a takedown and avoids a guillotine from Yamanaka. Gomes working in Yamanaka's guard, takes Yamanaka against the cage as she tries to stand up. Both fighters clinch for a bit and go back to landing strikes.
Yamanaka stuffs a takedown from Gomes, but still gets dragged to the mat. She has nowhere to go, and the former Strikeforce fighter can only watch the clock run down. 'Not a real barnburner of a fighter, but solid technical striking from both women.
Result: Ediane Gomes (10-2) def. Hiroko Yamanaka (12-3) via Unanimous Decision
Ediane Gomes (9-2) vs. Hiroko Yamanaka (12-2)
Round 2 - Less action in this round, and Yamanaka is trying to find a hole in Gomes' stand-up to exploit. Every time the two trade shots, Gomes gets the better of the exchagnes.
Yamanaka starts to lands some good kicks, and Gomes lands some to the ankle. Yamanaka is dodging a lot of haymakers here, constantly sidestepping Gomes' heavy punches. Gomes finally catches Yamanaka in a big flurry and both fighters reset in the middle of the cage.
Yamanaka keeps probing with long jabs, and Gomes is still wading in with heavy combinations. Yamanaka lands a nice straight that shakes Gomes and the announcers all miss it.
One more brief striking exchange ends the round, and it's a 10-9 for Gomes, who landed the harder shots and consistently pushed her opponent on her heels.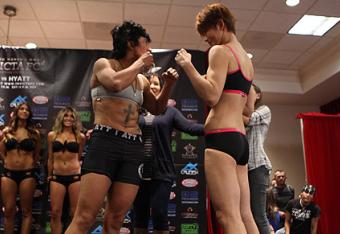 Featherweight Bout:
Ediane Gomes (9-2) vs. Hiroko Yamanaka (12-2)
Round 1 - Yamanaka circles wide while Gomes tries to cut her off. Gomes hits a powerful takedown and shakes Yamanaka right out of a guillotine attempt on the way down.
Gomes works some hard ground-and-pound, tries a rear-naked choke, goes back to the ground-and-pound. Gomes rolls for another choke, and Yamanaka has gotten no offense in whatsoever. Gomes grabs and armbar attempt as Yamanaka gets on top, and the Japanese fighter is now eating shots in Gomes' guard.
Yamanaka trying to control Gomes, and the two trade shots on the mat. Referee makes a horrible stand-up while both are fighting for position.
Yamanaka plays a defensive stand-up game with her long reach and height, but Gomes isn't playing. Round ends without an exchange. That's a 10-9 for Gomes.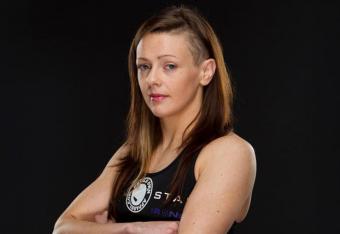 Joanne Calderwood (4-0) vs. Livia Von Plettenberg (1-0)
Round 3 - Huge growth welling up on Plettenberg's head, and Calderwood smells blood.
Calderwood grabs Plettenberg, lands some hard downward elbows to her face, and both fighters start to circle each other trading shots.
NICE. Calderwood lands a head kick, and Plettenberg acts like she's not fazed. Plettenberg fighting back with body shots and straights, but Calderwood drops her on her butt with a long push kick. Every time Plettenberg missed a strike, Calderwood fires back with a clean, tight counter.
Calderwood lands more knees to the body, and I officially have no idea how Plettenberg is still able to breathe. Calderwood lands a beautiful long jab and combines it with a sweep kick, dropping Plettenberg to the mat. Plettenberg eats a head kick, while the commentators made a Braveheart joke.
Calderwood lands a big knee, a big push kick, and it seems like Plettenberg is just trying to survive. Plettenberg fires off punches, but her reach keeps failing her.
Utter domination for Joanne Calderwood. With a win like that, that's an argument for a title shot.
Joanne Calderwood (4-0) vs. Livia Von Plettenberg (1-0)
Round 2 - Plettenberg is really starting to look out her depth. Calderwood lands a HUGE knee and starts to punish Plettenberg in the clinch. Plettenberg is desperately clinging to Calderwood and trying to answer back with short strikes.
Calderwood's height and strength isn't giving an inch, and she attempts a takedown. She gets Plettenberg's back, but backs off to striking distance. Both fighters trade shots. Calderwood grabs a collar tie and flings Plettenberg into the fence like she weighs nothing.
Calderwood stalking Plettenberg, and Plettenberg goes for a single-leg takedown. She comes up with nothing, and Plettenberg's corner start to call for foot stomps. They get off the cage, and Calderwood lands some hard shots. Plettenberg fires back with overhand punches.
Calderwood lands ANOTHER HUGE KNEE and Plettenberg's face controls in pain as her tries to stay upright. Calderwood pecks away at her opponent to close another dominant round with a 10-9 score.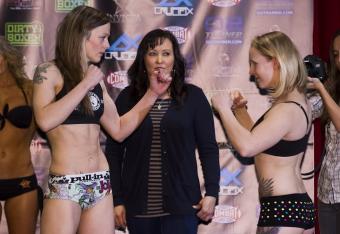 Strawweight Bout:
Joanne Calderwood (4-0) vs. Livia Von Plettenberg (1-0)
Round 1 - Calderwood and Plettenberg circling each other, and Scottish fighter Calderwood is decked out in kilt-colored ringwear. Plettenberg briefly ties up Calderwood, and Calderwood responds with a nasty looking front kick.
Whoa. Calderwood grabs Plettenberg, lands a bunch of knees and lets her go. Calderwood goes back to the well again. AGAIN she grabs a Thai clinch, lands some knees and Plettenberg moves the right to the cage.
Calderwood's technique is scary—when throwing knees, her whole body sort up winds up like she's throwing a baseball.
Plettenberg not having much luck trying to get Calderwood off her feet as the taller, stronger fighter is using her frame to stay upright. Calderwood lands some knees and short shots as they clinch to end the round. Calderwood tries to lift Plettenberg for a takedown, fails, then succeed on the second attempt. Clear 10-9 for Calderwood.
Nope! Main card starting now.
That was barely enough time for a bathroom break.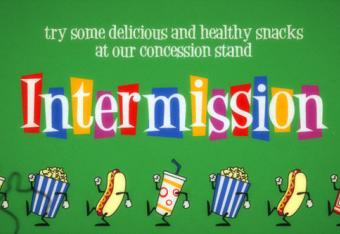 OK, we're going to have an intermission here.
Grab some food, feed your pets or kiss your spouses—we'll be back shortly.
This article is
What is the duplicate article?
Why is this article offensive?
Where is this article plagiarized from?
Why is this article poorly edited?