Five Ducks You'll Get To Know Better in 2009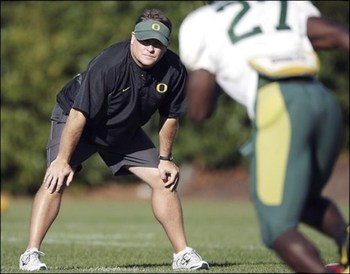 With spring football getting up and running on Tuesday, I'm going to run down five players that stand to move up the depth chart and make a significant impact in 2009.
The Ducks are heading into spring practices with a new head coach for the first time in 14 years. Though there may not be big changes in how the program is run, Chip Kelly does bring a firmer, more no-nonsense attitude to the Cas Center, and this may allow different players to catch his eye and excel.
There are major holes to fill, particularly up front on the offensive and defensive lines. But the Ducks also return with a much more solid quarterback situation than they had going into 2008, and an impressive group of linebackers who have finally had the time to mature.
The overall depth chart is riddled with guys who have significant experience in backup roles or on special teams who will be looking to breakout in 2009. Hopefully they can step up, take advantage of the opportunity, and fill the shoes of some former Ducks who we'll be seeing on Sunday next year.
Eddie Pleasant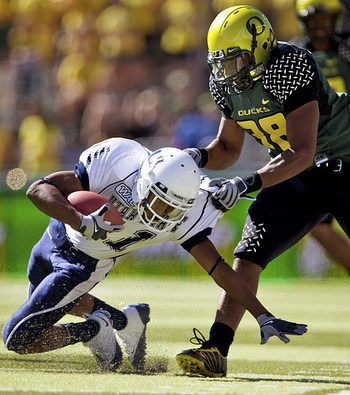 Eddie Pleasant appears to be the leading candidate to replace Jerome Boyd at the SAM linebacker spot.
Weighing in at over 220 lbs. and with the top squat (445 lbs.) of any linebacker, Pleasant has the power the shed TE's and FB's in order to get to the RB.
Even more intriguing is Pleasant's speed. He clocked in as one of the three fastest Ducks in tests leading up to spring drills, alongside RB LaMichael James and WR Jamere Holland.
I'm sure Duck fans wouldn't mind having a little more speed at OLB when players like Jahvid Best and Jaquizz Rodgers try to break it outside in Autzen.
And because he's going to be over the TE at the SAM spot, his speed should really help him out when he drops into coverage against the Rob Grankowski's of the league.
Pleasant was one of the Ducks' primary backups at linebacker last year, even picking up one start. When he did see significant snaps, he made plays.
Pleasant's best game came against UCLA, where he had four tackles and two passes defended. With the job all to himself heading into 2009, he should have no problem replacing Boyd's 80 tackles, and might even bust up a few more plays in the backfield or in coverage.
LaMichael James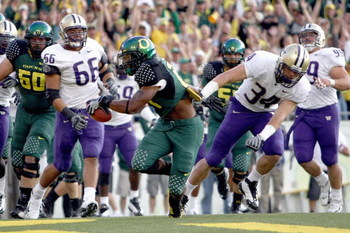 While many Duck fans may be lamenting Bryce Brown's signing with Tennessee, others around the program seem quietly excited about Rfr. RB LaMichael James.
He seems like a logical choice to replace future NFL draft pick Jeremiah Johnson as the "lightning" to complement recently-reinstated LeGarrette Blount's "thunder."
A highly-touted recruit coming out of high school in Texarkana, TX, James led his team to the state title. In doing so, he showed not only the ability to tote the rock, but also the skill to make key catches out of the backfield, versatility that head coach Chip Kelly will be looking for to complement Blount's raw power.
Although he was hampered by injury in his redshirt season, James still had enough talent to win scout team player of the week honors prior to both the Civil War and USC games. With his shoulder still limiting him going into the spring, it will be important for James to show that he can stay healthy throughout fall camp.
With the speed to win the 100 meters at the Texas state championships in 2006, and coming into spring drills having packed on more than 10 pounds (putting him up over 190 lbs.), James is poised to make an impact behind the innovative blocking schemes of Kelly and Assistant Head Coach Steve Greatwood.
He's just the kind of player you want in the space that the spread provides.
Jordan Holmes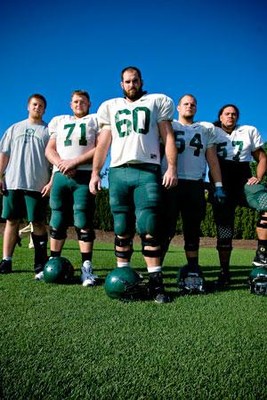 With All-American Max Unger on his way to one lucky NFL team next month, Jordan Holmes and Carson York will be battling it out for his vacant center position.
Holmes seems like the safe bet, having backed up Unger all year in 2008, as well as actually starting in four games at the guard spot.
In his last three years of high school, Holmes did not allow a sack. His redshirt campaign at Oregon saw him win scout team player of the week on four separate occasions. Last year, he was honorable mention academic all-conference, showing he has the ability to excel in Kelly's complex scheme.
Now a junior, if Holmes can impress in spring drills, he will have the chance to be a part of another record-setting offense for the Ducks. His greatest challenge will likely be mastering the exchange with emerging QB star Jeremiah Masoli.
Jamere Holland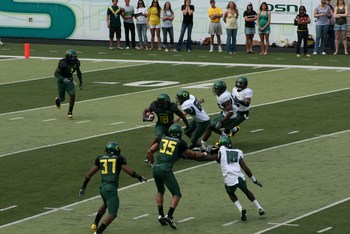 The Ducks have a bevy of unproven talent at WR heading into 2009. With his unrivaled speed, Jamere Holland may be the best of the bunch.
He is arguably the fastest Duck, testing at the top heading into spring practices. Just watch Chip Kelly get him the ball and let him go. Holland came on strong at the end of the year, picking up a start in the Ducks' Holiday Bowl victory over Oklahoma State.
Although many fans likely recall Jeremiah Masoli trucking DB's on the way to multiple scores, Holland had his own memorable moment, catching a flea-flicker in the opening offensive series of the game. Because only one WR with double-digit catches returns (Jeff Maehl), there should be plenty of touches to go around.
Outside of breaking a bubble screen or sprinting deep, Holland is also a likely candidate to return kicks, a role he gained significant experience at in 2008. As Jairus Byrd heads to the league, the Ducks will be looking for a new man to take over the PR duties.
With so much talent on the roster, so many receivers utilized in the spread, and a new position coach in Scott Frost heading into 2009, it's hard to predict what will happen next year. But the USC-transfer Holland certainly has all the ability needed to get the job done.
Whether Duck fans see him more on special teams or at WR doesn't matter, as long as they're seeing him breaking away for another TD.
Tony Celotto
The Ducks go into 2009 having lost three-fourths of one of their better defensive lines in recent memory. Like the WR position, there's a big group of guys looking to step up, led by Tony Celotto.
With an NFL-veteran for a father and a solid, 6'3" frame, Celotto has the natural ability to line up and play on the interior line in the Pac-10. The real question about Celotto is his health.
Throughout his first two years with the Ducks, he has been hampered by nagging injuries that have limited his playing time. However, with spring drills poised to begin, he's finally healthy, leaving fans with fingers crossed. He has shown that he has the will to fight through it, making the field in 12 of the Ducks' 13 games last year.
If healthy, Celotto should be able to harness the talent that led to 32 sacks in his final two years of high school. He has good speed for a DT, which will be useful as he tries to find his way into gaps and maintain the level of play that put the Ducks second in the Pac-10 in rushing defense.
Statistically Oregon's top reserve DT in 2008, Celotto is in a great position to make a splash in 2009. Despite a new position coach in Jerry Azzinaro, Oregon will likely maintain their plug-and-play, frequently substituting philosophy on the D-line. This means that the opportunity for snaps is there if Celotto can impress the gruff new duo of Kelly and Azzinaro.
If he can, there's no reason why he can't be the most solid Duck on the interior of the line.
***Coletto has just left the team. I'm sure many Oregon fans hope he changes his mind, but unless that actually happens, look for Jr. Blake Ferras and Jr. transfer Terrance Montgomery to plug up the middle for the Ducks.***
Keep Reading