2014 and 2015 Recruits Who Stood out at Army All-American Combine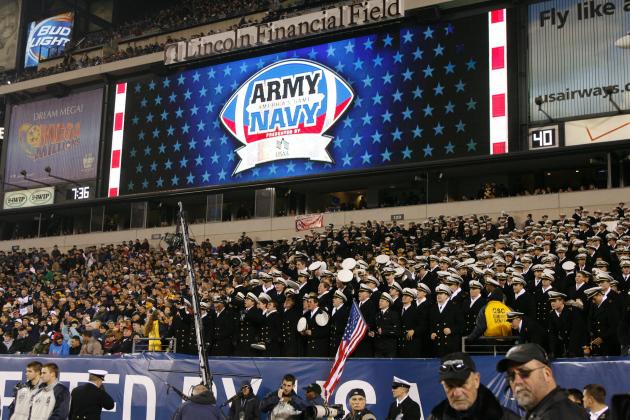 Hunter Martin/Getty Images

The 2013 Army All-American Combine featured some of the best high school sophomores and juniors in the country showing off their athleticism for coaches and scouts in the Alamodome in San Antonio, Texas.
The sophomores stood out the most; multiple Class of 2015 recruits jumped to the forefront with outstanding performances in the testing and the football drills.
Some juniors built on their sophomore performances from the 2012 combine and reminded the coaches in attendance why so many schools across the country are competing for their signatures.
This is a look at the top performers at the 2013 Army All-American Combine.
Any quotes or information referenced in this article were obtained during interviews by the author with recruits and/or their parents.
Begin Slideshow

»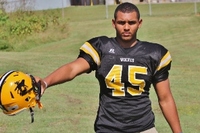 Via prospect-central.blogspot.com.
Darian Roseboro is a sophomore defensive lineman from Lincolnton High School in North Carolina. He measures in at 6'4" and 262 pounds. Roseboro wowed the scouts in attendance when he did 30 reps of 185 pounds on the bench press.
Besides playing football at Lincolnton High, he runs track as a member of the 4x100 relay. The huge sophomore showed great strength during one-on-one drills against the offensive linemen. He displayed a powerful bull rush and often pushed the opposing offensive linemen back into the quarterback.
Roseboro does not have much of a pass-rushing repertoire at the moment, but that should come with more experience. Right now he relies on his quickness and brute strength to get to the quarterback.
Roseboro has already received offers from North Carolina and Duke. He is also interested in Clemson and Alabama, and he projects as a defensive tackle in college.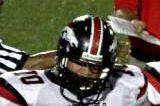 Via www.facebook.com/marcus.oliver.169.
Marcus Oliver is a 6'2", 268-pound future star at offensive tackle from Spring Westfield High School. Oliver displayed incredible feet and balance during the one-on-one sessions with the defensive line.
He has incredible technique and a tremendous frame to build on. He is one of the most technically sound offensive linemen in the state of Texas, and he is only a sophomore.
Oliver should be a national top 100 recruit before all said and done. He has a tremendous ceiling. If he stays healthy, he should be one of the top five recruits in Texas in 2015. He projects as a left tackle in college.
Solomon Thomas was one of the stars of the 2012 combine as a sophomore. He returned in 2013 with 20 pounds of muscle added to his 6'2" frame and was just as dominant.
Thomas is a 6'2," 258-pound defensive end from Coppell High School. He stood out to all in attendance as a 240-pound, chiseled DE in 2012. Once again, he used his speed and strength to dominate the one-on-one drills
The junior DE is a surefire national recruit who will likely be ranked among the top 50 players at all positions. Stanford and Texas lead for his services.
Isiah Jenkins is a slightly undersized running back at 5'8," 175 pounds, but there is nothing small about his game. No one was able to cover Jenkins in the passing drills when he burned linebacker and defensive back alike.
Jenkins displayed tremendous hands and concentration throughout the drills, drawing praise from the crowd on hand after making two tough catches. It is easy to picture Jenkins growing into a 190-pound back who will terrorize linebackers asked to cover him in college.
Jenkins will be a great prospect for any spread team in college.
Dominique Roseboro is a 6'0", 190-pound safety prospect out of Crest High School.
He started on varsity as safety in his freshman season and grabbed 10 interceptions. In 2012 as a sophomore, Roseboro added an additional six interceptions, returning three for touchdowns.
Roseboro also played running back for Crest. He rushed for 802 yards and 16 touchdowns on 60 carries. The sophomore from North Carolina is one of the top defensive back prospects in the Class of 2015. He showed very good cover skills during the one-on-one drills with the receivers.
Roseboro should be a national recruit in 2015. Do not be surprised to see him playing in the Army All-American Bowl in 2015.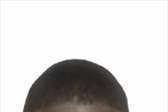 Via maxpreps.com.
Kentavious Street plays defensive end for J.H. Rose High School in Greenville, N.C.
He used his 6'2", 256-pound frame and an incredible burst to consistently dominate the opposing offensive linemen during drills at the combine.
Street looks like he is physically ready to step on a college campus right now and compete. None of the offensive linemen at the combine could contain him. He was simply too explosive off the snap.
He will be one of the top prospects in North Carolina.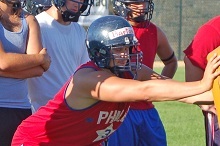 Via scout.com
Jackson Barton was one of the biggest participants at the combine at 6'6", 282 pounds. He used his size and immense wingspan to control opposing rushers in the drills.
Barton has surprisingly agile feet for a man of his stature. He appears to have all the makings of a solid left tackle prospect in college. It is easy to imagine him developing into a 6'7", 310-pound left tackle protecting some quarterback's blind side.
Barton has the kind of ability and frame that projects well at the next level and on Sundays in the NFL.