5 Reasons Why the Boston Celtics Will Turn Their Season Around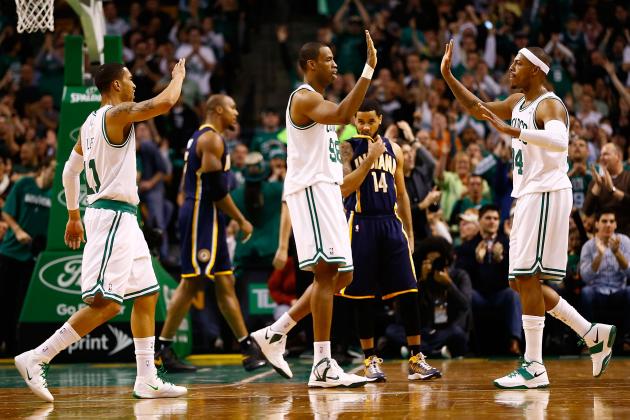 Jared Wickerham/Getty Images
The C's are ready to make a charge.
Was this it? Was this the way the Big Three era would come to a close for the Boston Celtics?
Ray Allen took his bow this past offseason. It was only a matter of time before the oft-injured Paul Pierce and the aging Kevin Garnett followed suit.
After the Celtics lost four straight games and eight of 10, one had to wonder if it was the beginning of the end of the latest resurgence in the franchise's storied history.
It certainly was not supposed to be this way.
Prior to the season, the thought of the Celtics missing the playoffs was almost laughable. Boston was included in nearly every preseason top five. If there was a team that was going to dethrone the Miami Heat in the Eastern Conference, it was going to be the Celtics.
Yet their postseason chances were fading a little bit more with every minute Jason Collins registered on the court.
How did they get there?
You could start with the team's lousy perimeter defense. Or maybe it was Boston's deficiencies on the glass. Some would even suggest it was the absence of a true center.
Whatever the case, Boston's ship was sinking, and sinking fast.
Fast forward to Friday night.
By the way the Celtics thumped the Indiana Pacers, 94-75, you could not tell that they were a team three games under .500. For a night, they looked deserving of all the preseason hype that surrounded them.
Boston shot well, defended impeccably and even came away with a 49-47 edge in rebounds. It was an all-around excellent performance by the team.
It also implied that these Celtics are not ready to raise the white flag anytime soon.
In fact, their best might still be yet to come.
Here are five reasons Boston will turn its season around.
Begin Slideshow

»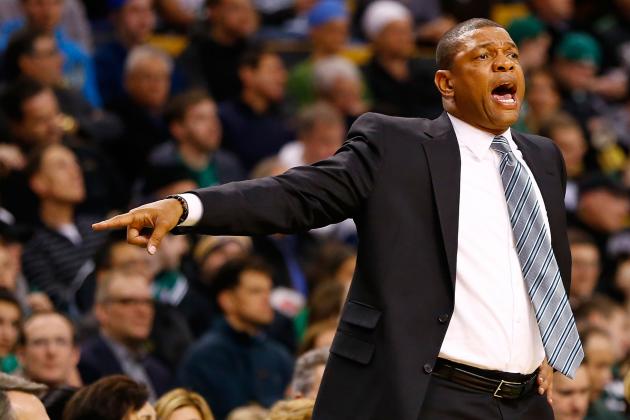 Jared Wickerham/Getty Images
Rivers has been here before.
At 15-17, and in the middle of a slump, the Celtics are struggling to regain their footing. It's a task that becomes more and more difficult with every passing loss.
Luckily, this is familiar territory for Boston.
Just how familiar?
Through 32 games the 2011-12 Celtics were also 15-17.
Following the slow start, Boston rebounded by winning its next five games on the way to a 39-27 record during the lockout-shortened season. The Celtics would ultimately push the eventual-champion Miami Heat to seven games in the Eastern Conference Finals.
It should serve as a beacon of hope for a squad that boasts a roster far more talented than it did a year ago.
Everything is easier the second time around.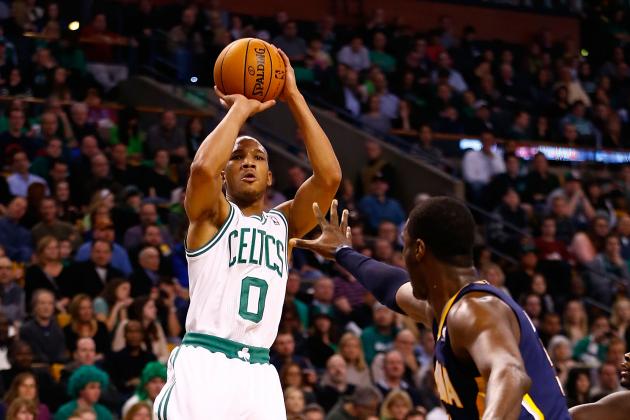 Jared Wickerham/Getty Images
Once Bradley rediscovers his shooting touch, opposing defenders better watch out.
Last season, the Celtics rode the coattails of a red-hot Avery Bradley—15.1 points per game on 52.1 percent shooting in 15 April games—to a No. 4 seed in the playoffs.
This year, Boston looks to do the same.
On Jan. 2 the 22-year-old finally made his season debut after missing seven months due to undergoing surgery to both shoulders over the offseason. As expected Bradley has displayed some rust in his first two games, averaging 5.0 points per game on 5-of-17 (29.4-percent) shooting.
However, his prowess on the defensive side of the ball is starting to show.
On Friday, Bradley's counterpart, Lance Stephenson, struggled to find anything. Stephenson finished with five points on 1-of-6 shooting.
Bradley, who also recorded a steal and a block, provides a much-needed spark to a Celtics defense that came in allowing 97.8 points per game to opponents.
Just wait until the youngster regains his form on the offensive side of the ball. Then things are really going to start getting out of hand.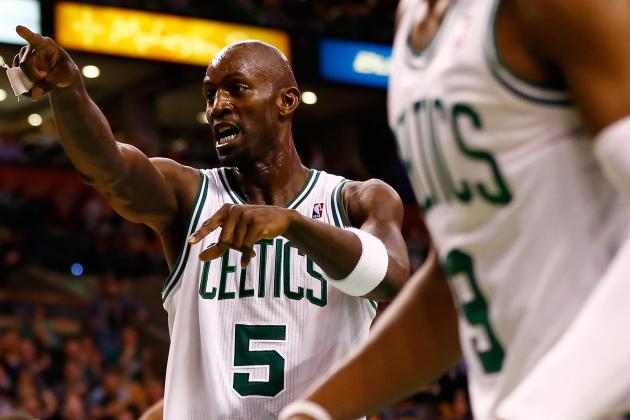 Jared Wickerham/Getty Images
Garnett has been much more productive at the center position this season.
You hear that?
That's the sound of the entire city of Boston breathing a collective sigh of relief after head coach Doc Rivers announced that he was removing Jason Collins from the starting lineup.
As a result Kevin Garnett found himself back at the center position.
While it might not be his natural spot, it's definitely a good thing for the Celtics.
In six appearances as the starting power forward, Garnett struggled, averaging 11.7 points, 7.2 rebounds and 0.5 blocks per game. Furthermore, he shot a dismal 41.9 percent from the field.
In 26 appearances as the starting center, Garnett is thriving, averaging 15.6 points, 7.1 rebounds and 0.8 blocks per game. He's also shooting 53.5 percent from the floor.
But if that's too small of a sample for you, just take a look at last season's splits.
In 24 games as the starting forward, Garnett averaged 14.3 points, 7.5 rebounds and 0.8 blocks per game. He also shot 49.6 percent from the floor.
In 36 games as the starting center, Garnett averaged 16.8 points, 8.7 rebounds and 1.2 blocks per game. He also connected on 50.7 percent of his attempts from the field.
Still need further proof?
During his return to the center position on Friday, Garnett led the team with 18 points on 8-of-16 shooting. He also added seven rebounds and a steal.
There you have it. Garnett is a much bigger asset for Boston as a center.
The numbers don't lie.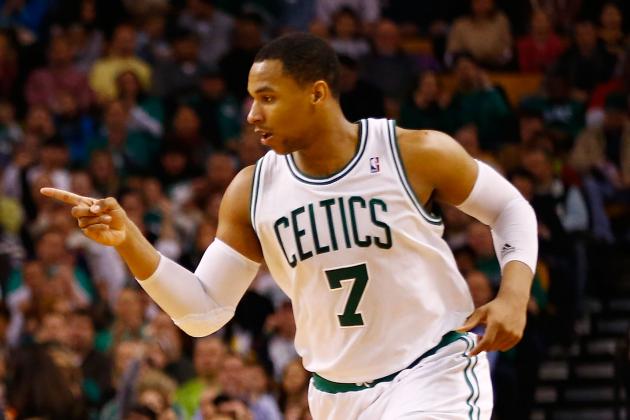 Jared Wickerham/Getty Images
Sullinger is maturing in front of our eyes.
Even through the Celtics' rough patch, there was always one silver lining to take away: the play of rookie Jared Sullinger.
The 21st pick in June's NBA draft has been phenomenal as of late.
In his last six games, Sullinger has averaged 8.5 points and 6.8 rebounds per game in only 23.5 minutes a night. He added seven points and 10 rebounds in 30 minutes of action during Friday's victory.
The 20-year-old has certainly proven that he is deserving of another shot in the starting lineup.
Following Brandon Bass' stinker in his return to the starting rotation—four points on 1-of-5 shooting—expect a promotion for Sullinger sooner rather then later.
Sullinger has all the makings of being a 15-10 guy on a nightly basis.
His addition to the starting lineup would certainly help take some of the pressure off Kevin Garnett. It would also go a long way in solving Boston's interior woes.
Now, if only he could stop committing so many fouls.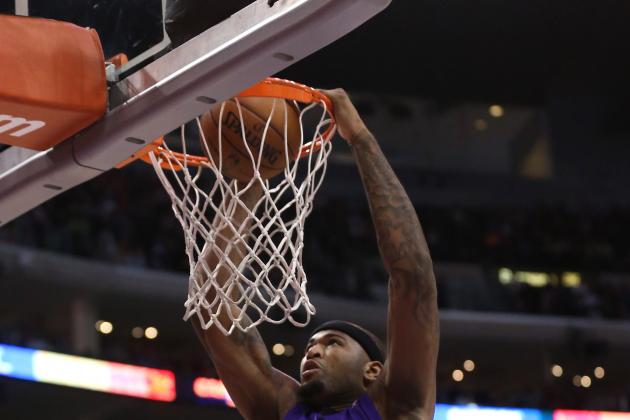 Stephen Dunn/Getty Images
The prospect of landing Cousins has many C's fans licking their lips.
Sacramento Kings fans were not the only ones swooning over DeMarcus Cousins' 31-point, 20-rebound outburst on Friday. Many Celtics fans joined in on the act, as well.
That's because many in Boston believe that the big man could very well be a Celtic in the near future.
It's not too far fetched of an idea, as Boston has been listed as one of the interested pursuers of Cousins' services.
But with a move likely to cost the Celtics an arm and a leg, don't expect a deal between the two to occur. That is, unless GM Danny Ainge would consider throwing Rajon Rondo on the block.
Boston has also been rumored to be a potential landing spot for the Memphis Grizzlies' Rudy Gay (via Grantland). However, with Paul Pierce and Jeff Green taking up the bulk of the minutes at small forward, a deal for Gay is very unlikely.
Far more realistic options include Al Jefferson of the Utah Jazz and the Phoenix Suns' Marcin Gortat.
Jefferson, who was drafted by Boston in 2004, has shown interest in making a possible return. On the other hand, Gortat has been frustrated with his time in Phoenix. He has recently rejected an extension with the Suns, with many expecting him to walk during free agency.
Both would fit in nicely with the Celtics, while coming at relatively reasonable prices.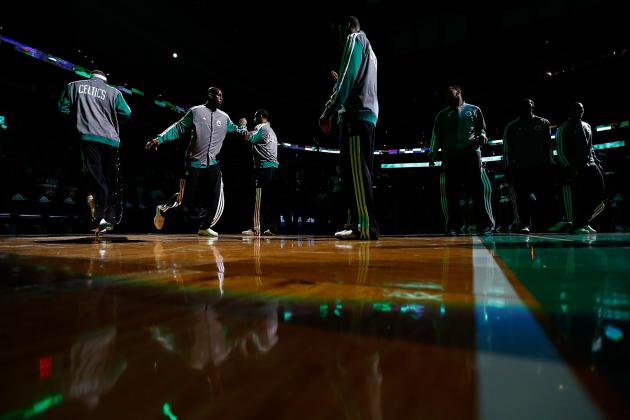 Jared Wickerham/Getty Images
It's go time for the Celtics.
With 50 games left on the schedule, the season is far from over.
Sure, Boston has not given fans too much reason to remain optimistic. But, there's still plenty of time to turn things around. If not, a valiant effort at doing so is all we can really ask for.
Let the thrashing of the Pacers serve as a blueprint to success for the rest of the way.
The Celtics could use all the help they can get right now. Especially with two straight games against two of the top three teams in the Eastern Conference on deck.
Then again, this could be exactly what the team needs to propel itself back into the thick of things.
As they say, if you can't stand the heat, get out of the kitchen.
All stats used in this article are accurate as of January 4, 2013.
Also check out: Should the Celtics Consider Trading Rajon Rondo?
For complete coverage on everything Celtics, follow Sebastian on Twitter at @SP7988