Predicting the Salary Every Top MLB Player Will Receive in Arbitration
Ezra Shaw/Getty Images
Buster Posey is one of many MLB stars who will likely go to arbitration.
In the coming days and weeks, teams and some of their most gifted players will begin discussing how much they should be paid for 2013—or in baseball terms, head to arbitration.
Arbitration is a time where those with more than three years of service time, but no more than six years—in nearly all instances—are eligible to debate their worth with their respective clubs. Often times we see teams and players coming to an agreement before having to present in front of a panel of arbiters.
For example, David Price and the Rays could have gone to arbitration, but Tampa Bay signed the left-hander a $10.1125 million contract to avoid arbitration instead. This type of an agreement, however, doesn't always happen, and teams and players sometimes need a third party to help make a decision.
With teams and players exchanging figures relatively soon, let's take a look at how much some of the top young stars in the game will get should they go to arbitration.
For those not referenced in the upcoming slides, please put the player's name in the comments section below and we can discuss figures there.
*All contract figures and service time values were retrieved via Cot's Contracts.*
Begin Slideshow

»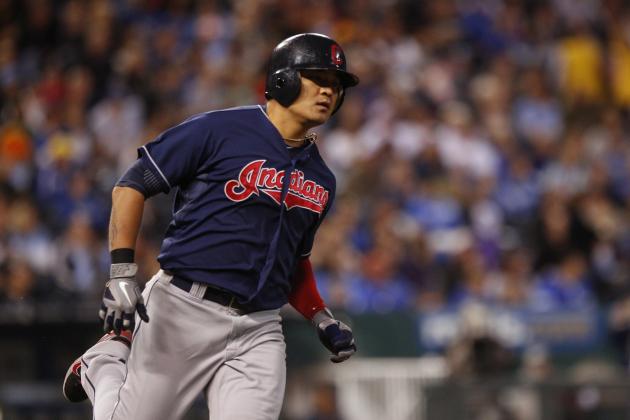 Kyle Rivas/Getty Images

2012 Salary: $4.9 million
Service Time: 5.119
Shin-Soo Choo never went to arbitration with the Indians, but after Cleveland traded him to Cincinnati this offseason, it will be interesting to see how the Reds approach the outfielder.
Luckily for Choo, the first time he was eligible for arbitration, it was after a monster year for the Indians. In 2010, Choo hit 22 home runs with 90 RBI in 144 games, and Cleveland decided to give him close to $4 million for 2011. But Choo had a down year in '11, which led to an increase in salary of less than $1 million for 2012.
Choo picked up the slack this past season, playing in 155 games while hitting .283/.373/.441 with 16 dingers and 67 RBI.
Choo has made a name for himself over the past couple of seasons and will look to get top dollar with his new team. But will Cincinnati give him the money he wants without having to prove himself in the National League?
After making close to $5 million last season, I think that Choo will find himself earning quite a bit more going into 2013. It might not be all that he wants—potentially $8-plus million—but it's still a big payday.
Predicted 2013 Salary: $7.75 million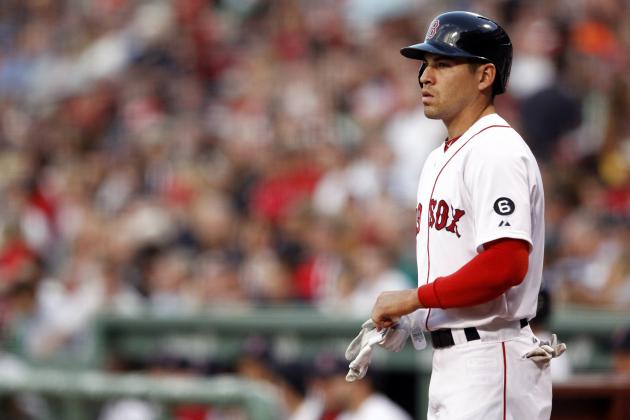 Mark L. Baer-USA TODAY Sports

2012 Salary: $8.05 million
Service Time: 5.037
Around this time last offseason, Jacoby Ellsbury got paid. Ellsbury was coming off of a second-place finish in the American League MVP Award voting and ended up getting a $5.65 million raise compared to 2011.
Ellsbury will not be getting that type of raise for 2013. Because of an uncontrollable injury in 2012, Ellsbury was limited to just 74 games, where he hit .271/.313/.370 with four home runs and drove in 26 runs.
Despite that the Red Sox and Ellsbury have avoided arbitration the past two seasons, I can't foresee them coming to an agreement beforehand this year. Boston is going to try to low-ball Ellsbury because his home runs didn't carry over and he couldn't stay healthy—albeit it wasn't his fault. Ellsbury will argue that the injury prevented him from having a similar year to 2011.
In the end, Ellsbury will get a minimal raise as he heads into the final year of his contract with Boston.
If he has a great year, he'll get a big contract for 2014 and beyond. But in 2013, he shouldn't expect a big increase in salary.
Predicted 2013 Salary: $8.25 million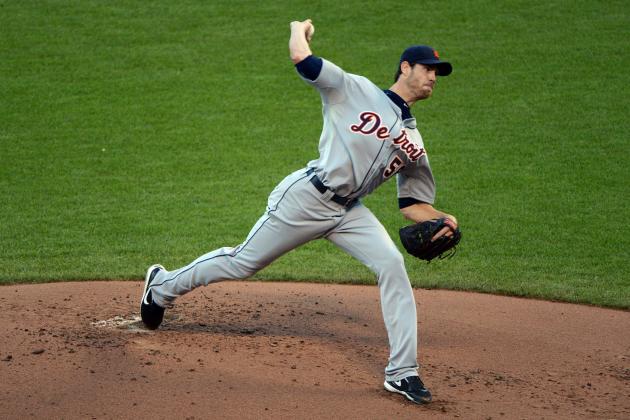 Kyle Terada-USA TODAY Sports

2012 Salary: $507,500
Service Time: 3.058
Doug Fister is going to be making considerably more in 2013 than he ever has in his entire career.
Fister has been fantastic since joining the Tigers midway through the 2011 season. In 37 appearances—all but one being starts—Fister has won 18 games and tossed over 225 innings.
Fister finished the season with the 27th-highest WAR among pitchers (via FanGraphs) and is arguably the second-best starter in a stacked Detroit rotation. As Ben Nicholson-Smith of MLB Trade Rumors writes, a good comparison Fister is his teammate, Max Scherzer, who is a year ahead of him in terms of service time.
Scherzer made $3.75 million in 2012 after making around $600,000 the previous year, and I think that Fister will see his salary rise around the same, if not a little better. Outside of wins—which shouldn't matter, but will in arbitration—Fister has been the better pitcher when eligible for arbitration for the first time.
I would expect to see Fister get around a $3.5 million increase, just like Scherzer got.
Predicted 2013 Salary: $4 million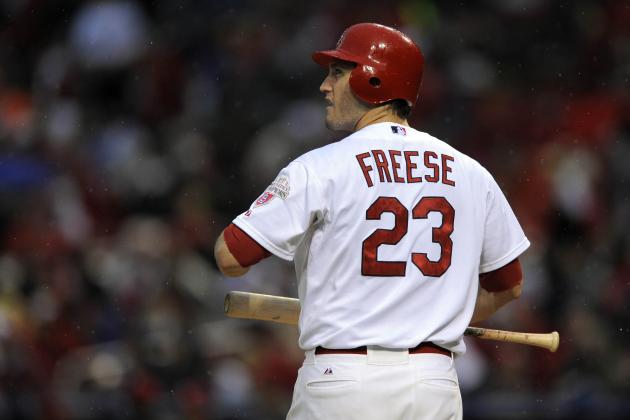 Jeff Curry-USA TODAY Sports

2012 Salary: $508,000
Service Time: 3.028
Heading into arbitration for the first time, David Freese has quite the case made out for himself.
He was the World Series MVP in 2011 when he helped the Cardinals to a championship and made the National League All-Star team this past season.
Freese has gotten better and better as he sees more time with St. Louis as the everyday third baseman. He hit 20 home runs, drove in 79 runs and scored 70 times in 144 games—all career highs for the 29-year old.
This is a situation that could end up getting settled before really getting started—as I believe St. Louis will do its best to reach a settlement.
But if the two parties do go to arbitration, I foresee Freese getting well over $2 million for 2013 and possibly as much as $3 million. He's proved to be valuable asset in the St. Louis lineup and will get rewarded for it.
Predicted 2013 Salary: $2.5 million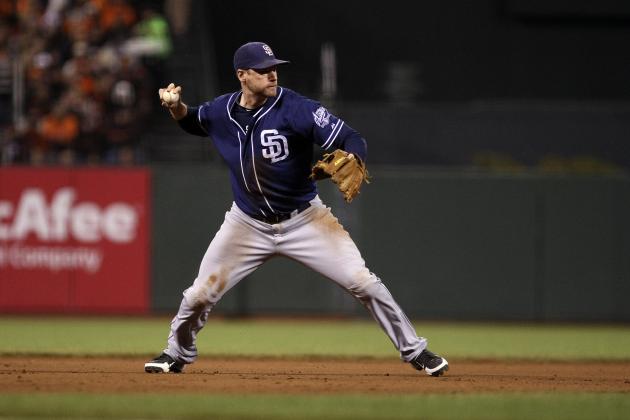 Kelley L Cox-USA TODAY Sports

2012 Salary: $3.475 million
Service Time: 4.123
Chase Headley played as well as just about anyone in baseball in 2012, and his outstanding numbers reflect that.
What's more surprising is that no one saw his MVP-caliber season coming, since he only hit 27 home runs combined the previous three seasons.
In 2012, Headley hit .286/.376/.498 with 31 long balls and 115 RBI while scoring 95 times in 161 games for the Padres. He is eligible for arbitration for the third year but has agreed to one-year deals the past two times. This time could get tricky as Headley will be well within his rights to demand a lot from San Diego.
Not only was Headley the best player on the Padres last year, but he was also one of the best period. The first time he avoided arbitration, he earned around a $2 million raise. He got just over $1 million year last season. In 2013, he should be making twice what he made in 2012, meaning around $7 or $8 million.
Headley is one of the few players keeping fans coming to Petco Park, and he should be rewarded for it. If San Diego is smart, the team will try to sign Headley to a long-term deal before he gets even more expensive to retain year-to-year.
Predicted 2013 Salary: $8 million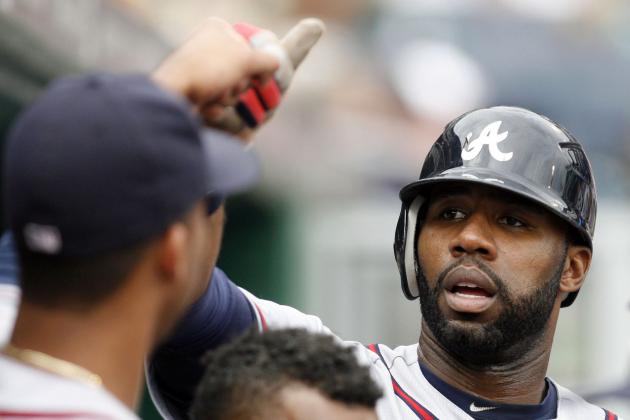 Charles LeClaire-USA TODAY Sports

2012 Salary: $565,000
Service Time: 3.000
Jason Heyward is coming off of the best season of his young career and is sure to make much more than the half million he made in 2012 when he goes to arbitration. After hitting 14 home runs and driving in 42 runs in 2011, Heyward erupted for 27 long balls and 82 RBI.
Heyward's 6.6 WAR last season led all Braves players (via FanGraphs).
Heyward would be much better off signing a long-term deal with the Braves now, but they may want to force him into arbitration to keep cost low. He's only been in the league three years, and despite playing extremely well in two of those years, Atlanta may wait until the end of the 2013 season to extend him.
Last year, no first-year eligible outfielder earned more than $2.8 million either through arbitration or via a settlement beforehand. But Heyward has been much better in his first year than those in that category, including Brett Gardner, Colby Rasmus and Seth Smith.
Heyward will surely surpass all of those numbers whether he goes to arbitration or not and should end up with a 2013 salary somewhere between $3 and $4 million.
Predicted 2013 Salary: $3.5 million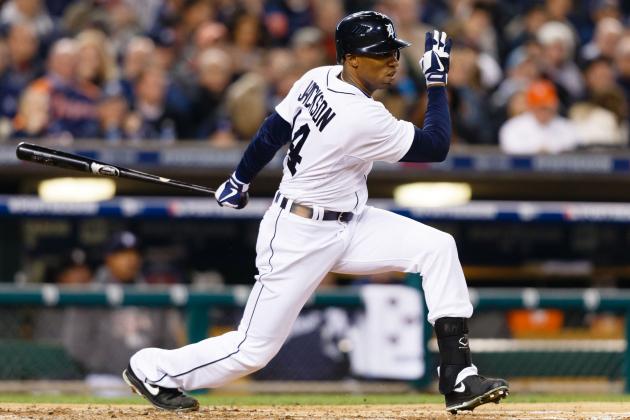 Rick Osentoski-USA TODAY Sports

2012 Salary: $500,000
Service Time: 3.000
Finally turning into the more complete player that Detroit hoped he would be, Austin Jackson had a very good year for the Tigers. He hit .300/.377/.479 with 16 home runs, 66 RBI, 103 runs and 10 triples.
Jackson is a first-year eligible player who might not have the best case against his club should he go to arbitration. Jackson has only been in the majors for three seasons, and despite coming off of a great year, his 2011 numbers weren't so great. In other words, Jackson hasn't necessarily been consistent year-to-year.
But that doesn't mean that Jackson won't see a significant rise in his 2013 salary. He still has a better resume that all of the first-year eligible outfielders from last season and will most likely hit the $3 million mark.
It will be interesting to see how Jason Heyward's situation affects Jackson's. They aren't necessarily similar players but are in the same spot. Both outperformed last year's comparable players and had great seasons.
But Heyward arguably played better, and Jackson's salary could depend on how well the Braves outfielder does. If Heyward gets around $3 million, Jackson is likely to get less.
Predicted 2013 Salary: $3 million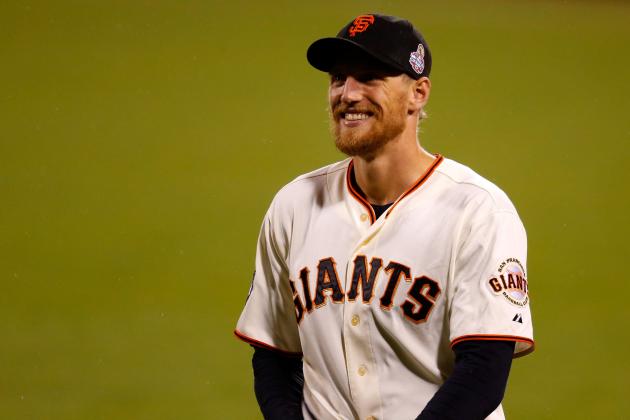 Jason O. Watson/Getty Images

2012 Salary: $10.4 million
Service Time: 5.156
Hunter Pence is lucky that those on the arbitration panel will likely look more at his power production than his overall production this past year. Pence hit 24 home runs with 104 RBI between the Phillies and Giants in 2012 but had just a 1.8 WAR.
The 29-year-old outfielder is a two-time All-Star and has received votes in the MVP Award voting twice—including 2012. He's one of the most valuable offensive threats the Giants have when he lives up to his potential.
No matter what turns out of Pence's situation, he's going to be making a lot of money—more money than any other arbitration-eligible player in 2013.
Having avoided arbitration in 2010 and 2012, and having defeated the Astros in 2011, Pence certainly knows how to negotiate a contract. Since 2009, Pence has seen a steady increase in salary each year and is sure to earn around $13 or $14 million next season.
But it's worth noting that San Francisco could decide to give him an extension. It's a little weird that a fourth-year eligible All-Star hasn't gotten an extension. He hasn't been that consistent over the course of his career, but the Giants could lock him in for a couple years for a reasonable price. They might as well do it now after a down year than having to pay him a ton once he hits the market after this year.
Predicted 2013 Salary: $13.5 million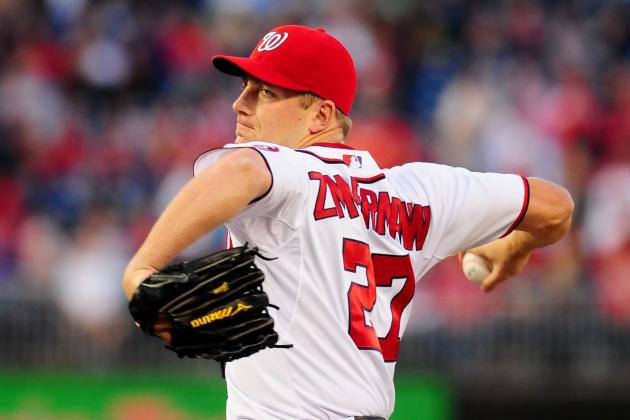 Evan Habeeb-USA TODAY Sports

2012 Salary: $2.3 million
Service Time: 3.154
Jordan Zimmerman is one of the best starting pitchers that the Nationals have, even though they have a bunch. He went 12-8 with a 2.94 ERA in 32 starts for Washington in 2012 while setting a new career high with 153 strikeouts and 195.2 innings of work.
Zimmerman's salary shot up after the 2011 season when he went from having a -0.2 WAR to a 3.4 WAR. But last season, Zimmerman's WAR barely rose, increasing by 0.1 to 3.5. That shouldn't mean much should he actually make it into arbitration, though, as the panel will likely look more at standard statistics than sabermetrics.
Zimmerman is a little more valuable than the majority of the second-year eligible starting pitchers from last season. Only three starters—Jair Jurrjens, Mike Pelfrey and John Lannan—eclipsed the $5 million mark last year. It will be close, but Zimmerman has a good shot at doing that.
What will hurt Zimmerman is how many quality starters there are this year who are second-year eligible.
David Price also agreed to a one-year deal, but guys like Max Scherzer, Matt Harrison, Justin Masterson and Homer Bailey are all sure to have an effect on how much Zimmerman gets.
Predicted 2013 Salary: $4.75 million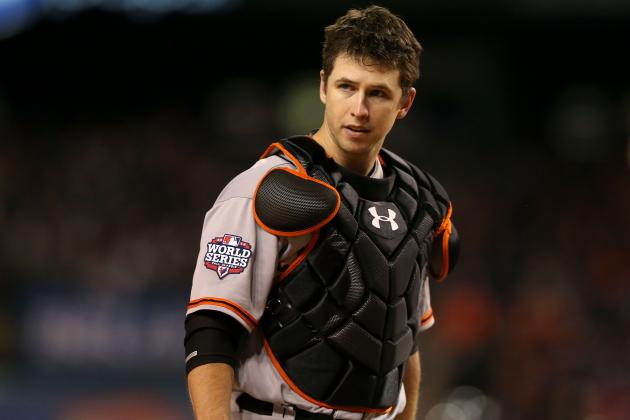 Ezra Shaw/Getty Images

2012 Salary: $615,000
Service Time: 2.161
The biggest arbitration-eligible name this year is easily Buster Posey. Posey is the top catcher in baseball and is coming off of a season where he helped the Giants win a World Series while also being named the National League MVP. To say that least, Posey is ecstatic that he's finally eligible for arbitration this year.
In terms of WAR, the voters got it right by selecting Posey as the MVP. Posey finished with the second-highest overall WAR to Mike Trout of the Los Angeles Angels and just edged out Ryan Braun of the Milwaukee Brewers (via FanGraphs).
Three comparable situations to Posey's are those of Ryan Howard, Justin Morneau and Joey Votto, according to Matt Swartz of MLB Trade Rumors.
Each slugger had won an MVP before becoming eligible for arbitration, but only Howard had also won the Rookie of the Year Award. Posey won't get as much as Votto or Howard because of their previous power numbers, but he should top Morneau.
I would expect that the Giants try to extend Posey as quickly as possible, but if they don't, Posey should get anywhere from $5.5 to $7 million in arbitration. That's a significant different to the $615,000 he made as the MVP this past season.
Predicted 2013 Salary: $6 million