Josh Barnett's time as the UFC heavyweight champion was brief. He captured the belt on March 22, 2002, defeating Randy Couture via second-round TKO at UFC 36. He was subsequently stripped of the title without ever having the opportunity to defend it, due to the fact that he tested positive for steroids after that win. Barnett has not fought for the UFC since that bout, but he may be close to rejoining the UFC family...or not.
Barnett will compete on January 12 in what will be the final event in the history of Strikeforce and, barring a huge upset, odds are good that he will walk away with a victory over Nandor Guelmino. The question then becomes, "Will UFC president Dana White welcome Barnett back into the UFC fold?" White was asked that very question following UFC 155, to which he responded with a noncommittal, "I have no idea, no clue."
As ringing endorsements go, it was not the strongest the outspoken White has ever offered and perhaps for good reason. In the days leading up to UFC 119, the UFC boss ripped into Barnett:
All of us are gonna make mistakes, it's how you deal with those mistakes that matter. You take a guy like Josh Barnett. This guy has tested positive three times and denies every one of them, says he didn't take them. He comes out with an interview last week saying, 'I don't care about anyone else. I only care about myself. I have some fans out there and whatever, but I'm not fighting for you, I'm fighting for me.' This is a guy who single-handedly put a company out of business and couldn't care less. He has no remorse. 'I don't care that you bought tickets to the fight. I don't care that Fedor flew all the way in from Russia and trained and spent his own money to do this. I don't care that this company Affliction believed in me and was allowing me to make a living before I put them out of business.' Those are the kind of guys I have zero tolerance for. And that's why he's not in the UFC and never will be.
More than two years have passed since White made those remarks, and since then Barnett has fought three times for Strikeforce, going 2-1 with his sole loss coming at the hands of Daniel Cormier in the World Heavyweight Grand Prix Final. The loss was the first for Barnett in more than five years and halted an eight-fight winning streak.
Barnett is a fighter that fans do enjoy watching, and many would rank him among the top 10 heavyweights competing in the sport at this time. He's also a charismatic figure that can deliver a great interview. However, he is a man that marches to the beat of his own drummer; he's not a company man, he's a Josh Barnett man, and if you expect him to toe the line and not speak his mind, well, you're going to be very disappointed.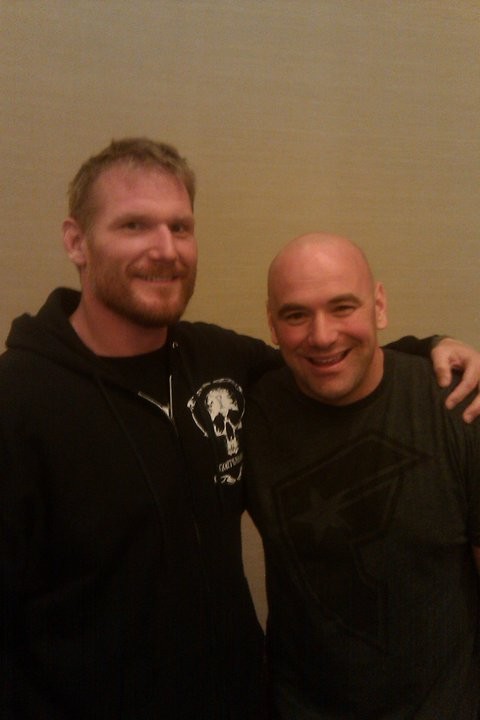 With that being said, how much different is his attitude from that of Nick Diaz, the enigmatic welterweight from Stockton? Diaz has, among his various indiscretions, two positive drug tests (for marijuana), an in-cage brawl following a Jake Shields bout, missed media obligations, a skipped drug test and a post-fight dust-up in a hospital. After all that, you would think he would be fighting on the carnival circuit somewhere, but nope, his next bout is a title fight with Georges St-Pierre.
Diaz has never apologized for any of his missteps. The nearest thing to an apology we ever heard from Diaz was his video where he apologized for missing "the beauty pageant" that was the UFC 137 press conference.
There are other UFC fighters whose faux pas have been forgiven without the type of vitriol that White threw at Barnett. For instance, there's Alistair Overeem, who recently served a nine-month sentence for elevated testosterone levels following a random drug test, and he is line for a possible shot at the UFC heavyweight title if he can get past Antonio Silva at UFC 156.
Will we see Josh Barnett in the UFC?
There's also Chris Leben, who has a DUI arrest, a positive steroid test and a positive test for painkillers under his belt, and he remains on the UFC roster.
From where I stand, White's issues with Barnett seem more of the personal variety and that's fine, he has every right to dislike the guy, that's his prerogative. But to keep him out of the UFC under the guise that he only cares about Josh Barnett seems a little disingenuous when White has other fighters on his payroll who have the same type of infractions on their permanent records.
If Barnett loses on January 12, White will have an easy out and can walk away from this whole issue without batting an eye, but if Barnett wins, he should be brought into the UFC, but on a very short leash.
If Barnett is welcomed to the UFC and ends up stepping in it, sure it'll give White a brief headache, but it'll also give him the chance to throw a huge "I told you so" in all of our faces for calling for Barnett to join the ranks of the UFC heavyweights, and for that, the gamble may be worth it for the UFC boss.