Floyd Mayweather vs. Sergio Martinez: 4 Things That Can Make the Fight Happen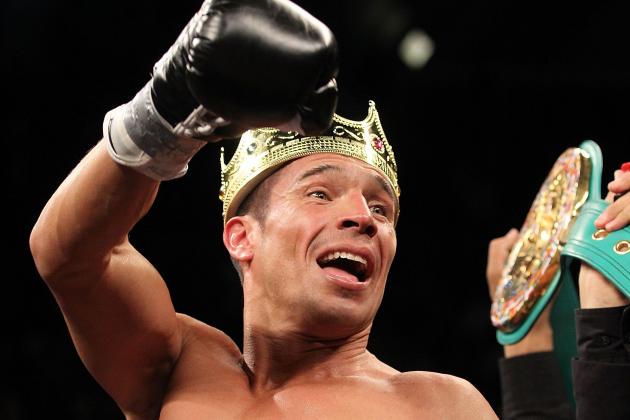 Al Bello/Getty Images
Sergio Martinez celebrating his victory over Paul Williams to become the middleweight king.
Sergio Martinez represents the ultimate challenge for Floyd Mayweather Jr. Martinez is fast, disciplined, strong and smart. The battle of wits and strength would be an absolute thriller.
But Martinez campaigns at 160 pounds, the middleweight division while Mayweather competes mostly at 147 pounds, the welterweight division, with the occasional climb to the 154-pound junior middleweight division for a big enough fight.
In order for Mayweather-Martinez to be a big enough fight, four things have to happen.
Begin Slideshow

»
Jeff Bottari/Getty Images
Julio Cesar Chavez Jr. facing Sergio Martinez.
Martinez headlined his first pay-per-view last September against Julio Cesar Chavez Jr. did 475,000 pay-per-view (PPV) buys according to an HBO report by way of ESPN. That's good, but not great.
Mayweather fought Miguel Cotto after Cotto sold 600,000 PPV buys against Antonio Margarito in a rematch of their first fight, according to a report from Yahoo!'s Kevin Iole via Dog House Boxing.
Perhaps Martinez's proposed September rematch with Julio Cesar Chavez Jr. will eclipse what Cotto managed to do against Margarito and cement Martinez as a bankable opponent.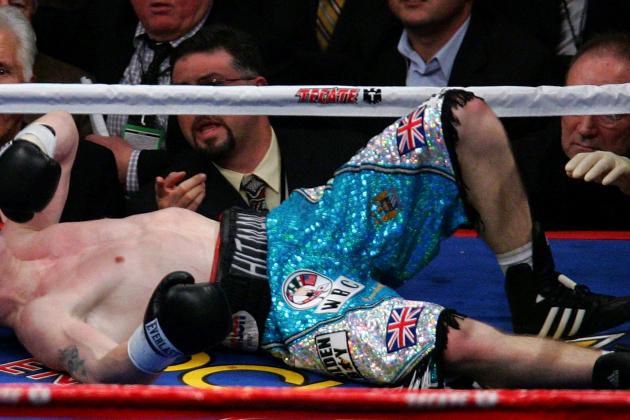 Ethan Miller/Getty Images
Ricky Hatton, pictured here in 2007, was the last opponent Mayweather knocked out without controversy.
A fighter grows confidence after knocking out an opponent.
Floyd Mayweather has yet to knock out an opponent on his two visits above his natural weight of 147. Since he plans to fight twice this year, he'll need to use these fights as confidence boosters.
His first fight will be at 147 against Robert Guerrero. He needs to either stop him inside the distance, drop him repeatedly or hurt him badly throughout the fight with vicious counters.
Then for the next fight, Mayweather is likely to take on Saul Alvarez at 154. Should Mayweather do so, he should knock out the red-headed kid in order to build his confidence in the power of his fists.
Without confidence, Mayweather will not believe in the effectiveness of his own counters when he has to face a middleweight in Sergio Martinez.
Ed Mulholland-USA TODAY Sports
Matthew Macklin getting beat down by Sergio Martinez.
Floyd Mayweather's suspicions of Manny Pacquiao taking performance-enhancing drugs came after the Filipino flattened Ricky Hatton in Round 2.
Martinez would go on to do the same against Paul Williams, but Williams is a wide-open fighter and Martinez has shown himself to be very human since then.
Martinez repeatedly gets knocked down in his fights, including once in each of the last two fights in 2012.
So long as Martinez keeps looking human and doesn't completely drill anyone in less then four rounds, Mayweather will not get suspicious enough to publicly question his legitimacy as he has Pacquiao.
It's one thing to realize he's facing a bigger fighter as elite as Martinez, but it's a totally other thing to wonder if the guy is on performance enhancers, too.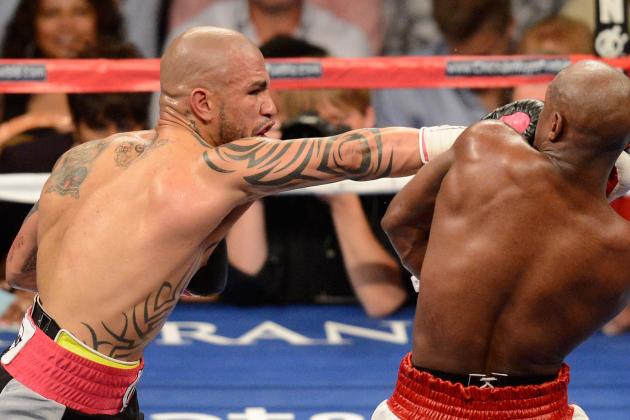 Ethan Miller/Getty Images
Mayweather, pictured right, slipping a punch thrown by Miguel Cotto.
Mayweather is turning 36 years old this year while Martinez turns 38. Both are fast fighters who rely on their reflexes to beat their opposition.
If Mayweather is to challenge Martinez, he'll have to retain his speed against the likes of Guerrero, Alvarez or whoever he may face by the end of the year.
If Mayweather shows that he's slowing down too much, his team will advise against challenging himself against Martinez.
But if Martinez slows down quicker than Mayweather, it raises the chances of the fight happening. Both are no longer spring chickens and time is against them both.