Soccer analyst Alan Hansen might as well have been talking about the NFL playoffs when he said, "You can't win anything with kids."
A rookie starting quarterback has never led his team to a win in the Super Bowl. Four—Shaun King in 1999, Ben Roethlisberger in 2004, Joe Flacco in 2008 and Mark Sanchez in 2009—have gotten as far as the conference title game.
The odds are simply too great that a rookie could play mistake-free football against some of the best defenses in the league in the most important games of the season.
Things could change in the future with the way rules are emphasizing the passing game and making it easier to rack up the yards.
Three rookies—Russell Wilson, Andrew Luck and Robert Griffin III—will be leading their teams out in the Wild Card Round this year.
Here's how far those three will advance in the playoffs.
Robert Griffin III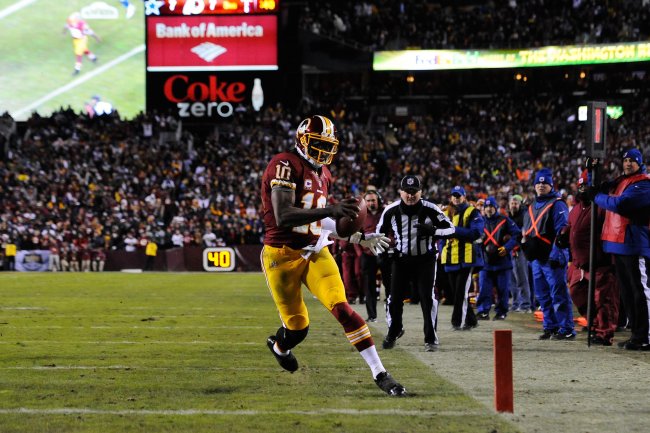 Patrick McDermott/Getty Images
No rookie quarterback has been as exciting as Robert Griffin III this season. Few were under the belief that the king's ransom the Washington Redskins parted with would make selecting RGIII worth it.
The 2011 Heisman Trophy winner threw for 3,200 yards and 20 touchdowns and run for another 815 yards and seven touchdowns in 15 games.
On the legs of he and running back Alfred Morris the Redskins sneaked into the playoffs with a win over the Dallas Cowboys.
Their reward is a date with the white-hot Seattle Seahawks, a team no one wants to see in the playoffs.
RGIII has been steady all season, but in the playoffs he's going to need to find a different gear. In addition, he'll have to count on the Washington defense being able to reign in Marshawn Lynch.
Prediction: Wild Card Round exit
Andrew Luck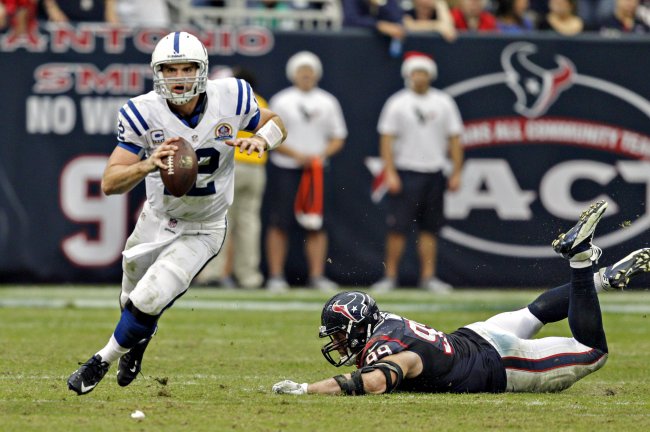 Bob Levey/Getty Images
As a fan, you have to be envious of the Indianapolis Colts. First they had Peyton Manning, and now they have Andrew Luck.
Sure, the Colts were absolutely abject last year. That's a small price to pay for being able to be set at quarterback for the next decade.
Many, including Colts management, considered Luck to be the perfect guy to be the long-term replacement for Manning. And now you see exactly why.
For all of his success this year, Luck has been prone to mistakes. It's acceptable when you consider how many passes he attempts a game.
But it's going to come back to haunt him in the playoffs.
The Colts' matchup is a bit of the new wave versus the old guard as Luck faces off against an aging Baltimore Ravens defense.
This could very well be the last real push the Ravens have left with the players at their disposal. When you add up a rookie quarterback with 18 interceptions going up against even a down Baltimore defense, it's still not a good equation for the Colts.
Prediction: Wild Card Round exit
Russell Wilson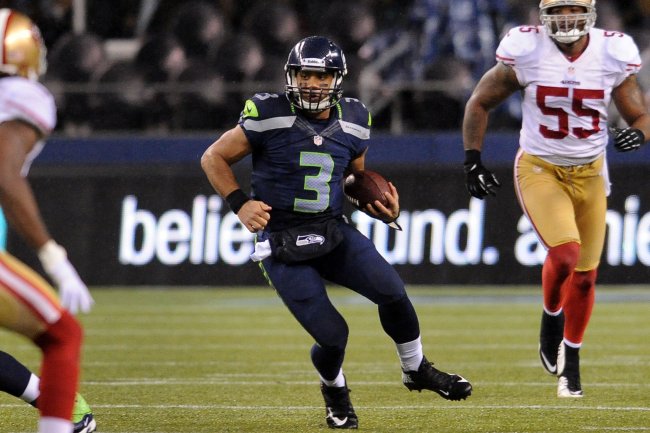 Steve Dykes/Getty Images
Russell Wilson has without a doubt the best chance of the three rookie quarterbacks to advance deep in the playoffs.
When you look at the four rookie QBs who advanced to conference title games, they all had something in common: They weren't the focal point of the team.
King, Roethlisberger, Sanchez and Flacco were all able to rely on strong running games and good, in some cases great, defenses. That's exactly what's offered to Wilson.
The Seattle Seahawks will go as far as Marshawn Lynch will take them. Wilson has been very good this year, but Seattle has depended heavily on Lynch's production.
The defense, while not exceptional, is good enough to force turnovers and stifle opposition offenses.
As a result, the burden resting on Wilson isn't very heavy. He has a great chance to be the first rookie starter to win it all, but Seattle just doesn't have enough as a team to get all the way to New Orleans.
Prediction: NFC Conference Title Game