Breaking Down How Each Divisional Playoff Game Will Be Won or Lost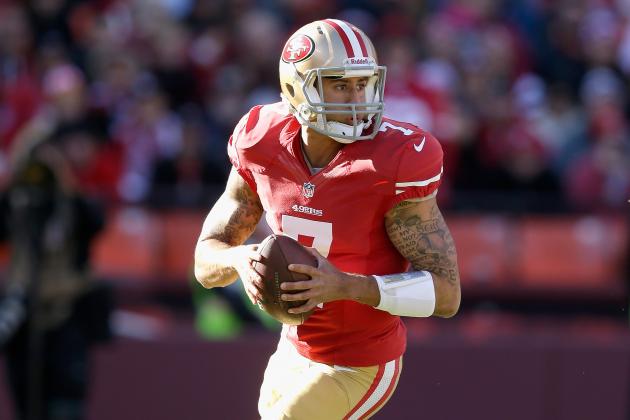 Ezra Shaw/Getty Images
Colin Kaepernick makes his first playoff start this weekend when the 49ers host the Packers.
It's time for the big boys to get back to action.
Of course, that's in reference to the Denver Broncos (13-3), Atlanta Falcons (13-3), New England Patriots (12-4) and San Francisco 49ers (11-4-1), who earned an extra week off thanks to their impressive seasons, the quartet finishing a combined 49-14-1 in the 2012 NFL regular season.
But it's back to action for these clubs as they each host one of last weekend's winners. But don't think that's an automatic rubber stamp to the conference championship game.
From 1990-2004 (under the current playoff format), home teams won all four games in the divisional round six times in those 15 seasons. But there hasn't been a clean sweep since. In 2011, the 15-1 Green Bay Packers were knocked out of the playoffs by the eventual Super Bowl champion New York Giants.
Since 2005, those clubs getting that first-round bye are just 15-13 in the divisional playoffs. That's quite a turnaround after the home teams forged an impressive 49-11 mark in this round from 1990-2004.
Food for thought as we venture into the next round of the NFL's postseason tournament…
Begin Slideshow

»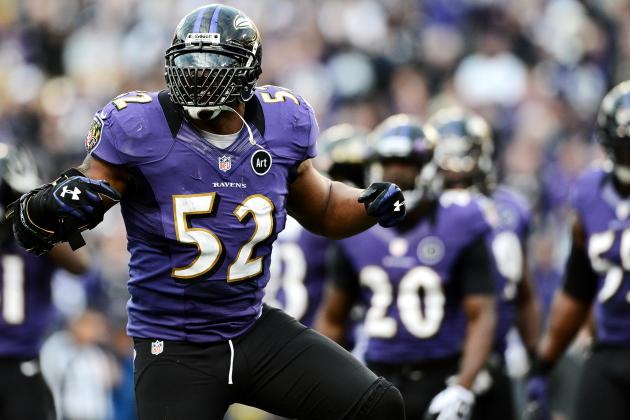 Patrick Smith/Getty Images

How the Ravens Will Win: Baltimore Ravens offensive coordinator Jim Caldwell's first game after replacing dismissed Cam Cameron was the team's 34-17 loss to the Denver Broncos in Week 15. In that contest, the Baltimore ground attack was limited to 56 yards.
But over the next three games, Caldwell's offense rolled up 224, 206 and 170 yards rushing, respectively. If Ray Rice and Bernard Pierce can have some success against the league's third-ranked defense against the run, Peyton Manning won't be throwing touchdown passes from the sidelines.
How the Ravens Will Lose: Despite the fact that Baltimore held the Indianapolis Colts out of the end zone last Sunday in a 24-9 victory, the Ravens defense gave up 419 total yards and was on the field for 87 plays.
Keep in mind that this is a unit that gave up a franchise-record 122.8 yards per game rushing this season and will be trying to stop a Denver ground attack that averaged 148.3 yards per contest in its last four outings.
Simply put, it will be interesting to see how much Ray Lewis and company have left in the tank after a short week.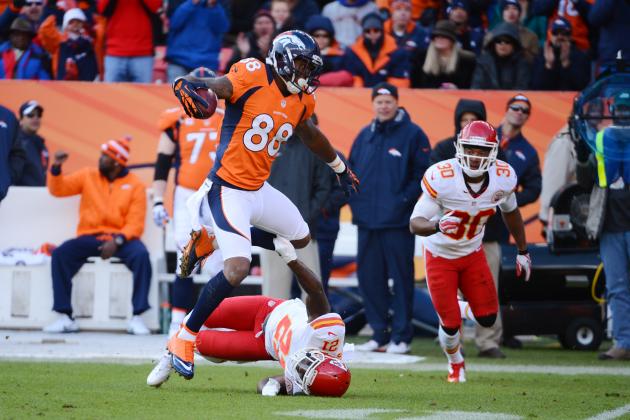 Garrett Ellwood/Getty Images

How the Broncos Will Win: Lost in the fact that it's been a banner year for quarterback Peyton Manning, whose 37 touchdown passes broke the Broncos' previous franchise record by 10 scores, is the fact that only the Patriots (557) scored more points than Denver (481) in 2012.
And when John Fox's club went to Baltimore four weeks ago, the Broncos offense ran 75 plays, gained 350 total yards, committed zero turnovers and controlled the clock for 38:34 in a 34-17 victory.
It marked the only game all season in which the Broncos didn't give up the football.
How the Broncos Will Lose: It sounds almost simplistic, but taking care of the football is a big priority for the Denver Broncos, who totaled the same amount of turnovers as the Baltimore Ravens did takeaways (25).
While neither is a huge number, Denver's 25 miscues are by far the most by any of the eight teams remaining in the playoffs. And it's also worth noting (and bears watching) that John Fox's red-hot team, despite its success and current 11-game winning streak, committed at least one turnover in 15 of its 16 games this season.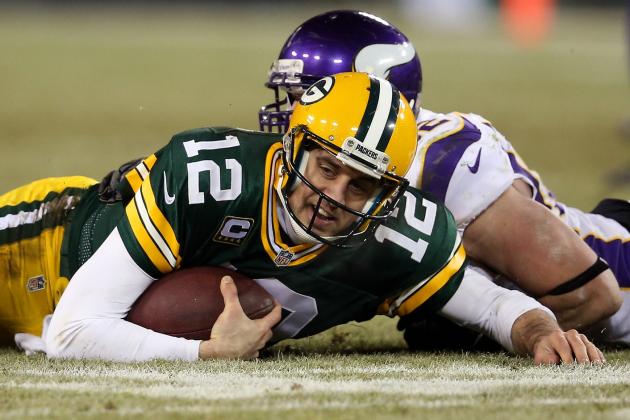 Andy Lyons/Getty Images

How the Packers Will Win: Reigning league MVP Aaron Rodgers is more than capable of lighting up any defensive unit, even one as good as the 49ers'.
Over the last two seasons, the Green Bay Packers signal-caller has thrown 84 touchdown passes and a mere 14 interceptions in 31 regular-season starts. In last week's Wild Card Game win over the Minnesota Vikings, Rodgers completed passes to 10 different players.
And if the Pack can build any kind of early lead, Clay Matthews and the pass rush can tee off on San Francisco 49ers quarterback Colin Kaepernick.
How the Packers Will Lose: When these teams met in Week 1 at Lambeau Field, a 30-22 win by the 49ers, Green Bay's running game totaled season-lows in attempts (14) and yards (45).
The Packers finished 20th in the NFL in rushing, but it wasn't for a lack of trying, as Mike McCarthy's team totaled 20 or more rushing plays in all but two games this season, including 31 carries in the playoff win over Minnesota.
But failure to keep the 49ers defense honest means teeing off on Rodgers, who has been sacked 54 times in 17 games this season (including the playoffs).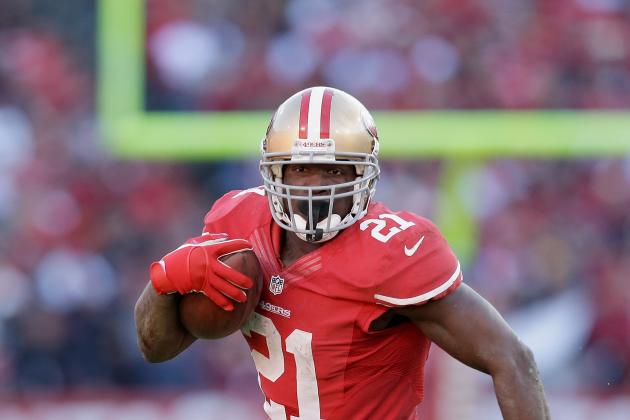 Ezra Shaw/Getty Images

How the 49ers Will Win: Ever since head coach Jim Harbaugh came to town last season, the San Francisco 49ers have stressed ball security.
The Niners have committed just 26 turnovers in 32 regular-season contests since 2011, the fewest in the league over that span. If you include last year's playoffs, it's a total of 29 turnovers in 34 games.
Combine that with the 49ers' fourth-ranked ground game, which rolled up 186 yards in the Week 1 at Lambeau Field, and Harbaugh and company will limit the time Packers quarterback Aaron Rodgers has the football.
How the 49ers Will Lose: As good as San Francisco's defense has been, it has shown some vulnerability this season, and that was even before Pro Bowl defensive tackle Justin Smith went down late in the year.
And while the Niners finished fourth in the league in rushing defense (94.2 yards per game), it's also worth noting that Vic Fangio's unit allowed 143.0 yards per game on the ground in the five games the Niners didn't win in 2012.
If the Packers are able to have some success running the ball, quarterback Aaron Rodgers could strike deep early and often.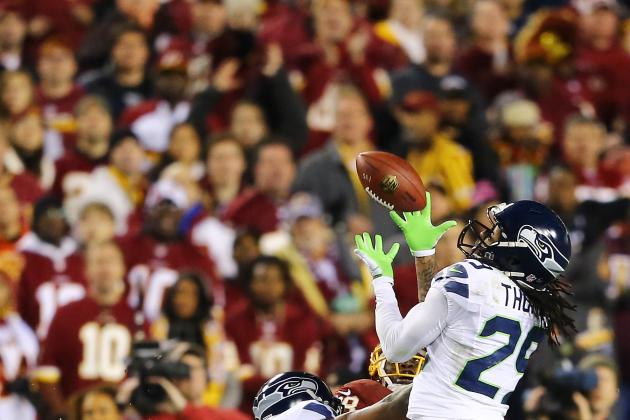 Al Bello/Getty Images

How the Seahawks Will Win: It's hard to mess with the current formula that has propelled the Seattle Seahawks to six straight wins, including last week's Wild Card Game win over the Washington Redskins.
A big part of that has been quarterback Russell Wilson, who's thrown for 17 scores with only two interceptions in his last nine total outings. But it's hard not to point to Marshawn Lynch, who has run for 100-plus yards in five straight games and 11-of-17 overall games this season.
The Pro Bowl back takes aim at an Atlanta Falcons' defense ranked 21st against the run this season.
How the Seahawks Will Lose: The Falcons don't lose often at home these days, although the Tampa Bay Buccaneers did hand them their lone loss there this season two weeks ago.
Seattle is known for its loud fans and that 12th Man, but the Georgia Dome can get pretty loud as well. And that's where things could get interesting for Russell Wilson, who despite wins over the St. Louis Rams and Redskins the last two weeks was sacked a combined 11 times in those games.
A few errant passes against an opportunistic Falcons secondary could spell doom for the 'Hawks.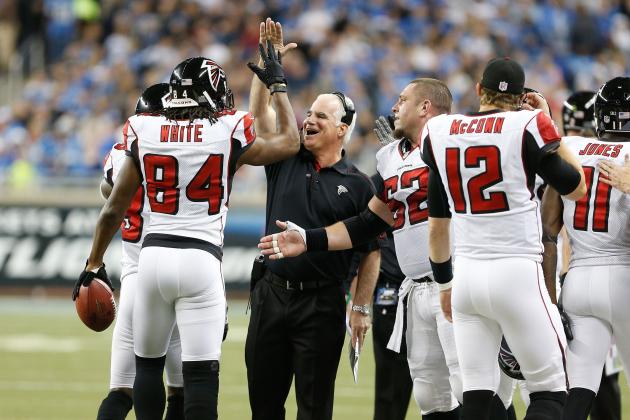 Gregory Shamus/Getty Images

How the Falcons Will Win: Despite the skepticism surrounding this team due to its recent playoff failures, the Atlanta Falcons still managed to finish as the NFC's top seed for the second time in three seasons.
Once again, quarterback Matt Ryan had a career year in terms of touchdown passes (32), connecting on scores to nine different players.
And even if the Seattle Seahawks' imposing secondary puts the clamps on wideouts Roddy White and Julio Jones, tight end Tony Gonzalez and running back Jacquizz Rodgers could prove to be dangerous options.
How the Falcons Will Lose: It's interesting to note that the Falcons lost only three games all season, and all were to their divisional rivals. In each of those setbacks, Mike Nolan's defensive unit allowed 140-plus yards rushing.
But even more disturbing was the fact that the Atlanta offense totaled only 146 yards on the ground (on 45 attempts) in those three setbacks.
The Seahawks are more than capable of keeping the Falcons offense off the field, and if that is indeed the case, the Falcons will likely endure another quick playoff exit.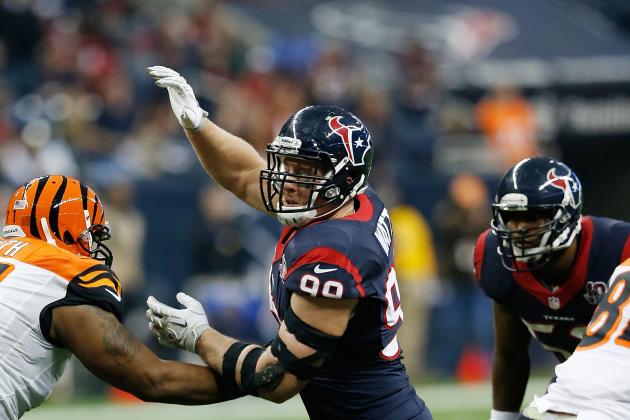 Scott Halleran/Getty Images

How the Texans Will Win: You hate to throw it all on one person, but if running back Arian Foster plays as well in Foxborough on Sunday as he did in his three previous playoff contests, the Houston Texans are more than capable of surprising the New England Patriots.
Foster has rushed for 425 yards and four touchdowns in three playoff games against the Cincinnati Bengals (twice) and Baltimore Ravens, totaling at least 130 yards on the ground in each contest.
His ability to run over, around and through the Patriots defense will make things a lot easier for quarterback Matt Schaub, who has struggled down the stretch. And wideout Andre Johnson and tight end Owen Daniels could have big afternoons against the league's 29th-ranked pass defense.
How the Texans Will Lose: As previously mentioned, Schaub has had his issues as of late. In last week's Wild Card Game win over Cincinnati, he provided the opposition with its lone touchdown of the afternoon via an interception return by Bengals cornerback Leon Hall.
The inability of the Texans to move the ball consistently against New England could be a problem even if the Houston defense plays lights out against quarterback Tom Brady and company.
In its last four outings, Gary Kubiak's struggling offensive unit has scored only three touchdowns.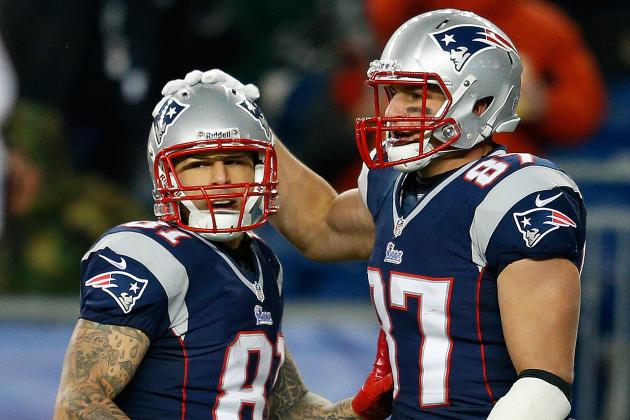 Jim Rogash/Getty Images

How the Patriots Will Win: Business as usual. No team in the NFL scored more points (557) and more touchdowns (67) than the New England Patriots in 2012. And the Houston Texans got an up-close-and-personal view of that five weeks ago in a 42-14 loss on a Monday night at Foxborough.
The Texans totaled 44 sacks during the season (20.5 by imposing defensive end J. J. Watt), but only got to Tom Brady once that night. Hence the Patriots quarterback threw for 296 yards and four touchdowns.
Houston's defense had problems covering all of New England's weapons in that game, and now tight end Rob Gronkowski will be in the fold. Brady and company have to be feeling pretty good about their chances.
How the Patriots Will Lose: We're about to find out if the Patriots defense has indeed made significant improvement.
Although New England ranked 25th in the league in yards allowed this season, Bill Belichick's club finished a respectable ninth in the NFL against the run. But Patriots defenders still gave up over 100 yards per game on the ground.
Not surprisingly, only three teams in the league gave up more passing yards than the Pats, who surrendered a total of 37 offensive touchdowns, including 27 through the air. Now you can see just how important the team's 41 takeaways (second-most in the NFL) were to it this season...
And if defensive tackle Vince Wilfork and safety Devin McCourty don't do what they do best, it could be a sudden ending to another terrific season in New England.