Power Ranking the Best Remaining Defenses in NFL Playoffs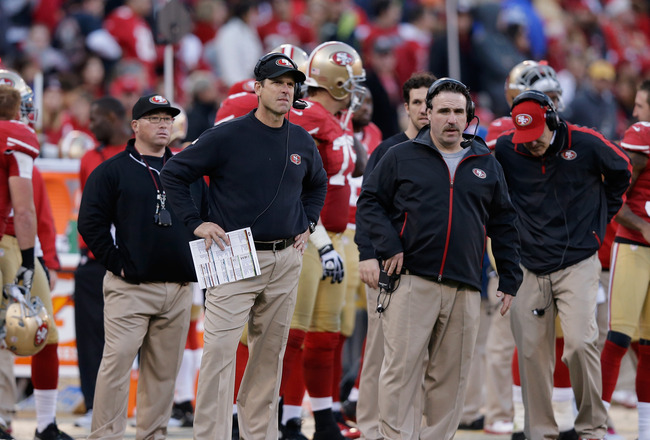 Jim Harbaugh and the San Francisco 49ers have a lot of weapons on the defensive side of the football.
Ezra Shaw/Getty Images
In this day and age of 5,000-yard passers, record amounts of 300-yard passing performances and teams scoring at least 500 points, defense has taken a back seat in terms of attention.
But not necessity…
As we get closer to New Orleans, it should be noted that in each of the last four Super Bowls, we've seen the defenses actually put points on the board.
Interception returns for touchdowns by Pittsburgh Steelers linebacker James Harrison (XLIII), New Orleans Saints cornerback Tracy Porter (XLIV) and Green Bay Packers safety Nick Collins (XLV), while the New York Giants defense pressured New England Patriots quarterback Tom Brady into a safety via an intentional grounding call early in Super Bowl XLVI.
So when it comes to stopping the likes of Brady, Denver Broncos quarterback Peyton Manning and Green Bay Packers signal-caller Aaron Rodgers and their offensive attacks, which defense ranks as the best for the job?
From good to better to best, here are our rankings of the remaining eight defenses in the postseason.
Agree or disagree? In any case, if your favorite team hasn't been judged fairly, we ask just one favor…
Don't get defensive.
8. New England Patriots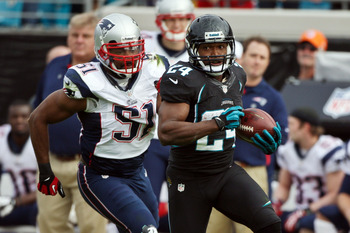 Rob Foldy-USA TODAY Sports
It has been the New England Patriots' Achilles' heel in recent seasons and it may be so again.
Unless…
There's little doubt that Bill Belichick's team has played better at times on the defensive side of the ball. Defensive tackle Vince Wilfork is one of the best players at his position, a major factor as to why New England ranks ninth in the league against the run.
Pro Bowl inside linebacker Jerod Mayo has been strong, leading the team in tackles (147) while totaling 3.0 sacks and four forced fumbles. Rob Ninkovich leads the team with 8.0 sacks and is tied with Brandon Spikes for the club lead in forced fumbles (5).
And former Pro Bowl cornerback Devin McCourty has excelled at safety, leading New England in interceptions (five) and passes defensed (13).
The Pats are ranked ninth in the league against the run but only three teams in the league have given up more yards through the air. And that rushing defense will be severely tested in these playoffs.
But Belichick's team ranks second in the league with 41 takeaways (two or more in 12 of 16 games), including a league-high 21 opponents' fumble recoveries. The pass rush produced just 37 sacks (seven of those in the season finale against the Miami Dolphins) and still doesn't frighten anyone consistently, hence the Patriots allowing 27 touchdown passes.
It will be interesting to see if Belichick's team can maintain that takeaway touch in the postseason.
7. Atlanta Falcons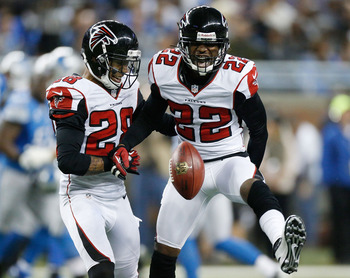 Gregory Shamus/Getty Images
The Atlanta Falcons finished the 2012 season with a 13-3 mark, tied with the Denver Broncos for the best record in the NFL.
And yet there are those who won't be impressed until this current regime, led by head coach Mike Smith and quarterback Matt Ryan, win a postseason game.
But this isn't about Ryan. The focus here is on the other side of the football, where Mike Nolan's unit has been a bit of a bend-but-don't-break group. Despite being ranked 24th in the NFL in yards per game surrendered, the Falcons have totaled more takeaways (31) than offensive touchdowns allowed (30).
That takeaway total includes 20 interceptions thanks mainly to an opportunistic secondary that has made its share of big plays.
However, a big part of that bending has been against the run as Atlanta gave up 123.2 yards per game on the ground and held only five opponents below the century mark in terms of rushing yards. And Nolan's unit permitted 140-plus yards on the ground in each of their three losses to the New Orleans Saints (148), Carolina Panthers (195) and Tampa Bay Buccaneers (144).
If the Falcons' defense plans on spending the majority of its playoff afternoons on the field, it will once again be a short postseason stay.
6. Baltimore Ravens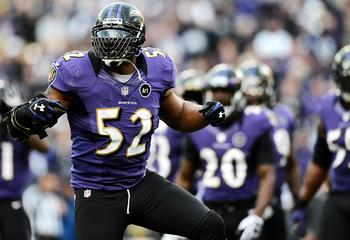 Patrick Smith/Getty Images
You could call 2012 a transition year for the Baltimore Ravens' defense.
For the first time in a decade (2002), the franchise didn't finish in the NFL's top 10 in terms of yards allowed per game. A season after giving up 266 points the previous year, the Ravens allowed nearly 100 more points (344) than in 2011.
While Baltimore permitted only 30 offensive touchdowns this season, that was nine more (21) than John Harbaugh's team gave up a year ago.
Granted, this is a unit that has been minus star linebackers Ray Lewis and Terrell Suggs for the majority of 2012. And perhaps it was most felt when it came to stopping the run as Ravens' defenders gave up 122.8 yards per game on the ground, the worst-such mark in the franchise's brief 17-year history.
But it's all hands on deck for the postseason, for the most part. Lewis comes off a 13-tackle performance in the Wild Card win over the Indianapolis Colts and safety Ed Reed remains one of the premier ball-hawks in the regular- and postseason history.
But these are not your brother's, cousin's or neighbor's Ravens. And if Baltimore is to advance in these playoffs, this defense needs to become relavent again.
5. Houston Texans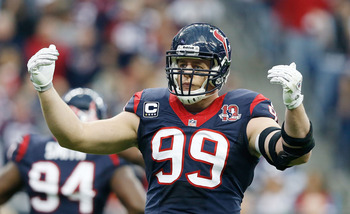 Scott Halleran/Getty Images
You have to figure that Houston Texans' head coach Gary Kubiak, as well as defensive coordinator Wade Phillips, were breathing a sigh of relief last Saturday night.
The team's 19-13 victory over the Cincinnati Bengals saw the Texans limit Marvin Lewis' team to 198 total yards while keeping the Bengals' offensive unit out of the end zone.
And that was great news for a team that had given up 188 points in its previous seven contests. This after the Texans allowed a mere 143 points in the team's first nine contests this season.
When it was all said and done, Phillips' unit wound up giving up 34 offensive touchdowns, 29 of those through the air. Then again, just under half of those (14) came in three games, losses to Aaron Rodgers and the Packers (6) and the Patriots and Tom Brady (4), as well as in an overtime win over the Jacksonville Jaguars when Chad Henne struck for four touchdown passes.
Still, the Texans did forced 29 turnovers and for the second consecutive season totaled 44 sacks, tying the franchise record set in 2011. And when you're having the kind of year defensive end J.J. Watt (20.5 sacks) is enjoying, anything is possible.
Still, we need to see back-to-back solid defensive efforts to believe that this unit is back to its first-half form.
4. Green Bay Packers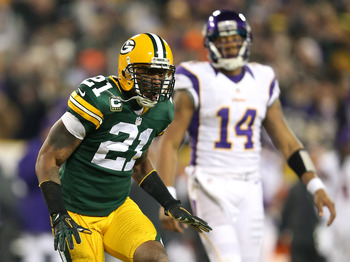 Andy Lyons/Getty Images
The Green Bay Packers are so close and fortunately for Mike McCarthy's club, not so far.
How could anyone forget last year's defensive disaster? In a season in which the Pack allowed the most passing yards in NFL history, part of that could be blamed on a pass rush that went from 47 sacks during their Super Bowl XLV season to 29 sacks in 2011.
This season, even with outside linebacker Clay Matthews out for a few weeks, Dom Capers' defenders managed to rack up 47 sacks once again.
With Matthews back in the fold and big-play defensive back Charles Woodson returning to the field last Saturday night, the Packers have two of their star playmakers available once again. And both made their presence felt in the team's 24-10 Wild Card win over the Minnesota Vikings.
With quarterback Aaron Rodgers having another superb season, the Packers can score points with any team in the league. And by building those leads, it gives Capers' unit the chance to turn loose that pass rush and not watch opponents take advantage of a suspect run defense, which took its lumps on more than one occasion.
And as the Packers' defense gets healthier, so does its chances of returning to the Super Bowl for the second time in three seasons.
3. Denver Broncos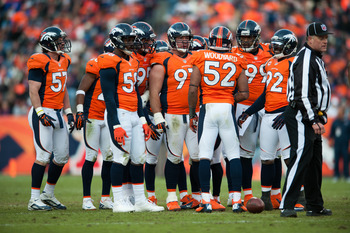 Dustin Bradford/Getty Images
With all of the hype surrounding the comebacks of quarterback Tim Tebow last season, the Denver Broncos' somewhat-improved defensive unit took a back seat.
And although the stakes have been raised this season with the addition of prolific signal-caller Peyton Manning, it is the former Indianapolis Colts' star and four-time league MVP that has received plenty of praise for the team's 13-3 record.
But let's give credit where credit is due. Only the Pittsburgh Steelers gave up fewer total yards than Jack Del Rio's unit this season.
In fact, it's the first time since the merger in 1970 that the Broncos have been ranked as high as second in terms of yards per game allowed. And that's pretty remarkable that this team finished dead last in the NFL in total defense in 2010 and jumped to just 20th in 2011.
Denver also gave up an AFC low 289 points, which ranks fourth-best in the NFL, and was the only team in the conference to allow fewer than 300 points during the season. Again, consider that John Fox's club has allowed just 175 points during its current 11-game winning streak (15.9 points per game) and it's easy to see just how dangerous this Broncos' team has become.
Last but not least, there's the pass rush. Led by second-year star outside linebacker Von Miller (18.5) and veteran defensive end Elvis Dumervil (11.0), Fox's team tied for the NFL lead with 52 sacks. And with Manning and company steadily putting points on the board, getting behind this team is becoming a no-win scenario.
Exactly what has happened to opponents for 11 straight games…and counting?
2. Seattle Seahawks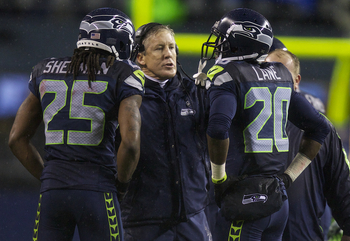 Stephen Brashear/Getty Images
They say it's the most important statistic when it comes to defense and we're not here to argue.
For the first time in the franchise's 37-year history, the Seattle Seahawks allowed the fewest points in the NFL.
And just how steady was Pete Carroll's team on this side of the football. The 'Hawks held 13 of their 16 opponents to 20 points or less and did not allow a team to reach the 30-point mark during the regular season.
You can make that during the postseason as well as Seattle took the Washington Redskins best shot on Sunday, giving up 14 first-quarter points and then holding the limited 'Skins scoreless the rest of the game. It marked the sixth straight contest that the Seahawks have limited an opponent to 17 points or less.
The majority of attention goes to a talented secondary led by cornerbacks Richard Sherman and Brandon Browner and safeties Earl Thomas and Cam Chancellor. But middle linebacker Bobby Wagner, he of 140 tackles as well as three interceptions, has emerged as a force and is a strong candidate for defensive rookie of the year honors.
Up front, defensive tackle Alan Branch and Brandon Mebane man the middle and left defensive end Red Bryant is stout. But the team received a big blow when team sack leader Chris Clemons was lost for the rest of the season last week in the win at Washington. In his place steps rookie Bruce Irvin (8.0), who teamed with Clemons (11.5) for 19.5 of the club's 36 sacks.
Aggressive and talented, this is a formidable group that has made sure that the team has been in every game this season. If their run defense (10th in the NFL) again plays like it did at the start of the season, we could be seeing this unit at the Superdome in February.
1. San Francisco 49ers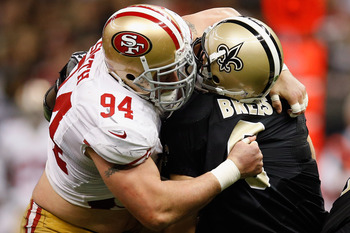 Chris Graythen/Getty Images
Just in case you're wondering how the San Francisco 49ers get the nod as the best defensive unit…
A big reason is Justin Smith.
The veteran defensive lineman expects to be ready to go for this weekend's matchup with the Green Bay Packers. Minus the Pro Bowler, Vic Fangio's unit has looked like a different defense.
Over the course of six quarters against the New England Patriots and Seattle Seahawks, the Niners gave up 73 points (although one of those scores was courtesy of a blocked field-goal return).
But back to Smith, as well as another Smith named Aldon, he of 19.5 sacks, good for second in the league in 2012. With Pro Bowl inside linebackers NaVorro Bowman and Patrick Willis leading the charge, only three teams in the league gave up fewer rushing yards per game. And outside linebacker Ahmad Brooks has had an unheralded season.
Meanwhile, with the likes of safeties Dashon Goldson and Donte Whitner patrolling the secondary, it's no surprise that the 49ers also ranked fourth in the NFL in passing yards allowed.
And only the division rival Seattle Seahawks (245) surrendered fewer points than San Francisco (273), which if you conveniently remove that aforementioned 73-point "outburst" by the Patriots and Seahawks shows you just how imposing this group can be. It's also worth noting that in that split with New England and Seattle that the Niners gave up nine offensive touchdowns, compared to just 17 in their other 14 games.
If you are looking for a way to beat this defense, consider these numbers. Harbaugh's squad allowed just 792 yards rushing in their 11 wins (less than 100 yards rushing in 10 of those games. But this unit gave up 715 yards rushing (143.0 yards per game) in their four losses and a tie this season.
Loaded with leadership and playmakers, this defense will be the main factor in the team's quest for a sixth Super Bowl championship.
Keep Reading