Detroit Tigers: The Blueprint for Miguel Cabrera to Win Consecutive AL MVPs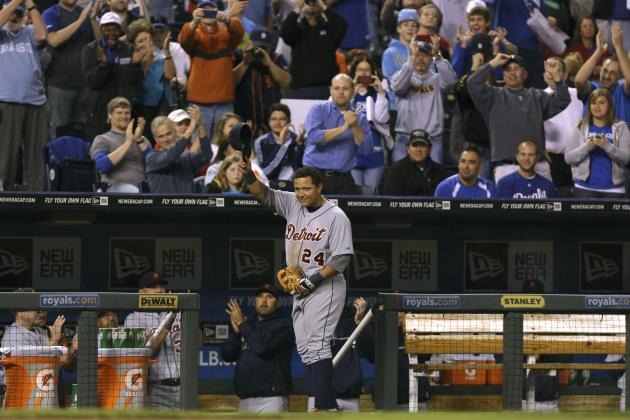 Ed Zurga/Getty Images

Last season, Miguel Cabrera won the first Triple Crown in the Major Leagues since 1967, and fought off sabermetrics and a new-school way of analysis to bring home the American League MVP.
Los Angeles Angels rookie Mike Trout battled Cabrera all season for AL MVP honors, and at the end of the year, average, RBI and home runs defeated sabermetrics and Cabrera earned the Tigers' second consecutive MVP.
Cabrera led the Tigers to an AL Central Division title and an appearance in the World Series, but the Tigers fell flat in the Fall Classic, and were swept by the San Francisco Giants.
The Tigers' slugger will enter his 11th MLB season in 2013, and even though he'll turn 30 in April, Cabrera is still very much in the prime of his career, and will look to exude the same assault on AL pitchers as he did last season.
Here is the blueprint for Cabrera to win his second consecutive MVP Award in 2013:
Begin Slideshow

»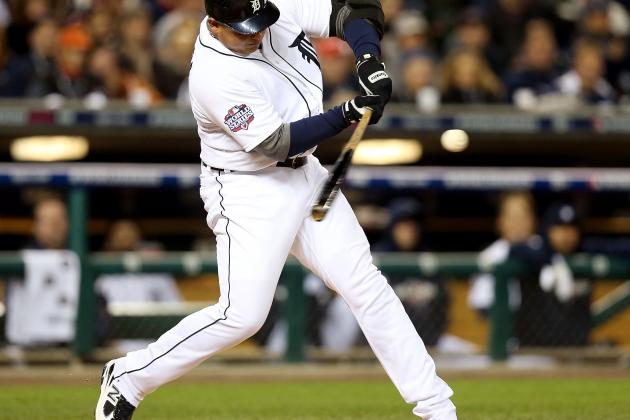 Ezra Shaw/Getty Images

The easiest way to be an MVP candidate is to be consistent.
The best thing about Cabrera's game is that he's an unselfish, smart hitter.
Most power hitters with the caliber of Cabrera are only pull hitters, and don't like being selfless for the greater good of the team.
Cabrera has no problem hitting to all fields, and will do anything to help his team win games.
Last season, Cabrera averaged .330 with a .393 on-base percentage in 161 games. It seemed like he was constantly on base and providing opportunities for his team to drive in runs.
His .330 average was among the best outputs of his career, and he did it while getting pitched around often.
When Cabrera wasn't being pitched around, he was being thrown to very carefully, getting the opposing pitcher's hundred percent focus.
He'll get the same attention this season, but with a bolstered lineup around him, he should be able to produce with the same consistency as he did last season.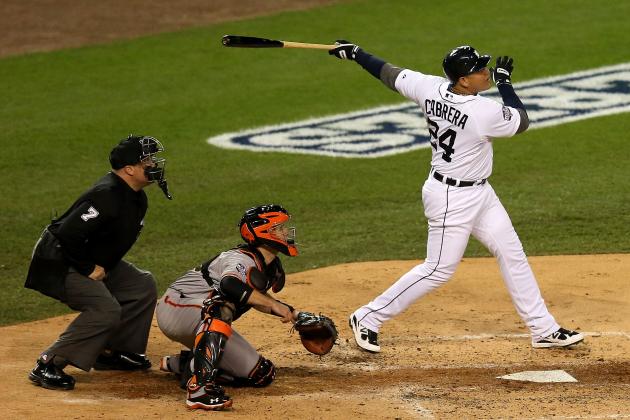 Jonathan Daniel/Getty Images

Cabrera's 44 home runs and 139 RBI last season were both career high's for the 29-year-old slugger.
His consistency in the power categories helped him bring home the first AL Triple Crown in 45 years.
Cabrera hit 14 more home runs and earned 34 more RBI than he did when he guided the Tigers to the playoffs in 2011, and if he hopes to win another MVP, he'll have to duplicate his numbers from a year ago.
To win the Triple Crown, Cabrera barely edged Josh Hamilton in home runs, hitting one more than the former Texas Ranger, and now that Hamilton has a huge new contract with the Angels, Hamilton will likely threaten Cabrera again.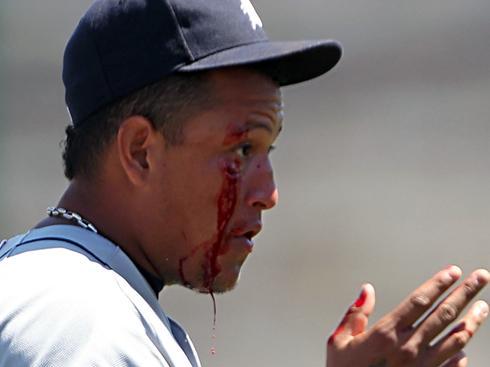 Photo Courtesy of USAToday.com
Cabrera was able to rack up his ridiculous numbers last year, and in the last several years because he's stayed healthy.
Cabrera has played 161 regular season games in each of the last two years, and has only missed 33 games since 2004, his first full year in MLB.
He took a nasty hop off his face during Spring Training last season that gave him a large cut under his eye, and a noticeable scar that will give him a lifetime reminder of the incident.
The eye injury kept Cabrera out of the lineup for most of the Spring but he returned just in time for the beginning of the regular season and showed no ill effects from the cut.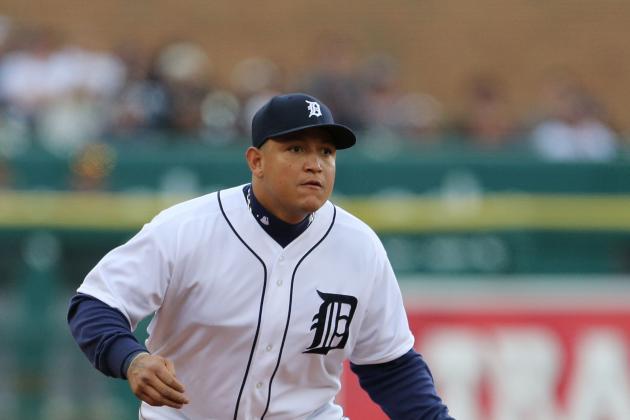 Leon Halip/Getty Images

It's tough to win an MVP as just a one-way player, and last season, Cabrera impressed everyone with his ability to seamlessly return to third base for the first time since 2006.
After spending five seasons primarily playing first base, Cabrera moved back to third with the Tigers' acquisition of Prince Fielder, and showed no signs of rust.
Cabrera played 154 games at third base last season, and while his 13 errors were fourth-best among everyday third baseman, his range, and accuracy were even more impressive at the hot corner.
He shrugged off the horrific bounce he took to the face in Spring Training, and showed impressive poise and confidence at third, making almost every play he should've, and more often than not, making the tough plays.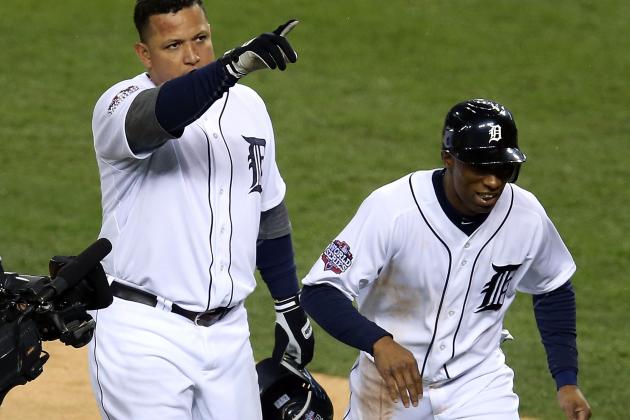 Christian Petersen/Getty Images

Cabrera has two phenomenal candidates in front of him to help increase his RBI total in 2013.
Leadoff hitter Austin Jackson has steadily improved in each of his first three seasons in the Major Leagues, and newcomer, right fielder Torii Hunter is a potential future Hall of Famer, who has a career on-base percentage of .335.
While Jackson had a great season in 2012, and was the beneficiary of several of Cabrera's RBI a season ago, Cabrera didn't have a quality No. 2 hitter in front of him for the majority of the year, and with Hunter inserted into the lineup next season, Cabrera's RBI opportunities will increase.
With runners on base last season, Cabrera hit .340 with 17 home runs, and was even better with runners in scoring position, hitting .356, and with the caliber of hitters around him, pitchers won't be able to pitch around him, and he'll become an even bigger threat with traffic on the base paths.
Ezra Shaw/Getty Images

Prince Fielder has batted behind the league MVP two years in a row.
And Fielder still has room to improve after his first season in Detroit last year.
Fielder hit behind Ryan Braun, who won the National League MVP for the Milwaukee Brewers in 2011, and hit behind Cabrera in every single game last season.
For his standards, Fielder had somewhat of an off year last season, batting .313 with 30 home runs and 108 RBI.
The .313 average was a career-best for Fielder, but the 30 home runs were his lowest long-ball total since 2006, and his 108 RBI was toward the bottom of his career average.
If Fielder manages to improve from a year ago, Cabrera's run at back-to-back MVPs will become that much easier.