One Impending Free Agent from Each MLB Team Who Will Re-Sign for 2014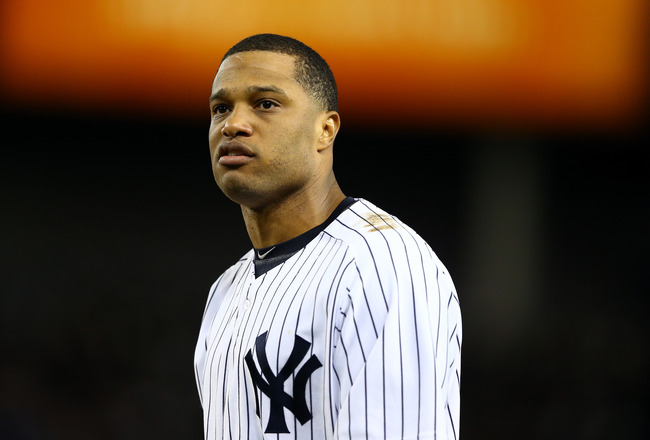 Al Bello/Getty Images
While we've yet to even get spring training underway for the 2013 season, it's never too early to look ahead to what awaits us when the World Series comes to its conclusion and the Hot Stove League heats up once again.
Some of the biggest names in the game have a chance to all reach free agency at the same time, though not all of them will.
Let's take a look at each team's impending free agents at the end of the 2013 season and see which player most likely will not need to have his mail forwarded to a new address.
Chicago White Sox: Jesse Crain, RHP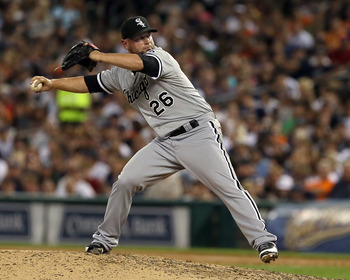 Dave Reginek/Getty Images
Jesse Crain has been fantastic out of the White Sox bullpen since joining the team in 2011, pitching to a 2.54 ERA, 1.18 WHIP and 10.3 K/9 rate over 113 innings of work.
While relievers have become almost interchangeable from team-to-team, Crain has pitched as well as he ever has under the watchful eye of legendary pitching coach Don Cooper. So it's hard to imagine him wanting to try his luck elsewhere.
Paul Konerko might seem like the obvious choice, but whether or not he's going to retire at the end of the season has yet to be determined, as he told ESPN Chicago's Bruce Levine back in October: "That is something I really have not even thought about. I am looking forward to next season just like I always have. After that we will have to see what is happening."
Other Free Agents: 1B Paul Konerko, RHP Gavin Floyd, OF Dewayne Wise
Cleveland Indians: Joe Smith, RHP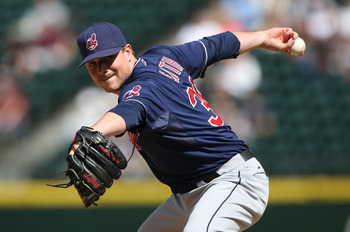 Otto Greule Jr/Getty Images
Joe Smith has really come into his own the last two seasons in Cleveland, pitching to a 2.49 ERA and 1.13 WHIP over 143 relief appearances.
One of the key pieces of Cleveland's bullpen, it would be surprising if Smith even made it to the open market.
Other Free Agents: RHP Matt Albers, 1B Mark Reynolds, RHP Ubaldo Jimenez ($8 million team option)
Detroit Tigers: Brayan Pena, C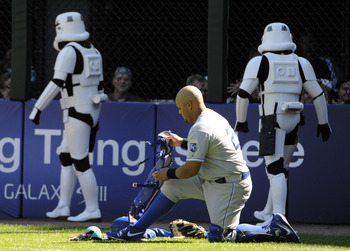 David Banks/Getty Images
While the Detroit Tigers have a pair of catchers in the minor leagues who could be ready to replace Pena in a backup role, Pena seems like the most logical choice to stick around in Detroit.
Other Free Agents: RHP Joaquin Benoit, 2B/LF Ryan Rayburn, IF Ramon Santiago
Kansas City Royals: Bruce Chen, LHP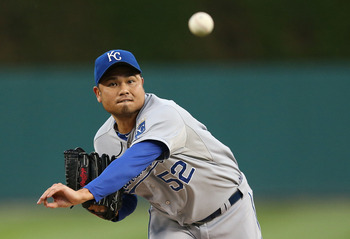 Leon Halip/Getty Images
While he's a left-handed starter, Bruce Chen celebrates his 36th birthday in June and isn't likely to command much interest on the open market.
With Santana and Shields pretty much guaranteed to have their respective team options picked up, keeping the only left-hander in the Kansas City Royals' rotation around for another season is likely in the cards.
Other Free Agents: RF Jeff Francoeur, RHP Ervin Santana (team option), RHP James Shields ($12 million team option)
Minnesota Twins: Mike Pelfrey, RHP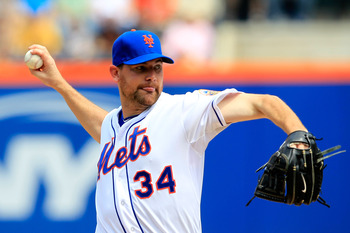 Chris Trotman/Getty Images
Mike Pelfrey is the pick here simply because I don't see Justin Morneau returning to the Minnesota Twins after the season.
Pelfrey, who celebrates his 29th birthday next week, does have a pair of quality seasons with the New York Mets on his resume.
Recovering from Tommy John surgery, if he shows the Twins something after his return, it stands to reason that the pitching-starved Twins will look to keep him in the mix going forward.
Other Free Agents: IF Jamey Carroll ($2 million team option), 1B Justin Morneau
Chicago Cubs: Scott Baker, RHP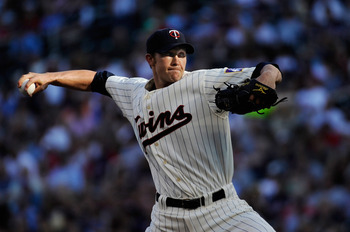 Hannah Foslien/Getty Images
Scott Baker was developing into a solid back-end-of-the-rotation starter before missing the entire 2012 season due to elbow surgery (h/t MLB.com), and the Cubs will keep him in Chicago after seeing him regain his form in 2013.
Matt Garza could be dealt away for additional pieces by the trade deadline, but if he's not, look for the Cubs to work out an extension with him before the season ends.
Other Free Agents: RHP Shawn Camp, RHP Scott Feldman, RHP Matt Garza, RHP Carlos Marmol, C Dioner Navarro
Cincinnati Reds: Nick Masset, RHP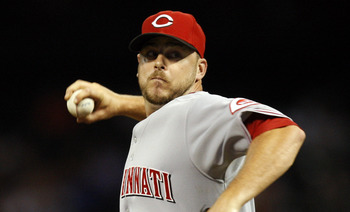 Bob Levey/Getty Images
Bronson Arroyo could return, but other teams figure to have interest, and Shin-Soo Choo is a Scott Boras client, meaning that he's going to see what other teams have to offer on the market.
That leaves Masset, who missed the entire 2012 season due to elbow surgery (h/t the Cincinnati Enquirer).
While Cincinnati's bullpen is crowded, you can never have too many quality arms.
Other Free Agents: RHP Bronson Arroyo, OF Shin-Soo Choo
Milwaukee Brewers: Corey Hart, 1B/OF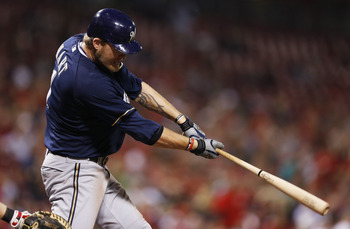 Joe Robbins/Getty Images
Corey Hart, who has averaged 24 home runs and 83 RBI a season for the past six seasons, has become a mainstay in the middle of the Milwaukee Brewers' lineup.
While no talks on an extension are underway, both sides expressed hope back in November that an agreement could eventually be reached on a contract extension (h/t MLB.com).
They'll work something out sooner rather than later.
Simply because this has to be said, Norichika Aoki's $1.5 million team option may be one of the 10 biggest bargains in the game.
Other Free Agents: OF Norichika Aoki ($1.5 million team option), OF Carlos Gomez, LHP Mike Gonzalez
Pittsburgh Pirates: Clint Barmes, SS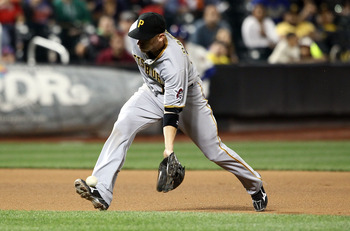 Alex Trautwig/Getty Images
Clint Barmes has found a home in Pittsburgh.
While he doesn't offer much offensively, his 15.3 UZR/150 was second among all qualified shortstops in 2012 according to FanGraphs,
Pedro Alvarez's team option is too inexpensive for the club not to exercise it, while A.J. Burnett, if he can continue to throw the ball as he did in 2012, will hit the open market looking for one more sizable contract.
Other Free Agents: 3B Pedro Alvarez ($700,000 team option), RHP A.J. Burnett
St. Louis Cardinals: Adam Wainwright, RHP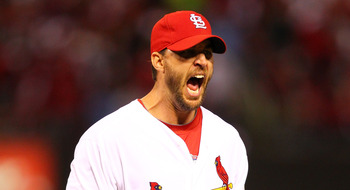 Dilip Vishwanat/Getty Images
With three-fifths of their starting rotation potentially hitting the open market after 2013, the St. Louis Cardinals need to retain the services of at least one of those pitchers.
It might as well be the ace of the staff, Adam Wainwright.
After missing all of the 2011 season due to Tommy John surgery (h/t Sporting News), Wainwright got better as the 2012 season progressed, pitching to a 3.28 ERA and 1.15 WHIP during the second half of the season.
According to Derrick Goold of the St. Louis Post-Dispatch, an extension could be worked out as early as spring training.
Other Free Agents: RF Carlos Beltran, SS Rafael Furcal, RHP Chris Carpenter, RHP Edward Mujica, RHP Jake Westbrook ($9.5 mutual option)
Baltimore Orioles: Jason Hammel, RHP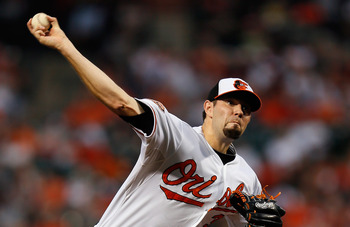 Rob Carr/Getty Images
Jason Hammel has made 135 career starts, while the other four members of the Orioles rotation—Wei-Yin Chen, Miguel Gonzalez, Chris Tillman and Zach Britton—have a combined 137 career starts between them.
Hammel was excellent over the first half of the 2012 season for the Orioles, going 8-5 with a 3.47 ERA, 1.22 WHIP and 101 strikeouts in just over 106 innings of work.
Keeping him in Baltimore could get a bit expensive If he can keep that production up over an entire season, but the 30-year-old has never pitched as well as he has in Baltimore. It makes sense for both sides to keep the relationship going after the 2013 season.
Other Free Agents: LHP Luis Ayala, IF Wilson Betemit ($3.2 million vesting option), OF Nate McLouth, 2B Brian Roberts
Boston Red Sox: Craig Breslow, LHP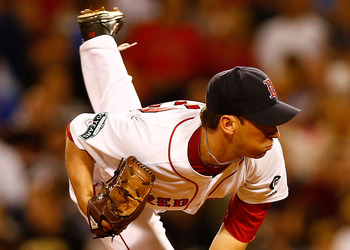 Jared Wickerham/Getty Images
Jon Lester's option is obviously going to be exercised, while Jacoby Ellsbury, being a Scott Boras client, will test the free agency market.
Boston has other options at shortstop (Jose Iglesias or Xander Bogaerts) and catcher (Ryan Lavarnway and David Ross), while Joel Hanrahan was mediocre for Pittsburgh in 2012 and could struggle in the American League.
That leaves Craig Breslow, a 32-year-old left-handed reliever who is solid against batters from either side of the plate.
Other Free Agents: SS Stephen Drew, CF Jacoby Ellsbury, RHP Joel Hanrahan, LHP Jon Lester ($13 million team option), C Jarrod Saltalamacchia
New York Yankees: Robinson Cano, 2B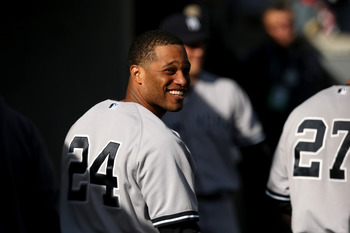 Jonathan Daniel/Getty Images
There could be massive turnover in the Bronx following the 2013 season, with iconic figures like Derek Jeter, Andy Pettitte and Mariano Rivera potentially all playing their final seasons with the New York Yankees.
Of all the free agents New York is faced with, keeping Robinson Cano will be the priority, and rightfully so.
The best second baseman in baseball, Cano is going to cost New York a small fortune to retain, but the team simply cannot afford to let him walk.
Other Free Agents: RHP David Aardsma, RHP Joba Chamberlain, CF Curtis Granderson, RHP Phil Hughes, SS Derek Jeter, RHP Hiroki Kuroda, LHP Boone Logan, LHP Andy Pettitte, RHP Mariano Rivera
Tampa Bay Rays: RHP Fernando Rodney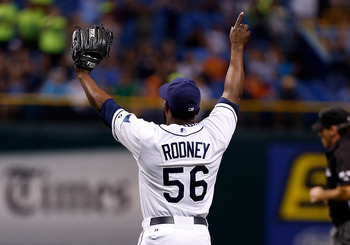 J. Meric/Getty Images
Fernando Rodney has enjoyed a career renaissance with the Tampa Bay Rays, winning the AL Comeback Player of the Year award after an outstanding 2012 season.
He would certainly garner interest from other teams if he can put together another All-Star-caliber season, but he'll be 36 years old by the time the season ends and is in a great situation with the Rays.
It's hard to imagine that he'd be looking to move elsewhere at that point in his career.
Yunel Escobar's $5 million team option is a no-brainer for the Rays to exercise, while neither James Loney nor Jose Molina offer anything that couldn't easily be replaced.
Other Free Agents: SS Yunel Escobar ($5 million team option), 1B James Loney, C Jose Molina
Toronto Blue Jays: Casey Janssen, RHP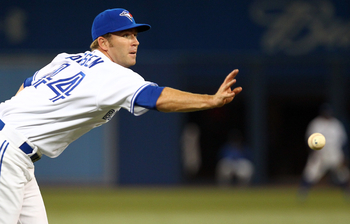 Abelimages/Getty Images
Casey Janssen filled in admirably for Sergio Santos as the Toronto Blue Jays' closer in 2012 and will once again handle the ninth inning for the Blue Jays in 2013.
Janssen has spent his entire career with Toronto, and with many teams opting to go with younger arms to finish games—Bruce Rondon in Detroit and Addison Reed in Chicago, for example—the market for free-agent closers may not be as lucrative as it has been in the past.
He might test the market to see what's out there, but ultimately, Janssen will wind up staying where he's always been.
Other Free Agents: OF Rajai Davis, RHP Josh Johnson, 1B/LF Adam Lind ($7 million team option), LHP Darren Oliver
Atlanta Braves: Martin Prado, IF/OF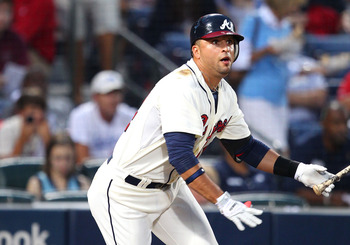 Mike Zarrilli/Getty Images
Martin Prado is simply too valuable to the Atlanta Braves for the team to let him walk.
As versatile a player as there is in the game, with his ability to play the outfield, second and third base—and play them well—Prado would be a sought-after commodity were he to hit the open market.
Look for the Braves to work out an extension with Prado before he gets a chance to see what his real market value is.
Of the Braves' remaining free agents, Brian McCann is probably the most likely candidate to leave town, as he'll be attractive to American League teams that can offer him a chance to DH, reducing the wear and tear on his body and potentially extending his career.
Other Free Agents: RHP Tim Hudson, LHP Paul Maholm, C Brian McCann, LHP Eric O'Flaherty
Miami Marlins: Placido Polanco, 3B
Hunter Martin/Getty Images
With a roster that, with few exceptions, is devoid of established major league talent, keeping a veteran like Placido Polanco around makes sense for the Miami Marlins.
There wasn't a huge market for Polanco's services this winter to begin with. Chances are there wouldn't be one next winter either, when the third baseman celebrates his 38th birthday.
Other Free Agents: 1B/3B Greg Dobbs, RHP Ricky Nolasco, OF Juan Pierre, RHP Jacob Turner ($1 million team option)
New York Mets: John Buck, C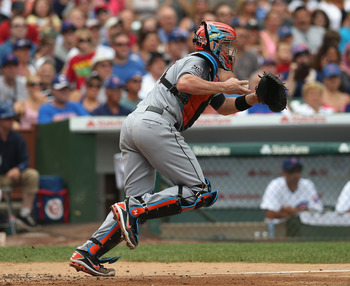 Jonathan Daniel/Getty Images
The New York Mets dealt away both of their catchers from last season, Josh Thole and Mike Nickeas, in the R.A. Dickey trade that bought John Buck and fellow backstop Travis d'Arnaud to Flushing.
With d'Arnaud unproven in the major leagues and still young, Buck gives the Mets insurance should the youngster struggle, and he can serve as a mentor as d'Arnaud's career begins to take off.
Plus, there's no way the Mets are paying Johan Santana $25 million while Frank Francisco simply hasn't been very good for the club.
Other Free Agents: RHP Frank Francisco, LHP Johan Santana ($25 million team option)
Philadelphia Phillies: Chase Utley, 2B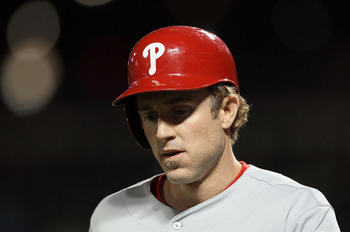 Alex Trautwig/Getty Images
We saw how the Philadelphia Phillies were without Chase Utley to start last season, and it wasn't pretty.
Still one of the better second basemen in the game, Utley has been a fixture in the City of Brotherly Love for a decade. He'll finish his career there.
Roy Halladay's vesting option is pretty much impossible to reach, as MLB.com's Todd Zolecki detailed last season. He would have to throw 258.2 innings—and not finish the season on the disabled list—for the option to vest. Doc might avoid the shelf, but there's no chance he comes close to the innings he needs.
Other Free Agents: RHP Roy Halladay ($20 million vesting option), OF Laynce Nix, 3B Michael Young
Washington Nationals: Dan Haren, RHP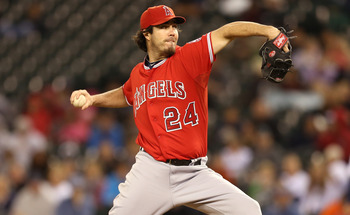 Otto Greule Jr/Getty Images
Mike Morse figures to be traded before the season gets underway, while Kurt Suzuki likely will have his team option picked up.
That leaves Dan Haren, whom the Washington Nationals signed to a one-year deal to anchor the back of their starting rotation.
Rather than seek more money elsewhere, Haren will stick with the Nationals, picking the chance to contend for a World Series title over slightly more money in the end.
Other Free Agents: LHP Zack Duke, 1B/OF Michael Morse, C Kurt Suzuki ($8.5 million team option), 1B Chad Tracy
Houston Astros: Nobody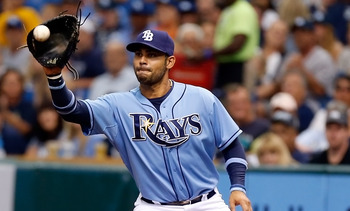 J. Meric/Getty Images
The Houston Astros only have two free agents following the 2013 season: first baseman Carlos Pena and RHP Philip Humber.
Top prospect Jonathan Singleton should be ready to take over as the starting first base spot in 2014, while Humber, a middling pitcher who has shown flashes of brilliance, is far too erratic and inconsistent to be relied upon every fifth day.
Los Angeles Angels: Jason Vargas, LHP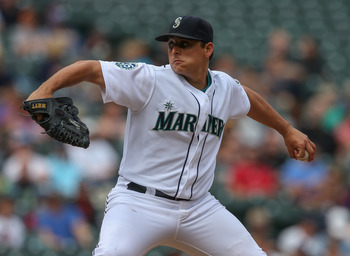 Otto Greule Jr/Getty Images
For all of the team's big spending ways, the starting rotation remains questionable after Jered Weaver and C.J. Wilson.
Jason Vargas, who has been a consistent contributor for the L.A. Angels' divisional rival, the Seattle Mariners, will have himself another solid season (with an inflated wins total).
The Angels, not wanting to get into a bidding war for his services over the winter, will work out an extension before the season ends.
Other Free Agents: 2B Alberto Callaspo, LHP Scott Downs, RHP Ryan Madson
Oakland A's: Nobody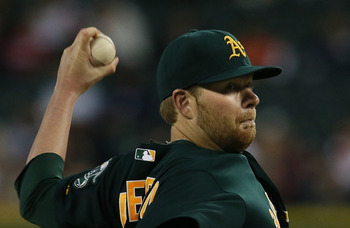 Dave Reginek/Getty Images
Brett Anderson's team option will be exercised, while the rest of the Oakland A's free-agent class will test the free-agency waters, likely receiving far more lucrative offers than what Oakland is willing to spend to retain their services.
Other Free Agents: LHP Brett Anderson ($8 million team option), RHP Grant Balfour, RHP Bartolo Colon, OF Coco Crisp ($7.5 million team option), OF Chris Young ($11 million team option)
Seattle Mariners: Kendrys Morales, 1B/DH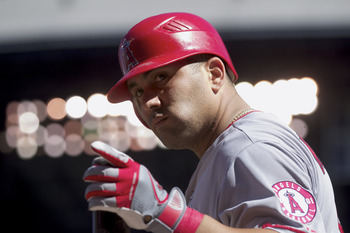 Stephen Brashear/Getty Images
The Seattle Mariners didn't trade Jason Vargas for Kendrys Morales to keep the slugger in the Emerald City for one season and then watch him walk away.
Morales, 29, is the power hitter that Seattle has lacked in the middle of its lineup for years. His presence takes pressure off of youngsters Jesus Montero and Kyle Seager, who both found themselves pressing a bit in 2012 as they tried to make up for Seattle's offensive deficiencies by themselves.
The Mariners will make Morales an offer he simply can't refuse.
Other Free Agents: OF Jason Bay, OF Franklin Guttierez ($7.5 million team option), LHP Oliver Perez, RHP Brendan Ryan
Texas Rangers: Nelson Cruz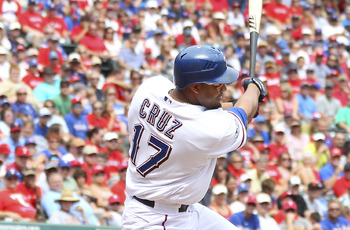 Rick Yeatts/Getty Images
This one is as open to change as any on this list, as it all depends on what the Texas Rangers wind up doing to address the production lost by Josh Hamilton's departure to Los Angeles.
But until that is addressed, Nelson Cruz, who has averaged 27 home runs and 83 RBI for Texas over the past four years, is the choice.
With Ian Kinsler, Elvis Andrus and Jurickson Profar hitting in front of him, Cruz's power is imperative to the Rangers' ability to score those runs when that trio finds itself on base.
Other Free Agents: RHP Colby Lewis, OF David Murphy, RHP Joe Nathan, C Geovany Soto
Arizona Diamondbacks: Aaron Hill, 2B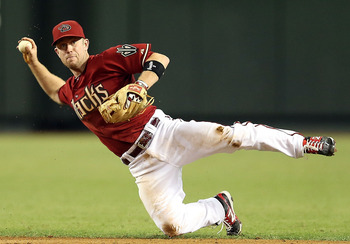 Christian Petersen/Getty Images
The Arizona Diamondbacks can't afford to let Aaron Hill walk after the 2013 season.
With a .304/.364/.517 slash line, 28 HR and 101 RBI in 189 games since arriving in Arizona late in the 2011 season, Hill has been a consistent contributor both at the plate and in the field.
When you consider that the Diamondbacks may very well have an inexperienced shortstop, Didi Gregorius, starting in 2014 (if not sooner), the Diamondbacks will need Hill's steadying presence in the middle of the diamond more than ever.
The team will figure out a way to keep him in the mix.
Other Free Agents: IF Willie Bloomquist, 3B Eric Chavez, IF/OF Eric Hinske, OF Jason Kubel ($7.5 million team option), IF John McDonald, C Wil Nieves
Colorado Rockies: Jeff Francis, LHP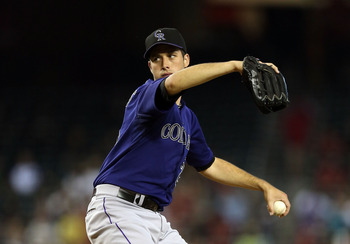 Christian Petersen/Getty Images
Both Matt Belisle and Rafael Betancourt figure to have their team options exercised, while Jorge De La Rosa's return depends on how he performs in 2013.
Jeff Francis, who has spent the bulk of his career with the Colorado Rockies, is inexpensive and has had success pitching in Colorado, though his best years seem like they were a lifetime ago.
Other Free Agents: RHP Matt Belisle ($4.25 million mutual option), RHP Rafael Betancourt ($4.25 million team option), LHP Jorge De La Rosa ($11 million team option), C Ramon Hernandez
Los Angeles Dodgers: J.P. Howell, LHP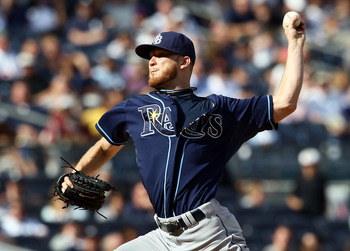 Alex Trautwig/Getty Images
Recently signed by the Los Angeles Dodgers, J.P. Howell forms a solid two-headed southpaw monster out of the Dodgers' bullpen with Scott Elbert.
Rather than try their luck on the open market again, the Dodgers will lock Howell up to a new deal before the season ends, ensuring that their bullpen remains stocked with quality arms to attack left-handed batters with.
Other Free Agents: LHP Chris Capuano ($6 million team option), 2B Mark Ellis ($5.75 team option), RHP Matt Guerrier, OF Jerry Hairston, RHP Aaron Harang ($7 million mutual option), LHP Ted Lilly, IF Nick Punto, 2B/OF Skip Schumaker, IF Juan Uribe
San Diego Padres: Edinson Volquez, RHP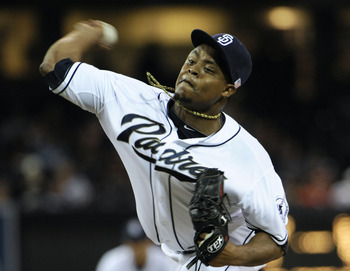 Denis Poroy/Getty Images
The maddening career of Edinson Volquez continues.
Blessed with the ability to make batters look silly, Volquez continues to struggle with his command and control, walking more then five batters per nine innings of work.
But under new ownership, the San Diego Padres are a team that needs starting pitching—and Volquez is the best that they've got. They simply cannot afford to let him depart, and an extension will be reached.
Other Free Agents: OF/1B Mark Kotsay, RHP Jason Marquis
San Francisco Giants: Javier Lopez, LHP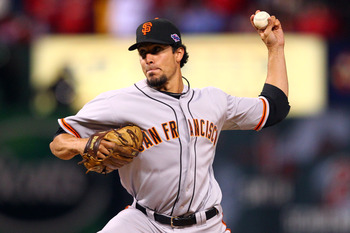 Dilip Vishwanat/Getty Images
Since joining the San Francisco Giants at the 2010 trade deadline in a deal with the Pittsburgh Pirates, Jose Lopez has been outstanding in San Francisco.
With a 2.42 ERA and 1.22 WHIP over 167 games for the defending World Series champions, Lopez has become an integral part of the Giants' bullpen.
Like fellow southpaw Jeremy Affedlt, Lopez might hit the open market, but he'll wind up back in San Francisco before too long.
Other Free Agents: OF Hunter Pence, OF Andres Torres, RHP Tim Lincecum, RHP Ryan Vogelsong ($6.5 million team option), LHP Barry Zito ($18 million team option)
Rick Weiner is a Featured Columnist covering all of MLB and a member of B/R's Breaking News Team.
Keep Reading