Chicago Bulls vs. Miami Heat: Live Score, Results and Game Highlights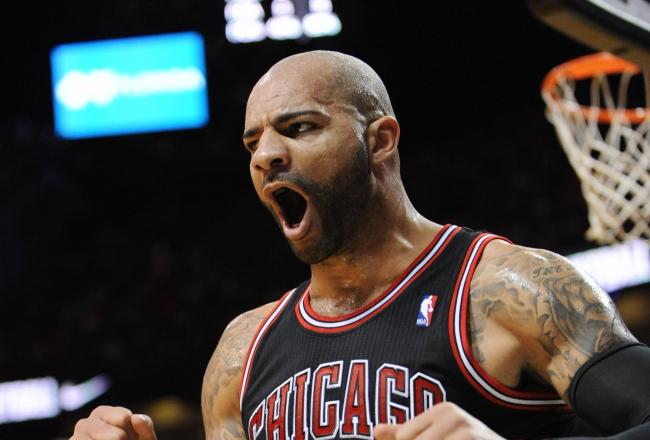 The Bulls defeated the Heat 96-89 in America Airlines Arena on Friday night (Jan. 4).
Let's have a look at the game commentary from the Bulls' triumph.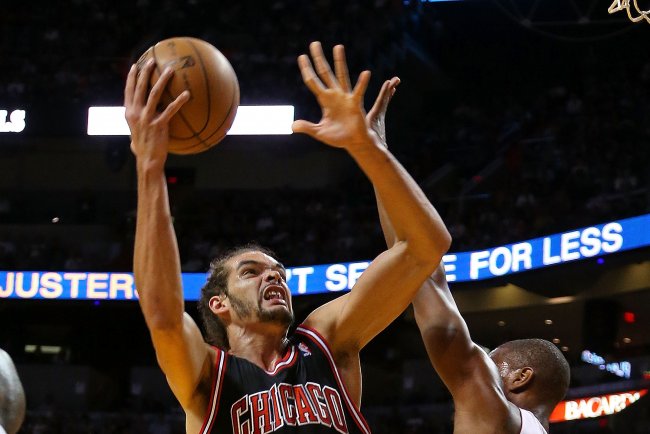 Mike Ehrmann/Getty Images
The key to this Bulls win was pretty simple: HUSTLE.
The Bulls created so many second chance shots and had 19 offensive rebounds. Luol Deng had six, Carlos Boozer had six and Taj Gibson had five.
Boozer played his best game of the season possibly, and looked just like the Booz we knew in Utah. He hit 12-of-17 from the floor (and hit his first seven shots), scoring 27 points and grabbing 12 total rebounds.
The Bulls ball movement was poor at times, but the offense ran smoothly when they were able to run possessions through Joakim Noah. Noah had five assists, second only to Kirk Hinrich's eight.
For the Heat, they just have to rebound the ball better. In addition, it's vital that they get their non-Big Three more involved. Outside of Chris Bosh, Dwyane Wade and LeBron James, they received only 23 points from the other seven players who played.
The Heat fall to 22-9 with the loss, and it's just their third loss at home in 18 games this season. The Bulls have been one of the better road teams in the league though and improve to 9-5 on the road this season (which is actually better than their 9-8 record at the United Center).
FINAL SCORE: BULLS 96, HEAT 89
Another second chance shot for the Bulls on a Jimmy Butler miss! It resulted in a Carlos Boozer layup to extend the lead to seven with just 46.3 seconds remaining in the game.
Now, perhaps, you can start packing up and getting ready for the exit.
But before LBJ missed one of two free throws and Chris Bosh got his shot blocked on the following free possession, it was anyone's game.
The Bulls are likely to improve to 18-13 now, and are picking up some great momentum for Derrick Rose's return. There is no timetable on Rose's return date, but it's been said it should be sometime soon after the All-Star break.
BULLS 93, HEAT 86 — 30.7 seconds in game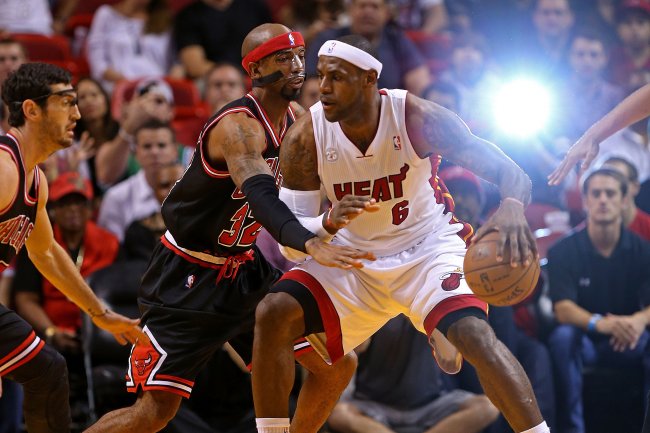 Mike Ehrmann/Getty Images
This is the second potential four point swing that LBJ has created. The first was Joakim Noah's flagrant foul, and now the clear path foul. This can cut the lead to two if the Heat score following two made free throws. That's obviously far from a given, but maybe some of the fans that have already started to exit are turning back and heading for their seats.
Besides, by the way, in what arena do fans leave a game with a single digit lead with less than two minutes?
Teams do go on runs, Miami Bandwagoners.
BULLS 91, HEAT 85 — 1:30 in Game
Erik Spoelstra has the right idea putting the pestering Shane Batter on Joakim Noah. Battier is keeping the ball out of Noah's hands, and that's not good for the Bulls offense. Noah is the catalyst behind creating most of their shots, and if he can't get the ball, it's going to result in a lot of poor isolation shots.
BULLS 91, HEAT 85 — 1:30 in 4th, James at the line, on a clear path foul (Free throws & possession)
The Bulls are now in the penalty, which doesn't bode well against the Heat, especially on the road (and that's all I'm saying there). LBJ has been hitting his free throws, too. He's 12-of-14 from the line, a solid mark for a 72 percent shooter on the season.
BULLS 89, HEAT 82 — 2:35 in 4th
The Bulls offense has gone stagnant again. Jimmy Butler isolated himself on the wing and proceeded to drive in and take a wild shot.
It seems when Joakim Noah isn't facilitating a play, that it ends up being a poor isolation possession.
The Bulls don't have the kind of talents on the team necessary to play isolation basketball. That's something that should be reserved for No. 1, when he returns.
The Bulls are 2-of-18 from the floor in this quarter.
BULLS 87, HEAT 81 — 3:21 in 4th, Timeout in Play
If the Heat win this game as badly as they are being out-hustled and out-rebounded, it will be an absolute travesty. The Bulls just got another second shot, and are so aggressive on the offensive boards. Even when the offense isn't fluid, the hustling and second chance shots are making up for it.
This team is going to be scary when Derrick Rose returns.
BULLS 85, HEAT 75 — 5:45 in 4th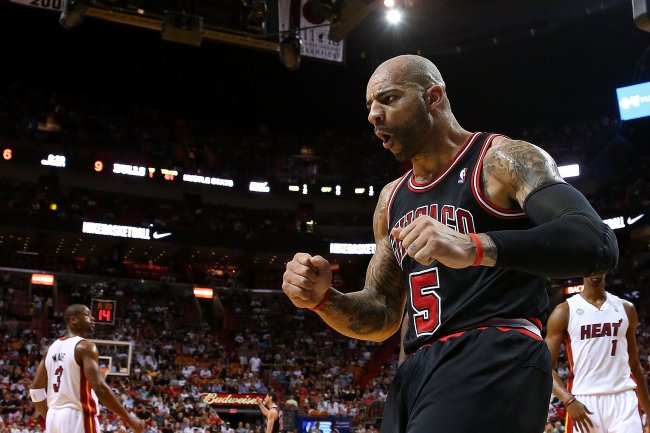 Mike Ehrmann/Getty Images
If the Bulls were at home, the boos that sometimes accompany Carlos Boozer's play would not be an ovation. He sacrificed his body and dove to the floor, then flung the ball to Taj Gibson who got to the line for two.
Boozer has been energetic and on fire all night (10-of-14 for 21 points). This is the guy the Bulls wanted when they signed him as a free agent.
BULLS 80, HEAT 73 — 6:47 in 4th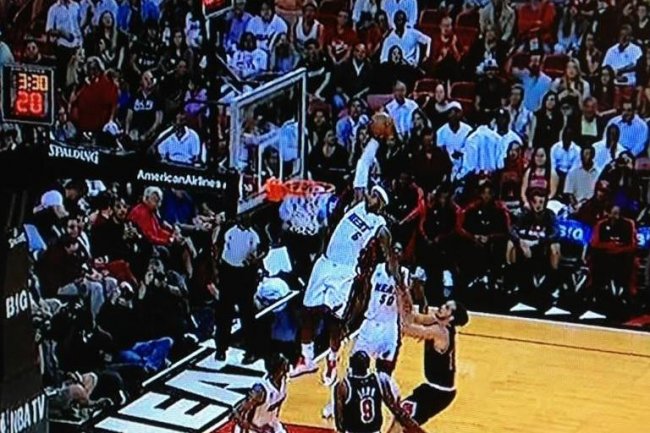 The aforementioned alley oop that energized the crowd.
Notice, LBJ's head is at rim level. Nothing unusual.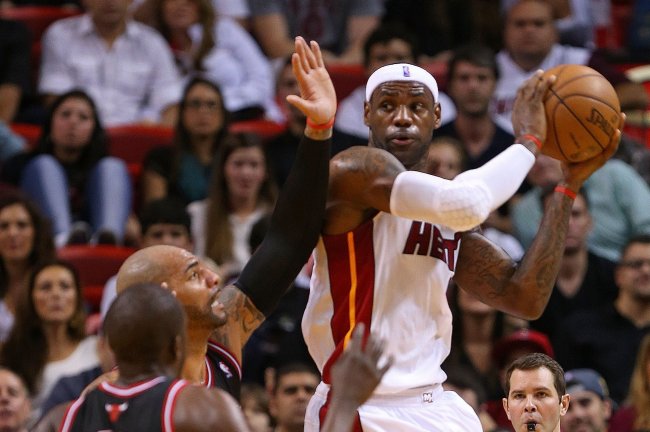 Mike Ehrmann/Getty Images
The foul was ruled a flagrant one, but it's debatable as to whether it should have been. The foul was an obvious intentional foul, but that isn't what makes a foul flagrant. Don't expect a fine for this one. James bounced up quick and was just fine, and Noah had no malicious intent.
Either way, it is a momentum shifter as James hit both free throws and then got to the line yet again on the extra possession awarded due to the flagrant. That's a four point swing.
The MVP chants are echoing through American Airlines Arena.
BULLS 75, HEAT 70 — 10:21 in 4th
Joakim Noah just drew a round of boos for a rough foul on LeBron James. The foul was around the neck, but Noah grabbed James to prevent a nasty fall. The play is being reviewed to see if it should be a flagrant, but ESPN commentators feel it was a fair play and should not be a flagrant.
BULLS 75, HEAT 66 — 10:39 in 4th
The Bulls outscored the Heat 26-18 in the third quarter and will enter the fourth with a nine point lead. No one outside the Heat's Big Three has more than five points, and they are being out-rebounded now 36-16.
If they manage to win this one, it will be against all odds. But hey, that's what makes LBJ who he is. The Heat find a way to win games they shouldn't due to James' greatness.
Will it be enough tonight? — That's the kicker.
BULLS 75, HEAT 66 — End of 3rd
Erik Spoelstra may never have been an NBA player, but he can still take a charge, as this clip attests to.
The Heat shared the ball nicely on a transition play which led to a Wade to LBJ alley-oop, but it's going to take more than an exciting play here and there to win this game for Miami.
They've got to start rebounding the ball.
BULLS 70, HEAT 65 — 3:20 in 3rd, TV Timeout
An interesting scheme for the Bulls to consider is the possibility of playing Derrick Rose a lot at the two-guard position and keeping Kirk Hinrich on the floor at the point. Hinrich has done a great job of running the offense and Rose has always been a two-guard in a point guard's body at any rate.
Just a notion Thibbs should consider.
BULLS 70, HEAT 63 — 4:17 in 3rd
A look at how LBJ's scoring streak measures up to the iceman (C/O ESPN).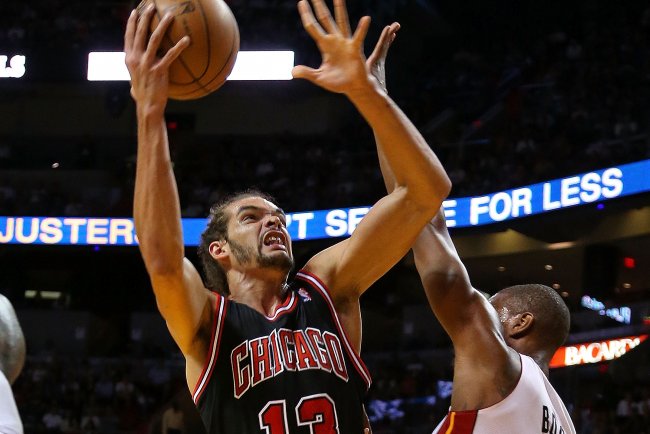 Mike Ehrmann/Getty Images
Joakim Noah has a double-double mid-way through the third quarter and just showed a nice lefty move to the basket. His offense has been greatly improved and he's second in the league for frontcourt players in assists with 4.4 per game this season.
The Bulls are slaughtering Miami on the glass and now hold a 31-14 rebounding advantage. They've also taken their largest lead of the night.
BULLS 66, MIAMI 59 — 5:40 in 3rd, Timeout in Play
The Bulls are keeping the ball moving and it's resulted in a couple of easy looks from three. Rip Hamilton nailed one from the corner and Kirk Hinrich followed it up the next possession with one from the wing.
If the Bulls keep rebounding the ball as they have and keep moving the ball, they could emerge with a victory tonight. But it's hard when the Heat's Big Three is playing this well.
BULLS 64, HEAT 59 — 6:28 in 3rd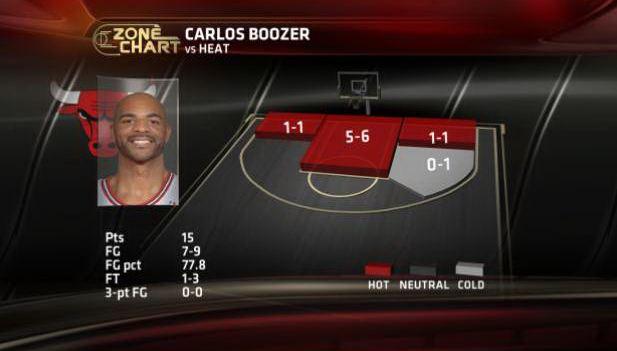 Shot chart for Carlos Boozer.
Carlos Boozer picked up right where he left off and is now 9-of-11 from the floor for 19 points, and he's also grabbed eight rebounds.
Joakim Noah had his second offensive rebound of the quarter and gets to the line for two.
BULLS 55, HEAT 52 — 9:16 in 2nd
Great Bulls ball movement on a long rebound-second chance opportunity by Joakim Noah. Noah fed Kirk Hinrich who penetrated and dumped it off to Rip Hamilton for an easy layup.
This is the ball movement that was absent in the first half when they isolated Carlos Boozer far too often (though with great results).
BULLS 53, HEAT 52 — 10:00 in 2nd
The Heat are being out-rebounded 24-12 yet find themselves down only one point.
That's what happens when you have LeBron James and Dwyane Wade. LBJ and Wade have scored 12 a piece, and Chris Bosh has scored 10, as well. The Heat's Big Three has accounted for 70 percent of the Heat's offense. That's typical, though.
The Bulls will need to get more players involved in the second half, as Carlos Boozer has been doing too much. He's forced a few difficult shots now as a result of poor Bulls movement away from the ball, and the offense still needs that injection of life that will come when they get their MVP back.
The Bulls were seven point underdogs in this game, but find themselves up at the half.
BULLS 49, HEAT 48 — Halftime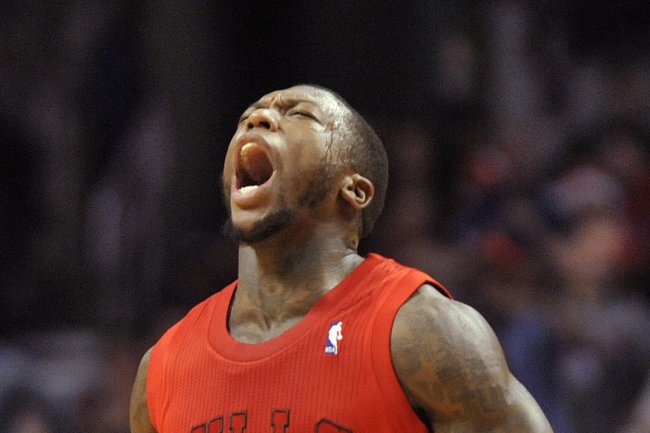 David Banks/Getty Images
One player they can always count on giving an all out effort is Nate Robinson. He's pushing the ball hard in transition, but his teammates aren't doing their part to help him. Nate the Great is always one to create offense, but the Bulls are just stale offensively.
Nate Robinson is 2-of-3 from the floor, but the Bulls are -7 in his time on the court.
HEAT 45, BULLS 42 — 2:11 in Half
Boozer is giving himself heat checks now. He just launched a heavily contested jumper which fell short, and it's not all his fault. His teammates are standing around watching him.
It's so apparent the Bulls need Derrick Rose back to make some plays.
HEAT 45, BULLS 40 — 2:56 in Half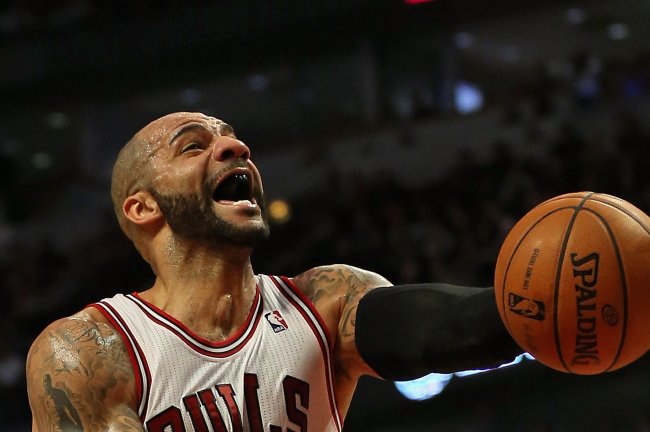 Jonathan Daniel/Getty Images
Carlos Boozer is ON FIRE. He's was 7-of-7 from the floor, but the Bulls can't find much offense outside of him. Their defense hasn't been too great either, and Dwyane Wade created an easy corner three for Battier to take the largest lead of the game (seven points), before the aforementioned Boozer shot.
Booz missed his first shot the next possession, but the mess was cleaned up by Joakim Noah, and though the Bulls are struggling they are killing the Heat on the boards 19 to 9.
HEAT 41, BULLS 34 — 5:05 in 2nd, Heat Timeout
This article is
What is the duplicate article?
Why is this article offensive?
Where is this article plagiarized from?
Why is this article poorly edited?