Colts vs. Ravens: Final Analysis and Individual Grades for Baltimore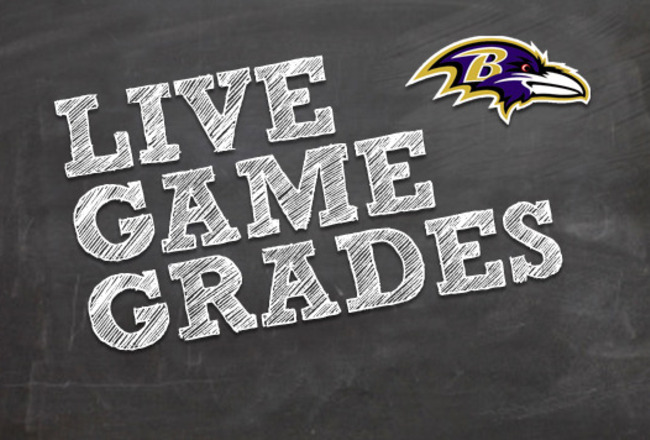 Final Score:
Bal-24 Ind-9
The Baltimore Ravens have defeated the Indianapolis Colts by a final score of 24-9. Ray Lewis's final game in Baltimore was an emotional one and that emotion translated well to the field as the Ravens pull out a 15 point lead.
They will now head to Denver for a rematch with the 13-3 Broncos. For the fifth straight year, the Ravens are going to advance to at least the divisional round. Lewis's retirement can be put off for at least one more game.
Let's take a look at the individual grades for every Ravens player during this impressive 24-9 win.
Quarterback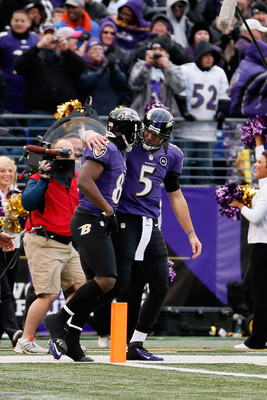 Rob Carr/Getty Images
Joe Flacco-B
Flacco finished the day with 282 passing yards and two passing touchdowns. It was one of his better postseason games despite having a slow start with some ugly throws early on.
Flacco also did a good job spreading the ball out even if it looks like Anquan Boldin dominated the stat sheet. Five receivers had 24 or more receiving yards, even though no one besides Boldin had more than two receptions.
Running Backs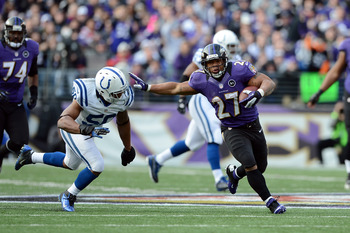 Patrick Smith/Getty Images
Ray Rice-C+
Usually Rice's stat line would result in a good grade. However his 117 total yards are overshadowed by his two fumbles.
Rice is usually a reliable back yet his two fumbles certainly are worrying and they could even lead to Pierce increasing his carries. Hopefully this was just a one-time thing because the rest of Rice's game was impressive. He had over 70 rushing yards and his 47-yard reception was instrumental in helping the Ravens score their first touchdown.
Bernard Pierce-A
Despite being a backup, Pierce had over 100 rushing yards again. He's suddenly making a case for being a feature back as he's doing a great job running between the tackles. With both Pierce and Rice running well, Flacco has a great running game to lean on this postseason.
Vonta Leach-A
On his only carry of the day, Leach scored a touchdown. He also had a moment early in the game where he looked injured but thankfully he did not have to miss any time.
Wide Receivers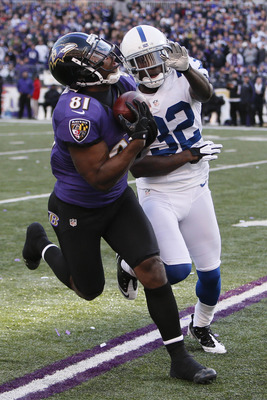 USA TODAY Sports
Anquan Boldin-A+
Absolute monster game by Boldin who put up a franchise-record 145 receiving yards. He was shut out in the first half but in the second half, he put up a catching clinic with five catches with four of them going for 18 or more yards. This is clearly the finest performance by a receiver in Ravens postseason history and also has to be one of Boldin's best individual games ever.
Torrey Smith-C
Early in the game, Smith was Flacco's most targeted receiver. Yet he did very little with his targets today only catching two balls the entire game. He still managed to put up a memorable 22-yard reception in the second quarter.
Jacoby Jones-D+
Jones still isn't nearly as reliable to get as much looks as Smith or Boldin. Though it's a little better than last year, depth is still an issue among Ravens receivers after the two starters.
Tandon Doss-F
He was targeted three times yet Doss dropped every single one of them. Two of the drops were inexcusable and it's quite possible this will be enough to send him to the bench for awhile.
Tight Ends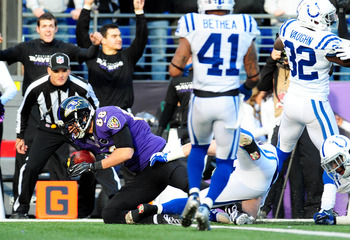 USA TODAY Sports
Dennis Pitta-B+
Even though he only had two receptions, Pitta made his presence known. He capitalized on the Colts difficulty defending tight ends by scoring a 20-yard touchdown.
Ed Dickson-C
It was a little odd seeing Dickson get the first reception of the game. He is still getting a little more integrated into the offense although there's no debating who's ahead on the depth chart here.
Offensive Line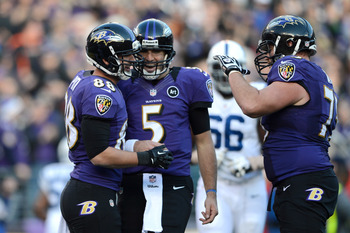 Patrick Smith/Getty Images
Michael Oher-C
Oher had another dumb false start penalty. Besides that he did a decent job winning the fight against vaunted Colts pass rushers Dwight Freeney and Robert Mathis. The pass-rushing duo only finished with one sack.
Kelechi Osemele-A-
Osemele showed his versatility as he seamlessly made the transition from right tackle to left guard. He did a good job helping to power a run game that totaled 172 rushing yards.
Matt Birk-A-
Solid performance by Birk today. He didn't make any mistakes and he also did a good job with pass coverage.
Marshal Yanda-B+
Yanda didn't show any lingering ill effects from his knee and shoulder injuries. He helped with blocking and was a big reason why the Ravens only allowed one sack all day.
Bryant McKinnie-B+
The offensive line saw some shuffling today with an injury keeping Jah Reid out of the game. McKinnie had a good game in what was his first start for the 2012 season. He mostly won the battle against Mathis and also helped to keep Freeney at bay.
Defensive Line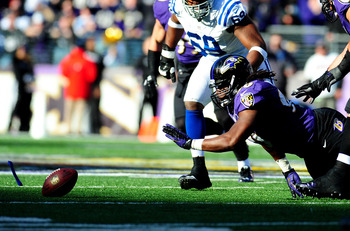 USA TODAY Sports
Pernell McPhee-A-
McPhee was actively pressuring Andrew Luck for most of the game. He scooped up Kruger's forced fumble and he finished the day with one tackle.
Arthur Jones-B-
As McPhee's backup, Jones had a solid game for the plays he was in.
Terrence Cody-C+
Cody got a penalty called on him and he had some trouble containing the Colts run game as Vick Ballard had a 91-yard game.
Ma'ake Kemoeatu-C
Kemoeatu wasn't all that much better than Cody. He only finished with one tackle and was also beat by the Colts offensive linemen.
Haloti Ngata-B+
Also coming back from injury, Ngata didn't seem to be missing a step. He had four tackles and was bringing the pressure on Luck.
Linebackers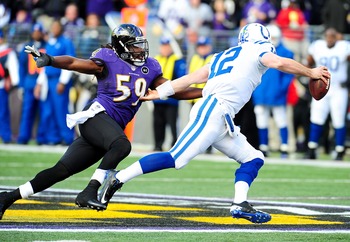 USA TODAY Sports
Terrell Suggs-B+
We finally saw a healthy-looking T-Sizzle today, something Ravens fans haven't seen nearly enough of in 2012. Suggs had one play where he almost sacked Luck, who barely got the ball away on time.
Paul Kruger-A
The Ravens top pass-rusher continues to up his free agency stock after every single game. He sacked Luck 2.5 times and could have easily had more. Kruger also forced the fumble on a crucial Colts drive that was in field goal range.
Ray Lewis-B+
Lewis was painfully close to picking up a game-changing interception. He also had some minor issues in coverage but for the most part this was a game to remember for the Hall of Famer. He led the whole team with 13 total tackles.
Dannell Ellerbe-A-
Injuries continue to limit him but Ellerbe makes an impact whenever he's on the field. He was running all over the place today and ended up getting nine tackles.
Courtney Upshaw-B
Despite drawing a dumb penalty, Upshaw mostly had a good game and he helped to bring the pressure on Luck even though he did not get a sack.
Secondary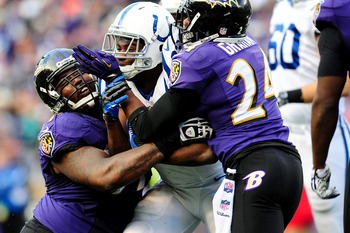 USA TODAY Sports
Carey Williams-C
Luck frequently picked on Williams throughout the day and both T.Y. Hilton and Reggie Wayne were able to get some big receptions against him. Thankfully Williams typically collected the tackle after allowing the catch and he finished with 10 of those for the day. He also get a game-icing interception, thanks in large part to an impressive deflection by Graham.
Corey Graham-B+
What a game for Graham. He got seven tackles, tag-teamed with Kruger for a sack, and he deflected the interception to Williams.
Chykie Brown-C+
Brown still looks to be the weakest link in the Ravens secondary. He had another dumb penalty and was beat by the receivers on a couple plays.
Ed Reed-B
Like Lewis, Reed also messed up on what should have been an interception. Besides that though, he played well with five tackles and some of his trademark hard-hits.
Bernard Pollard-B
The defense welcomed Pollard back as he always plays with an extreme intensity.That hurt him later though when he was flagged twice in three plays, once for unnecessary roughness and than once for taunting.
James Ihedigbo-C+
With Pollard still not 100 percent, Ihedigbo played some snaps. He did all right in limited duty, finishing with one tackle.
Special Teams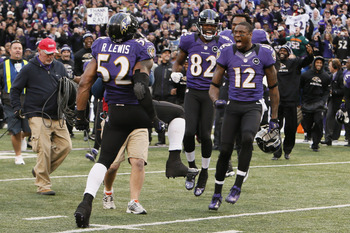 USA TODAY Sports
Justin Tucker-B
Tucker wasn't asked to do much as the Ravens were successful for the most part when in Colts territory. He did convert on his one field goal attempt, which was almost a given since it was from only 23 yards out.
Sam Koch-B-
Sort of an off day for Koch. He averaged 33 yards on his four punts, though one did go for 60 yards.
Jacoby Jones-B-
The day started off fairly promising for Jones and he built on it with returns of greater than 30 yards in both kick returns and punt returns.
Coaching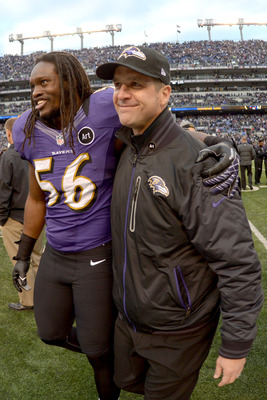 USA TODAY Sports
John Harbaugh-B
Harbaugh has now got his team to the playoffs five straight years and amazingly they have won one game every year. Even with the distractions of both Lewis's retirement and Chuck Pagano's inspirational story, Harbaugh made sure his troops were focused. His success continues to show that he's one of the best coaches in the game today.
Jim Caldwell-B+
Even though Boldin was shut out in the first half, Caldwell brilliantly called his name multiple times in the second half. Boldin went on to have a huge game and Caldwell deserves credit for this, as well as giving Pierce the ball after Rice's fumbling problems.
Dean Pees-A
No touchdowns allowed in this game. Dean Pees more than held his own in a game against the Ravens former defensive coordinator. Kruger was unleashed today and Lewis's emotional return had the Ravens playing inspired, hard-nosed defensive football.
Keep Reading

Baltimore Ravens: Like this team?