Oklahoma Football: Grading All 22 Starters from the Cotton Bowl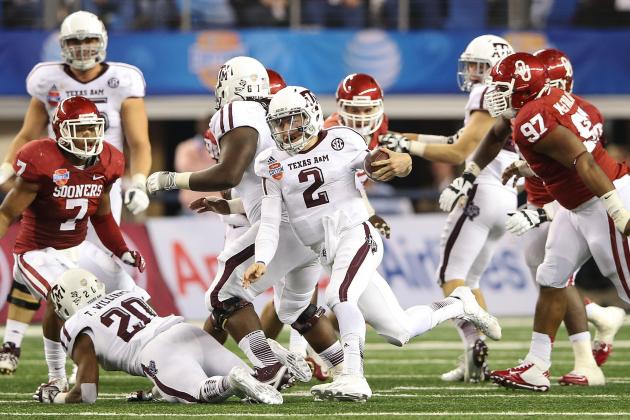 USA TODAY Sports
Johnny Manziel annihilated the Sooner defense en route to a lopsided victory.
After a 41-13 dismantling at the hands of Texas A&M in the Cotton Bowl, there isn't much praise to be doled out for Oklahoma football.
Rather, Johnny Manziel is getting heaps of well-earned praise after scorching the Sooners for a record 516 total yards.
OU head coach Bob Stoops was spot-on when he said, "Johnny Manziel is everything he was billed to be."
The Aggies dominated the Sooners in the second half. OU was incapable of even slowing down Manziel and his offense.
The Oklahoma offense didn't have much to say for itself either. It failed to score a point in the second half and was outgained 366-118 in yardage in that span.
Here's a look at the grades for the OU starters in the Cotton Bowl loss. Using a standard A-F scale, the evaluations are given using the following standards:
A: Exceeding Expectations
B: Meeting expectations
C: Slightly below expectations
D: Well below expectations
F: Abysmal
Begin Slideshow

»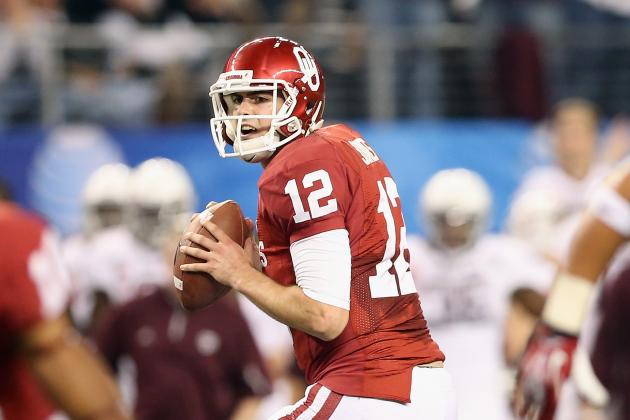 Ronald Martinez/Getty Images
Landry Jones finished his Sooner career with an underwhelming performance against Texas A&M.
Grade: C-
Landry Jones' collegiate career was bookended by losses in Arlington, Texas. Of all his losses as a Sooner, the takedown at the hands of Texas A&M has to be especially painful.
In a highly touted matchup against the No. 9 Aggies, the prolific senior was surprisingly flat.
Jones finished 35-of-48 for 278 yards with one touchdown and an interception. His numbers weren't bad, as they rarely are. But the senior seemed to lack the fiery passion needed to win big games.
It was natural to expect an abundance of offense in this matchup. The surprising part was how small a share of that offense came from the Oklahoma side.
Granted, the first half was encouraging. The Sooners put together drives of 69, 87 and 83 yards en route to a 14-13 halftime deficit. Apart from an interception, Jones was effective.
But the second half was an entirely different story.
The Sooners failed to score a single point. Their longest drive was 32 yards, and it was the final drive of the game, when there was no doubt about the final outcome.
Part of the blame falls on Jones' shoulders. Coaching is a definite factor as well.
Nevertheless, It was a disappointing and puzzling finish to a decorated career for Landry Jones. The best thing for him is to simply put this loss behind him and move on.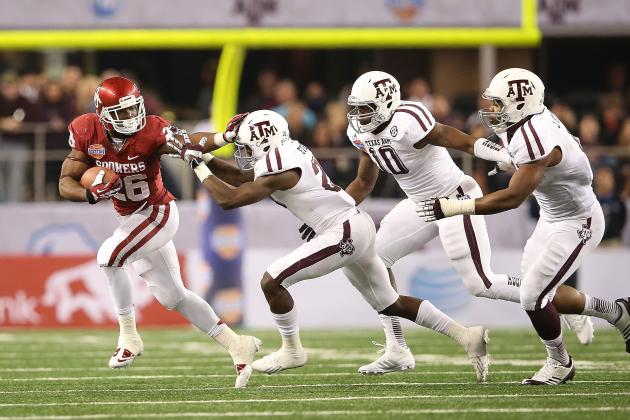 USA TODAY Sports
The Aggie defense hounded Damien Williams and stifled the Sooner rushing attack.
Grade: C
Like the Oklahoma offense as a whole, Damien Williams had a quiet night.
The junior tallied a mere 41 yards on 16 carries along with 19 yards on five catches.
Despite his modest numbers, it's hard to rag on the junior tailback. The Sooner offense was forced to play catch-up for virtually the entire second half. This made the running game essentially a non-factor.
Backup running back Brennan Clay ended up leading the Sooners with 44 rushing yards on 10 carries. Collectively, OU generated 123 yards on the ground.
It would've been nice to see more production from the ground game, but that wasn't the biggest issue. The real mystery was the lack of passing output in the second half.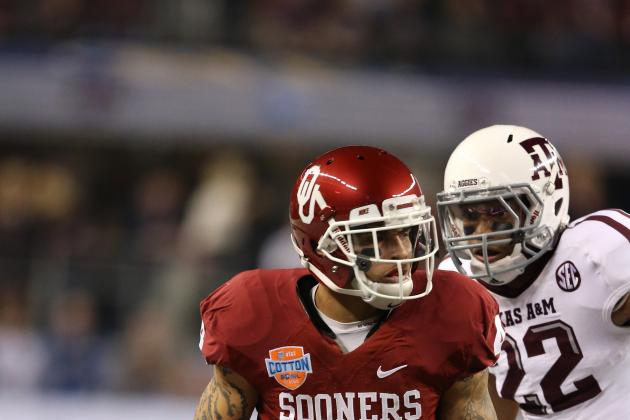 USA TODAY Sports
Kenny Stills was a virtual ghost in the second half of the Cotton Bowl.
Stills: C
Kenny Stills seemed to be on track for a great game in the first half. He hauled in six passes for 52 yards and was the most effective outlet for Landry Jones.
Stills did hurt his grade by dropping a potential touchdown early in the second quarter (the drive ended in a field goal).
The junior was omnipresent until halftime. The second half couldn't have been a starker contrast. The only contributions he made were a 15-yard catch and a pass-interference penalty.
Granted, the interference call was a poor one. But where was the junior wideout when the Sooners needed him most? Whatever defensive adjustments the Aggies made at halftime worked marvelously.
Saunders: C
Despite failing to reach the end zone, Jalen Saunders played a fairly solid game. He caught nine passes for 63 yards and made several key blocks.
Also of note, the Aggies stuffed Saunders in special teams. Out of four Texas A&M punts, Saunders returned only one, losing a yard.
Brown: B+
The lone Sooner touchdown went to Justin Brown just before halftime. At the time, that seemed to be a pivotal score, bringing the Sooners within one point of the Aggies.
But, like the rest of the Oklahoma offense, Brown was under the radar in the second half. His most notable catch was ultimately ruled incomplete due to illegal touching.
The Penn State transfer finished his last game with seven catches for 57 yards and a touchdown.
Shepard: B-
Four catches for 43 yards is nothing exceptional, but Sterling Shepard warrants optimism. The freshman turned in a promising 2012 debut with 45 catches for 621 yards and three touchdowns.
His Cotton Bowl performance earns him a "B-" because he almost met expectations. Considering his youth and the talent at wide receiver, four catches is a commendable effort.
The bottom line, though, is the OU offense was woeful against Texas A&M. Zero points in the second half is inexcusable. Shepard and his fellow receivers share some of the blame for this.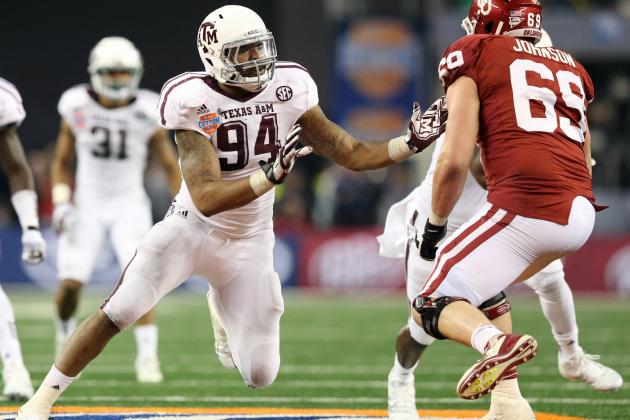 USA TODAY Sports
For what it's worth, Lane Johnson contained Damontre Moore.
Grade: B
It's small consolation, but the offensive line deserves some credit for its composure.
Texas A&M only notched one sack in the entire game. One of the keys to victory for OU was protecting Landry Jones, and the line did this admirably.
The line did allow three quarterback hurries, however. Luckily, Jones dealt with them effectively.
Left tackle Lane Johnson gets extra props. He held NFL-bound Damontre Moore, who tallied 12.5 sacks this season, to zero takedowns. Moore was all-SEC this season and is poised for a bright future.
One area the O-line was lacking was run-blocking. The Aggies held the Sooners to a modest 123 yards rushing.
Overall, one has to admire the perseverance of the Sooner front this season. The unit only allowed 15 sacks in 13 games and bounced back from numerous injuries.
Sadly, that hard work didn't pay off in the postseason.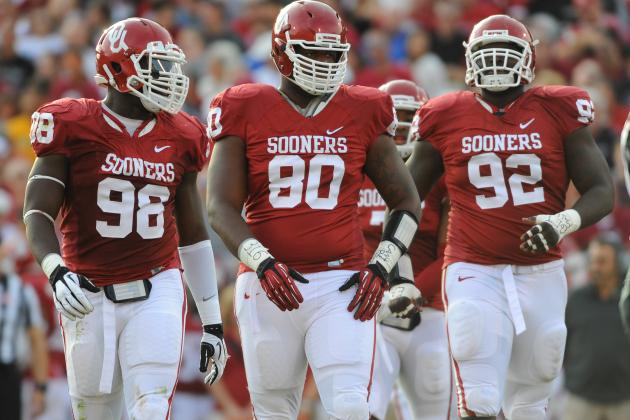 Denny Medley-USA TODAY Sports
Chuka Ndulue (98) and Co. had their hands full against Johnny Manziel.
Grade: C-
The Oklahoma defense collectively failed to do its job Saturday night.
The defensive line was faced with the critical job of pressuring and containing Johnny Manziel. Based on his performance this season, Chuka Ndulue seemed capable of helping to do this.
But the sophomore end only mustered two tackles and failed to register a sack. More importantly, he couldn't keep the Heisman winner from getting outside and shredding the defense. Manziel ran for a record 229 yards and two touchdowns.
Geneo Grissom was similarly overmatched. In his first start of the season, the sophomore only accounted for one tackle.
One must temper the criticism, however. The D-line made an admirable effort. It also showed flashes of success in the first half at hemming in Manziel.
The lack of OU offense in the second half ultimately put an unbearable burden on the D-line, and Manziel and Co. took advantage of their opportunities.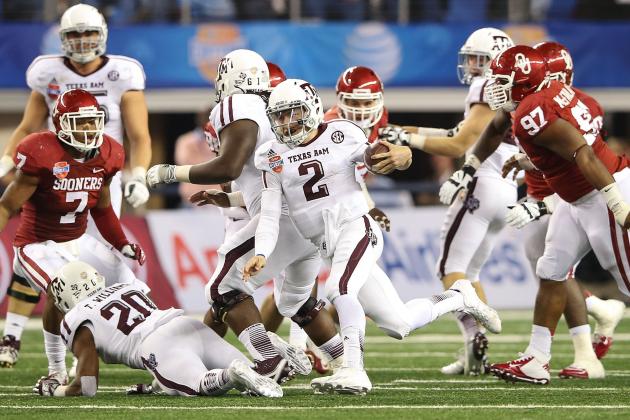 USA TODAY Sports
Johnny Manziel was essentially unstoppable for the Sooners.
Grade: C-
Likewise, the defensive tackles underperformed. Casey Walker and David King weren't able to penetrate the Aggie front and harass Manziel.
Both finished with two tackles and a pass broken up, but they were no match for Johnny Football's athleticism.
Also, Manziel faced very little pressure from the D-line in general. He wasn't sacked and had plenty of time to sit in the pocket.
Considering Manziel's talents as a runner, this almost seemed preferable to forcing him outside. But he made the Sooners pay. The freshman was able to connect with his wideouts for almost 300 yards.
Context is important. Starting tackle Stacy McGee was unavailable. The Aggies feature two stud linemen in Luke Joeckel and Jake Matthews. Manziel has made defensive lines look silly all season.
All things considered, it's fair to say Walker and King underachieved. But give loads of credit to their offensive counterparts.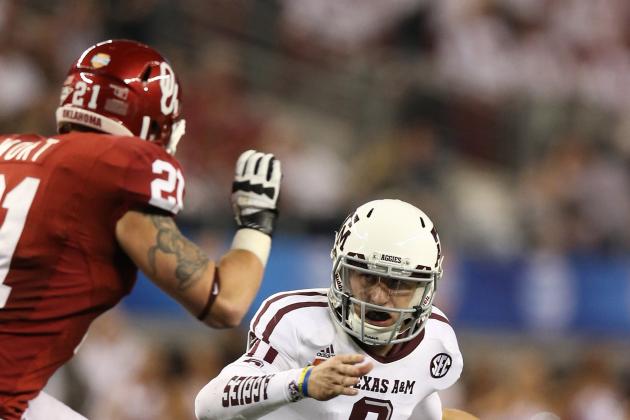 USA TODAY Sports
Tom Wort couldn't overcome Johnny Manziel's playmaking ability.
Grade: D
Tom Wort and Corey Nelson were basically invisible in Cowboys Stadium; they combined for three tackles and one tackle for loss.
Of course, high praise has to go to Manziel for his success. He is a uniquely gifted runner with keen instincts. But the linebacking unit provided little resistance.
When Manziel broke past the defensive line, it looked like a crater was substituting for the Sooner 'backers.
One of the reasons for the Sooners weak run defense this season is a lack of presence at linebacker. OU ranked 72nd in yards allowed entering the Cotton Bowl. Once again, Manziel exploited the suspect linebacking corps.
The Aggie pass game similarly profited from this lack of resistance. Ryan Swope and Co. complemented Manziel's rush attack.
Defense is a team effort, but the second level of the defense was woeful.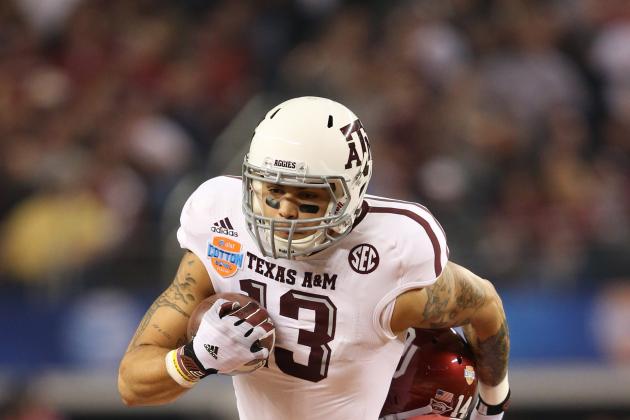 USA TODAY Sports
Aaron Colvin led the Sooners with nine tackles against the Aggies.
Grade: B-
Statistically, Johnny Manziel's passing output was on par with his season averages.
He threw for 287 yards and two touchdowns against Oklahoma. In his 12 games prior to the Cotton Bowl, he averaged about 285 yards and two touchdowns per game. (This total doesn't account for the 20-yard reverse pass by Kenric McNeal).
Aaron Colvin accounted for a team-high nine tackles. Apart from that, nobody in this group stood out.
The pass defense could've been much worse, though. Manziel had plenty of time to throw, making pass coverage very difficult.
The Heisman winner's running potential made Colvin and Co.'s duties doubly challenging. Clearly, the defense in general was on its heels all night.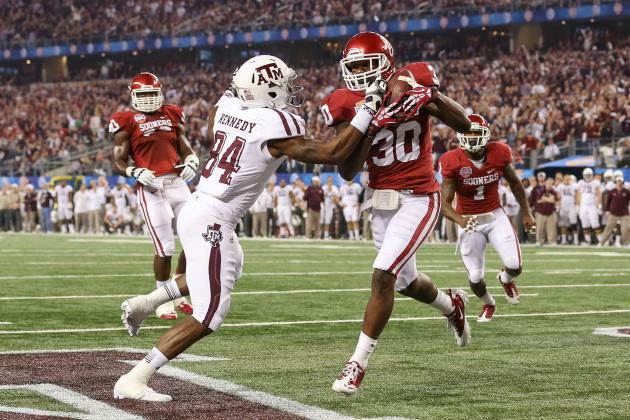 USA TODAY Sports
Javon Harris' interception was the defensive play of the game for Oklahoma.
Grade: B
Strong safety Javon Harris was the player of the game for OU.
The senior made nine tackles, a tackle for loss and a pass broken up. He also picked off a pass in the end zone that figured to be a key play at the time.
At free safety, Tony Jefferson was a little underwhelming. He finished with six tackles but didn't have much impact.
Broadly, the Sooner D needed to physically torment Manziel to have any chance to win the game. Jefferson and Harris, two hard hitters, were prime candidates to lead the charge.
But Johnny Manziel humiliated the Sooner secondary with his runs. It's somewhat surprising we didn't see any memorable Jefferson-Manziel collisions.
Don't be surprised to see them meet again in the NFL.