Sting Returns and the Top 6 Things We Learned from Jan. 3 TNA Impact!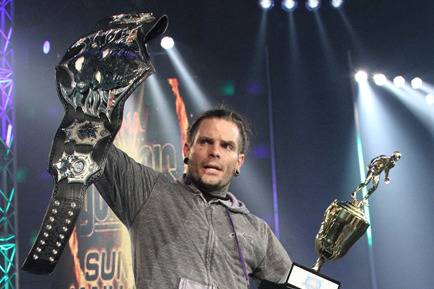 Photo courtesy of Impactwrestling.com
The first Impact! of the year is behind us and we have plenty to talk about.
First things first, Thursday was a very good show in my approximation. This is the type of show I've come to expect from Impact. There were great wrestling matches with incredible spots and action, funny segments, powerful figures and heroic warriors that put their all into the craft.
This episode, we saw a great solo match between Frankie Kazarian and James Storm; a botch-filled match between TNA rookie Christian York and veteran Kid Kash; progression in the Matt Morgan character, as well as tag team action with the champs; and what was possibly the best women's wrestling match, from any promotion, in quite some time.
We also saw the continuation of what has got to be the most important storyline in the career of Bully Ray, as well as a dramatic main event cage match that symbolizes everything that TNA the wrestling promotion stands for.
I won't say this was a perfect show. There were a few things that irked me (lol@Sting just walking out like, "Oh, was that my cue?"). So I give this episode a solid B +. It was way better than last week's, but falls short of some of the Impact! episodes we saw over TNA's summer of 2012 (as it came to be known).
I won't bore you with too many specifics, let's just jump into this.
Begin Slideshow

»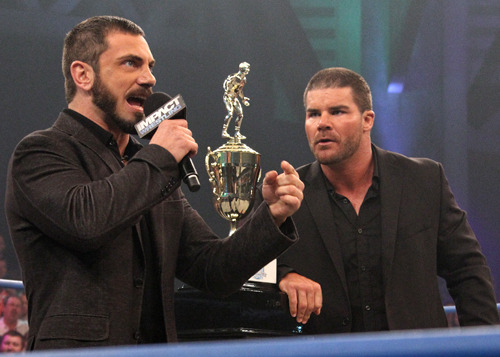 Photo courtesy of Impactwrestling.com.
Jeff Hardy has got to be the most bothersome World Champion for a wrestling promotion's creative team to handle.
For one, he's nowhere near as popular as a John Cena or CM Punk, but he's got similar name recognition among core and casual wrestling fans. He doesn't talk that well and yet he's hugely popular. He's a decent enough worker, but he's also a bit of a spot monkey.
What do you do with a guy who moves company products like t-shirts, toys and music, is incredibly popular, gets huge pops every time he steps into the ring, but can't do a promo to save his life? I have never seen Jeff Hardy kill a promo, by himself and with no help.
He's great in the ring, but has the personality of a brick. On top of that, he's kind of weird (insert Jeff Hardy Voice Over about not being understood here; mention creatures).
Thursday showed that TNA feels that Jeff Hardy is like Tim Burton's Batman: the best thing about him are his villains. A night that could've been about Hardy's accomplishments as champion in the previous year and his winning the TNA 2012 Wrestler of the Year Award, instead turned into the Austin Aries and Bobby Roode show.
Aries and Roode are two of the best heels in wrestling right now, and to have them in the same ring will always be gold. Does TNA have so little faith in Jeff Hardy that they have to prop him up on both sides by two extreme talents, just to feel comfortable main-eventing him?
Photo courtesy of Impactwrestling.com
Christian York is not an X-Division wrestler.
There, I said it.
Now, I'm not saying he's not a good wrestler. He proved against Jeff Hardy, Bobby Roode and Rob Van Dam that he can go with the best of them.
But Jeff Hardy and RVD's style are spot heavy, and Roode is a brawler who moves at a deliberate pace. Kid Kash was the first test for York to see if he's capable of moving at a fast, X-Division pace. The answer is a sad "no."
York looked horrible in his match with Kash.
He missed several spots, seemed slow and inflexible; his hand spring off the ropes looked like it was his first; and he telegraphed every single move. York is simply too big and muscular to move at an average X-Division pace, or at least the pace fans expect.
This doesn't have to be a bad thing. York just may not be built for the X Division, this is why there is a Television Title belt. In fact, York seems perfectly fit for TNA's "first level" belt: he's powerful in an old-school way, he's young and he's great to watch...when he's in his element.
Based on what we saw Thursday, the X Division is not York's element.
Kenny King, on the other hand...
UPDATE: According to his Twitter, Christian York was battling the flu during his Jan. 3 match with Kid Kash. If this is truly the case then that would explain his performance, which was slower than usual. Here's hoping he feels better soon as TNA fans are eagerly awaiting his coming match with the winner of next week's match between Kenny King and Zema Ion.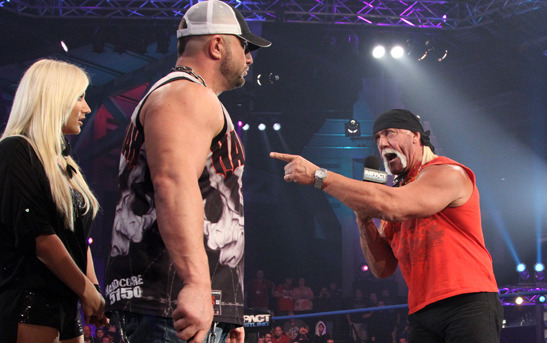 Photo courtesy of Impactwrestling.com
TNA is in love with Bully Ray.
I know that's hard to believe with him buried in a storyline that the average Internet wrestling fan doesn't care about.
But look at this objectively. There are two different types of storylines TNA runs, the main storylines (Aces and Eights, Bully and Brooke) and the alternating storylines that progress every other week (Matt Morgan, Kenny King's heel turn one week; and Tara's championship defense and a Television title defense the other).
Not only was Bully given a main storyline, but he was given the second most important storyline of the promotion. This means that Bully is on television more than he has ever been. The company even gave Bully his own commercial advertising the pay-per-view Genesis.
This all means that TNA is investing heavy into Bully Ray, and that should be good news for his fans.
The only thing causing people to halt their celebration, is the fact that Bully appears stuck and stagnant in a soap opera-esque love story with Brooke Hogan.
First and foremost, and I don't care if I get flamed for this, Brooke is hot.
So now that's out of the way, let's look at this storyline seriously.
Despite what anyone thinks the angle has turned into, given that Bully is involved, there are only two ways it can end: one, Bully finally receives Hulk Hogan's approval and gets the rub of a lifetime; or, he turns on Hulk and maybe even Brooke, and instantly becomes the most hated heel in TNA history.
Either way, Bully is going to be a mainstay in TNA.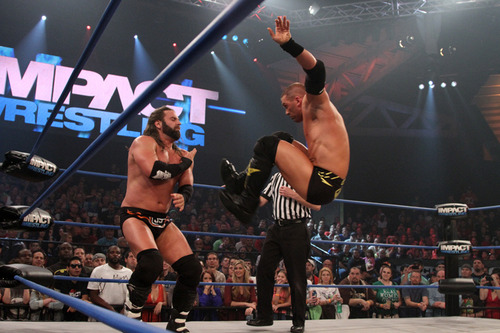 Photo courtesy of Impactwrestling.com
Thursday saw James Storm, after being offended by another hilarious promo by Bad Influence, challenge the group to a one-on-one match between himself and one of the group's members.
Eventually, it would prove to be a match between Storm and Frankie Kazarian. Just as always, the match was fast paced, entertaining and indicative of everything Bad Influence has bought to the table since they've become a group.
Something needs to be done with the group on a tag team level, and soon. Obviously with the champs currently occupied with Matt Morgan and Joey Ryan (a group I personally choose to call Team Size Matters—take note, TNA creative), everyone's favorite tag team will have to find something else to do.
This is where TNA's shallow Tag Team Division begins to show and have negative effects. Aside from Morgan and Ryan, who else is there? Maybe Garett Bischoff and Wes Brisco, but they're not officially a tag team. (Take note, TNA creative, they totally should be. I call them Team Sons of Anarchy!)
Having Bad Influence feud against a rookie team like SOA (*ahem*) while the champs are busy serves the greater purpose of seasoning the rookies and giving Daniels and Kaz something to do. If not, maybe the duo can harass someone like Storm (due to his previous relationship with AJ Styles) or Bully (because this whole Brooke thing is funny) until things heat up in the Tag Division.
Either way, these two should remain on television.
Last week I said the Knockouts match was great, this week it was incredible.
Rarely do you see women put everything on the line for a free-television episode. Still, the Knockouts proved once and for all that other promotions have a long way to go before measuring up to what TNA does with its female wrestlers.
Thursday, Gail Kim and Tara battled for 13 minutes against Miss Tessmacher and Mickie James.
I won't say much other than Gail does a Ziggler-esque level of selling, to the point I thought she literally knocked herself out by throwing herself into the turnbuckle, twice.
Tessmacher genuinely gave everyone a scare when Tara came down on her head after a flipping leg drop botch. But being the warrior that she is, Brooke still managed to make it to her spot where she leapt off the top turnbuckle, onto Tara and Jesse on the floor below.
I haven't been this impressed by women wrestlers in a very long time.
In the end, Tessmacher and James picked up the win, making the title picture all the more murky. I wouldn't have it any other way.
Photo courtesy of Impactwrestling.com
If there was ever a match that perfectly symbolized what TNA Wrestling was, or would be about, this would be it.
Thursday's main event cage match had drama, wrestling, intrigue and blood—lots of blood. Samoa Joe was made to look strong, standing up to two members of the Aces and Eights by himself, before ultimately being overwhelmed; Devon was made to look even more loathsome, to the point he's barely recognizable anymore; and Kurt Angle took a backseat until the very end where he saved the day, cleaning house, getting the win and cut open in the process.
This would represent the good of TNA wrestling.
Now onto the bad.
After the victory, and with Angle threatening to unmask one member, the cage was suddenly filled with reinforcements for the gang.
That's when Sting appeared. He just...appeared.
Like seriously, he simply walked down the ramp (no, he didn't run) and started laying bat to Aces and Eights members. Anticlimatic doesn't quite fit, but it'll do.
This is perfectly indicative of how TNA works: no matter how good the wrestling is, there's always something small that seems so confusingly silly that makes you grab your head in an eternal facepalm. TNA had been building up the return of Sting for weeks, and he just...walks into the cage; no lights, no fanfare, no nothing.
All in all, it was still an entertaining match, and there was another reveal: Mike Knox. (Anticlimatic?)
I personally like how TNA references other promotions when introducing wrestlers. I imagine wrestling to be like any other sport, when an athlete is traded from team to team, his past is inevitably bought up. It keeps things in context.
So far, TNA hasn't thrown any unnecessary curveballs and the build to Genesis is pretty decent. They are doing everything they are supposed to and, aside from a few weird moments, haven't really gone off course too much.
How do you feel about the first Impact! of the year? Sound off in the comments section and as always, thanks for reading.