Indianapolis Colts vs Baltimore Ravens: Live Score, Highlights and Analysis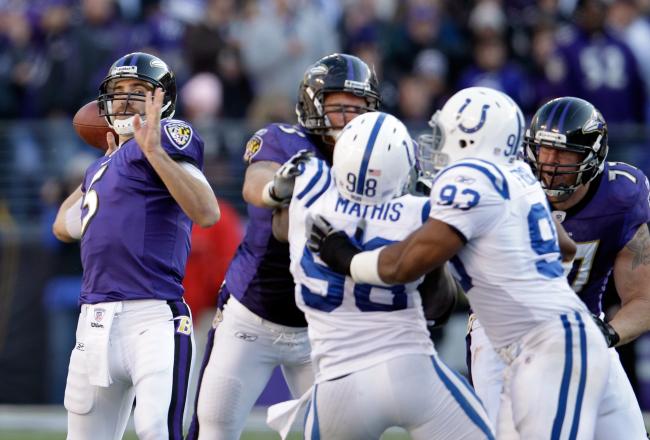 Rob Carr/Getty Images
The Baltimore Ravens have defeated the Indianapolis Colts 24-9 in an emotional game.
The storylines were never more exciting for this matchup. Chuck Pagano was back on the sideline after winning his battle with cancer, while every game Ray Lewis plays from here on out could be his last.
Give credit to the Colts for a great season. They went from the NFL's worst team to one of its best. Chuck Pagano and Andrew Luck have this team looking like a real force.
Today was the Ravens' day, though. With a hardnosed defensive effort and some big passing plays, the Ravens were able to pull away in the second half.
Joe Flacco had some great throws, but Anquan Boldin was the key cog on offense. He was amazing on multiple acrobatic catches. Bernard Pierce also had a big day on the ground.
The Ravens are going to head to Denver to take on the Broncos next week.
Let's hand out some game balls.
Offense: Anquan Boldin (5 catches, 145 yards, 1 touchdown)
No less than three of Anquan Boldin's catches were highlight reel, acrobatic grabs. Simply put, without Boldin's contributions today, the Ravens do not win. He keyed the passing game, he keyed the big plays and he get momentum on the Ravens' side.
Defense: Paul Kruger (4 tackles, 2.5 sacks, 1 FF)
Today was Ray Lewis's day, but Kruger was the defender who keyed this win. Kruger seemingly got pressure on every play, and it paid off with 2.5 sacks and a forced fumble. The future free-agent just earned himself a lot of money.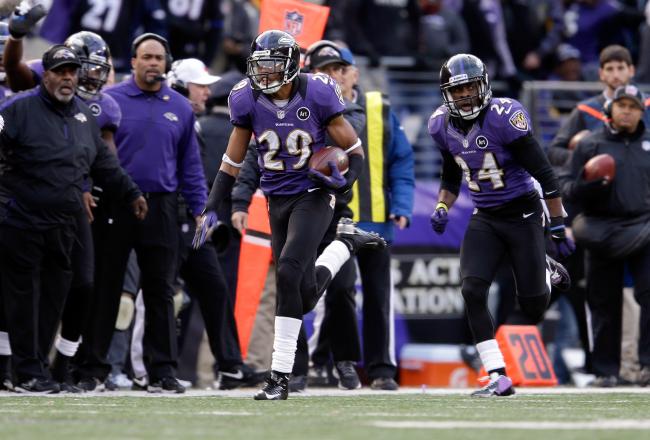 Count Maryland Governor Martin O'Malley among those who are impressed with the Ravens:
Thank you, Ray. On to Denver. Go Ravens!

— Martin O'Malley (@GovernorOMalley) January 6, 2013
Pete Prisco of CBS, though, is not impressed:
Broncos beat the Ravens by 15

— Pete Prisco (@PriscoCBS) January 6, 2013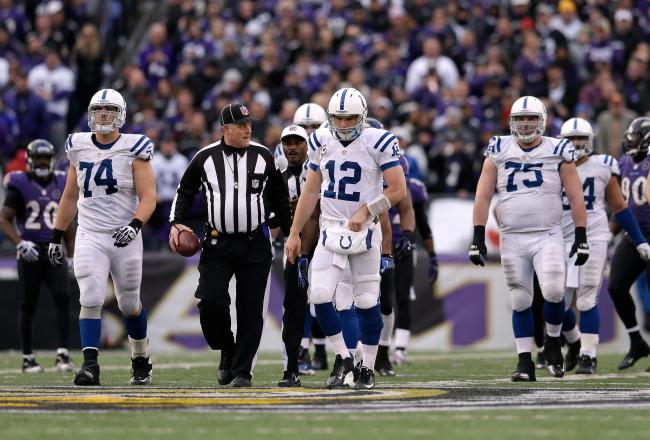 Final: Ravens 24, Colts 9
Let's give some credit to the Colts. They are a tough football team that is never out of a game. Colts fans have plenty of reason for pride and optimism:
Former NFL offensive lineman Damien Woody tweets:
Congrats to the Indianapolis Colts....great season & even more success lies ahead

— Damien Woody (@damienwoody) January 6, 2013
ESPN Boston's Field Yates notes:
January 6th 2012: Colts have no President, GM, healthy starting QB, & head coach is 11 days shy of being fired. Quite a 365 days.

— Field Yates (@FieldYates) January 6, 2013
1:41 in Fourth Quarter: What a run on third down by Bernard Pierce! He has come up big in big situations today, and that run will seal the game. He broke tackles and get outside to pick up the first.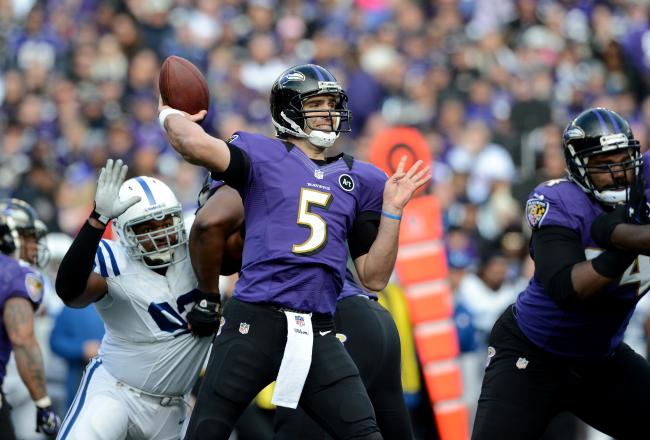 2:00 in Fourth Quarter: A couple of milestones in this game. Andrew Luck sets the rookie record for pass attempts in a playoff game, and Joe Flacco becomes the first quarterback in NFL history to win a playoff game in each of his first five years.
2:03 in Fourth Quarter: Interesting that Bernard Pierce will be taking the carries at the end of the game. Ray Rice's two fumbles had an impact on that decision, I'm sure.
2:10 in Fourth Quarter: Yet another drop will send the Colts home, more likely than not.
The Colts are going to lose this game, but make no mistake. Andrew Luck has been amazing, and this was closer than the score suggests.
3:17 in Fourth Quarter: After two straight 15-yard penalties on Bernard Pollard, the Ravens fans are letting their frustrations out with a profane chant. Always a great group of fans there in Baltimore.
3:56 in Fourth Quarter: The Colts are still in this after the Ravens go three-and-out. Great defensive effort by the Colts' linebackers, who stuffed a Ray Rice run on second-down and smothered a third-down pass attempt.
5:24 in Fourth Quarter: The Ravens defense comes up huge on fourth down! Corey Graham knocks the ball and Cary Williams picks off the pass and takes it past midfield.
The Ravens had been getting beaten on those short throws all game, and they sold out to stop it there. It worked.
6:35 in Fourth Quarter: The Donnie Avery catch was ruled incomplete, and the Colts are challenging.
I think the referees got it right: the act of the catch was not complete when the ball squirted out.
That having been said, it's a stupid rule. Anyone with eyes can see that Avery caught the ball, then hit the ground. He should have been down right there, but the NFL rules err on the side of calling that incomplete. Calvin Johnson made the rule famous, and the Ravens' own Jacoby Jones also got robbed by the rule.
The competition committee really needs to take a look at what is and what is not a catch.
8:15 in Fourth Quarter: Dannell Ellerbe is down for the Ravens. Updates to come.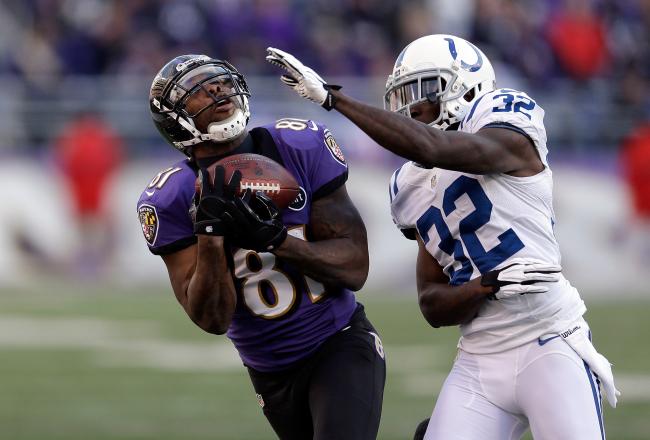 9:14 in Fourth Quarter: Here's another crazy stat: Anquan Boldin has five catches for 145 yards. All in the second-half. Insane.
9:14 in Fourth Quarter: Touchdown Ravens! Anquan Boldin with another highlight reel catch! With Darius Butler's hand in the way, Boldin locked down on the ball and came down with the touchdown!
Give Joe Flacco some credit. He saw the single coverage and trusted Boldin to make the play. Boldin has been rewarding that trust all game long. This is the best Boldin has ever looked in a Ravens' jersey.
11:44 in Fourth Quarter: The Vinateiri kick is no good! The Ravens are breathing a sigh of relief after a terrible sequence of events that saw a Ray Rice fumble and some big plays from the Colts offense.
Poor Andrew Luck is being victimized by poor blocking and drops. He's looked incredible, but he can't do it alone.
12:52 in Fourth Quarter: I think Matt Vensel of The Baltimore Sun hit the nail on the head here:
Rice was as emotional than anyone this week when he heard about Ray Lewis retiring. Is he distracted? Putting too much pressure on himself?

— Matt Vensel (@mattvensel) January 6, 2013
13:12 in Fourth Quarter: Chuck Pagano must have said something to the Colts. They are playing like gangbusters to start the quarter. The offensive line is dominating, and they forced another fumble on Rice.
Examining the Rice fumble, he was definitely holding the ball away from his body. Rice rarely makes that mistake, but he's done it twice today. Inexcusable.
14:15 in Fourth Quarter: Fumble! Ray Rice's second of the game! What a break for the Colts, who now have a chance to tie this game.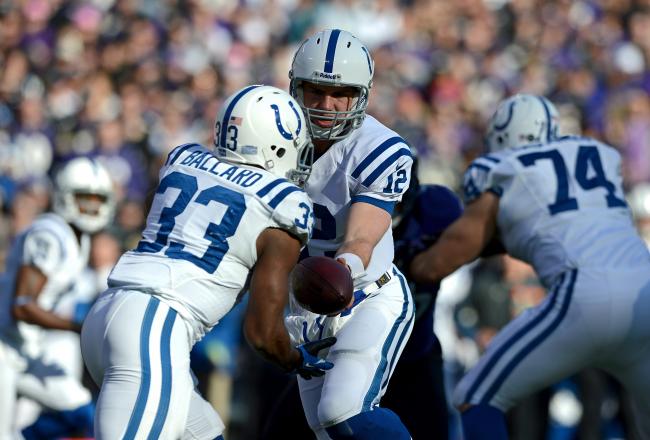 End of Third Quarter: Zriebec is right to be concerned. The Ravens have blown some fourth-quarter leads this year (Pittsburgh, Washington), and Andrew Luck is the new captain comeback. This will be an interesting quarter.
End of Third Quarter: We'll have a one-score game heading into the fourth quarter. Jeff Zriebec of The Baltimore Sun is concerned for the Ravens:
That was a 15-play, 72-yard drive in 7:46 in Colts. Luck has played his best ball in the fourth quarter. #Ravens need to answer those pts.

— Jeff Zrebiec (@jeffzrebiecsun) January 6, 2013
:40 in Third Quarter: That was a great drive by the Colts. The way they worked the ball down the field methodically was textbook. They attacked the Ravens where they are vulnerable, with screens, runs and passes over the middle of the field.
The Ravens eventually got the stop, but we now have a one score game after the Vinatieri field goal!
8:26 in Third Quarter: Crazy stat: Joe Flacco has compeleted just nine passes. Those passes have gone for 234 yards and a touchdown. The Ravens are attacking deep, and it's starting to work.
8:26 in Third Quarter: Great effort by Dennis Pitta for the touchdown! Joe Flacco was forced out of the pocket almost immediately, but he managed to escape and get a quick throw out to Pitta. With a hard-charging run after the catch, Pitta was able to punch the ball into the endzone.
That was a great drive for the Ravens, who needed to see Flacco carry the offense. He did so in style, with several great passes and excellent pocket presence. Where was this guy in the first half?
8:56 in Third Quarter: What a catch by Anquan Boldin! He got a step on Cassius Vaughn and Flacco threw a perfect ball. The Ravens are now in the redzone.
Boldin now has 106 yards, all in the third quarter.
9:57 in Third Quarter: The Colts once again had a promising drive going, but Paul Kruger and the Ravens' pass-rush put the clamps on it.
Kruger is having a whale of a game: 2.5 sacks, a forced fumble and a pass defended. He is a free agent at the end of the season, and he's making himself some big money with this performance.
On third down, Kruger simply got the jump on the tackle, getting behind him almost immediately and dropping Luck, who had to reel in a high snap. Kruger is very quick off the line.
This article is
What is the duplicate article?
Why is this article offensive?
Where is this article plagiarized from?
Why is this article poorly edited?