NFL Mock Draft 2013: 4 Teams Who Need to Trade Up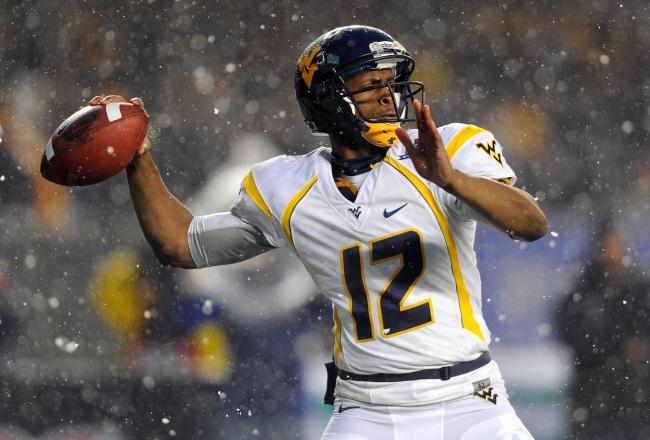 Rich Barnes-USA TODAY Sports
The NFL draft presents teams with the opportunity to greatly improve with the addition of certain players. For some desperate teams, it is important to do whatever it takes to get the right player.
Last season, the Washington Redskins traded away future picks in order to select Robert Griffin III with the second overall pick. After the rookie led his team to the playoffs in his first year, there are likely no regrets.
There are a number of potential trades for the 2013 draft as well, although they would likely only come out as the draft starts to play out.
Here is the latest mock draft, complete with italicized teams that traded up for better picks.
1. Kansas City Chiefs: Geno Smith, QB, West Virginia
Geno Smith might not be at the level of the quarterbacks from the 2012 class, but he is the best available and the Chiefs need a quarterback.
2. Arizona Cardinals (Trade with Jacksonville Jaguars): Luke Joeckel, OT, Texas A&M
Luke Joeckel NFL Player Comparison
After allowing more sacks than anyone in football last season, it is important for the Cardinals to secure a franchise left tackle. This is even more important than grabbing a quarterback of the future.
Luke Joeckel is by far the best player available after an All-American season protecting Heisman winner Johnny Manziel.
While moving up five spots would likely cost the team at least a few picks if not a future first-round pick, it would be worth it to fix arguably the worst offensive line in football.
In addition, the Jaguars have plenty of needs on both sides of the ball, so it can use the additional picks to further help the team.
3. Oakland Raiders: Star Lotulelei, DT, Utah
The Raiders had some good days against the run, but it would get embarrassing when things went wrong. Star Lotulelei specializes in clogging up the middle and it will free up space for the rest of the team to be successful.
4. Philadelphia Eagles: Jarvis Jones, OLB, Georgia
There will be some debate over whether Jarvis Jones can play as a more prototypical linebacker than just a pass rusher. However, he is a game changer on defense and will be able to fit in wherever he goes.
5. Detroit Lions: Bjoern Werner, DE, Florida State
If Cliff Avril leaves in free agency, the Lions will need to find someone to replace him. Bjoern Werner can be that person as it will give Detroit one of the strongest defensive lines in the NFL.
6. Cleveland Browns: Damontre Moore, DE, Texas A&M
Cleveland is one of many teams that need to improve the pass rush on defense. Damontre Moore can not only help out against the pass, but he defends the run very well for his position.
7. Jacksonville Jaguars (Trade with Arizona Cardinals): Barkevious Mingo, OLB, LSU
The Jaguars had fewer sacks this year than J.J. Watt. Barkevious Mingo is one of a big group of talented pass rushers that the team can choose from after trading back.
8. St. Louis Rams (Trade with Buffalo Bills): Chance Warmack, OG, Alabama
Butch Dill/Getty Images
Offensive guards are rarely in high demand, but the best ones can make a huge difference for a football team.
St. Louis would love to get their hands on Chance Warmack as someone who can open up space and improve the inconsistent run game for next season.
Unfortunately, it would be difficult to trust that he falls eight more spots and the drop off at the position is large. This means that the Rams should make a move to get the player who can immediately be one of the best guards in the league.
Buffalo would move back instead of reaching for a player in this spot.
9. New York Jets: Sam Montgomery, DE, LSU
Fans will want a new quarterback, but the front office will not want to invest a lot of money in a player it is unsure about. Sam Montgomery is a much safer choice and should make a quick impact as a guy who can get to the quarterback.
10. Tennessee Titans: Manti Te'o, ILB, Notre Dame
Zach Brown played very well in his first season with Tennessee, but adding Manti Te'o in the middle of the linebacking corps will make this group as strong as almost anyone in the NFL.
11. San Diego Chargers: Eric Fisher, OT, Central Michigan
Like many teams in this draft, the Chargers need more protections up front. They should be disappointed that Jake Matthews and Taylor Lewan are going back to school, but Eric Fisher is as solid as they come and should be able to keep Philip Rivers on his feet.
12. New Orleans Saints (Trade with Miami Dolphins): Dee Milliner, CB, Alabama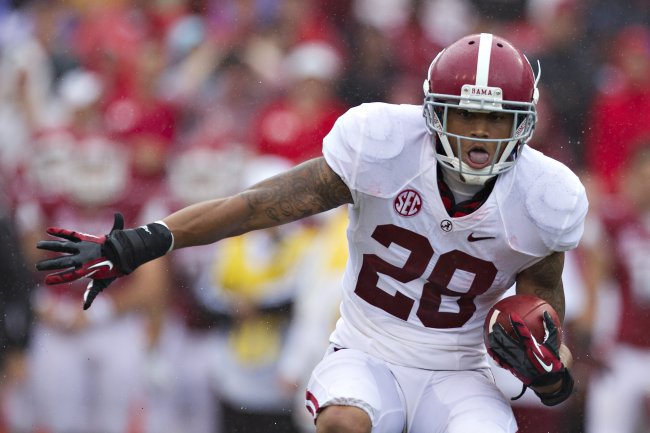 Wesley Hitt/Getty Images
The Tampa Bay Buccaneers are going to want a cornerback to help fix the worst pass defense in the NFL.
However, the division rival would pay a lot in order to move ahead of them and grab the best player at the position.
Dee Milliner is the best cornerback on the market and he would instantly improve the Saints defense which ranked No. 31 against the pass.
13. Tampa Bay Buccaneers: Eric Reid, S, LSU
With Milliner off the board, the Buccaneers will still focus on their secondary and add Eric Reid. The safety could eventually take over for Ronde Barber and make a great tandem with Mark Barron.
14. Carolina Panthers: Johnathan Hankins, DT, Ohio State
The Panthers have a solid pass rush on the outside and a very good young linebacker in Luke Kuechly. With the addition of a big defensive tackle like Johnathan Hankins, this defense could be elite.
15. Miami Dolphins (Trade with New Orleans Saints): Keenan Allen, WR, California
After trading with the Saints, Miami can get the player it wanted all along in Keenan Allen. He has the size and speed to be a legitimate target for young quarterback Ryan Tannehill.
16. Buffalo Bills (Trade with St. Louis Rams): Tyler Wilson, QB, Arkansas
When Buffalo gets a new coach, he will want a new quarterback to build around. Tyler Wilson might be a reach in the Top 10, but the Bills can get better value later in the first round.
17. Chicago Bears (Trade with Pittsburgh Steelers): Lane Johnson, OT, Oklahoma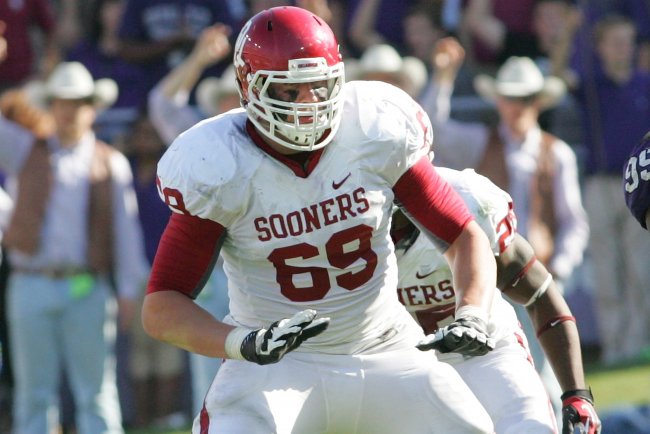 R. Yeatts/Getty Images
The defense was solid all year for the Bears, but it was the offense that could not hold up its end of the bargain.
Most of the reason that the team could not score any points was the fact that Jay Cutler was under pressure all season long.
Chicago must make sure it drafts a tackle in the first round; even if it has to trade up to make sure it gets one of the top guys.
Pittsburgh could also use some help on the offensive line, but it still has the option of drafting the best available player and should have no problem moving back for additional picks.
18. Dallas Cowboys: Sheldon Richardson, DT, Missouri
The Cowboys need a bunch of help on the defensive side of the ball, but Sheldon Richardson can solve a lot of problems up front. His ability to cause disturbances in the backfield will make everyone look better.
19. New York Giants: Alec Ogletree, ILB, Georgia
After neglecting the linebacker position for a few years, the Giants need to add someone in the middle of the defense that can rack up tackles and be a leader of the unit. Alec Ogletree is that player after putting together a successful career at Georgia.
20. Pittsburgh Steelers (Trade with Chicago Bears): Dion Jordan, DE, Oregon
Pittsburgh needs to get younger on defense. Dion Jordan is incredibly athletic and will be able to learn from some of the best in the game.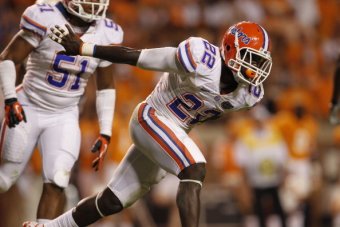 John Sommers II/Getty Images
21. Cincinnati Bengals: Matt Elam, S, Florida
A very good defensive front masked some deficiencies in the secondary, but Matt Elam will help solidify those issues.
22. St. Louis Rams (From Washington Redskins): Khaseem Green, OLB, Rutgers
After helping the offense with the first pick, it is time to help the defense with the other. Khaseem Green is still climbing draft boards and has impressive speed to cover almost the entire field against both the run and pass.
23. Minnesota Vikings: Terrance Williams, WR, Baylor
As good as Adrian Peterson was carrying the offense this season, the Vikings need more weapons to create balance. Terrance Williams would play well alongside Percy Harvin to finally make teams defend the pass.
24. Indianapolis Colts: Johnthan Banks, CB, Mississippi State
Behind Andrew Luck, the Colts surprised almost everyone in reaching the playoffs. However, they can still get much better by improving the secondary with the athletic Johnthan Banks.
25. Baltimore Ravens: Xavier Rhodes, CB, Florida State
The defense is certain to look different next year without Ray Lewis, but adding the best cornerback available will at least make the unit a little better.
26. Seattle Seahawks: Johnathan Jenkins, DT, Georgia
This team is only a few players away from being one of the more complete squads in football. Johnathan Jenkins could be one of those players with a knack for taking on blockers and helping others get the job done.
27. Green Bay Packers: Jonathan Cooper, OG, North Carolina
It took a few years, but the Packers are finally starting to utilize a running game. Now they need someone to clear up space for the running backs that come through, like Johnathan Cooper.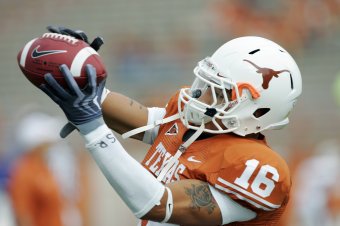 Brian Bahr/Getty Images
28. Houston Texans: Kenny Vaccaro, S, Texas
Anyone who watched the Texans over the second half of the season knows that they need to improve against the pass. Kenny Vaccaro is an impressive safety and would provide good value at this spot.
29. San Francisco 49ers: Barrett Jones, C, Alabama
Although the 49ers do not have too many positions of need after getting nine players into the Pro Bowl, there is still some uncertainty for the future of the middle of the offensive line. Barrett Jones can play anywhere on the line and will find his way onto the field eventually.
30. New England Patriots: Ezekiel Ansah, DE, BYU
When Tom Brady is on the field, offense will not be a problem. New England must continue to improve the defense by adding depth along the defensive line.
31. Atlanta Falcons: Alex Okafor, DE, Texas
Even with a 13-3 regular season record, the Falcons ranked No. 23 against the pass and finished with the fifth-fewest sacks. They need someone to get to the quarterback and Alex Okafor can do that.
32. Denver Broncos: Jesse WIlliams, DT, Alabama
You can never have too much defensive line depth, and Denver can greatly improve the future by adding a talented athlete like Jesse Williams at defensive tackle.
Follow me on Twitter and we can discuss the latest NFL draft information.
This article is
What is the duplicate article?
Why is this article offensive?
Where is this article plagiarized from?
Why is this article poorly edited?