10 WWE Superstars Who Should Be Utilized Better in 2013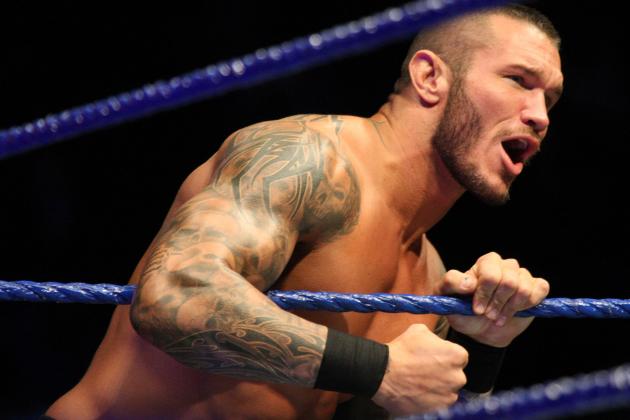 Gallo Images/Getty Images

The WWE arguably has the best talent in the wrestling world, and while it has succeeded in creating many stars, there are many more who don't receive the opportunity to showcase their full potential. With a new year upon us, however, the WWE has a golden opportunity to change that.
Expanding Raw to three hours has given the WWE a chance to use some wrestlers who didn't necessarily get a lot of airtime before, but using someone and using them correctly are two different things. I realize that not everyone can be pushed at once, but there are quite a few guys on the WWE roster who have gone far too long without a proper push.
Some of them have never gotten their proper due within the company, while others have been successful in the past but have dropped off for whatever reason. The year 2013 could offer new beginnings for these superstars and a clean slate for the creative team to use to its advantage.
Here are the top 10 WWE superstars who should be utilized more effectively over the next year than they were in 2012.
Begin Slideshow

»
Just a couple years ago it seemed as though Ted DiBiase was on the fast track to the main event. He starred in a movie and was on the verge of turning face, but the push was given to Randy Orton instead, and DiBiase has floundered ever since. Now, for the past year, DiBiase has been a non-factor who rarely appears on television.
One of the biggest reasons for DiBiase's rough 2012 was an injury that kept him out for a significant amount of time, but he has been back in the fold for a few months and only has a loss to Antonio Cesaro on SmackDown to show for it. DiBiase's under-utilization is criminal when you consider the potential he has always shown as well as the bloodline that he possesses.
The WWE seemed to be on the right track when DiBiase was given a gimmick similar to his father, The Million Dollar Man, but the writers never went anywhere with it. I wouldn't mind seeing DiBiase go back to something similar since it would get him a crowd reaction at the very least. His current character is pretty much nonexistent and the odds of him crawling out from obscurity with it are extremely low.
Although 2012 started off with a bang for Primo and Epico as they captured the Tag Team Championships from Air Boom at a house show, things have been declining steadily ever since. Some might say that Primo and Epico were the beneficiaries of a weak tag-team division, and while there is definitely some truth in that, they have proven to be fine in-ring performers and are one of the only true tag teams in the company.
Their high point was likely a pre-show victory at WrestleMania, but they dropped the belts to Kofi Kingston and R-Truth soon after, and they have now slid down the ranks considerably. The tag-team division is suddenly deeper than it has been in a few years thanks to pairings such as Team Hell No, Team Rhodes Scholars and Rey Mysterio and Sin Cara emerging. It almost seems as though the WWE has forgotten about the former tag champs.
When Primo and Epico do compete, they often lose to lesser teams such as The Great Khali and Hornswoggle. It's a shame because Primo may very well be the best tag-team specialist in the company and Epico has developed nicely as well. It's going to be tough for them to get back in title contention, but there's no way that they should be jobbing to lesser talents.
Tensai came to the WWE the night after WrestleMania XXVIII with a ton of hype surrounding him, but it didn't take long for things to fizzle. Tensai was at a disadvantage from the start because fans were well aware that he was previously known as Albert. the Tensai gimmick was supposed to be totally independent from Albert, but that didn't stop the crowd from chanting "Albert" during his matches.
That, and that alone, is what ultimately ruined Tensai's push. There were obviously huge plans for him as he defeated both John Cena and CM Punk early in his tenure, but he stalled out. The WWE stripped him of everything that made him unique as "Lord" was dropped from his name, his manager Sakamoto was phased out and his entrance attire was as well. Suddenly Tensai had become a generic big man with Japanese characters on his head.
Tensai routinely loses to mid-card faces now and is being made into a joke as Santino Marella has acknowledged the Albert chants. Tensai is a skilled big man who can be a force in the mid-card, but the WWE either has to abandon the Tensai gimmick entirely or have him cut a scathing, anti-American promo in order to enhance his current character.
When talking about the best in-ring workers in the WWE, the names CM Punk, Daniel Bryan and Dolph Ziggler inevitably come up every time. One superstar who often gets snubbed, however, is Tyson Kidd. The last graduate of the Hart Dungeon is as good as they come in terms of pure wrestling ability, but he hasn't received the same push that some of his comparables have.
There is no question that part of that is the fact that he isn't exactly oozing with charisma, but Kidd has barely ever been given the opportunity to cut a promo. It's strange because a guy like Kofi Kingston is given chance after chance to impress on the stick and he fails to do so every time. Kidd is better in the ring than Kofi is and could very easily be just as over with the crowd if put in the same position.
I don't mean to pile on Kingston, but he's simply the perfect example of a guy who is similar to Kidd, but has been given an infinite number of chances. Kidd did have some success as a Tag Team Champion alongside David Hart Smith, but he has yet to even sniff a singles title. If there is anyone who deserves a chance to become a top mid-card face in 2013, it's Kidd. The more he is showcased, the more the fans are going to gravitate toward him.
The last two years of R-Truth's career were full of many peaks and valleys. While 2011 was great for him as he turned heel and became one of the most entertaining guys on the roster, 2012 was equally bad due to the ruination of his character. The Little Jimmy gimmick has more than run its course and something has to change in 2013 or else Truth may never again sniff the success that he had in 2011.
Much of Truth's decline is his own doing as a wellness policy violation led to a suspension and a heel-to-face transition when he returned. At the same time, the creative team was a bit too quick on the trigger as his psychotic heel character still had plenty of steam left. Truth did the best that he could as a face last year, but he went from crazy to goofy and that isn't going to get over with anyone other than little kids.
Truth has plenty of experience in the business and is solid in the ring, so he has some tools to work with, but the creative team has to put him in a position to succeed. Truth was a natural, crazy heel and he had a lot more creative license in that role. If he goes back to that then a main-event run isn't impossible, but he'll continue to be an anonymous mid-carder otherwise.
Much like Primo and Epico, The Usos have gotten lost in the shuffle as the WWE tag-team division has risen from the ashes. Jimmy and Jey were on the verge of winning the Tag Team Championships in 2011 when there were hardly any teams to speak of, but it never happened for whatever reason and they were barely used after that. Over the past few weeks, however, The Usos have been working their way back up the totem pole.
For essentially the entire year of 2012, The Usos were an afterthought and rarely wrestled on Raw or SmackDown. In recent weeks they have defeated The Prime Time Players and scored a couple eliminations in a Fatal Four Way tag-team match, though, so there is suddenly some hope. The sudden usage of The Usos is encouraging because they are a throwback tandem in that they're brothers and have no interest in singles competition. They're a true tag team through and through.
At some point the likes of Team Hell No and Team Rhodes Scholars will go their separate ways, and someone will have to be there to pick up the pieces. The Usos aren't major stars like the guys who are anchoring the tag division currently, but they have a spectacular heritage, they work together seamlessly and the fans do seem to react well to them. Hopefully this is the year that finally sees The Usos win tag-team gold.
It isn't that rare for a guy to fall out of favor in professional wrestling, but few have done it as quickly as Jack Swagger. The All-American American won Money in the Bank and the World Heavyweight Championship in 2010, and it seemed like he was on the fast track to superstardom. Swagger was booked in an appalling fashion as champion, though, and it eventually got to the point where he was a glorified jobber.
Before taking a leave of absence in September of 2012, Swagger had gone on a three-month-long losing streak. He told then-general manager A.J. Lee that he needed to take some time off, but four months have passed and he has yet to return to WWE programming. Swagger returned to the house-show circuit in December, but fans are still awaiting his televised arrival.
When it comes to Swagger it's difficult to say whether he's being held off TV because the creative team is developing the perfect character for him, or if it's because they have no use for him. I pray that it isn't the latter because Swagger has top-notch wrestling ability for a big man and underrated charisma as well. The best possible scenario for Swagger would be a face turn where he embraces being an American hero. He could then feud with Antonio Cesaro over the United States Championship and it would be beneficial to both of them.
There are a few guys in the WWE's upper mid-card scene currently who clearly have the tools necessary to make the jump to the main event, and Wade Barrett is one of them. The WWE has a ton of confidence in Barrett as he debuted in the company by leading Nexus and feuding with some of the biggest names in the business. The writers have been inconsistent in their booking of him ever since, though, and that has prevented him from reaching the next level.
Barrett missed the early portion of 2012 while recovering from an elbow injury and the WWE failed to devise an impactful return. He squashed Yoshi Tatsu in his return match and he didn't pick up where he left off prior to the in jury when the Barrett Barrage was in full force. Barrett has mixed it up with top guys such as Sheamus and Randy Orton, but he hasn't really been placed in a proper feud and has acted as a mid-card floater.
Hopefully the state of flux that has enveloped Barrett is no longer, though, as he defeated Kofi Kingston for the Intercontinental Championship on Raw. Barrett was the IC champ once before and while it didn't do much for him, things should be different this time. The best route to take with Barrett would be to have him dominate the mid-card and retain his title for the foreseeable future until a spot opens up in the world title hunt. Once that happens, Barrett will finally be ready to establish himself as a top guy.
The Miz is yet another guy who has gone from riches to rags in the WWE from a storyline perspective. He had a successful run as WWE Champion and beat John Cena in the main event of WrestleMania XXVII, but he dropped the belt to Cena at the next pay-per-view and hasn't been the same since. The Miz spent much of 2012 mired in a major slump and it wasn't until recently that things started to improve for the Awesome One.
Miz has been a heel for his entire career, but over past couple months he has begun to transition into a face role. Things have been up and down for him as he is trying to find the right pitch when it comes to his character, but he definitely has what it takes to succeed. The issue to this point has been poor booking as he hasn't yet had a true feud. His fast turn has mostly consisted of beating 3MB and hosting Miz TV segments, and that isn't enough to get over with the fans.
On the most recent episode of Main Event, Miz and United States Champion Antonio Cesaro had a war of words, so it seems like that may be his first feud as a face. It should be good for him as Cesaro is playing the evil, foreign heel role, but The Miz really should be beyond the U.S. title at this point. I have no issue with him going after it for now, but he should most definitely be in world title contention at some point in 2013.
Most would probably consider Randy Orton to be one of the biggest stars in WWE history, but if you were to only look at what he did in 2012, that would be far from obvious. To say that Orton had a rough year would be an understatement. Not only was he never in the world title picture, but he didn't hold a single championship, he endured a 60-day wellness policy violation suspension and he dealt with nagging injuries as well.
The creative team can't be blamed totally for Orton's struggles as he made some mistakes in his own right, but something needs to be done about his character. When Orton initially turned face, it was something fresh and different because he wasn't the typical good guy. He would battle the heels, but he also wouldn't hesitate to RKO an fellow face if he had to. He was somewhat like "Stone Cold" Steve Austin in that regard and the fans ate it up.
Whether his fans want to admit it or not, Orton has become the stereotypical babyface as he is often seen paling around with other faces following tag-team matches. Also, his sub-par mic skills were acceptable when he was more sinister, but they are a definite burden now. Orton has run his course as a face and if he is going to get back in the main-event scene, it needs to be as a heel. He has the in-ring skills to be a major player and a track record of success, but his character is stale and 2013 should bring major change.
Follow @MikeChiari on Twitter and listen to him on Ring Rust Radio.