In-Depth Evaluation of Every Commit in OSU'S 2013 Recruiting Class Thus Far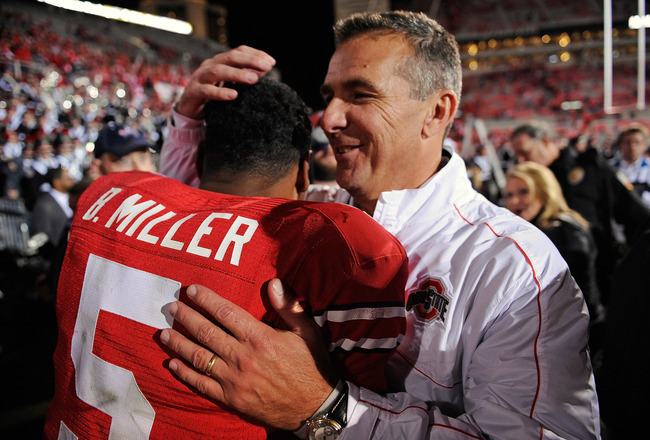 Jamie Sabau/Getty Images
Urban Meyer is excellent in the recruiting department. His success as a head football coach alone is a testament to that.
Meyer has been excellent in his first full year of recruiting at Ohio State, putting together one of the best recruiting classes in the country. Here's a complete overlook and evaluation of each and every recruit in Urban Meyer and Ohio State's 2013 recruiting class thus far.
Eli Apple: Cornerback, Voorhees, N.J.
Size: 6'1" 190 lbs.
Commit Date: 05/12/2012
2012 stats: 43 receptions for 541 yards on offense, 32 tackles and 2 interceptions on defense
Storyline: Mr. Apple is one of a few players in this class that can play both ways on the football field. He has good hands, sprinter speed, and he has knowledge of the game beyond his years. In picking him up, the Bucks have a guy who can learn the system behind some veterans and become a special player.
JT Barrett: Quarterback, Wichita Falls, Texas
Size: 6'2" 205 lbs
Commit Date: 4/18/2012
2012 Stats: 39 of 73 (53.4 percent), 748 yards and 5 touchdowns passing, and 90 carries for 569 yards (6.3 AVG), and 7 touchdowns rushing
Storyline: Being a Texas native and committing to Ohio State is a big-time move. A move that will benefit both quarterback J.T. Barrett and the Buckeyes.
Being a dual-threat guy, Barrett's play-making ability is is bound to be utilized at its fullest potential in Urban Meyer and Tom Hermon's spread offense. He's a good fit to officially be named the Buckeyes' quarterback of the future.
Marcus Baugh: Tight End, Riverside, Calif.
Size 6'4" 225 lbs
Commit Date: 04/10/2012
2012 stats: 38 receptions, 610 yards (16.1 yard AVG), and 3 touchdowns
Storyline: Unlike Ohio State's current tight ends, Marcus Baugh is primarily used in the receiving department and he isn't just a blocker who can catch. His weight would be a giveaway of that.
Nevertheless, he has a large body frame that is liable to pick up weight quickly while putting time in at the gym alone.
Joey Bosa: Defensive Lineman, Fort Lauderdale, Fla.
Size: 6'5" 270 lbs.
Commit Date: 04/23/2012
2012 stats: 79 tackles, 27 tackles for loss, and 10 sacks
Storyline: Bosa plays at an intensity level that sets him apart from normal human beings. His quickness off the line of scrimmage and nose for the football make him an adequate terror on the defensive side of the ball.
He reminds me of a bigger, more powerful version of the Big Ten's 2012 Defensive Player of the Year in John Simon. Now that could be scary!
Cam Burrows: Cornerback, Dayton, Ohio
Size: 6'2" 192 lbs
Commit Date: 05/06/2012
2012 stats: Could not find
Storyline: The term that defines the type of corner Burrows has proven to be is the same term that convicted felons are familiar with: lock down! He has great field awareness, excellent speed, enough monster in him to deliver a big hit, and good enough hands to play the wide receiver position.
Gareon Conley: Cornerback, Massillon, Ohio
Size: 6'1" 172 lbs
Commit Date: 12/07/2012
2012 Stats: Could not find
Storyline: Gareon Conley is a pretty good cover corner as well. The Massillon product has a motor on him that never stops running. He also has a knack for making big plays, and he plays the team captain role to perfection.
You can definitely count on him to limit the amount of receiving yards that opposing receivers attain.
Ezekiel Elliott: Running Back, St. Louis, Mo.
Size: 6'0 212 lbs
Commit Date: 04/01/2012
2012 stats: 88 rushing attempts, 1,431 attempts (16.3 AVG), 4 receptions, 172 yards (43.0 AVG), and 31 total touchdowns
Storyline: Urban Meyer picked up a pretty talented back in this stud out of "the Show Me State." Ezekiel Elliott is his name, and he reminds me of a former Ohio State running back in Antonio Pittman.
Not only is he fast, he has great vision, he's very shifty, and he knows how to be a patient runner who has the propensity to wait for lanes to open up in order to make a big play.
Tim Gardner: Offensive Tackle, Indianapolis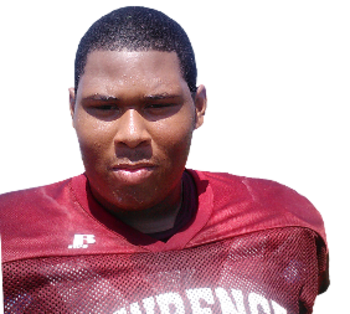 Size: 6'5" 310 lbs
Commit Date: 07/28/2012
2012 Stats: N/A
Storyline: If you were to close your eyes and try to envision an NFL offensive lineman, you would probably see a guy who looks a lot like Tim Gardner. The guy is huge!
This picture I have of him not only perfectly demonstrates his size, it reveals the type of aggression he has in his face. Would you say that the picture gives him the appearance of a guy who means business, too?
Michael Hill: Defensive Tackle, Pendleton, S.C.
Size: 6'2" 315 lbs
Commit Date: 06/27/2012
2012 Stats: Couldn't find
Storyline: Being utterly blunt, Michael Hill is just a guy who's flat out nasty! For being 6'2", Hill plays and has the heart of someone who's 6'5" or 6'6"!
However, with the type of intensity he brings and the skill set he has, he can still be a ball carrier's nightmare. All 315 lbs of him!
Taivon Jacobs: Athlete, District Heights, Md.
Size: 5'10" 160 lbs
Commit Date: 07/19/2012
2012 Stats: Could not find
Storyline: Guys like Taivon Jacobs can be used in a lot of ways for a creative coach like Urban Meyer. Though he has a rather small stature, he uses every bit of it to make plays all over the field.
It's good to have an incredibly gifted athlete whose skills can be utilized on offense, defense or special teams. That's what the Buckeyes have in Taivon Jacobs!
Trey Johnson: Inside Linebacker, Lawrenceville, Ga.
Size: 6'2" 218 lbs
Commit Date: 01/04/2013
2012 Stats: 164 tackles, 5 sacks, 3 forced fumbles, and 4 fumble recoveries
Storyline: This Georgia product is a flat-out beast. Being naturally prodigious in the tackling department, Johnson has great speed for a linebacker, and he covers the field very well.
Even though his high school team only had a 3-5 record this past season, Trey's talents were evident as he racked up an astonishing 18.2 tackles per game.
Darron Lee: Athlete, New Albany, Ohio
Size: 6'3" 205 lbs
Commit Date: 06/26/2012
2012 Stats: 105 passing yards, and 244 rushing yards on offense and I couldn't find his defensive stats
Storyline: Lee is yet another proficient athlete in this class, and he is excellent in pass coverage. Specializing in bringing interceptions back for touchdowns, he has the size to either play the free safety position or to cover the tallest or most talented receivers on opposing teams.
But what I like about him the most is his physicality, as he is more than capable of delivering the type of big hit that a linebacker would!
Tyquan Lewis: Defensive End, Tarboro, N.C.
Size: 6'4" 227 lbs
Commit Date: 09/20/2012
2012 Stats: Could not find
Storyline: It's gonna be fun watching the Buckeyes' defensive line in a couple of years with the guys they picked up in both the 2012 and 2013 recruiting class! Tyquan Lewis is one of the many studs they got a commit from.
Not only will he bring a large body frame into the equation, he'll add speed, strength and depth to what looks to be a promising defensive line.
Evan Lisle: Offensive Tackle, Dayton, Ohio
Size: 6'5" 260 lbs
Commit Date: 02/28/2012
2012 stats: N/A
Storyline: With a big body and great strength, Lisle has the size and toughness to play either the tackle or guard position on the offensive line.
He's a solid 280 lbs, yet he still has quick feet and he has the ability to react to and mull over incoming defenders before they even know where they're going.
Jalin Marshall: Athlete, Middletown, Ohio
Size: 6'0" 190 lbs
Commit Date: 01/30/2012
2012 stats: 288 passing yards, and 122 carries for 1,098 yards (9.0 AVG)
Storyline: If you could close your eyes and try to imagine a person who would be a perfect fit for Urban Meyer's offense, you would probably envision a guy like Jalin Marshall.
He could definitely play the Percy Harvin role and he's liable to return a punt or kickoff back for a touchdown on every play. I don't know if there's a more exciting prospect in the country than Marshall in this class.
Mike Mitchell: Outside Linebacker, Plano, Texas
Size: 6'4" 222 lbs
Commit Date: 01/05/2012
2012 Stats: 174 tackles, 20 tackles for loss, and 4 sacks
Storyline: Through just 10 games in his senior season, Mike Mitchell was a tackling monster, averaging over 17 tackles per game. There's a reason why he was so highly sought after.
According to Rivals.com, Mitchell is the third-ranked linebacker prospect in the country.
Donovan Munger: Defensive Tackle, Cleveland, Ohio
Size: 6'4" 285 lbs
Commit Date: 12/09/2012
2012 Stats: Could not find
Storyline: Munger is the type of player that football coaches dream about if they're into adding sheer power on the defensive side of the ball. He has the tendency to both drive offensive lineman backwards, and locate and take down ball carriers.
Despite his rather large body frame, he is very commodious as he uses every inch and every pound of him to his advantage.
Billy Price: Defensive Tackle, Youngstown, Ohio
Size: 6'4" 300 lbs
Commit Date: 02/13/2012
2012 Stats: Could not find
Storyline: Having a quick and forceful initial burst after the snap of the football and quick reactions to whatever's going on on the field, Billy Price is liable to keep any offensive lineman on his toes.
He instantaneously locates the opposing ball carriers, and he knows how to use every bit of his speed, power and big bruising body to punish opposing ball carriers.
Tracy Sprinkle: Defensive Tackle, Elyria, Ohio
Size: 6'4" 250 lbs
Commit Date: 04/17/2012
2012 Stats: 81 total tackles, 8 sacks, 1 forced fumble, and 5 fumble recoveries
Storyline: Adding more depth to what is already an impressive set of defensive linemen at Ohio State, Tracy Sprinkle is arguably the fastest one in Ohio State's stellar 2013 recruiting class.
He's one of those linemen who is great at using his power and arm movements to muscle his way toward wherever the action is taking place on the field.
Jayme Thompson: Safety, Toledo, Ohio
Size: 6'2" 190 lbs
Commit Date: 04/01/2012
2012 Stats Through 7 Games: 48 tackles (6.9 per game), 1 INT, 2 forced fumbles, and 2 fumble recoveries
Storyline: All coaches want guys with excellent speed in their secondary. Coach Meyer will have just that in Jayme Thompson. Although he plays rather loose in the secondary at times, Thompson's awareness and closing speed is spectacular, and he always seems be in the right place at the right time.
The thing I like the most about him is this intensity. He seems to try to purposefully deliver the biggest hit he can on every play!
Johnny Townsend: Punter, Orlando, Fla.
Size: 6'2" 200 lbs
Commit Date: 06/19/2012
2012 Stats: Could not find
Storyline: One thing Ohio State hasn't had in recent years is a punter with a big leg. That may change as soon as this coming season with the addition of Johnny Townsend. He seems to have exactly everything it takes to be a successful punter at the next level.
Christopher Worley: Athlete, Cleveland, Ohio
Size: 6'2" 170 lbs
Commit Date: 1/11/2013
2012 Stats: Could not find
Storyline: Yet another stud from Ted Ginn Sr.'s Glenville High School Football squad, Christopher Worley could potentially be a contributor on on defense this coming fall. Listed as an athlete on 247sports.com, Worley primarily plays the linebacker position.
As demonstrated in the video, he has great speed and a better-than-average pursuit ability.
The Final Wrap Up
Jamie Sabau/Getty Images
Philosopher Lucius Annaeus Seneca once said "Expecting is the greatest impediment to living. In anticipation of tomorrow, it loses today."
So while Buckeye fans are looking forward with anticipation to next season and expecting great things to happen, let's just sit back and enjoy the present moment as we are in the thick of the 2013 recruiting season. One in which Urban Meyer is putting together one of the finest classes in the country.
The good news is that he's not done just yet! As always, God bless and GO BUCKS!
Keep Reading

Ohio State Football: Like this team?