2013 NFL Draft: Ranking the Top RBs Entering Pro Football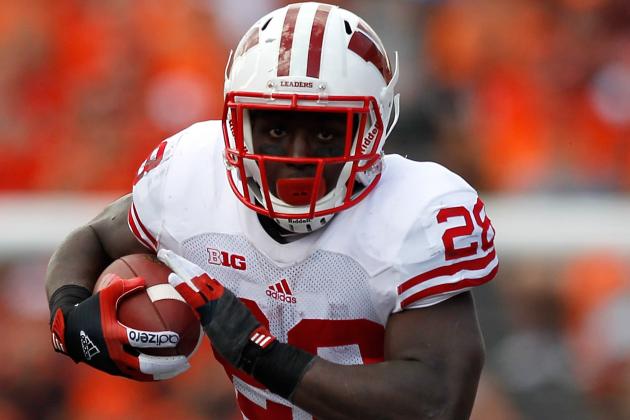 Jonathan Ferrey/Getty Images
Montee Ball was a Heisman Trophy finalist in 2011.
The 2013 NFL draft presents much more running back talent than one might think at first glance.
No, there's no one on the level of Trent Richardson or Doug Martin entering pro football this spring. But Wisconsin's Montee Ball is definitely worth acknowledging. The 2011 Heisman finalist led the Badgers to a second consecutive Big Ten title and nearly pulled off the upset over Stanford in the Rose Bowl.
Factor in the NFL still being a passing league, and it's easy for any running back to go overlooked. Include this year's Heisman presentation not featuring any running backs, and the 2013 draft may appear weaker than recent years.
That is not completely the case, however. Just as we're seeing from Alfred Morris, who was a sixth-round selection, talent resides from all over. These are simply the best for this April.
Begin Slideshow

»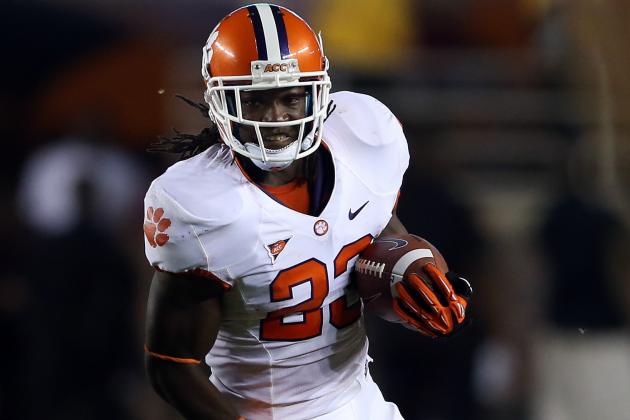 Streeter Lecka/Getty Images

One of the most exciting running backs to watch is Clemson's Andre Ellington.
He has a little C.J. Spiller in him, as shown by his excellent agility, acceleration and top speed. Gaining 2,259 rushing yards over the past two seasons, Ellington also added 341 receiving yards.
Playing in a pass-oriented offense, Ellington was given limited opportunities to produce in comparison to other backs. When fed the rock, however, he finished the past two seasons with a 5.2 yards-per-carry average and scored 19 touchdowns.
The most fascinating attribute he possesses, though, is his vision. He's proven his ability to slice between the tackles, make a move at the second level and dart downfield, or utilize instincts and dodge defenders at the line.
And although it wasn't his most productive game, Ellington's 50 rushing yards while averaging 4.5 yards per carry against LSU was very important. The Bayou Bengals respected his ability so much that Ellington's presence allowed the rest of Clemson's offense to remain in the contest and eventually pull off the upset.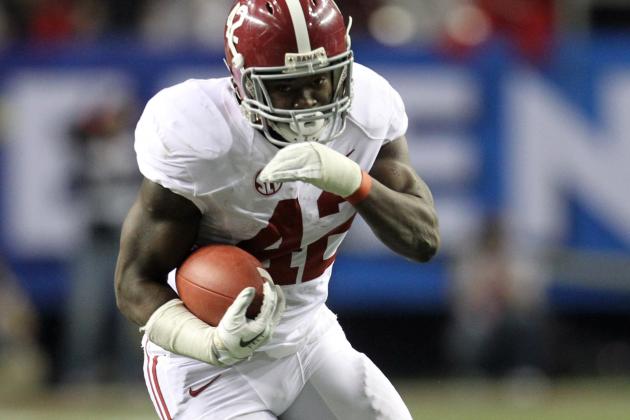 USA TODAY Sports

Eddie Lacy had some big shoes to fill entering the 2012 college football season.
Since the 2009 season, the Alabama Crimson Tide have featured Mark Ingram and/or Trent Richardson in Nick Saban's backfield.
Both were first-round selections and Heisman Trophy finalists.
So, it's easy to overlook Lacy entering the 2013 NFL draft. This season has been his lone standout year, with 1,354 total yards and 17 touchdowns. Unsurprisingly, Alabama won the SEC and earned another trip to the BCS title game.
Much of Alabama's offensive success, though, also comes courtesy of the nation's best offensive line. The Tide presents three studs in Chance Warmack, Barrett Jones and D.J. Fluker, each of whom is among the top prospects at their respective positions.
Still, we can expect Lacy to make a solid NFL impact. His size and speed combo is quite impressive, and he runs downhill with attitude as well.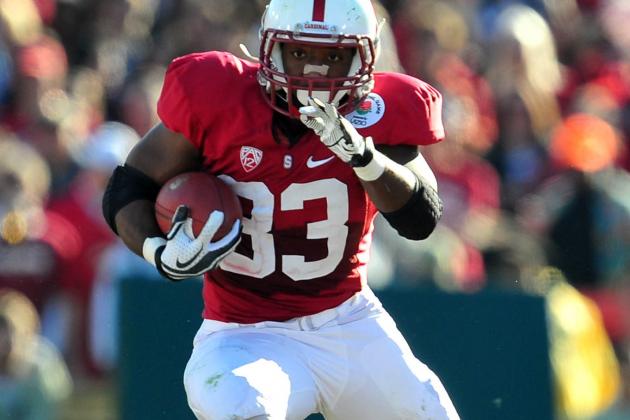 Gary A. Vasquez-USA TODAY Sports

The most bruising ball-carrier from college football is Stanford's Stepfan Taylor. Possessing immense size, power, quickness and toughness, Taylor has been the focal point of the Cardinal offense.
Even when Andrew Luck was under center, Taylor was fed 223 times in 2010 and 242 times in 2011. Each season he averaged over five yards per carry and combined for 25 rushing touchdowns.
The 2012 season was set to be increasingly difficult because of Luck in the pros along with standout linemen David DeCastro and Jonathan Martin. Well, Taylor took it upon himself to carry the load, and he amassed 1,530 rushing yards and scored 13 times. He also added 287 receiving yards on 41 receptions.
As a result, Stanford won the Pac-12 and the Rose Bowl. Taylor's consistency is most impressive because he remained elite despite the absence of key players from his sophomore and junior campaigns.
Any team needing to improve inside the red zone and in short-yardage situations must strongly consider drafting him.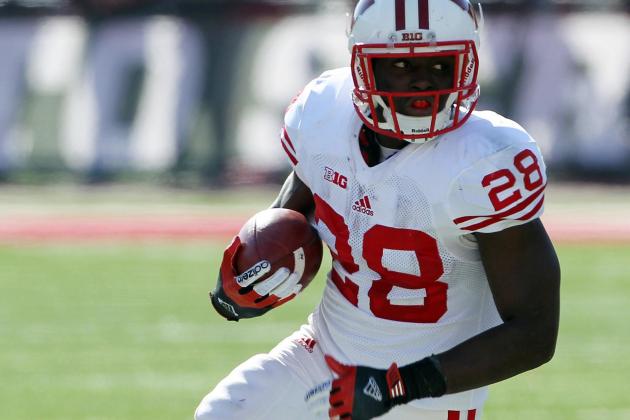 Brian Spurlock-USA TODAY Sports

Montee Ball was a Heisman Trophy finalist for the 2011 college football season. He accounted for 2,229 running and passing yards along with 39 touchdowns. To no surprise, the Wisconsin Badgers won the Big Ten.
As for the 2012 season, Ball and the Badgers went under the radar because the conference wasn't as strong as years past. And despite Wisconsin basically receiving a free pass to the Big Ten title game with Ohio State and Penn State ineligible, the Badgers did prove they belonged.
Ball not only rushed for 1,830 yards this fall, but 202 came over the then-No. 12 ranked Nebraska Cornhuskers in the conference championship game. Thereafter, he logged 100 yards against a tough Stanford defense in the Rose Bowl.
More impressively, Ball averaged over six yards per rush between 2010 and 2011 and managed to stay above five yards per carry in 2012. Plus, that impact occurred without Russell Wilson, Nick Toon or Kevin Zeitler, who were drafted last April.
Ball is a complete running back, and his skill set won't go without notice as the 2013 draft nears.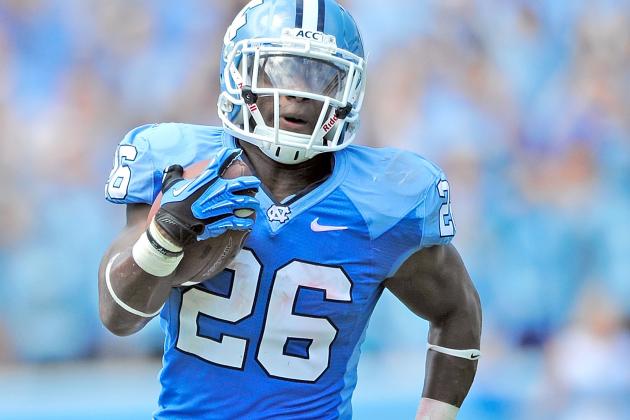 Grant Halverson/Getty Images

Meet 2013's best running back prospect: Giovani Bernard of North Carolina.
In just two years with the Tar Heels after redshirting because of injury, Bernard gained 3,596 total yards and scored 33 touchdowns.
Averaging nearly six yards per rush between 2011 and 2012, Bernard has proven to be the complete package. A dual threat out of the backfield, Bernard is also solid for pass-protecting and contributing on special teams.
During this season, he served as a punt returner and averaged 16.4 yards per attempt with two touchdowns. Possessing lateral agility and the ability to get downfield, Bernard's vision will transition well into the pros.
In addition to special teams, Bernard is capable of immediately contributing at least as a third-down back. With No. 1 running back potential, Bernard's extensively appealing because he produced so quickly and is only 21 years old.
Follow John Rozum on Twitter.