Updated Rankings for Every NBA GM Heading into Trade Season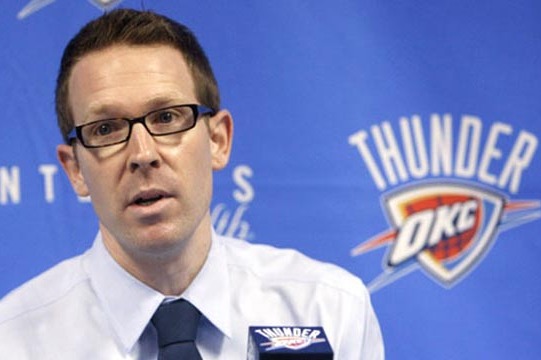 Photo couresty of Newson6.com.
The general manager position is one often overlooked by NBA fans, but having someone capable of pulling the right strings can be the difference between a playoff push and an early end to the season.
Throughout the history of the league, plenty of talented teams have been undermined by inept executives, while others have flourished because of a few smart moves by the front office.
The 2012-13 campaign is a third of the way over, marking the beginning of the frantic trade season. This is a perfect time to rank every GM based on the success they have had and what they need to do going forward to improve their teams.
Without further ado, let's take a look at the men pulling the strings behind each squad in the league and see how they stack up heading into this pivotal stretch of the season.
Begin Slideshow

»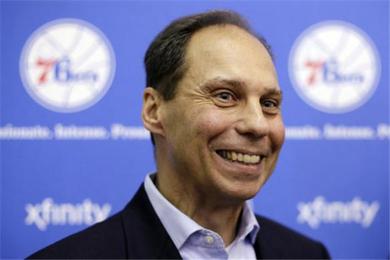 Photo courtesy of Bettor.com.
Tony DiLeo was promoted to GM by the Philadelphia 76ers in late September and was not in charge of the team's offseason efforts. He largely inherited the personnel he has and as such cannot yet be truly evaluated.
With Andrew Bynum's knees still a major cause for concern, DiLeo should look to add a capable big man so the team is not leaning too heavily on Spencer Hawes and Kwame Brown.
It is difficult to assess what DiLeo has done given that he hasn't done much, but this Sixers team needs to change something to boost their streak of consecutive playoff appearances to three.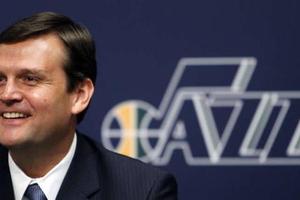 Photo courtesy of Deseretnews.com.
Dennis Lindsey was appointed the Utah Jazz's GM in August and has yet to make a significant move in his tenure.
He will have to make a move at the trade deadline involving Al Jefferson or Paul Millsap to avoid losing one or both of them in free agency, but for now it is impossible to compare him to other executives that have a legitimate body of work to compare against.
With Mo Williams out because of a thumb injury, Lindsey should look to make a play for a quality point guard and help fix the team's logjam in the frontcourt.
Kyle Terada-USA TODAY Sports

The Sacramento Kings have been playing better basketball in December, but their roster is still a mess, and that falls largely on the shoulders of Geoff Petrie.
Sacramento has logjams at many positions on the court and somehow thought that a point-guard tandem of Isaiah Thomas and Aaron Brooks would work, despite both being scorers first and foremost.
The future of Tyreke Evans is incredibly uncertain, as Derek Page of Hoopsworld.com reports. Evans has struggled since his rookie season, as the team has shuffled him around to different positions on the court.
Add to that the DeMarcus Cousins debacle and the decision to draft Thomas Robinson despite having glaring needs at point guard and small forward that could have been fixed with the addition of Damian Lillard and Harrison Barnes, respectively, and it is easy to see that Petrie has his work cut out for him heading into trade season.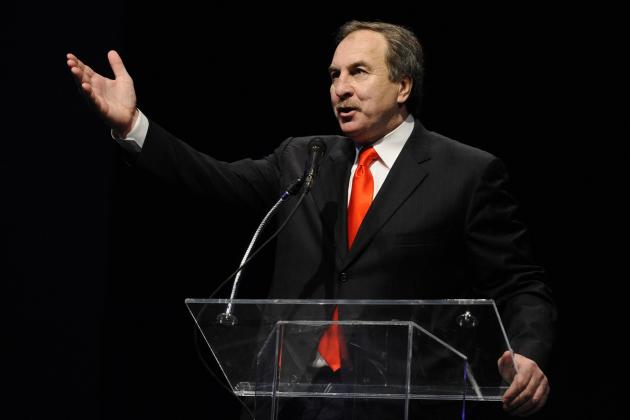 Rafael Suanes-USA TODAY Sports

The fact that John Wall has yet to suit up for the Washington Wizards due to a knee injury is obviously not Ernie Grunfeld's fault, but this is still a poorly constructed team.
The team does not have much depth at point guard, and now, with A.J. Price missing time due to a fractured hand, they have been forced to use Jordan Crawford and Bradley Beal as the primary facilitators.
The decision to draft Bradley Beal seemed smart in June, but he has had serious difficulty finding his shot, although he will have to be reevaluated once Wall returns.
While the Wizards have a very deep frontcourt, it features high-priced veterans like Trevor Ariza and Emeka Okafor who are not performing up to expectations.
Grunfeld deserves to be commended for ridding Washington of its knucklehead contingent, but this team still has a ways to go before they are competitive again.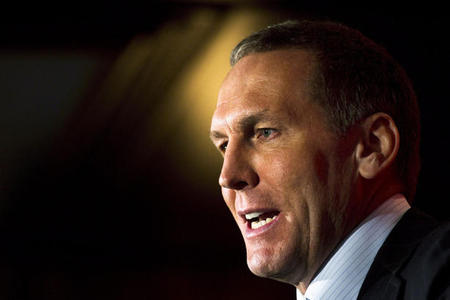 Photo courtesy of thestar.com.
The Toronto Raptors were viewed by many as a dark horse playoff contender in the Eastern Conference heading into the 2012-13 season, but injuries and a poorly constructed roster have them seriously underachieving.

Toronto's trade for Kyle Lowry seemed clever at the time, but the team's decision not to trade incumbent starter Jose Calderon has created a point-guard controversy that must be resolved before this team can get back on track.

Their frontcourt is also an area of concern, as Andrea Bargnani has struggled with injuries and not produced much even when he is on the court. A contender cannot be built around a big man who rebounds like a guard and spends most of his time around the three-point line.

In the draft, Toronto grabbed Washington's Terrance Ross despite having plenty of athletic wing players already on the roster. To make matters worse, they signed Landry Fields in free agency.

This Raptors team is not without talent, but there are a number of issues they must resolve, and that falls into the lap of Bryan Colangelo.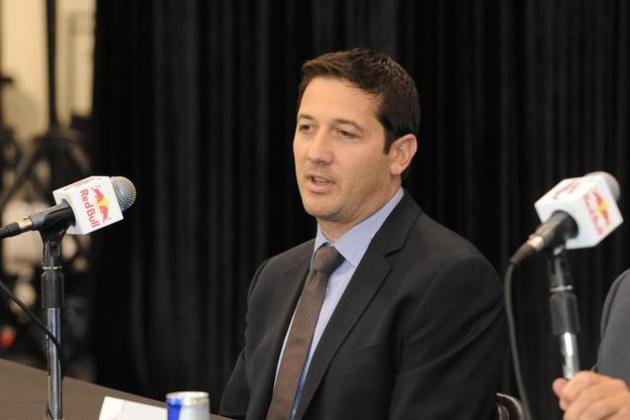 Photo couresty of RealGM.com.
Gary Sacks' low ranking is not a comment on his team's success as they have had one of the best years in Los Angeles Clippers history, but because Sacks was promoted to GM on September 4, 2012.
He was not making decisions during the key period of free agency and the only deal he presided over was L.A. inking Matt Barnes to a one-year deal. Barnes has played quite well off the bench, but you cannot compare Sacks' body of work to another executive who was putting in long hours over the summer.
Gary Sacks and the Los Angeles Clippers are clearly on the rise, but for now he will have to settle for a low ranking given that he has had the job for less than six months.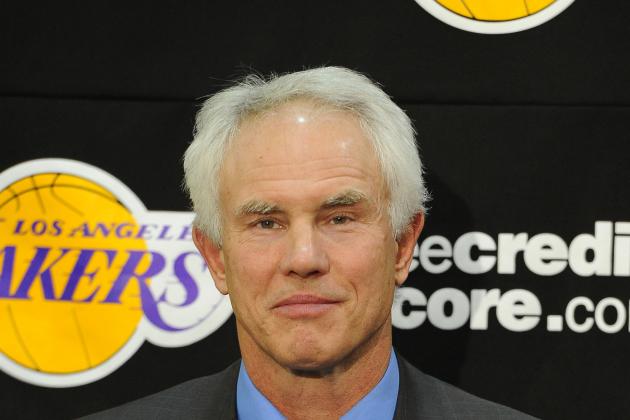 Jayne Kamin-Oncea-USA TODAY Sports

Four months ago, with Dwight Howard, Steve Nash and Antawn Jamison all awaiting their Los Angeles Lakers debuts, Mitch Kupchak easily would have topped a list like this.
However, three coaches and an underwhelming start to the season later, the Lakers look like they are missing the necessary components to win the Pacific Division, let alone contend for a championship.
Kobe Bryant has been playing sensational basketball, but Nash has missed significant time with a leg injury and Pau Gasol has struggled all season to adjust to the Lakers' new system.
The collective age of L.A. has been a huge issue, as they have been a poor defensive team, particularly in transition, and have not been able to get key stops late in games.
The Lakers have been playing better basketball since their horrid start to the year, but they desperately need an injection of youth to salvage their season, and that falls on Kupchak's shoulders.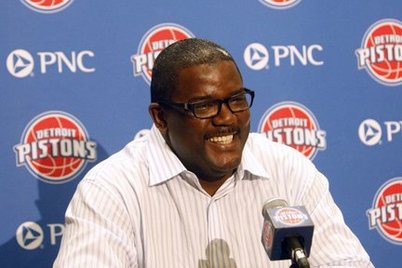 Photo courtesy of NJ.com.
The Detroit Pistons' rebuilding project finally appears to be on the right track, but after years of futility, there is still much progress to be made.
Recent draft picks Greg Monroe and Brandon Knight have both looked strong in the 2012-13 season and Andre Drummond appears to be an impact player on the defensive end of the court. Even Kyle Singler has played well in spurts, but unfortunately this team has had some serious difficulty winning games.
What has hurt Detroit and Joe Dumars recently, though, has been their questionable free-agent decisions. The team signed veteran Tayshaun Prince to a lucrative, long-term extension and did the same for Jonas Jerebko, who has not lived up to expectations and has barely seen the floor.
The Pistons also have a serious issue at shooting guard. Rodney Stuckey is not the answer, as he dominates the ball and takes poor shots far too often.
Detroit has righted its ship after several rocky years, but they are still a few seasons away from being a playoffs regular.
Photo courtesy of SBNation.com
Lance Blanks had his work cut out for him with the Phoenix Suns, overhauling their roster in the wake of Steve Nash's sign-and-trade to Los Angeles.
He should be praised for bringing in some potentially valuable draft picks in the deal and for re-signing Nash-protege Goran Dragic, but the 2012-13 season has largely been disappointing for Phoenix.
The team, which has its share of talent, has not played up to expectations.
Michael Beasley, who was signed to a three-year, $18 million deal, is averaging barely 10 points per game and not making much of a consistent impact for the Suns.
What is saving Phoenix is the play of their frontcourt. Marcin Gortat and Luis Scola are scoring inside and dominating the paint while newcomer Jermaine O'Neal has been rejuvenated and is a factor on the court for the first time in years.
This is just the beginning of a rebuilding project, so do not expect any big trades from Phoenix and Lance Blanks.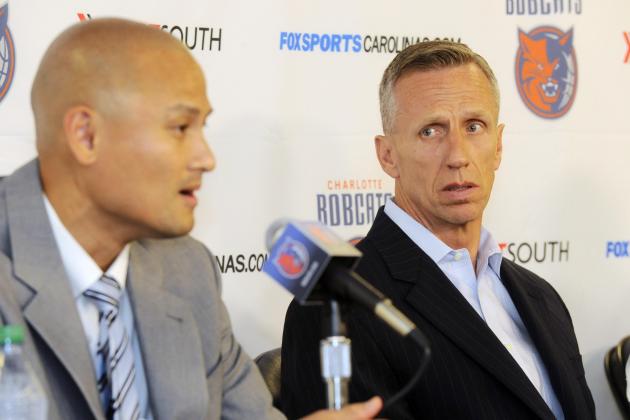 Sam Sharpe-USA TODAY Sports

Rich Cho joined the Charlotte Bobcats in 2011 and presided over one of the worst seasons in NBA history. However, Charlotte has some quality pieces in place and is clearly improving as a team, despite their 18-game losing streak.
Kemba Walker has made significant strides in his sophomore season and Michael Kidd-Gilchrist has played well, despite obviously needing to polish his game somewhat. Walker is excelling as a first option, while MKG's motor is helping him to make an impact on both ends of the court.
One curious move for Cho was the decision to ship out a first-round draft pick and Corey Maggette for Ben Gordon. Gordon has played decently as a reserve for the Bobcats, but that draft pick is unprotected in 2016 and could prove to be hugely valuable in a few seasons' time.
The real problem for Charlotte is that their defense has been abysmal. If Rich Cho wants to improve his team midseason, he needs to pursue someone who can be a leader and help bring a defensive mindset to this incredibly young team.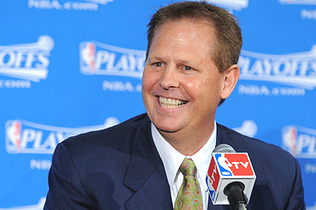 Photo courtesy of Celticstown.com.
Clearly, something is wrong with the Boston Celtics. The team was extremely active in the offseason, re-signing Kevin Garnett, Brandon Bass and Jeff Green, while parting with Ray Allen and bringing in Jason Terry to be his replacement.
All those moves have not translated into much success as they currently sit with a sub-.500 record and have looked extremely weak defensively.
As usual, Boston is being hammered on the boards on a nightly basis. They are relying on Kevin Garnett to play center, but lack another dominant rebounder on the roster. Teams are hammering away at the Celtics in the paint and wearing them down.
To make matters worse, many of their free-agent signings have not played up to expectations, forcing Doc Rivers to lean heavily on Paul Pierce, Rajon Rondo and Garnett.
Boston needs a shake-up and Ainge should be pursuing every potential angle to improve this team.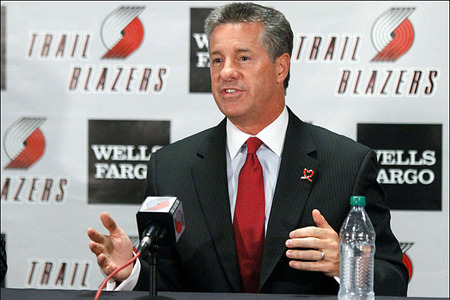 Photo courtesy of KATU.com.
Neil Olshey has made two big moves since joining the Portland Trail Blazers: drafting star point guard Damian Lillard with the sixth overall pick and re-signing Nicolas Batum as a restricted free agent.
Lillard has exceed all expectations and Batum, lucrative deal in hand, has had a career year and emerged as a true multi-tool out on the court. J.J. Hickson has played sensational basketball since signing a one-year deal, but it would have been better to lock up the big man for longer.
However, Olshey failed to do much in free agency to bolster Portland's depth. Beyond their starters they are extremely thin, relying on Sasha Pavlovic and raw rookie Meyers Leonard as their main producers off the pine. Their lack of bench production has been a serious Achilles' heel as they struggle to build and maintain leads.
Still, the play of Lillard, Batum, Hickson and LaMarcus Aldridge has them in the playoff chase, but if Olshey wants to make a run at the playoffs and not another lottery pick, he must swing a deal to bolster their bench.
Otto Greule Jr/Getty Images

The Indiana Pacers did not change much in free agency, but they revamped their bench behind new general manager Kevin Pritchard and have managed to withstand the prolonged absence of leading scorer Danny Granger as a result.
With Pritchard at the helm, the team re-signed Roy Hibbert to a max extension to avoid losing him to the Portland Trail Blazers. However, Hibbert has not been living up to his new deal, playing staggeringly inefficient offensive basketball.
They also turned Darren Collison into Ian Mahinmi and brought in high-flyer Gerald Green and point guard D.J. Augustin. However, Mahinmi and Augustin are overpaid backups and Green has not been producing like he did with the New Jersey Nets.
The team is winning games, which Pritchard deserves praise for, but they have clouded their long-term financial future, and that cannot be ignored.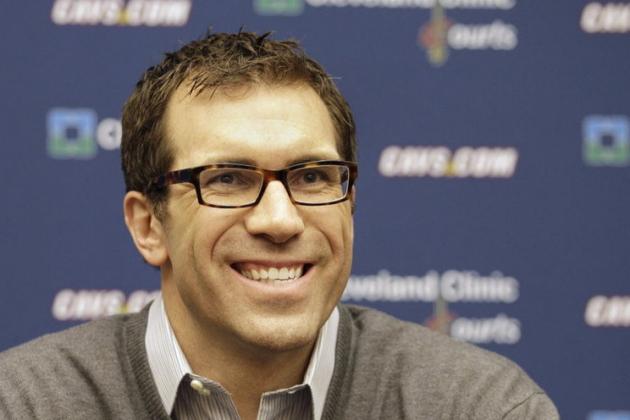 Photo courtesy of Waitingfornextyear.com
The Cleveland Cavaliers have had a disappointing start to their 2012-13 season, but GM Chris Grant has actually done a solid job assembling a roster that should be a threat in the near future.
Franchise point guard Kyrie Irving missed time with injuries, but is having a sensational season assuming the role of first option offensively while also making plays for his teammates. Many thought Dion Waiters was a reach as a fourth overall selection, but he has played well and been more of a facilitator than was expected of him.
Anderson Varejao was playing sensational basketball before going down with a knee injury, but rookie Tyler Zeller has stepped up admirably in his stead. Grant and the Cavs pulled off a draft-day trade to nab Zeller that was criticized at the time but looks good so far in the season.
Free-agent guard C.J. Miles has played well as instant offense and even Tristan Thompson is coming into his own.
This team needs a few lucky breaks, but Chris Grant has laid the foundation for a very good team down the road.
Photo courtesy of Rumorsandrants.com.
That's right, a GM ranking where David Kahn is not dead last!
The Minnesota Timberwolves have been ravaged by injuries, something obviously outside of Kahn's control, but their depth has actually been able to keep them afloat.
Kevin Love missed the beginning of the 2012-13 season with a broken hand, but the play of new acquisition Andrei Kirilenko and center Nikola Pekovic has kept the team's frontcourt afloat.
Ricky Rubio has barely seen the court, but Alexy Shved, Luke Ridnour and J.J. Barea have provided scoring and playmaking out of the backcourt.
Obviously Kahn has made some very questionable draft choices in the past, but he deserves praise for building a pretty complete roster and hiring a quality coach in Rick Adelman that can get the most out of his players.
It is difficult to assess just what Minnesota needs given their injury troubles, but this team is a real threat when healthy.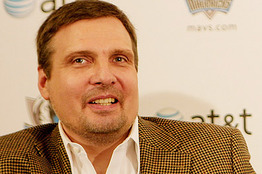 Photo courtesy of Sportsgulp.net.
Donnie Nelson's ranking is hurt by the Dallas Mavericks' failure to land Deron Williams, but he managed to put together a serviceable team on the fly while preserving cap flexibility for the summer of 2013.
O.J. Mayo has played unbelievable basketball, scoring at will and being one of the league's most reliable options from behind the arc. Chris Kaman, when healthy, has been an impact player in the post, and even Darren Collison has had his moments penetrating the lane and attacking the rim.
However, their new pieces have not translated to wins. Dallas is out of the playoff picture currently and will need to make some serious adjustments if they want to earn another trip to the postseason.
A healthy Dirk Nowitzki will be a huge boost, but Nelson should look to add a pass-first point guard like Jose Calderon before the trade deadline to give this team's offense a new dimension.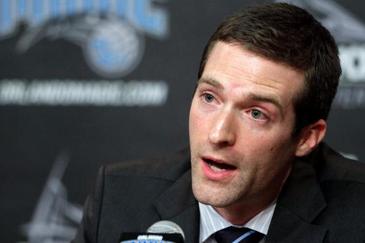 Photo courtesy of Lakerholicz.com.
Sure the Orlando Magic did not get back a franchise player in return for Dwight Howard, but new GM Rob Hennigan managed to receive enough talent to keep the team afloat while also positioning them for the future.
Hennigan knew that the Howard melodrama could not persist through another season, and he took a deal that netted them a few quality young players like Arron Afflalo and Nikola Vucevic while also stashing draft picks.
Contrary to what many people expected, the Magic are actually in position to make a run at a low playoff seed thanks to their strong team defense, and their modest success is vindication for the Orlando front office.
Hennigan also presided over the successful hire of coach Jacque Vaughn, who has his team playing hard every single night.
This is the beginning of a process that will take time, but Hennigan is certainly one of the brightest young executives in the league.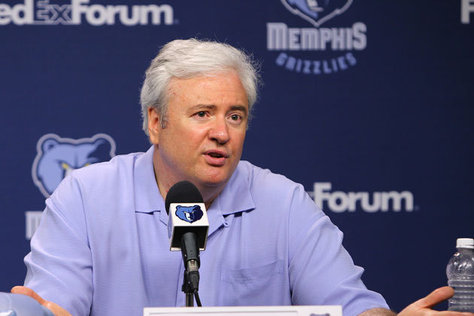 Photo courtesy of sports.yahoo.com.
The Memphis Grizzlies have cooled down a bit from their blazing start to the 2012-13 season, but they remain one of the most dangerous teams in the Western Conference thanks to their strong defense and interior play.
The team had a very quiet offseason; they let O.J. Mayo walk in free agency and brought in Jerryd Bayless to replace him. However, Chris Wallace deserves credit for not panicking after the team lost in the first round of the playoffs and not making short-sighted moves.
He brought back talented big men Darrell Arthur and Marreese Speights to provide depth in the frontcourt—two savvy, responsible moves that should help the team in the long-run.
Wallace would be wise to add a true point guard to spell Mike Conley and maybe a three-point shooter, but Wallace has built a true contender in Memphis, something that seemed impossible in the past.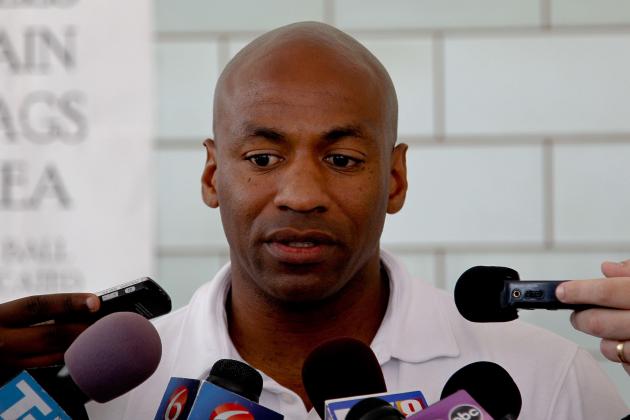 Derick E. Hingle-USA TODAY Sports

The New Orleans Hornets have not been particularly successful in the 2012-13 season, but that has not been the fault of GM Dell Demps, who has made some savvy decisions in recent years to help reboot this franchise.
Anthony Davis, when he has been on the court, has looked like every bit the franchise player New Orleans envisioned him to be when they drafted him first overall. Eric Gordon has barely played due to a knee injury, but his scoring ability makes him an extremely valuable piece going forward.
Ryan Anderson has looked sharp even without Dwight Howard drawing double teams, as he's crashed the glass and hit plenty of outside shots. Demps also deserves praise for showing faith in Greivis Vasquez, who has emerged as a top-shelf playmaker and a very versatile point guard thanks to his size.
Austin Rivers' rookie struggles hurt Demps' overall rankings, and this team could use a boost at point guard and center, but he has been instrumental in ushering in the Hornets' post-Chris Paul era.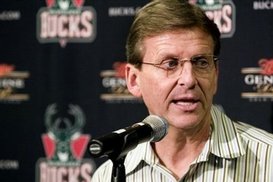 Photo courtesy of Examiner.com.
The Milwaukee Bucks have been one of the NBA's surprising success stories as they have rebounded from an underwhelming 2011-12 season to cement themselves as a playoff caliber team. John Hammond has made some unconventional decisions along the way, but they appear to be paying off.
The backcourt of Brandon Jennings and Monta Ellis is still not perfect, but the two are playing better together than they did the year prior and are providing the Bucks with a seriously potent scoring punch.
Ersan Ilyasova has not lived up to expectations since signing a long-term extension, but Hammond found surprising value in pickups like Marquis Daniels and Larry Sanders, who has emerged as one of the league's elite rim protectors and shot-blockers.
Hammond may want to look into snagging a true center or a veteran defensive wing, but there is no denying that he has done a solid job with this Milwaukee ball club.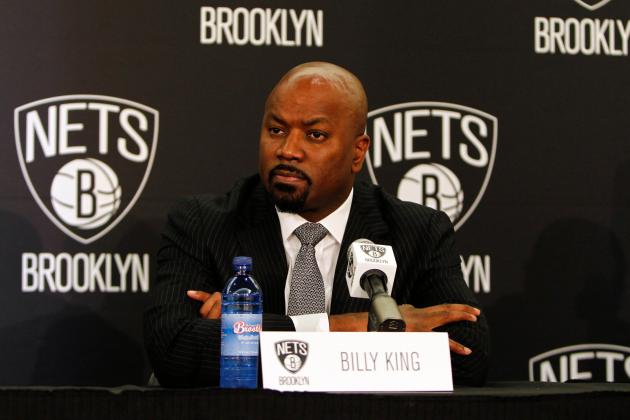 Debby Wong-USA TODAY Sports

Billy King had as busy an offseason as any NBA general manager in 2012. He re-signed starters Deron Williams, Gerald Wallace, Kris Humphries and Brook Lopez while pulling a blockbuster trade for All-Star shooting guard Joe Johnson and presiding over the team's move to Brooklyn.
The Nets started the season hot but cooled down, leading to the firing of Avery Johnson and the appointment of P.J. Carlesimo as interim head coach. King's legacy for the 2012-13 season will be largely contingent upon what decision he makes with the head coaching position; he could stick with Carlesimo or opt to bring in someone with a higher profile who is currently unemployed.
Brooklyn has a slew of talent, both in the starting lineup and off the pine, but the team has also significantly handcuffed itself financially going forward. There is little room for this team to improve without swinging a trade.
King should be pleased with the work he has done, but the team could stand to add a defensive-minded big man to protect the rim, something Lopez and Humphries struggle to do consistently.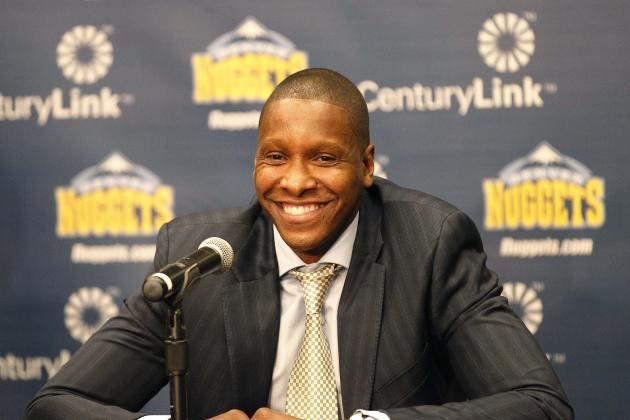 Troy Babbitt-USA TODAY Sports

The Denver Nuggets have not exactly lived up to expectations in the 2012-13 season, but that has been due to injuries and a road-heavy schedule, not the work of GM Masai Ujiri.
Ujiri has built an incredibly deep, athletic team that can score with the best of them and run an absolutely lethal fast break. He managed to turn Al Harrington and Arron Afflalo into Andre Iguodala and re-signed JaVale McGee to a four-year, $44 million extension.
McGee has not always been consistent, but there is no denying his tremendous athletic abilities and his production in limited minutes.
Denver has a pretty high payroll, but all of their pieces fit together nicely and they should only improve as a team as the season progresses. Defensively this team leaves a lot to be desired, but that is more a product of George Karl's up-tempo system than the personnel assembled by Ujiri.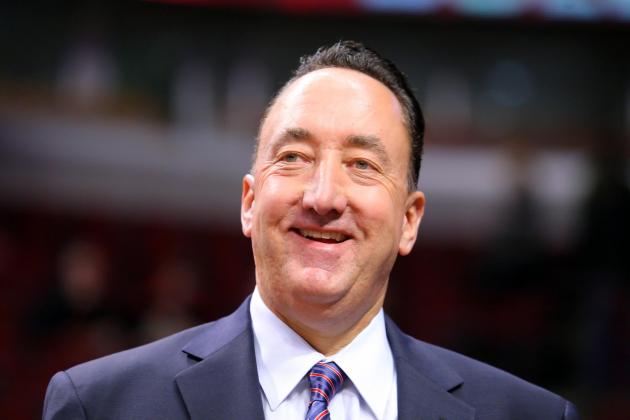 Dennis Wierzbicki-USA TODAY Sports

Gar Forman and the Chicago Bulls had to deal not only with Derrick Rose's ACL injury but also the departure of many of their key reserves over the 2012 offseason.
Many expected them to struggle, but Forman's work in the offseason has helped the team to win 17 of their first 30 games, and they have a very realistic shot at a top-five playoff seed.
To shore up the point-guard position, Forman signed Kirk Hinrich and Nate Robinson to inexpensive deals, and both have been producing quite well, relative to their impact on the salary cap.
Forman also worked out a four-year extension worth $38 million with Taj Gibson, a reasonable deal for such a strong defensive player who will likely be the team's starting power forward in the future.
It is difficult to judge Chicago with Rose still sidelined, but Gar Forman has done as well as he could, given the obvious issues at hand.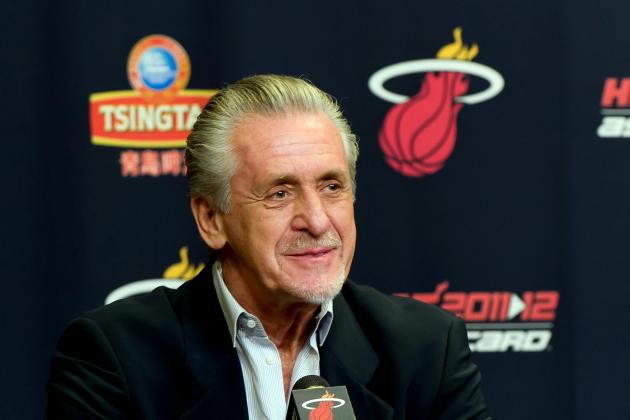 Steve Mitchell-USA TODAY Sports

Riding high on the Miami Heat's second championship and the continued brilliance of LeBron James, Pat Riley's team had a relatively quiet offseason compared to seasons past.
However, they did pull off one major coup by signing sharpshooter Ray Allen to a three-year deal at the mid-level extension, giving them a dynamite sixth man while not wrapping up much more cap space. Allen's outside shooting and clutch chops have already swung several games for Miami, and his playoff experience should be a great help in their title defense.
Rashard Lewis has not played much in recent weeks, but he was shooting the three-ball extremely well early on in the season and was a pretty low-risk investment.
The Heat need some help on the defensive glass and have not been strong defensively as they were in 2011-12, but they are still the Eastern Conference front-runner.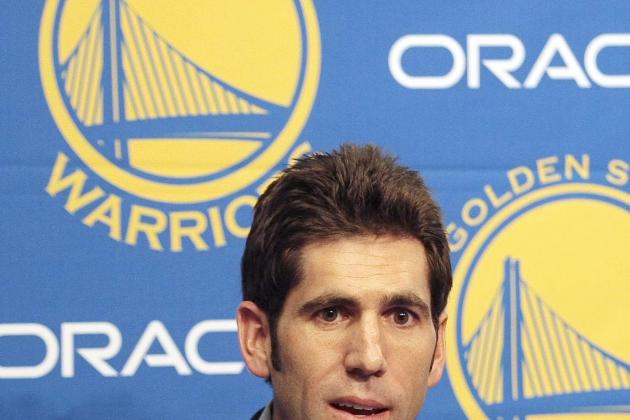 Kelley L Cox-USA TODAY Sports

The Golden State Warriors were built to be a playoff team with Andrew Bogut, but they have managed to succeed without the Australian big man, largely due to their well constructed roster and depth.
Bob Myers took over the GM position on April 24, 2012, and immediately began addressing the holes in the team's roster. He stole Carl Landry in free agency, pulled off a savvy trade for veteran point guard Jarrett Jack and topped it off with a fantastic draft class.
Harrison Barnes' scoring has been erratic, but he has contributed consistently in other ways. Draymond Green, despite being a second-round selection, has played regular minutes and given Golden State some much needed grit and rebounding. Even Festus Ezeli, a very raw prospect, has found a role due to Bogut's injury.
Myers showed faith in the Warriors core of Stephen Curry, Klay Thompson and David Lee, but knew this team needed an extra boost to get into postseason contention.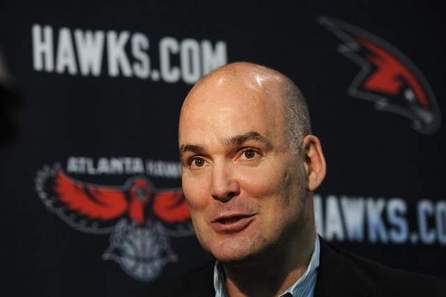 Photo courtesy of Sportsgulp.net.
Even if the Atlanta Hawks were firmly outside of the playoff picture, general manager Danny Ferry would earn top-10 honors simply because he found a way to move Joe Johnson's and Marvin Williams' horrendous contracts.
Those trades gave Atlanta great cap flexibility for the future and made it clear that the team was going to build around Jeff Teague, Josh Smith and Al Horford.
Ferry's moves have positioned the Hawks as an up-and-coming team in the Eastern Conference, thanks to their youth and athleticism, but they are certainly not a rebuilding project.
Behind a deep backcourt and a tenacious defense, Atlanta has been winning consistently and should have home-court advantage through at least the first round of the playoffs.
The team could use an upgrade at the small-forward position, as they don't really have a starting caliber three, but even barring that, Ferry has done a sensational job in his first season with the Hawks.
Bob Levey/Getty Images

No one took Daryl Morey seriously when he blew up the Houston Rockets' roster in the hopes of snagging a Dwight Howard or an Andrew Bynum, let alone when he signed Jeremy Lin and Omer Asik to absurdly back-loaded free-agent contracts.
A third of the way through the 2012-13 season and Morey's gambles appear to have paid off quite well. Houston turned its stockpiled assets into James Harden, who has been playing absolutely brilliantly for them, and both Asik and Lin have played well for stretches of the campaign.
The team signed Harden to a long-term extension in October, keeping their core intact for the foreseeable future. Houston has also seen its recent draft picks pan out, including Patrick Patterson, Marcus Morris and most of all Chandler Parsons.
The Rockets are the league's youngest team and have a very bright future due to the savvy moves of GM Daryl Morey.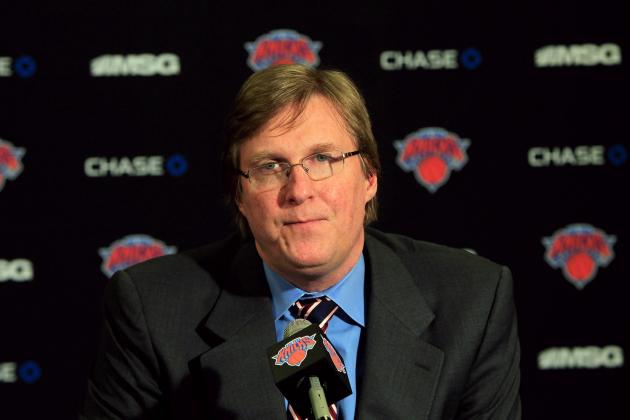 Chris Trotman/Getty Images

The New York Knicks had as hectic an offseason as any team in the league, and as a result no one was quite sure how they would fair. However, Glen Grunwald's decisions seem to have largely paid off as the Knicks appear poised to win the Atlantic Division.
Grunwald decided not to overpay Jeremy Lin and snagged Raymond Felton on a mere three-year, $10 million deal. He also brought in Marcus Camby, Rasheed Wallace and Kurt Thomas to provide veteran experience and frontcourt depth.
The most impressive move though, has been signing Jason Kidd. Kidd has been rejuvenated as a Knick, thriving as a starter at both guard positions and having a huge influence on the team's ball movement and unselfishness.
All of this has led New York to their best start in ages and has had a tremendously positive influence on the play of Carmelo Anthony, who looks like a true MVP candidate.
Injuries are a concern going forward, but this is clearly the strongest Knicks squad in recent years, far better than any team during the Donnie Walsh era.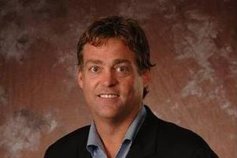 Photo courtesy of Sloansportsconference.com.
The resurgence of Tim Duncan has been a major reason that the San Antonio Spurs have been playing such excellent basketball, but it has also been the deep roster assembled by R.C. Buford.
Buford and the Spurs' front office are excellent at finding overlooked talent that can contribute at a high level in the NBA, and they have certainly done that in 2012-13.
Danny Green, Kawhi Leonard and Tiago Splitter have all made consistent strides with San Antonio and are extremely valuable pieces for the rotation. They also give Greg Popovich the luxury of resting his starters and preserving their legs for the postseason.
Buford has built a team that fits Popovich's more offense-oriented system, and as a result the Spurs are once again in the thick of the championship chase. The team could stand to add one more frontcourt player, but they are still a much more complete team than most.
Photo courtesy of Newson6.com.
The Oklahoma City Thunder are once again rolling and right around the top of the Western Conference standings. A large part of their 2012-13 success has been due to the excellent work of general manager Sam Presti.
Presti built a sensational young core of Kevin Durant, James Harden and Russell Westbrook through the draft, but once it became clear that Harden might leave the Thunder in free agency, he made the best move for the team's future.
The acquisition of Kevin Martin has been extremely successful as Martin has thrived in the sixth-man role, and the team acquired valuable assets for the future, like Jeremy Lamb, and multiple draft picks that could produce some nice talent going forward.
Most importantly, Presti's decision to deal Harden before the season began kept the situation from becoming a huge distraction and hurting their chances of returning to the NBA Finals.
Yet again, Presti has proven to be one step ahead of the competition.