Alabama vs. Notre Dame: How Nick Saban Teams Have Dominated BCSNCG Historically
Monday's matchup between No. 1 Notre Dame and No. 2 Alabama will feature two of the most storied college football programs in the sport's rich history. The Fighting Irish and Crimson Tide combine to claim 25 national championships, although many of those could be up for debate.
But of the two coaches who will be roaming the sideline on Monday night, only one—Alabama head coach Nick Saban—has experience coaching on the game's biggest stage.
What specifically can Saban draw from his BCS National Championship Game wins in 2003, '09 and '11?
In LSU's 21-14 victory over Oklahoma in the 2004 Sugar Bowl to claim the 2003 BCS National Championship, Saban's Tigers relied heavily on the running game and a stifling defense to knock off the Sooners.
The recipe for success for Saban's crew that night was simple: run the ball and play defense.
Tiger running back Justin Vincent rushed 16 times for 117 yards and a touchdown, including a 64-yard burst up the middle on the first play from scrimmage.
The Tiger defense—with a month to prepare—held the nation's highest-scoring team to just 154 total yards and 14 points—31.2 fewer points than Oklahoma's season average. They came after Sooner quarterback Jason White all night long, sacked him five times and generally made a living in the Sooner backfield.
LSU vs. Oklahoma highlights
Running the ball and playing defense...sounds eerily similar to how this year's Alabama team has been able to navigate through the rocky SEC waters and find its way to its third BCS National Championship Game in four seasons.
Running backs Eddie Lacy and T.J. Yeldon are both 1,000-yard rushers for Saban's Crimson Tide this season, the offensive line is one of the best in college football, and the Crimson Tide boast the nation's top defense, having given up 246 yards per game.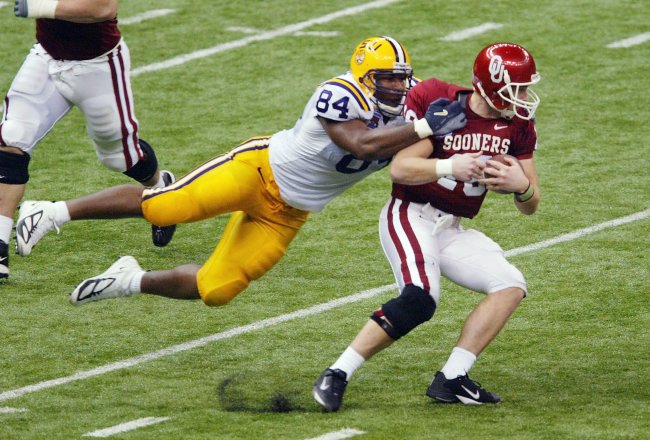 Marcus Spears sacks Jason White
Jamie Squire/Getty Images
Saban rattled the Heisman Trophy-winning White to claim the 2003 title. He may talk up Fighting Irish quarterback Everett Golson, but a first-year player is still a first-year player. Expect Saban and defensive coordinator Kirby Smart to bring pressure from all over the place.
In the 2010 BCS National Championship Game following the 2009 season, Saban's game plan for the Crimson Tide against Texas was very similar to the one which earned him the 2003 national title at LSU.
The Crimson Tide defense came after the Longhorns early. Marcell Dareus knocked Longhorn quarterback Colt McCoy out of the game on Texas's fifth offensive play, forcing Texas to become more of a run-heavy team than it was accustomed to being.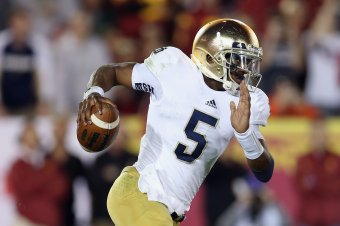 Notre Dame QB Everett Golson
Jeff Gross/Getty Images
By the time backup quarterback Garrett Gilbert got comfortable, Alabama had already built a 24-6 halftime lead, and running backs Mark Ingram and Trent Richardson were well on their way to topping the 100-yard mark.
What Saban learned that night in Pasadena is to not take his foot off of the gas too soon.
Gilbert came out firing in the second half, tossing two touchdown passes to get the Longhorns within three points with 3:14 to play. The Crimson Tide sat back and tried to prevent the big play, and it nearly cost them the game.
Alabama vs. Texas highlights
But when Saban's team needed a big play, it was the defense that again came through. Linebacker Eryk Anders sacked Gilbert and forced a fumble, which led to the touchdown that put the game out of reach.
Last season's game was a bit different because they were squaring off against a quarterback who could make things happen with his legs, just like Notre Dame's Golson.
The Crimson Tide came in knowing that LSU was going to try to get quarterback Jordan Jefferson loose in space, which was a big reason why the Tigers topped the Tide in the regular-season matchup in Tuscaloosa earlier in the season. Saban rattled Jefferson early and continued to crank up the heat when it became apparent that the LSU coaching staff didn't have a Plan B.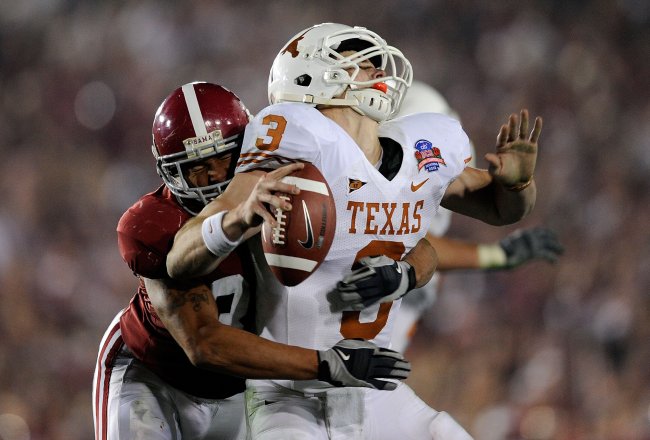 Eryk Anders sacks Garrett Gilbert
Kevork Djansezian/Getty Images
Expect more of that this year.
Where the game plan may change for the Crimson Tide is on the offensive side of the ball.
Alabama made a concerted effort to put the ball in the hands of quarterback A.J. McCarron. McCarron came through with flying colors against the Tigers en route to offensive MVP honors.
Alabama vs. LSU highlights
But Notre Dame will be prepared for McCarron this season. The junior signal-caller is best when he uses play action, so expect Alabama to go back to its bread and butter versus the Fighting Irish—its running game.
Alabama outlasted Georgia in the SEC Championship Game because Lacy and Yeldon were able to find success against the Georgia front seven, which opened the door for McCarron's 45-yard game-winning touchdown pass to Amari Cooper with 3:15 to play.
If the Crimson Tide wants to solidify themselves as the first dynasty of the BCS era, they will stick with Lacy and Yeldon to soften up the defense and keep the defensive intensity up for the full 60 minutes.
Big-game experience matters, and Saban will draw from that experience in preparation for Notre Dame.
This article is
What is the duplicate article?
Why is this article offensive?
Where is this article plagiarized from?
Why is this article poorly edited?