West Ham vs. Manchester United: FA Cup 3rd Round Live Score, Highlights, Recap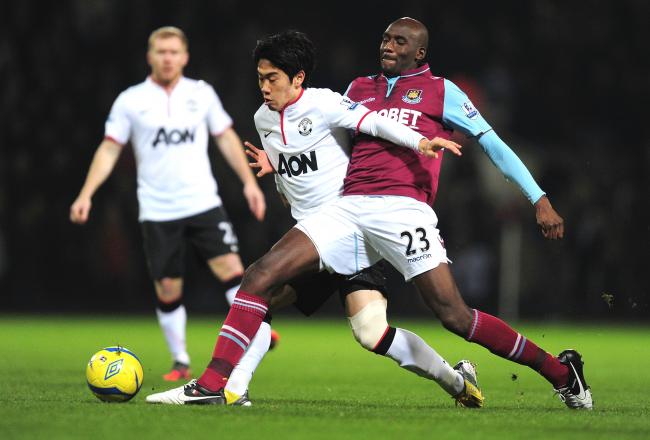 West Ham 2-2 Manchester United, Upton Park, Jan. 5, 2013, Full Time
In a battle between two of the nation's most traditional clubs, West Ham responded magnificently to a Manchester United opener and were ultimately unfortunate not to come away with an FA Cup 4th Round place in their mitts.
Tom Cleverley got on the end of a Javier Hernandez break to round Jussi Jaaskelainen from 10 yards out before Joe Cole and James Collins linked up twice in identical fashion to head the Hammers into the lead.
In true Manchester United fashion however, Robin van Persie was on hand to give the visitors an extra time equaliser and an FA Cup replay as a result.
Sam Allardyce will consider himself hard done by to not have won this match, and it will undoubtedly seem much more of an uphill struggle when they travel to Old Trafford in two weeks' time.
West Ham Starting XI: Jaaskelainen, Demel, Collins, Tomkins, Potts, Diarra, Nolan, Collison, Joe Cole, Vaz Te, C.Cole
West Ham Subs: Spiegel, Reid, Jarvis, Taylor, Noble, Spence, E.Lee
Scorers: Collins (27',59')
Manchester United Starting XI: De Gea, Rafael, Evans, Smalling, Buttner, Vidic, Scholes, Cleverley, Kagawa, Welbeck, Hernandez
Manchester United Subs: Lindegaard, Ferdinand, Valencia, Giggs, Young, Van Persie, Macheda
Scorers: Cleverley (23') Van Persie (90'+1)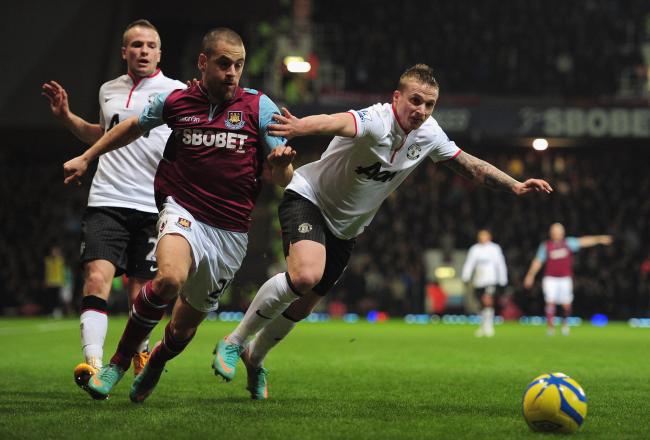 Full Time
And that's the last action of the game as West Ham trudge off, undoubtedly feeling robbed at not having earned progression to the next round of the FA Cup this evening.
Were it any other club, you'd find it unbelievable, but a 91st minute equaliser from Manchester United and, more specifically, Robin van Persie, has become slightly expected this season.
These two teams will now meet once more the week after next, and onlookers will hope for an encounter as entertaining as this in England's most prestigious tournament.
90'+4—WHU 2-2 MNU
Manchester United piling on the last of the pressure with a corner but Antonio Valencia lashes high and wide from the corner of the box, much to the disappointment of the visitors.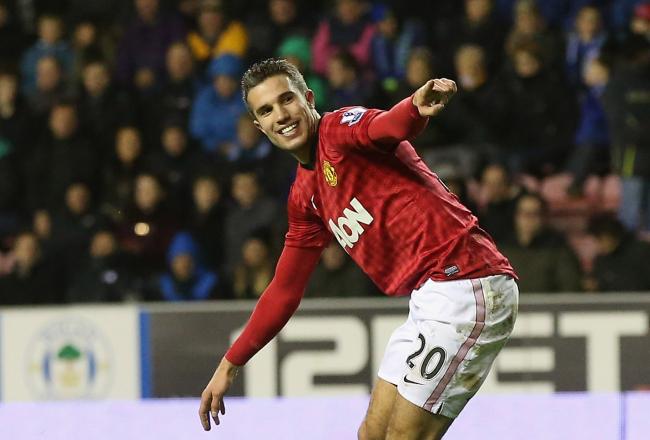 90'+1—GOAAALLLLL!!!! (Manchester United)
Why would you ever doubt it?
Against the run of play, Ryan Giggs fires a crisp ball over the West Ham defence and Robin van Persie gladly takes it into his stride, searing down on Jussi Jaaskelainen's goal.
Battling with Tomkins, the Dutch maestro shoulders his way past the West Ham defender before sizzling a shot into the bottom left corner and earning Manchester United an FA Cup replay, it would seem.
88'—HAMMERS GO CLOSE!!
After winning the ball off Robin van Persie on the edge of their own area, West Ham break to stage a very close chance.
Carlton Cole, Matt Taylor and Mark Noble equal the Red Devils defence in numbers and a David de Gea stop is the only thing that keeps the former from putting his side 3-1 ahead.
"Cole" has been a pivotal brand this evening.
86'—WHU 2-1 MNU
Manchester United are looking pretty devoid of ideas right now and that onslaught I spoke of earlier would appear to be running a little late.
Antonio Valencia the latest to lose possession by firing a cross aimlessly over.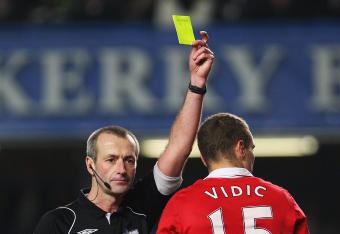 84'—YELLOW CARD (Vidic)
This is utterly stupid from Nemanja Vidic.
The Serbian is teased by Matt Jarvis on the right side of his defence, and as if fouling the West Ham winger wasn't enough, he then proceeds to boot the ball into the crowd.
A man of his experience should know better.
82'—WHU 2-1 MNU
Understandably, West Ham look settled with the current scoreline as all 11 players are back in their third of the field to eleviate a bit of Red Devils pressure.
The stage is set for a Manchester United onslaught in these last 10 minutes..
81'—WHU 2-1 MNU
Joe Cole's standing ovation probably tells us that the fans at Upton Park are more glad than ever to see him back in their claret and blue.
Great performance from the hammer today.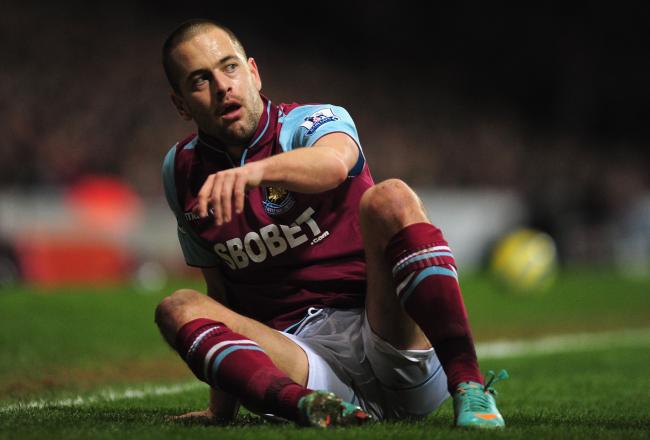 79'—SUBSTITUTION (West Ham)
Both managers use up all their substitutes as Joe Cole, with two assists today, comes off for Matt Taylor.
78'—SUBSTITUTION (Manchester United)
In a bid to salvage a result, Giggs comes on in place of Chris Smalling, with Rafael switching to his usual position.
76'—WHU 2-1 MNU
Ryan Giggs is getting stripped off and ready on the Manchester United bench as Sir Alex Ferguson looks to introduce some of his wisdom to this game.
One Welshman has already had a very substantial impact on this game, can another?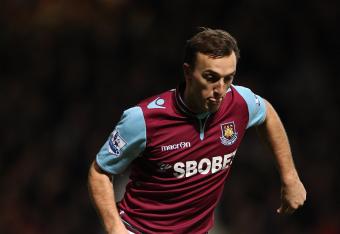 74'—SUBSTITUTION (West Ham)
Sam Allardyce makes his second change of the game, bringing on Mark Noble for Alou Diarra.
73'—WHU 2-1 MNU
Jinking around on the left side of West Ham box, RVP unleashes Büttner just outside him and the Dutchman does well to dink a high ball across the goal.
Danny Welbeck gets up well but hangs in the air too long and can't get his head over the ball, landing awkwardly too.
71'—WHU 2-1 MNU
Matt Jarvis has looked very spritely since coming on and has given Alexander Büttner quite a bit of hassle, something that Vaz Te wasn't providing on as consistent a basis.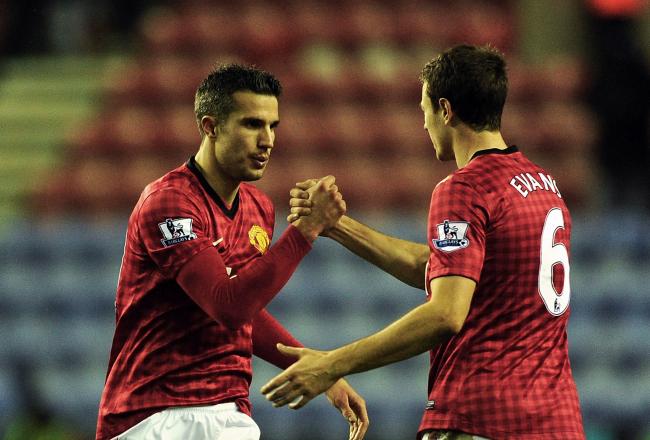 69'—DOUBLE SUBSTITUTE (Manchester United)
Van Persie and Valencia make their way onto the pitch with Hernandez and Scholes the ones being hauled off.
68'—WHU 2-1 MNU
Robin van Persie and Antonio Valencia are ready to come on.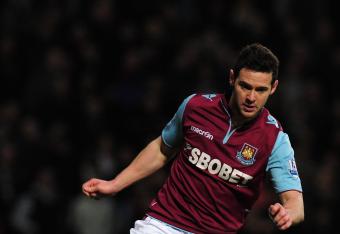 64'—SUBSTITUTE (West Ham)
Sam Allardyce blinks first and throws Matt Jarvis on in favour of Ricardo Vaz Te.
63'—WHU 2-1 MNU
If there were any asking just what it was that Joe Cole brings to the West Ham table, his two very deserved assists so far today have been an astute answer.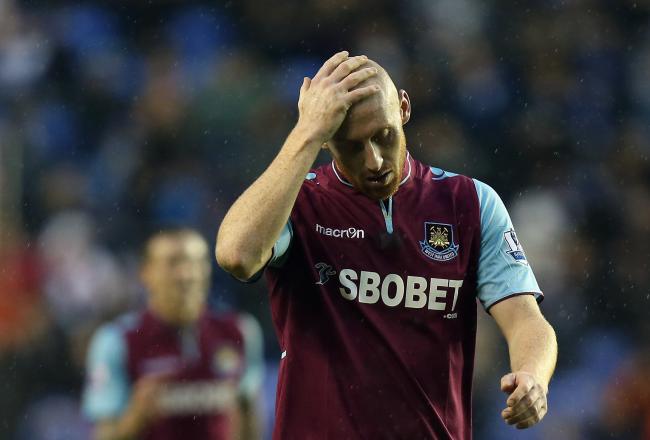 60'—GOALLLLLL!! (West Ham)
If there were any player you would have expected a brace from less today, you'd struggle to name anyone other than James Collins.
The Welsh international latches onto almost a carbon copy of his first goal after Joe Cole cuts in from the left once more, getting away from Hernandez and fizzling a cross in that has "HEAD ME" written all over it.
Collins obliges.
57'—DIVING DAVID!!
Out of nowhere, the hosts fashion a rapid chance and David De gea pulls off one for the cameras after Carlton Cole glances a headed effort towards the Spaniard's top-right corner.
One could argue De Gea made more of that than necessary, but we're not complaining.
Acrobatic.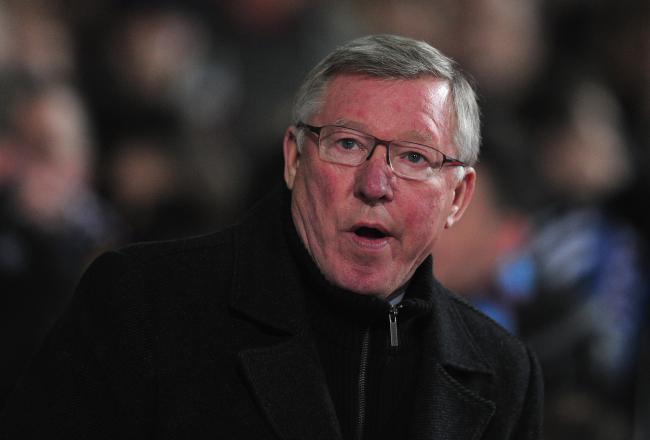 54'—WHU 1-1 MNU
Hints of "the hair-dryer treatment" begin to ring around this Manchester United side as the visitors assume a grip on possession in the first 15 minutes of the second half.
The Red Devils have so far been relegated to long-range efforts and speculative probing but, as the saying goes, you can't score without the ball.
51'—WHU 1-1 MNU
It seems that a shift in tactics has been deployed by Manchester United, with Tom Cleverley switching to the left-hand side while Shinji Kagawa replaces him in the more central role.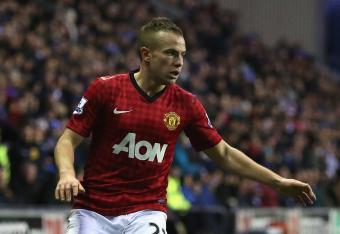 49'—WHU 1-1 MNU
Danny Welbeck is very industrious down the right wing, linking up with Rafael before the re-positioned right-back delivers a ball across Jaaskelainen's goal.
The ball is blocked however, and it's Tom Cleverley that shapes up once more from the edge of the area with a breath of anticipation.
However, Cleverley gets his balance all wrong and hits his effort skywards.
47'—WHU 1-1 MNU
Manchester United have won eight of their last nine games against West Ham and you would have to think that, should the score remain this way, it will be Robin van Persie who comes on to try and make that nine from 10.
Second Half
The teams remain unchanged for the second half and it's West Ham that resume the action.
This article is
What is the duplicate article?
Why is this article offensive?
Where is this article plagiarized from?
Why is this article poorly edited?

Manchester United: Like this team?