Grading Every Team from NFL Wild Card Weekend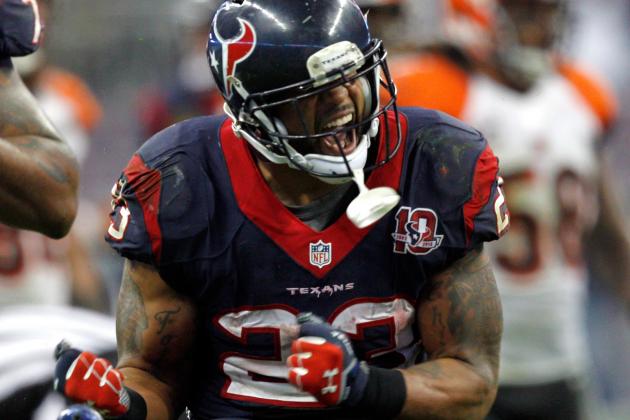 Bob Levey/Getty Images

This is it: the final exam.
Eight teams will take the field this Wild Card Weekend, having studied for over 17 regular-season weeks, four preseason weeks, two months of training camp and an entire offseason program. This weekend, they put themselves to the NFL's ultimate test: the playoffs.
The Packers, Ravens, Redskins and Texans won their divisions, but failed to earn a first-round bye. They play the wild cards this weekend, having to pass one extra hurdle on their road to glory.
The Colts, Bengals, Seahawks and Vikings are wild cards. They didn't win their division, but they did what they needed to do to make the postseason and have just as good a chance as the division winners to take home the Lombardi Trophy.
As games are played this weekend, I'll put an overall grade on their final exams. Plus, I'll put individual grades on the performance of their quarterback, running game, overall offense, run defense, pass defense, overall defense and coaching.
Keep watching this space as the games finish for updated grades!
Begin Slideshow

»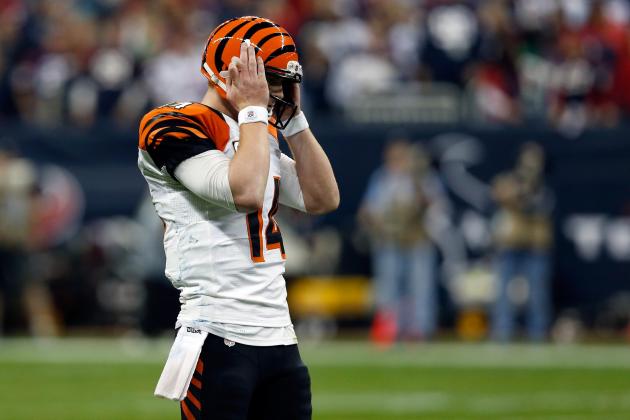 Scott Halleran/Getty Images

QB Play: D
Andy Dalton had difficulty executing a conservative game plan in the Bengals' 19-13 loss to the Texans. Flustered by pressure, and frequently inaccurate, Dalton couldn't beat the Texans with short or intermediate throws. A couple of early drops contributed to his poor numbers.
Dalton failed to target A.J. Green, by far his most dangerous weapon, in the first half. And he misfired on several deep balls when receivers had beaten the defense.
However, Dalton did scramble well.
Run Game: B+
BenJarvus Green-Ellis was very effective early, but the Bengals stopped running the ball. Dalton picked up a big first down on a scramble.
Overall Offense: D+
The Bengals defense held the Texans to only 19 points, and even scored a touchdown, but the offense still couldn't get it done.
Pass Defense: B+
The Bengals secondary had a great day; cornerback Leon Hall and company held Andre Johnson to just four catches. Hall scored Cincinnati's only touchdown on a beautiful pick-six, but the linebackers did a very poor job in short zone coverage.
The pass rush was inconsistent, sometimes pressuring Texans quarterback Matt Schaub into bad throws, and other times giving him all day to throw.
Run Defense: D
Arian Foster ran at will against the Bengals, whose defensive line could not consistently win one-on-ones against the Texans offensive line. The linebackers could not compensate.
Overall Defense: B-
The Bengals defense technically accomplished everything that could be asked of them against the Texans, but they got a lot of help from the Texans' poor offensive play.
Coaching: C-
Offensive coordinator Jay Gruden was drawing attention for head coaching jobs, but his failure to get A.J. Green involved, and inexplicable abandonment of his effective running game, may have done his interviewing for him.
Head coach Marvin Lewis and defensive coordinator Mike Zimmer game-planned well, but the linebackers could not effectively cover the Texans tight ends and slot receivers.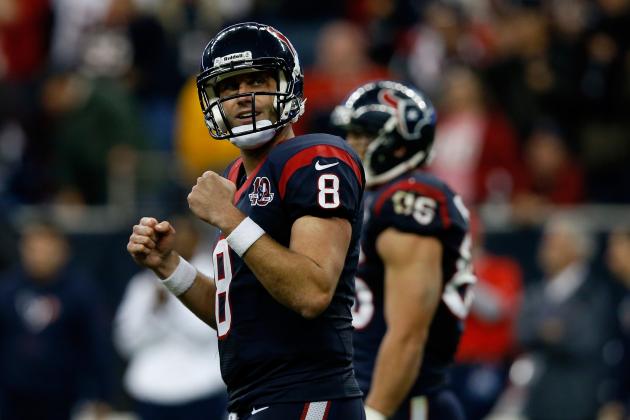 Scott Halleran/Getty Images

QB Play: C-
Matt Schaub did not impress, being sorely out of rhythm early. He hesitated to attack the Bengals defense and was frequently inaccurate on the many short passes he threw. Schaub didn't get much help from his receivers early, but didn't help them either. His play was, however, good enough to earn the Texans a 19-13 win over the Bengals.
Schaub moved the ball well between the 20s but played poorly in the red zone.
Run Game: A+
Arian Foster dominated the game, running well between the tackles and in stretch and zone runs. Finished with 140 yards and the game-winning score on 32 carries.
Overall Offense: C+
Foster single-handedly bailed out a talented Texans passing offense that failed to show up. They'll need to score more than 19 points if they want to go further.
Pass Defense: A-
Cornerback Johnathan Joseph did a great job keeping A.J. Green contained, and defensive linemen J.J. Watt and Connor Barwin gave the Bengals fits all night with their pass rush.
Run Defense: C-
BenJarvus Green-Ellis ran for 5.72 yards per carry; he just didn't get enough carries to drag this grade down further.
Overall Defense: B+
Can't ask for much better than nine offensive points allowed in a playoff game.
Coaching: C-
Defensive coordinator Wade Phillips did a great job, but the Texans' offensive game plan and play-calling were mysteriously conservative. Worse yet, Schaub and company were tentative and poor while executing that game plan.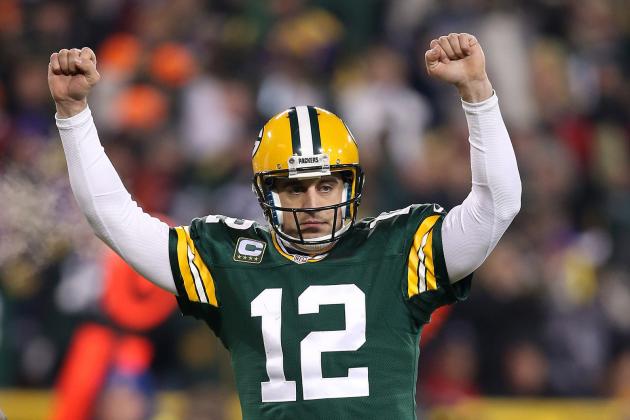 Andy Lyons/Getty Images

QB Play: A
Aaron Rodgers and the Packers started slowly, relying on the run game and screen passes. But once the Vikings stopped dropping their secondary deep, Rodgers started dropping bombs. Rodgers was calm, composed and clinical, never pressing or trying to do too much. The Packers opened up a 24-3 lead on the strength of Rodgers' arm en route to a 24-10 win over the Vikings.
Run Game: C
DuJuan Harris started fast, but was shut down most of the rest of the game, while John Kuhn was able to punch one in against the strong Vikings front. Harris was devastating on screens in the first quarter, which isn't running, but is worth noting.
Overall Offense: B+
The Packers offense wasn't at its unstoppable best, but it proved it can adapt and adjust and be effective when something's not working right away. They did more than enough to win against a weakened opponent.
Hard not to think the Packers would have been able to put up more points if called upon.
Pass Defense: B-
Tempted to put an "Inc." down for this grade, as Joe Webb was his own pass defense for most of the evening. The Packers were being aggressive enough to leave receivers open downfield, but in the rare cases Webb saw the open receivers, he couldn't throw the ball to them.
The Packers were marked down for getting lazy and allowing a late 50-yard touchdown on a blown coverage.
Run Defense: B-
The Packers didn't stop All Day as much as the game situation did. However, if you face Adrian Peterson in a playoff game and hold him to just under 100 yards and no touchdown, you earned your paycheck.
Overall Defense: B-
Again, tough to go crazy for this performance given how profoundly handicapped the Vikings offense was. Still, they played more than well enough to win, and win handily.
Coaching: A
Very impressive offensive coaching from Mike McCarthy and the Packers staff. They had a great game plan, took what the defense gave them and capitalized on their opportunities.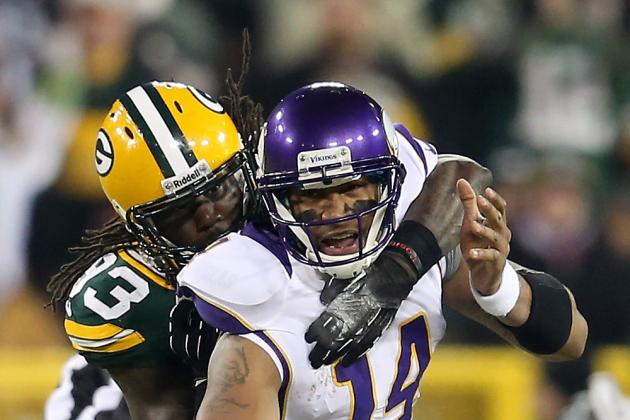 Andy Lyons/Getty Images

QB Play: F
Joe Webb, not having thrown a pass all year, was suddenly thrown into the fire at Lambeau Field.
He couldn't make plays, couldn't execute the offense and threw two completely inexcusable blind lobs up for grabs. He had receivers open downfield several times, but couldn't get the ball anywhere near them.
The Vikings couldn't have asked for much better from Webb, but couldn't have gotten much worse, as the 24-10 final score was not indicative of how one-sided this matchup truly was.
Run Game: B
Adrian Peterson took on an entire defense by himself, and still ran fairly effectively. The lack of help from Webb, and the gradually expanding lead took All Day out of the game.
Overall Offense: D
Credit the Vikings offensive line with some very nice pass protection. Webb's poor play wasted a lot of it, but they did a great job. Still, 10 points won't cut it.
Pass Defense: C-
The Vikings did a great job taking away the pass early, then got ripped apart by screens. They brought the coverage up to handle the screens, and got shredded in the back. They needed much more pressure from Jared Allen and the defensive line.
Run Defense: B
Letroy Guion made some great individual plays to contain Packers tailback DuJuan Harris, but the run defense was quickly rendered irrelevant by the Packers air attack and Vikings' lack thereof.
Overall Defense: C+
The Vikings defense managed to hold the Packers to 24 points, but that's at least partly due to the Vikings offense failing to threaten Green Bay with any more than three points of their own. It never felt like the Packers couldn't score more if they had to.
Coaching: B+
Leslie Frazier deserves full credit for making multiple major in-game defensive adjustments. Given the lack of a viable quarterback and the inevitability of the Vikings' offensive strategy, the Vikings coaches did the best they could.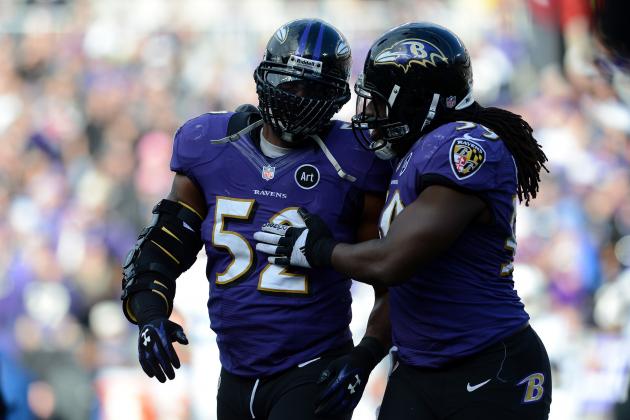 Patrick Smith/Getty Images

QB Play: C
Joe Flacco had a very, very slow start to the game, struggling with both decision-making and accuracy. However, Flacco warmed up in the middle of the third quarter, connecting on nice sideline throws and two critical touchdown passes.
Flacco must play better if the Ravens are to advance next week.
Run Game: B
Ray Rice and Bernard Pierce were effective early, as the Ravens offensive line got fantastic push up the middle. The Colts defensive line struggled to redirect or contain either back.
I'd say Baltimore should have kept it on the ground more, given the Colts' offensive struggles—but the two fumbles from Ray Rice were quite costly. The Ravens were lucky the Colts couldn't make them pay for the turnovers.
Overall Offense: C+
The Ravens needed to score more points earlier. The Colts were the weakest defense in the AFC bracket; it'll only get harder for the Ravens from here.
Pass Defense: B
The Ravens pass rush was vicious and relentless; Luck was pressured on every play save the coin toss. The Ravens' coverage was not nearly as good; when Luck could get away from the rush he had options open.
Run Defense: B+
The Ravens front seven overwhelmed the Colts for most of the game. In the fourth quarter, though, Vick Ballard began to find room between the Ravens linemen.
Overall Defense: B
Holding Andrew Luck and the Colts to field goals for the entire game was very impressive.
Coaching: B
The Ravens offensive gameplan was solid, though they shouldn't have gotten away from the run in the second quarter. Selling out the coverage to attack Andrew Luck was a decision fraught with risk, but it paid off.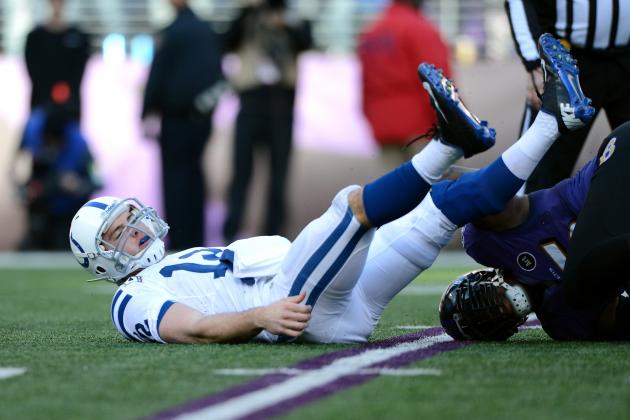 Patrick Smith/Getty Images

QB Play: B+
Andrew Luck did about as well as he could with his face mask full of Raven. He missed some downfield opportunities early, but spent most of the day making something out of absolutely nothing. In the second half, Luck's accuracy on all routes and depths was outstanding.
Luck was let down by his receivers on the final two drives.
Run Game: C-
The Colts offensive line got absolutely no push up the middle. In the fourth quarter, Vick Ballard began to find some seams, but it was too late to make a difference in the game.
Overall Offense: C-
The Ravens defense at M&T Bank Stadium is a difficult challenge for any offense, but nine points won't beat anyone. Reggie Wayne and Dwayne Allen had big days, for the most part, and Colts fans should feel good about the play of Luck and Vick Ballard.
The Colts need a lot of offensive line help, though.
Pass Defense: C
The Colts can pressure the passer from the outside edge, but downfield coverage was dirty in the first half and poor in the second. A quarterback playing at a higher level could have put up a lot more points against them.
Run Defense: D-
Completely inadequate. The Colts allowed Rice and Pierce to run on them at will.
Overall Defense: D+
The Colts did what they could, but once Flacco got going it was over. They were lucky the Ravens didn't keep feeding Rice and Pierce throughout the middle two quarters.
Coaching: B+
The Colts had a significant talent gap against the Ravens, especially defensively. The offensive gameplan was barely discernible given the Ravens onslaught, and the defensive gameplan kept the birds at bay for as long as was feasible.
The Colts had a great season, one to be incredibly proud of. Their 53-man roster, top-to-bottom, is not playoff caliber yet.
Just like the good old days with No. 18 back there, though, as long as the Colts have Luck they'll be in the mix.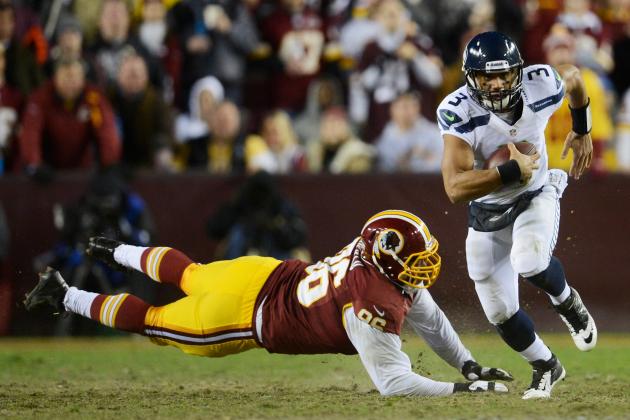 Patrick McDermott/Getty Images

QB Play: B
Russell Wilson had a cold start, was sacked out of field-goal range at the end of the third quarter and betrayed by a Marshawn Lynch goal-line fumble. But for most of the game, Wilson was on fire, scrambling and running with equal aplomb. He even threw a great block.
I marked Wilson down slightly for two 4th-quarter red-zone misfires that kept the Redskins in the game.
Run Game: B-
Marshawn Lynch has been a huge factor in the Seahawks' success this season. But outside of a heads-up fumble recovery he turned into a first down, Lynch was ineffective in the first half. Lynch also lost a backbreaking fumble with a go-ahead touchdown a yard away.
But with the game on the line, Lynch took a 3rd-and-5 handoff 27 yards for a touchdown. That makes up for a lot of missed opportunities.
Overall Offense: B-
The Seahawks were shut out in the first quarter, which put them in a 14-0 hole. After getting back within one, two long Seahawks 3rd-quarter drives inexcusably ended with no points, giving the Redskins a chance to put them away.
Still, 24 points in a road playoff game is a more-than-respectable showing.
Pass Defense: B-
After RGIII and the Redskins shredded the defense for two touchdowns in the first two drives, the Seahawks pass defense toughened up. Undoubtedly helped by Griffin's injury sapping his threat to run, the Seahawks clamped down, and nabbed a crucial interception in the third quarter.
Run Defense: B
Again, Griffin's knee injury made the Seahawks run-defending job a lot easier. Alfred Morris was very effective on the first two drives, but unremarkable after that.
Overall Defense: B-
The Seahawks defense was punched in the mouth in the first quarter; credit them for tightening up and playing their usual physical game after that.
Coaching: B
The Seahawks made great defensive adjustments to the situation, getting more aggressive (and much more effective) as the game wore on. They also called a great offensive game, though the second-to-last drive should have featured nothing but clock-draining runs.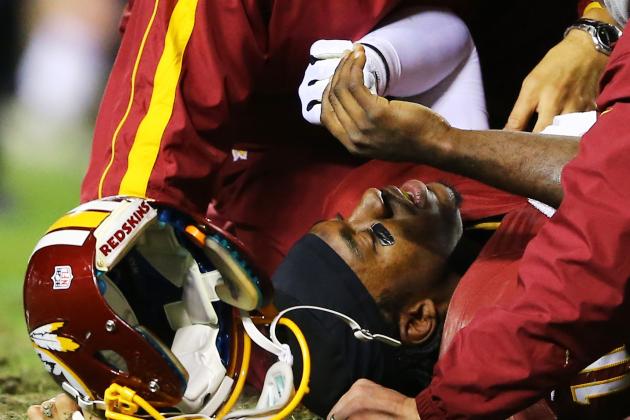 Al Bello/Getty Images

QB Play: C
It's hard to mark RGIII down for his performance, considering his injury should have probably rendered him to the bench. For the few drives he was kind-of healthy, Griffin's performance was everything the Redskins expected (and needed).
But as soon as Griffin tweaked that knee, he struggled mightily to run or throw at his usual level. When he injured his knee for good, backup Kirk Cousins couldn't do anything against an aggressive Seahawks defense that smelled blood.
Run Game: B+
Alfred Morris was very effective in the first quarter, and ran well when called upon after that. This game should prove beyond a shadow of a doubt that RGII, not Morris, is the straw that stirs the Redskins drink.
Overall Offense: C
14 points in the first quarter against the best scoring defense in the NFL is fantastic. 14 points in four quarters is not.
Pass Defense: C+
The Redskins pass rush looked relentless in the first quarter, but Wilson and the Seahawks adjusted well. Downfield coverage was shaky, especially in the second and third quarters.
Run Defense: B-
The scoreboard shows Marshawn Lynch with 20 carries, 132 yards and a touchdown. But outside of the freak fumble-recovery-and-advancement, and one spectacular fourth-quarter touchdown run, the Redskins contained Lynch.
Those two plays were crucial, and turned the tide of the game, so my praise must be faint.
Overall Defense: C+
The Seahawks scored 24 points, and were dangerously close to scoring at least ten more points in the third quarter. But given how the Redskins struggled to score after the first quarter, the Redskins defense did a great job of keeping it close to until the bitter end.
Coaching: F------
Future civilizations will curse Mike Shanahan for starting, riding and breaking Griffin in this game.