The 2012-13 New York Knicks got off to one of the hottest starts in franchise history (14-4). They have a legitimate shot at the No. 1 seed in the Eastern Conference and have beaten the champion Miami Heat and the Southwest-leading San Antonio Spurs twice apiece.
Is it possible we could be looking at the best Knicks team in franchise history? Not even close.
Even if New York takes the East away from Miami and against the odds wins it all—somehow beating the Spurs, Oklahoma City Thunder and the L.A. Clippers—the 2012-13 Knicks would still not yet be worthy of washing Willis Reed's game-used shorts.
If the Knicks fail to go that far, they wouldn't measure up to most of Patrick Ewing's teams of the late 1980s and early 1990s either.
What the teams of Reed and Ewing had was proven staying power—postseason appearances and playoff wins season after season.
Brett Deering/Getty Images
Carmelo Anthony's and Amar'e Stoudemire's Knicks have barely gotten started. Their only true claim as of now is bringing New York basketball back to relevancy after a lost decade and a lone playoff victory.
If the 2012-13 Knicks do win it all, by definition they will surpass all of Ewing's teams in the franchise's all-time rankings.
However, they'd still be behind the two early 1970 championship teams led by Reed, Walt Frazier, Bill Bradley and Dave DeBusschere.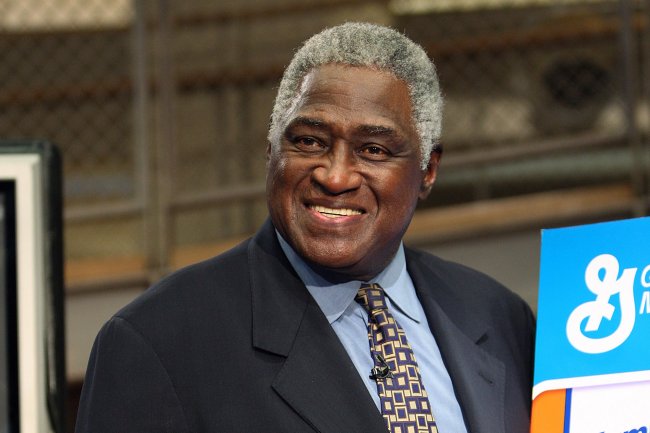 Scott Gries/Getty Images
The point may be moot, though.
Despite a nice win against San Antonio last night (100-83) that again exhibited what New York's defense is capable of, there are enough issues with the Knicks that preclude them from winning a title.
The defense has been inconsistent, and age and injury are stalking the roster. The Knicks are also a poor rebounding team, are at the bottom of the league in assists and have trouble with big, physical teams like the Memphis Grizzlies.
But there's something more insidious afoot, and no one's mentioning it: The Knicks haven't really beaten anyone of consequence.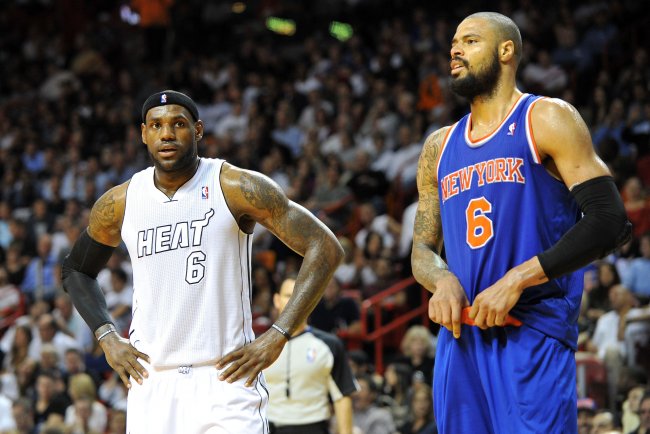 USA TODAY Sports
Yes, there are those four wins against the Heat and Spurs, the two wins against the Philadelphia 76ers—minus Andrew Bynum—and that win against the Indiana Pacers—minus Danny Granger.
The Knicks beat the Dallas Mavericks without Dirk Nowitzki, but they also lost to them without Dirk. They beat the Minnesota Timberwolves—minus just about everyone.
But they can't beat the Chicago Bulls or the Houston Rockets, as they dropped two to both teams.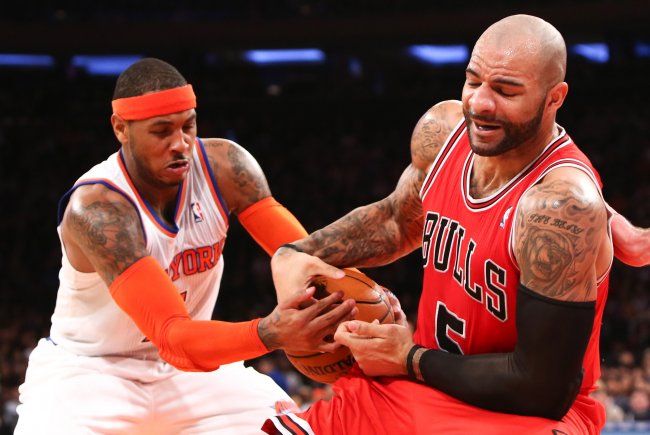 USA TODAY Sports
In total, the Knicks' record against teams with a current winning percentage over .500 is 9-7, and that's not counting all those injuries noted above. It's not a bad record, but not championship-caliber either.
Nearly half (23 of 50) of the Knicks' remaining games are against teams with winning records.
This is not to bash the Knicks, quite the contrary. New York is still capable of a predicted 54 wins or more and will win the Atlantic.
Anthony is playing perhaps the best basketball of his career and rightly in the MVP discussion. Raymond Felton has erased the memory of Jeremy Lin, and Jason Kidd has made a bigger impact than expected of a player in his waning years.
To be sure, this is a great Knicks team, and they've beaten most of the teams they should (13-3 against sub-.500 teams).
And New York has missed a few critical players itself along the way.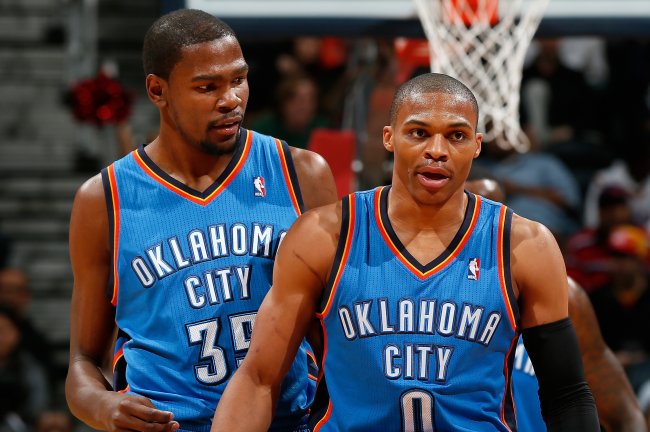 Kevin C. Cox/Getty Images
The Knicks have their best shot in years to take the crown, but looking over the completed schedule, there is enough fair cause for concern.
And the best team in franchise history? No.
The truth is, the 2012-13 Knicks still have to prove they are even in the top 10.
New York has won 50 games 12 times before and has had a winning percentage greater than .600 15 times in its history.
Until either of those two barriers are breached, the discussion is closed. The Knicks have taken their game to a new level but need to kick it up another notch to win it all—and another few notches to rank best of all time.
All stats in this article are as of Jan. 3, 2013. Source data from basketball-reference.com and ESPN.