The Houston Texans appeared poised to secure a bye and possibly the No. 1 seed in the AFC. Instead they fell to No. 3 and will host the Cincinnati Bengals (No. 6) in the Wild Card Round. Kickoff is set for 4:30 p.m. ET on NBC.
This is the second consecutive year that the Texans and Bengals will meet as the No. 3 and No. 6 seeds. Last year at Reliant Stadium the Texans came away with the 31-10 win, in what was the playoff debut for rookie quarterbacks T.J. Yates and Andy Dalton.
The Texans started the season 11-1 and although they secured their second straight AFC South title, they lost three of their last four games heading into the playoffs.
With Andy Dalton, A.J. Green and a strong defense, the Bengals were able to post back-to-back winning seasons for the first time since 1982.
Offense
The Houston Texans were eighth in the NFL, scoring 26.0 points per game in the regular season, while the Bengals were 12th averaging 24.4 points.
Matt Schaub goes into his first playoff start having struggled down the stretch. Schaub has thrown just one touchdown pass and three interceptions in Houston's last four games. Houston's offensive line and running back Arian Foster haven't been at their best either.
Foster isn't likely to come anywhere close to the 153 rushing yards he put up on the Bengals last postseason. However, the Texans do need to establish a consistent run game to set up play-action.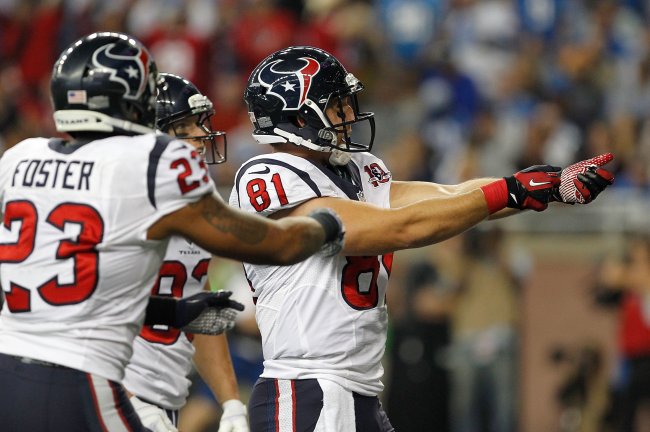 Gregory Shamus/Getty Images
The more opportunities Schaub has to target Andre Johnson down field, the better. With that said, the Texans can't depend on Johnson alone. Tight end Owen Daniels can have a big impact if he's healthy; however, Daniels (chest/knee) has been limited in practice this week.
Andy Dalton and A.J. Green are in their second NFL seasons and are already one the best quarterback-wide receiver combinations in the league.
Both players have improved, Dalton throwing for 3,669 yards, 27 touchdowns and rushing for four scores and Green racking up 1,350 receiving yards and 11 touchdown catches. The pair should also perform a lot better than they did in last year's loss, although some of that will depend on the offensive line. Dalton was sacked 46 times this season, third most in the league.
BenJarvus Green-Ellis has been a good addition to the offense, but the running back has been limited in practice this week with a hamstring injury.
Defense
The Texans and Bengals boast strong defenses and are both in the top 10 in points and yards allowed this season.
Houston's pass rush had success throughout the season, while their secondary struggled at times.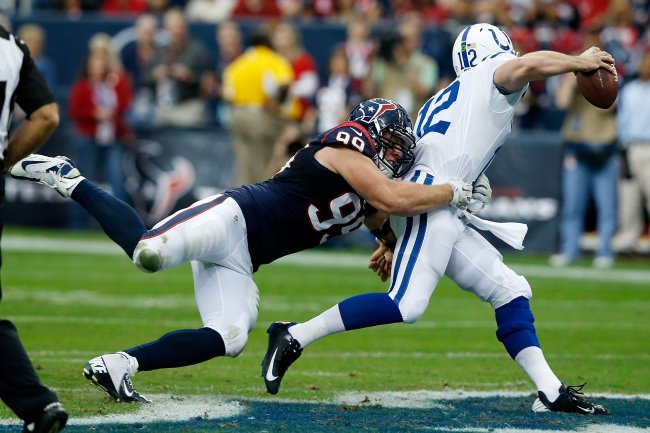 Scott Halleran/Getty Images
J.J. Watt came up short in his pursuit of Michael Strahan's single-season sack record, but did finish with a league best 20.5 sacks. Watt was a part of a Houston pass rush that got to Dalton four times in last year's game. The Texans will need to do the same this year and consistently force Dalton out of the pocket.
Houston will likely rely on cornerback Jonathan Joseph to try to limit A.J. Green's impact. This should be a great matchup to watch throughout the game.
Cincinnati's pass rush was just as important as Houston's this season. In fact, the Bengals recorded 51 sacks, seven more than the Texans.
Defensive tackle Geno Atkins may not get the same attention as Watt, but he is a dominant player in his own right. Atkins had 12.5 sacks, four forced fumbles and 53 tackles on the season.
Just as the key for the Texans is to pressure Dalton, it's crucial that the Bengals' defensive line force Schaub to rush his throws.
Special Teams
There wasn't many big punt or kick returns for either team this season. And while the return game may not have a significant impact, the kickers will.
Shayne Graham had a great first half of the season, but faltered slightly in the second half. Overall he's hit 81.6 percent of his attempts, with most misses coming on kicks from more than 50 yards.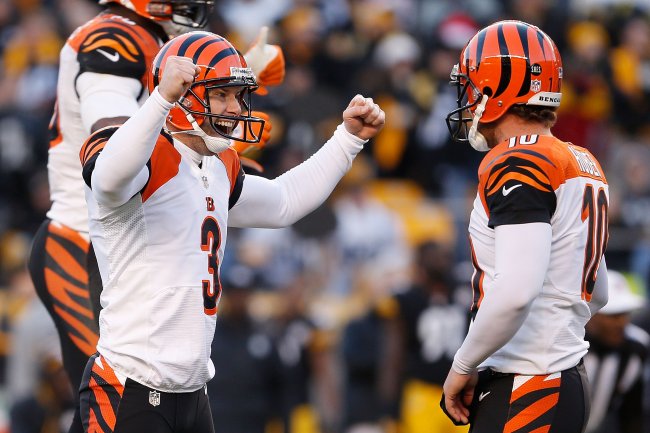 Gregory Shamus/Getty Images
Josh Brown, who took over for the injured Mike Nugent, was named AFC special teams player of the month for December. The 33-year-old has made 11-of-12 attempts since joining the team.
Prediction
These are two teams that appear to be heading in different directions. The Bengals lost just one game in the second half of the season, a 20-19 loss to the Cowboys in Week 14. And while Houston has certainly struggled, it's important to remember they lost three in a row before beating the Bengals in the playoffs last season. This game should be a hard fought defensive battle that's decided late in the fourth quarter.
Texans 21, Bengals 20