Missouri Basketball: 5 Bold Predictions for the SEC Season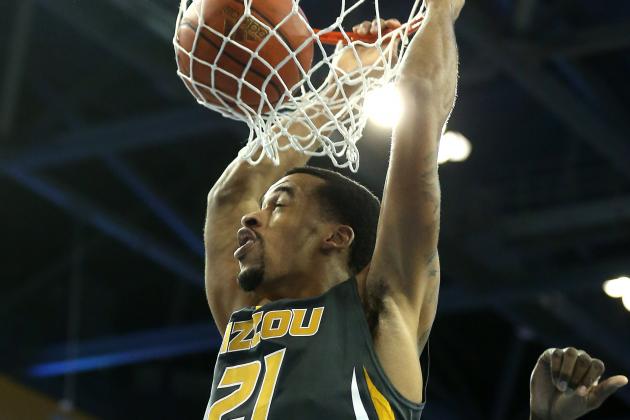 Stephen Dunn/Getty Images
Laurence Bowers and the Missouri Tigers were picked to finish third in the SEC, but can the Tigers live up to the hype?
As the Missouri Tigers basketball team prepares for their first SEC conference game against Alabama on Tuesday night at Mizzou Arena in Columbia, many Tigers fans are excited. Head coach Frank Haith's boys are venturing into new territory, playing their first SEC conference schedule.
The defending Big 12 Tournament Champs will not have an opportunity to defend that title and, instead, will try to win the SEC Conference championship in the school's first season playing with their new friends.
But what should be expected of the Tigers this season? Pundits have picked the Tigers to finish third in the conference, but can Mizzou live up to those lofty expectations? Can the Tigers surprise the experts and do better?
Here are five bold predictions regarding how Mizzou will fare in its first season in the SEC.
Begin Slideshow

»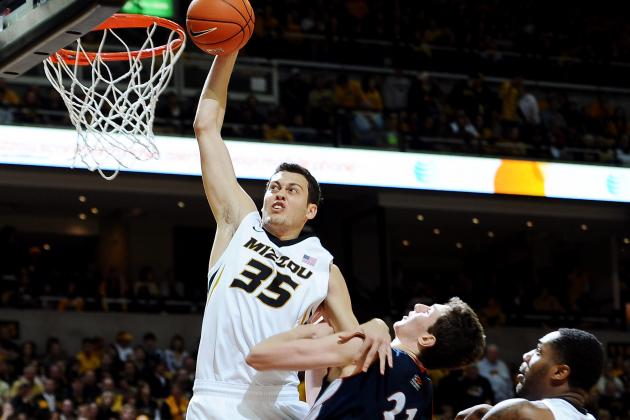 Dak Dillon-USA TODAY Sports
Freshman Stefan Jankovic has shown flashes of becoming a star.
Freshman Stefan Jankovic has been used sparingly by head coach Frank Haith, but when given a chance to perform, the 6'11" forward has stepped up to the challenge.
Such was the case in Mizzou's 66-64 win over Bucknell. Jankovic played just 15 minutes but provided the Tigers with a huge lift at the start of the second half with a quick three and a thunderous dunk to help give Mizzou the momentum.
Jankovic has also had other performances where his immense talent has shown, including a 14-point, five-rebound performance in an early December win over Tennessee State.
Jankovic has a rare blend of size, speed and skill that should lead to him playing a key role down the stretch for Mizzou.
Jankovic likely will not win SEC Freshman of Year honors, but look for him to be considered one of the conference's up-and-coming stars once the season ends.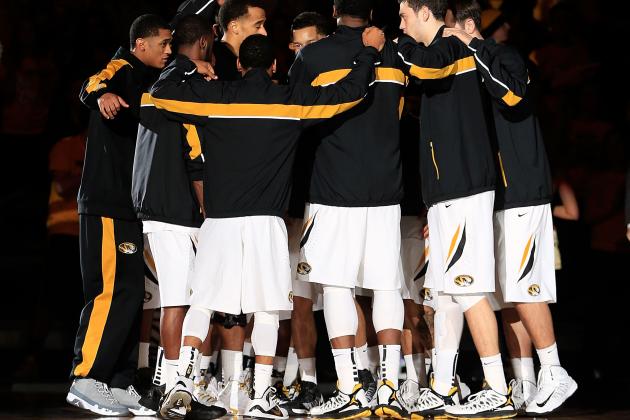 Jamie Squire/Getty Images
The Missouri Tigers are tough at home and look for them to go undefeated during SEC play at Mizzou Arena.
The Missouri Tigers have traditionally been very good on their home floor over the years and are hard to beat in Columbia.
During seasons past, even when Mizzou has had down seasons, the Tigers still regularly are a tough out at home. Mizzou has played top Big 12 programs like Kansas and Texas tough at Mizzou Arena every single year.
Now that the Tigers are in the SEC, look for Mizzou's reign on their home floor to continue.
In fact, look for the Tigers to run the table at home during their SEC conference schedule, which will include visits by the Vanderbilt Commodores, Mike Anderson's Arkansas Razorbacks and the highly ranked Florida Gators.
It won't be easy to defend Norm Stewart Court, but look for the Tigers to be perfect at home.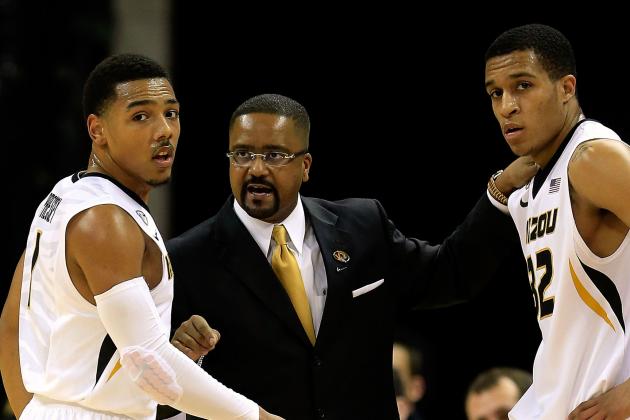 Jamie Squire/Getty Images
Head coach Frank Haith has already done a fantastic job in gelling this year's roster into a cohesive unit.
The SEC is loaded with high-profile coaches, such as John Calipari of the Kentucky Wildcats and Billy Donovan of the Florida Gators.
Yet, despite the legendary status of these SEC stalwarts, look for Mizzou coach Frank Haith to take home SEC Coach of the Year honors.
Haith has already done an incredible job in gelling this Mizzou roster into a cohesive unit, and the Tigers look better each time the ball is tipped.
Not only has Haith had to deal with a different roster, but he has implemented a different style of play as well. This year's Tigers are more focused on getting the ball inside and dominating the boards, which is much different from last season's 30-win team that bombed away from the outside and created turnovers.
If Haith can help lead Mizzou to a SEC Championship or even a second-place finish, look for Haith to take home the hardware as the best coach in the SEC this season.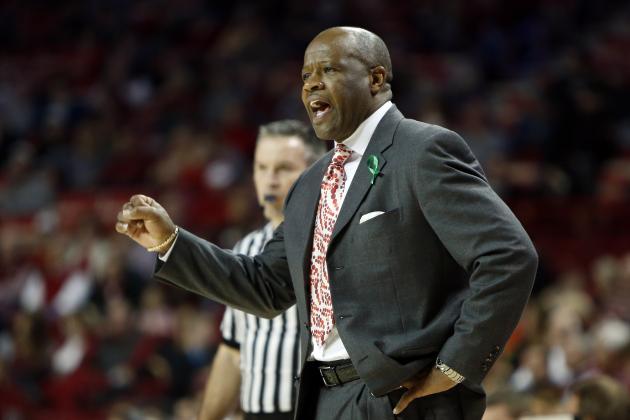 Wesley Hitt/Getty Images
Former Mizzou coach Mike Anderson will visit Columbia this season for the first time since leaving Mizzou for Arkansas.
With a new conference affiliation comes an opportunity to develop a new rivalry, and with former coach Mike Anderson's Arkansas Razorbacks on the schedule twice, Mizzou will begin a new, heated rivalry with its neighbors from the south.
The Razorbacks, playing Anderson's frenetic style, are one of the best offensive teams in the country, ranking seventh in the country in points scored, averaging 82.9 points per game.
To nobody's surprise, the Razorbacks get after it defensively as well and are 21st in the nation in steals, averaging 9.54 thefts per game.
Arkansas is led offensively by St. Louis native B.J. Young, who is averaging 17.7 points and 4.3 assists per game as a sophomore. Young's ditching of Missouri for Arkansas during the recruiting process provides just another storyline to help substantiate the rivalry.
At just 9-4, Arkansas should get better as the season progresses, setting up the possibility for two high profile matchups late in the conference schedule.
When Anderson visits Columbia on March 5, it is certain to be a hostile environment as Tigers fans will likely greet him with a rude reception.
Geography says that Missouri and Arkansas should have a rivalry. Anderson's history with Missouri says there should be a rivalry. After the two games set to take place later this year, there almost certainly will be a budding rivalry between the Tigers and the Razorbacks.
Look for Mizzou to get the best of that rivalry this season.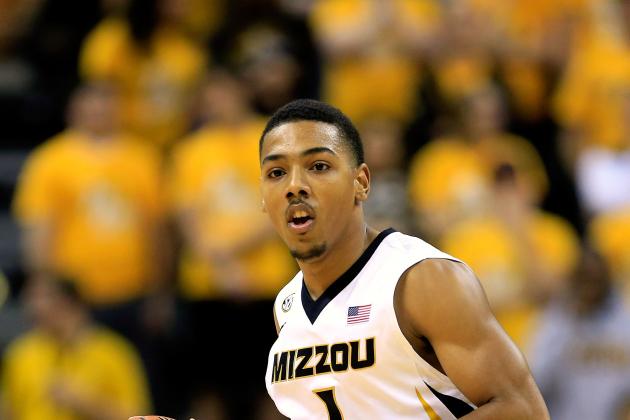 Jamie Squire/Getty Images
Look for Phil Pressey to lead the Tigers to a SEC regular-season championship.
As the SEC conference's highest ranked team in the latest AP Poll, it may not seem that bold to predict that the Tigers will win the SEC regular-season championship.
But, going off where they were picked to finish and figuring in that it is Mizzou's first season in the SEC, winning the conference would exceed most expectations and surprise the pundits as well.
Kentucky certainly is talented but has struggled through growing pains with a young roster. The Florida Gators are legit contenders with just a pair of blemished on their resume. The previously mentioned Arkansas Razorbacks along with the Tennessee Volunteers also could make some noise.
Yet, the Tigers look to have an opportunity on their hands and with the senior leadership of Laurence Bowers and the playmaking ability of Phil Pressey, look for them to take home the SEC regular-season crown at the end of the season.