Power Ranking the 15 Best MMA Fights to Take Place in January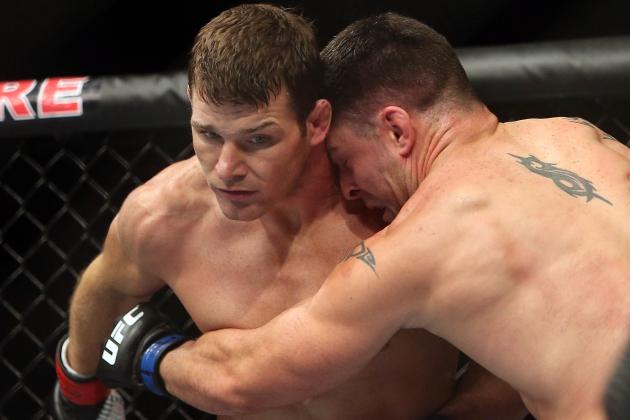 Tom Szczerbowski-USA TODAY Sports

The month of January is jam-packed with great MMA action from the UFC to Bellator to the regional circuit. Each weekend of the first month of 2013 promises to provide fans with numerous quality matches.
Chicago and Brazil play host to UFC cards, while Strikeforce puts on its final show in Oklahoma. Add to that the fact Invicta will provide us with another astounding all-female card, and things are really looking up for the kickoff of 2013.
Here are the best 15 fights for January.
Begin Slideshow

»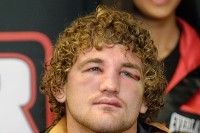 cagepages.com
I know what you are thinking: How is Ben Askren included on a "best fights" countdown?
I agree. I am disgusted with myself.
However, his fight is a title defense in Bellator, and he is taking on an exciting up-and-comer in Karl Amoussou. Any time a championship belt is defended in a top organization, it is kind of a big deal.
That is the reason why this is ranked last on the list.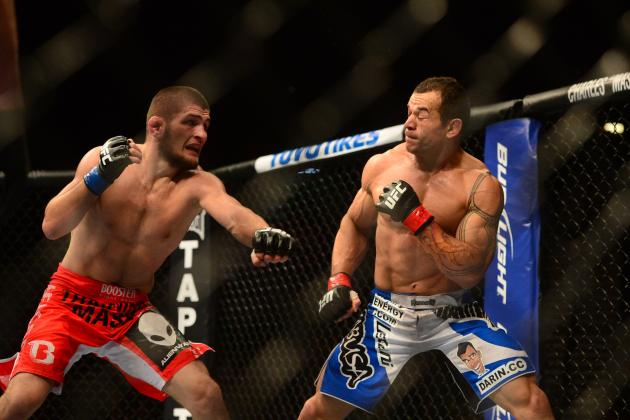 Mark J. Rebilas-USA TODAY Sports

A main-card bout of UFC on FX Brazil between lightweights Thiago Tavares and Khabib Nurmagomedov is really flying under the radar right now.
Nurmagomedov is a surging prospect, while Tavares is a consistently tough fighter. It could be an interesting stylistic matchup, as Tavares is a grappler and Khabib is more well-rounded.
A win for Tavares earns him the marquee win he is looking for. A win for the Russian proves he is a legit top prospect with the UFC.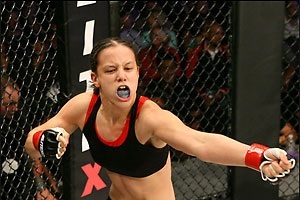 wikifeet.com
Two of the top women's 135-pound fighters are set to meet at Invicta 5, when Shayna Baszler and Alexis Davis throw down.
Both women are aces on the ground. The two combine for 20 career submission wins, which could lead to an exciting, technical ground war.
Don't be surprised if a tap is achieved.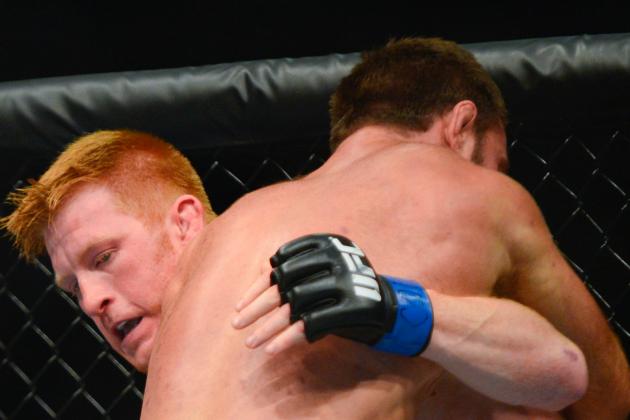 Ron Chenoy-USA TODAY Sports

UFC middleweight Ed Herman is making the crossover to Strikeforce for their final show as a late replacement against Ronaldo Souza. It is a huge opportunity for both men and a potential barnburner.
Souza is famous for his amazing jiu-jitsu game, which has caught a fair share of opponents tapping out. Herman is similar, though he is not on the same level as "Jacare."
This could either be a technical ground fight, or their offsetting games could see these two duke it out on their feet.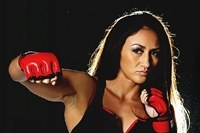 sherdog.com
Invicta has gold on the line this month when 115-pounders Bec Hyatt and Carla Esparza scrap. It should be interesting, to say the least.
Esparza has wowed the MMA world with her wrestling and grappling attack. Most female fighters lack the wrestling background that makes many male fighters successful, but it happens to be Esparza's strength.
Hyatt is stepping up late on this fight and is young in her MMA career. She is definitely a game opponent, but she will need to be cautious of Esparza's ground game.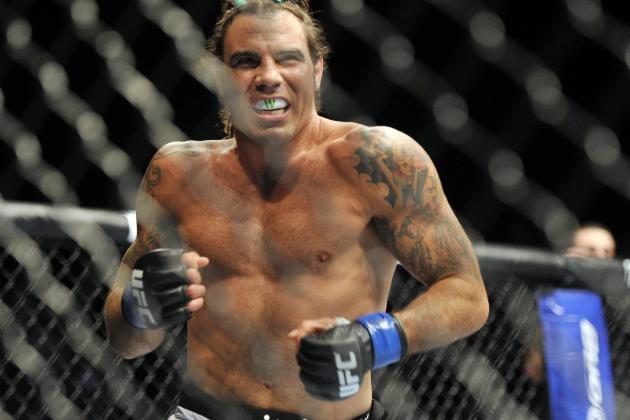 Joe Camporeale-USA TODAY Sports

The frantic "Energizer Bunny," Clay Guida, finally touches down in his home state of Illinois when he takes on Japanese star Hatsu Hioki.
This matchup sees a submission grappling ace in Hioki square off with the crazy wrestling style of Guida. The thing is, though, if Guida uses his takedowns like usual, he could be falling into Hioki's game.
Or we could get the crazy Guida, who uses his weird head movement on the feet to make Hioki uncomfortable and dictate the pace with striking.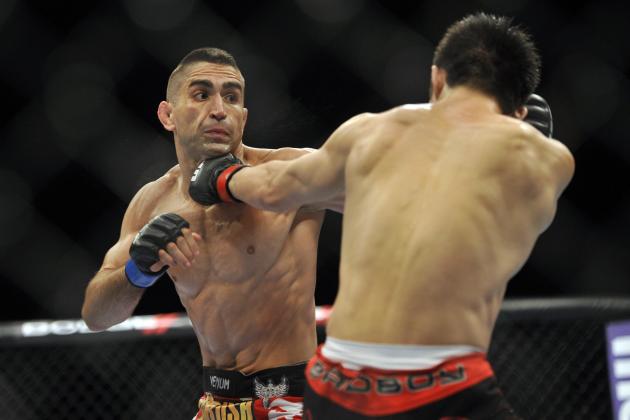 Joe Camporeale-USA TODAY Sports

Speaking of fights in Chicago, an important featherweight bout between top-10 fighters Ricardo Lamas and Erik Koch is set to grace the main card of UFC on Fox.
Lamas is a power wrestler with improved striking that can make any opponent uncomfortable. Koch is a straight-up striker with a diverse arsenal and knockout power.
This is a dark horse for Fight of the Night honors in Chicago.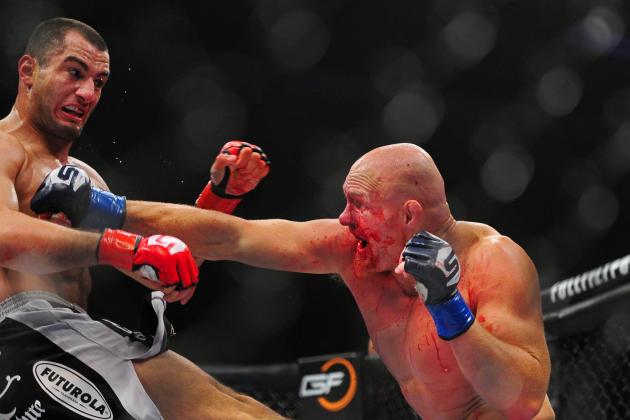 Mark J. Rebilas-USA TODAY Sports

Gegard Mousasi has been missing in action for a while now, but he makes his return on the final Strikeforce card when he meets Mike Kyle.
Mousasi and Kyle will trade power punches and excite the crowd with their solid striking. If Mousasi wants to make his opponent uncomfortable, he can drag him down and use his superior ground game to earn a submission.
It should be great to see Mousasi back in action.
Scott Olmos-USA TODAY Sports

The only championship fight that graces the final Strikeforce card is the welterweight title bout between Nate Marquardt and Tarec Saffiedine.
Marquardt's drop to 170 has looked to be a great career move so far, as exemplified by his dismantling of Tyron Woodley for the title. However, Saffiedine has looked to be vastly improved as of late, so he could really give Marquardt a run for his money.
Both men are gifted kickboxers, so this fight could also be a real slobberknocker.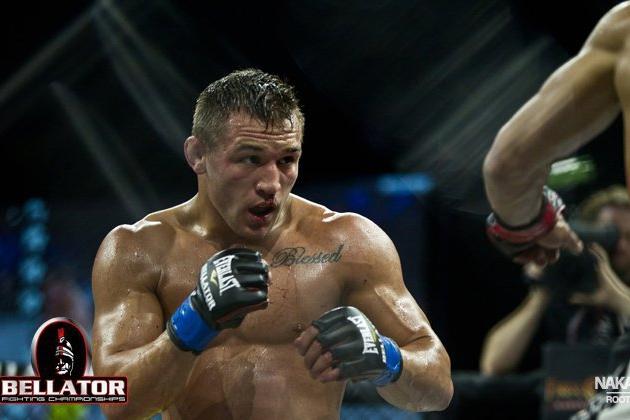 prommanow.com
The Bellator Lightweight Championship Fight that will happen this month between Michael Chandler and Rick Hawn is extremely unpredictable.
On the one hand, you have Michael Chandler, a power wrestler who won the title by beating top-10 fighter Eddie Alvarez. He has shown improvements in his striking, but his takedowns and ground striking are his best attributes.
Rick Hawn has top-notch judo, but his striking is jaw-rattling. If he has the takedown defense, he could easily plant Chandler on the jaw with one huge punch.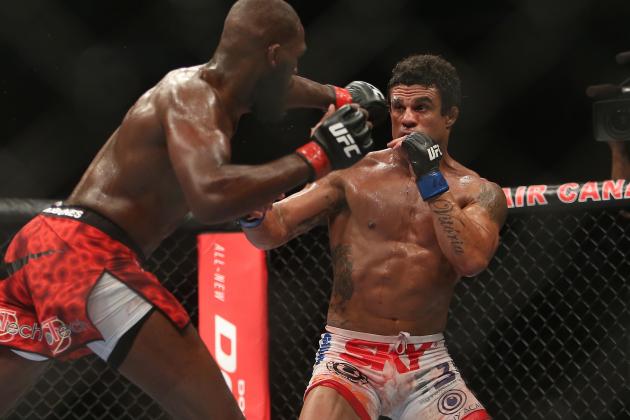 Tom Szczerbowski-USA TODAY Sports

The main event of UFC on FX in Brazil has a fight with great implications for Michael Bisping.
If he beats Vitor Belfort, he earns himself a title shot. If he loses, he falls short of his dreams yet again and must take another number and get back in line.
Unfortunately, Belfort is no pushover.
The Brazilian will give Bisping a hard time in the Octagon. His striking and jiu-jitsu are both top-notch.
This fight should be a good one, to say the least.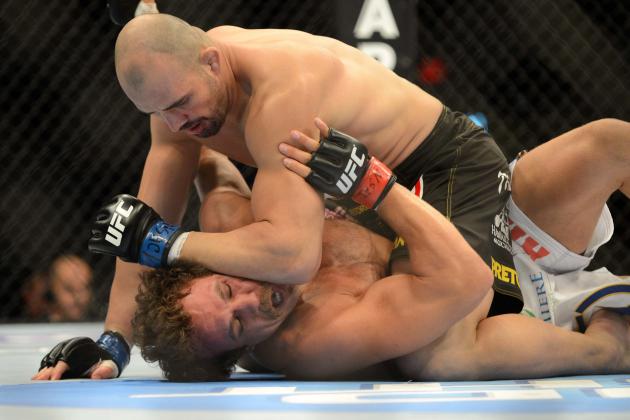 Ron Chenoy-USA TODAY Sports

The impending fight between Quinton Jackson and Glover Teixeira should answer many of our questions.
Does Jackson still have it?
Is Teixeira the real deal?
What will happen when the dust settles?
There are even more questions to be solved than those three, but this should be a great fight. Both men are power punchers that usually give the crowd what they want.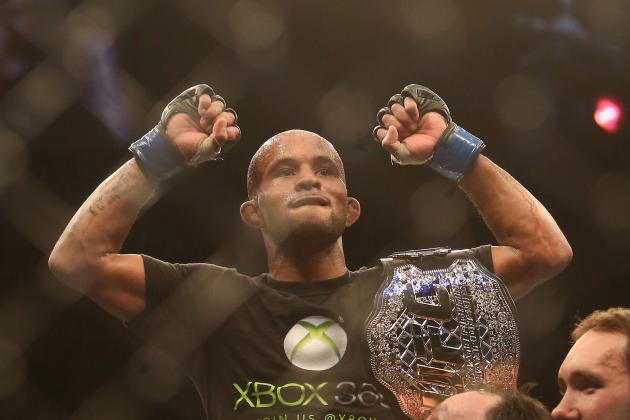 Tom Szczerbowski-USA TODAY Sports

The first-ever defense of the UFC Flyweight Championship is scheduled for Chicago, when champ Demetrious Johnson defends against John Dodson.
They say you aren't really the champion until you have defended your belt. That means Johnson has big expectations in front of him when he meets the similarly quick Dodson.
Both men move like lightning and are well-rounded. Simply put, whoever blinks first will lose.
Either way, this fight should be dynamite.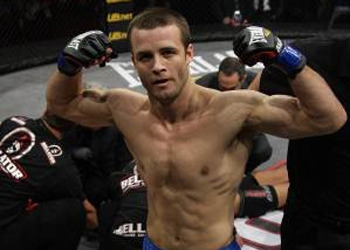 5thround.com
This fight is ranked so high because it has been a long time in the making, and it features two featherweights I consider to be top-15 145-pounders.
Pat Curran has looked nothing short of spectacular since dropping to featherweight. He added a stamp to that by knocking out Joe Warren to take the Bellator title.
Patricio Freire, however, is no joke. The guy is a walking highlight reel with KO power and great submission skills.
Their respective skills should lead to an amazing fight.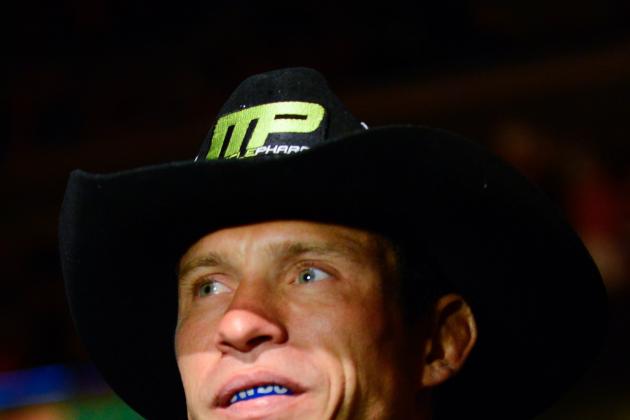 Ron Chenoy-USA TODAY Sports

The best fight of January is not even a main event. It is the long-awaited lightweight scrap between Anthony Pettis and Donald Cerrone.
Both men are WEC veterans and are currently top-10 lightweights in the UFC. They are probably the best strikers in the division, and both have underrated submission games.
They are almost mirror images.
If this fight is boring, I will be 100% surprised.