10 Bold Predictions for NY Knicks Leading into 2013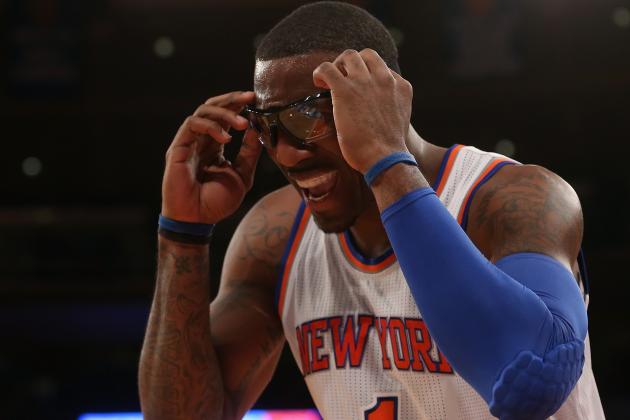 Bruce Bennett/Getty Images

The New York Knicks are closing in on the season's halfway mark, and have boldly dominated much of their schedule. At 22-10, they're only a game off the Miami Heat's pace for the top spot in the Eastern Conference. MVP candidate Carmelo Anthony has led the way by scoring at a career-high rate of 28.9 points per game.
No expert could've predicted the veteran-led Knicks would be performing this well at this stage of the game, but Mike Woodson's crew has done their best to shut the mouths of their critics.
Now that we all are aware that the Knicks' championship chances are very real, it's time to predict what happens in their immediate future.
Stats used are accurate as of games played entering Jan. 5.
Begin Slideshow

»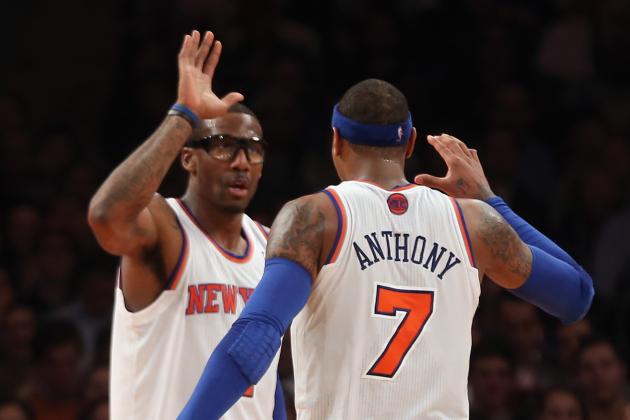 Bruce Bennett/Getty Images
Stoudemire an Anthony have played well together in two games this year.
We're just two games deep into Amar'e Stoudemire's return to NBA basketball, but it's not outlandish to predict he slips right into place with these Knicks.
Stoudemire has appeared rusty, as expected after two months off the court, but there's reason to believe he can be a major factor in the team's offense. It's a very small sample size, but STAT has actually been more productive when on the court with Carmelo Anthony this season.
Under Mike D'Antoni, the tandem failed to achieve success. But led by Mike Woodson, the Knicks are 9-3 in games played by both Stoudemire and Anthony. Woodson has sets drawn up for the two to work together, unlike D'Antoni's offense, which relied heavily on pick-and-rolls and quick shots.
D'Antoni's system brought out the best in Amar'e due to the abundance of screen-and-roll plays, and the Knicks can utilize that weapon with a Pablo Prigioni-Amar'e Stoudemire pairing, and even with Raymond Felton once he returns from injury.
The key to Woodson's offense is that it includes a more team-oriented Carmelo Anthony, as well as more intricate sets involving several Knicks.
Iman Shumpert has returned to the practice court (via NJ.com), and hopes to return sometime in the month of January. Once he does, expect him to make an immediate impact on the defensive end.
In his rookie season, Shumpert's defense was good enough to earn him praise among the NBA's elite, let alone rookies. He was consistently matched up with the opposition's top weapon, and rarely disappointed.
He can be seen above locking down Dwyane Wade, and doing the same here against Derrick Rose. More evidence of Shump's defensive prowess can be found here and here.
Once Shumpert gets his legs under him, count on his return paying dividends immediately for New York.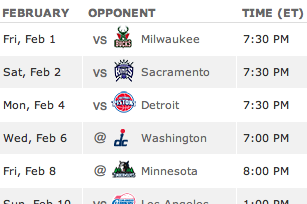 New York faces an exceptionally weak schedule in February.
Thanks to the All-Star break, the Knicks play only 11 games in the month of February, and have a chance to win all 11 of them.
Aside from matchups with the Los Angeles Clippers on Feb. 10 and the Golden State Warriors on Feb. 27, the Knicks' February opponents have a combined record of 105-147, as of Jan. 4. New York will play host to the Sacramento Kings, Detroit Pistons, Toronto Raptors and Philadelphia 76ers—all inferior teams.
The Knicks will also travel to the nation's capital to take on the Washington Wizards on Feb. 6. Washington is a league-worst 4-26.
Contests against the powerhouse Pacific Division teams will prove tricky for the 'Bockers, and will undoubtedly be the most difficult to win in February. But without having faced the Oklahoma City Thunder, Clips or Warriors—and having swept the season series with the San Antonio Spurs—there's no reason to count out the Knicks just yet.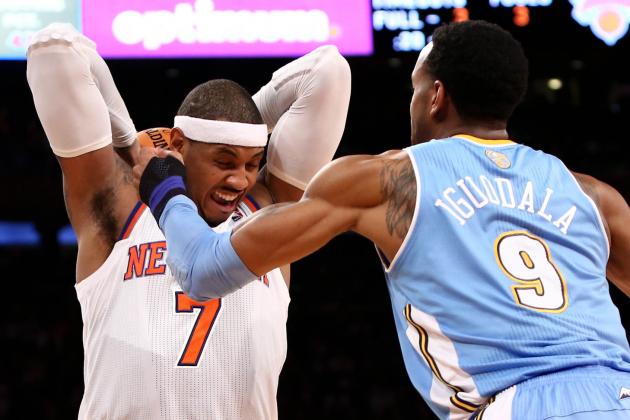 Debby Wong-USA TODAY Sports
Anthony has played the Nuggets twice since being traded, but never in Denver.
Since being traded in February of 2011, Carmelo Anthony and the Knicks have played host to the Denver Nuggets twice. Much to fans' dismay, however, 'Melo has yet to return to the Rockies and ball in his old stomping ground. This will change on March 13.
Carmelo was dealt after the Knicks' annual trip to Colorado in the 2010-11 season, and last season's lockout jipped Mile-High fans out of a reunion with the former hero. So this year's March trip will be Anthony's first return to the fans who once admired him.
It will surely be a highly touted matchup, and one that should be competitive. New York took the first leg of the series in December with a 112-106 victory in which 'Melo dropped 34.
Carmelo has been known to rise to the occasion when it matters the most, and this occasion should be no different. Count on 'Melo to have a marquee scoring night on national TV against his former mates. After all, he has averaged 30 points and eight rebounds in matchups with the Nugs.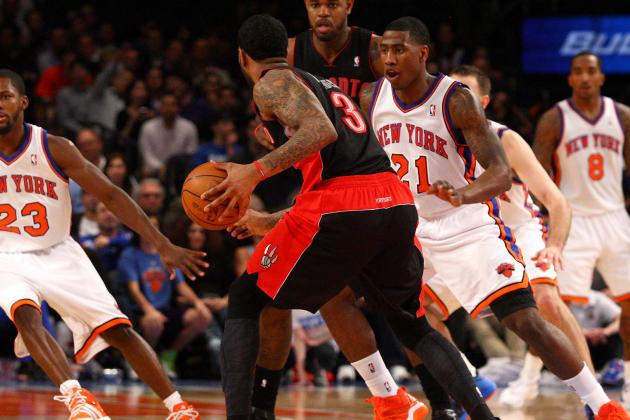 Chris Chambers/Getty Images
The Knicks defense should only improve after Iman Shumpert's return.
The Knicks play at the 10th-slowest pace among NBA teams, so team stats such as points scored and allowed per game could be misleading. Such statistics should give way to efficiency stats (points allowed/scored per 100 possessions), as they normalize scoring numbers for all teams.
The Knicks got off to a good defensive start. In their first five games, their D-Rating was 96.48 points allowed per 100 possessions, which would be good for second in the NBA right now.
However, since their hot beginning, the defense has slipped epically. Their D-Rating has fallen to 102.6, which is 17th league-wide.
This downward trend is uncharacteristic of Mike Woodson's teams. The Indiana alum was tutored by coaching legend Bob Knight, and defense is paramount in his preachings.
The return of Iman Shumpert should definitely impact the defense in a positive way. Tyson Chandler's defense has been average, which is disappointing considering his Defensive Player of the Year honors last season. Chandler and center Marcus Camby's defensive play should improve and factor into the D's improvement as the season trudges along.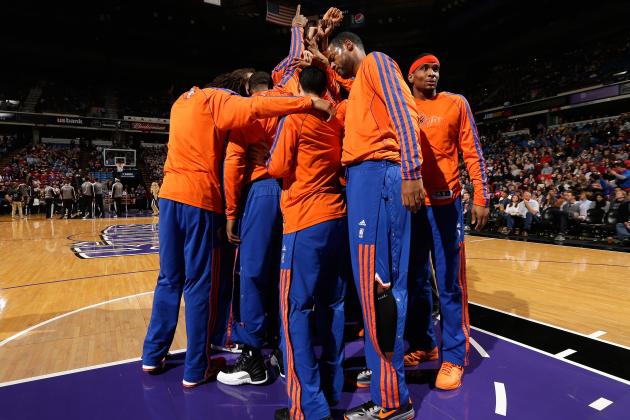 Ezra Shaw/Getty Images
Unlike the last few seasons, the Knicks have a very desirable roster.
In recent years, the Knicks wheeled and dealed in hopes of attaining a perfect roster. For the first time in over a decade, the Knicks finally have a perfect roster.
The current group of 15 is ideal for coach Mike Woodson. Each player—from Carmelo Anthony to James White—contributes to the team.
They have their superstar in Anthony; they have their star in Amar'e Stoudemire. The defense is in good hands with Tyson Chandler and Iman Shumpert, and the offense has weapons like J.R. Smith and Raymond Felton.
Felton, Pablo Prigioni and Jason Kidd do an excellent job of orchestrating the sets, and veterans like Rasheed Wallace and Kurt Thomas anchor the squad. Steve Novak has his designated role as three-point sniper. Chris Copeland scores the ball whenever he's called upon to do so, just as James White locks down on defense when it's asked of him.
They may just be the deepest team in the NBA. There are—finally—no weaknesses, and this seems to be their year to make a run with the roster assembled over the summer.
Before the season began, Mike Woodson believed that J.R. Smith would best help the Knicks in a reserve role. Smith accepted the position, and he could earn some hardware because of it.
Smith's reputation as a wildly streaky shooter raised questions about his importance in the Knicks offense. After last season's playoff series loss to Miami, fans were furious at Smith for his poor performance, and Smith contemplated leaving the Big Apple after a half-season:
Damn didn't know this many people didn't want me in #NY might just get what you asking for! #sorrykidz
— JR Smith (@TheRealJRSmith) May 10, 2012
Luckily for Smith and the Knicks, the New Jersey native decided to re-up his deal with New York on the cheap—less than $3 million for this season.
Smith has filled in as the primary scoring weapon in Carmelo Anthony's absence at various points during the season so far. He's currently in the middle of a five-game streak where he's scored at least 20 points in each game. He's scored at least 19 in each of the last eight games. He's shot 46 percent from the field in those eight contests. Finally, J.R. may have found some consistency.
He's dishing the ball at the highest rate of his career (2.8 per game) and buying into Mike Woodson's coaching philosophies. His 16.6 points per game are also a career high.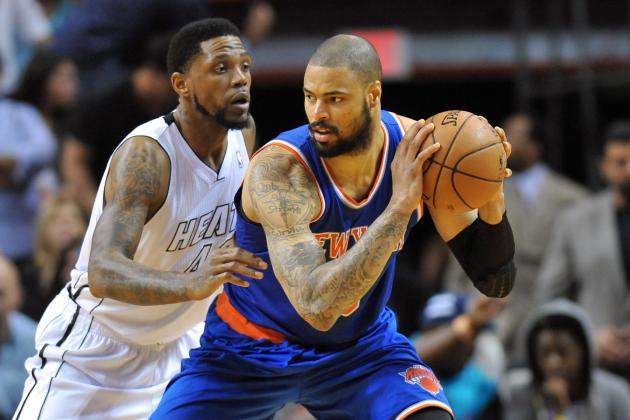 USA TODAY Sports
The Knicks have yet to lose to Miami this season.
As of Jan. 5, the Knicks are only one game behind the Miami Heat for the East's top seed, and there's plenty of reason to believe they can finish the regular season on top.
The team went the first 30 games without Amar'e Stoudemire, and is still without 22-year-old stud Iman Shumpert. Their chemistry will only improve as the season moves forward, as will their talent.
New York is 2-0 against the Heat this season. Both thrashings' final scores were settled by 20 points, the most recent of which—a Dec. 6 112-92 win in Miami—came without help from Carmelo Anthony, who sat out with a hand injury.
Miami finished last season with a record that would equate to 52 wins over an 82-game season, and if New York produces at their current rate, a 55 or even 60-win season isn't out of the question.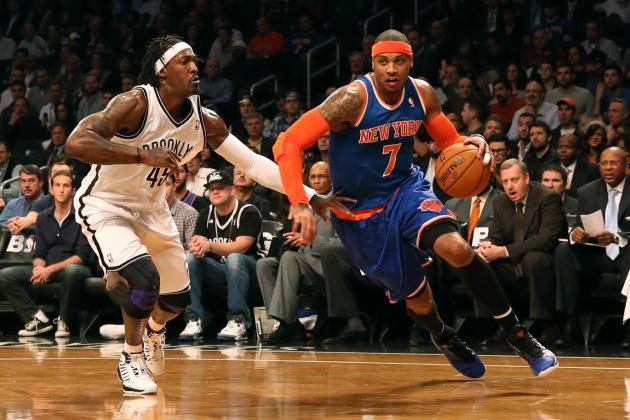 USA TODAY Sports
Anthony's play has earned him early MVP consideration.
Carmelo Anthony is not the player you remember from last season. He isn't the player you remember willingly coming to New York and averaging 26 points per game in a freshly embroidered jersey. He certainly isn't the player you remember leading the Denver Nuggets to the Western Conference Finals in 2008-09.
This Carmelo Anthony is even better.
He now, thanks to a gold-medal experience last summer, demonstrates complete trust in his teammates. He now, thanks to an accountability-preaching head coach in Mike Woodson, gives every ounce of ability he has in him in every aspect of the game.
'Melo is averaging a career-high 28.9 points per game, and shooting a career-high 43 percent from beyond the arc. His 26.4 PER is more than four points higher than any mark he's posted in his career. And if you really want to get into it, his .215 win shares per 48 minutes (league average is .100) is a career high, and good for ninth league-wide. His previous best was .160.
But Anthony's dream season has been largely due to something that no statistic could quantify: effort. 'Melo left it all on the floor this season. He's given up his body to dive for loose balls, catapulted himself into courtside seats, and made a conscious effort to contribute on the defensive end. All while playing out of position at the power forward spot.
This Carmelo Anthony can win an MVP award, and maybe even more.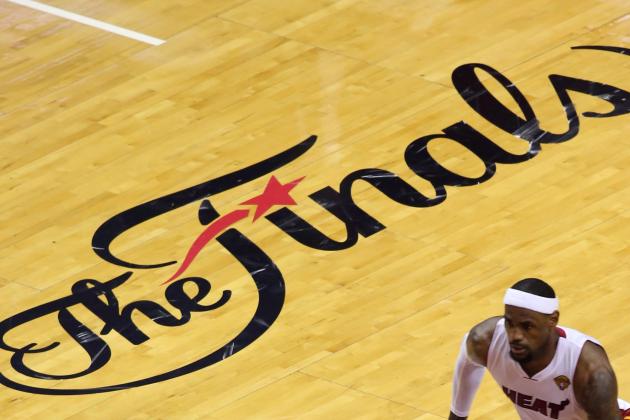 Robert Mayer-USA TODAY Sports
The Knicks have a legit shot to take the Eastern Conference.
We know the Knicks are clearly playoff contenders. They'll likely finish with a high seed, and with any luck, make it out of the first round for the first time since the 1999-2000 season. After that, it'll most likely be the Big Three-led Miami Heat in the way of an NBA Finals appearance.
New York has proved that it can handle Miami in the regular season. The Heat haven't stood a chance against the Knicks in either matchup this season—both 20-point blowouts, one sans Carmelo Anthony. But, as we all are reminded each spring, the postseason is an entirely different animal.
This is where the Knicks' battle-tested veterans will prove to be difference-makers. New York's most fatal flaw last year was its lack of experience in big moments, and that's something GM Glen Grunwald and head coach Mike Woodson did an excellent job at nipping in the bud heading into this season.
NBA champions Jason Kidd, Rasheed Wallace and Tyson Chandler will undoubtedly take control of the situation this May, as will 40-year-old Kurt Thomas and 35-year-old floor general Pablo Prigioni.
Carmelo Anthony may just play a part in this whole thing, too.
Finally, the question for New York isn't if it's good enough. We've seen through the season's first half that it has the talent to be the class of the Eastern Conference. Now, it's a matter of if the Knicks have the makeup of champions. That's what they've been trying to assemble since October, and that's what will earn them a chance at a ring in 2012-13.
Once the Knicks convince the reigning champions that they're ready to win it all, they'll have the stage set for a ring ceremony of their own.