Rudy Gay strode through the early part of the Memphis Grizzlies' loss to the Portland Trail Blazers with every bit of the heroism Grizzlies fans desired to see. He scored 17 points to carry the team with his partner, Zach Randolph, out with the flu. But Gay's finish captured the flatness of his career.
After shooting 7-of-13 from the field in the first half, the Grizzlies' leading scorer shot just 1-of 8 in the second half.
He went silent for almost the first 21 minutes of the half, triggering this tweet from Kyle Veazey of The Commercial Appeal:
5+ minutes to play, Rudy Gay has 17 points. He also had 17 points at halftime.

— Kyle Veazey (@kyleveazey) January 5, 2013
Like the rest of his career, the game saw him roar out only to quiet down.
Gay had burst out and averaged 20.3 per game as a sophomore, but flat-lined after that.
Three aspects of Gay's game need to change in order for him to step up to an elite level. First and most simply, he needs to shoot more. The three guys who represent the upper crust of small forwards—LeBron James, Kevin Durant and Carmelo Anthony—demand the ball.
They gravitate towards the ball. Durant plays for the ball. Melo approaches the half court like there's no offense that doesn't see him handle the ball. LeBron, who is one of two players in the top 10 in both points and assists per game, ensures that the offense moves through him.
Gay looks towards the action with a more relaxed view, one that straddles the region between the elites and the relatively ordinary offensive contributors. Indeed, he takes more shots than his teammates. But he doesn't embrace the leather sphere as much as the aforementioned trio.
His field-goal-attempts-per-game rate is human compared to these three. In the last six seasons, he's averaged between 16 and 16.7 shots per game. During that same period, LeBron has averaged between 18.7 and 21.9 per game. Melo has put up between 18.3 and 21.8 per game. Durant has averaged between 17.1 and 20.3.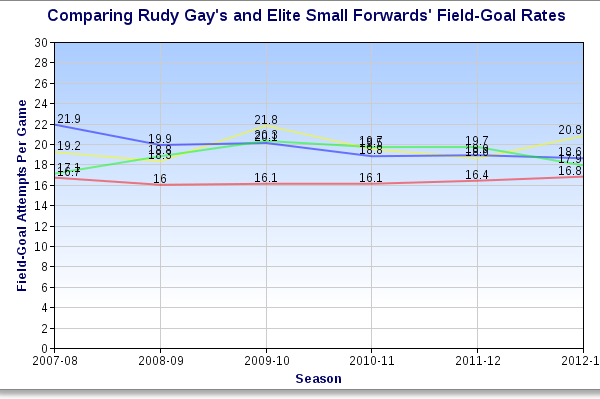 By shooting as much as these three, he can up his average by at least a couple points.
Second, the Grizz swing man needs to get to the rim more often.
Gay isn't attacking the basket as often as he normally has during his career. Typically, he takes shots at the rim at least 26 percent of the time. This season, he's taken just 24.5 percent of his attempts at the rim.
The Connecticut product is a powerful finisher. He is very difficult to knock off due to his combination of speed and strength. If he wishes, he could attack more often for greater results, rather than sit back and take outside shots.
Attacking more would reduce the harm of his errant perimeter shooting. Gay has shot a pedestrian 34.5 percent from the field in his career. In the last two seasons, he's shot miserably from beyond the arc—worse than 33 percent.
He's unimpressive on long twos, knocking down 37.1 percent this year and 34.7 percent in 2011-12.
Cutting those shots out of his repertoire would do wonders for his diet. Not only would he raise his percentage by hitting the rack more, but he'd also ideally go to the line more often. Star players should be going to the line more than the four or five attempts Gay has averaged throughout his career.
Could Rudy Gay become a 25-points-per-game scorer?
The above points will result in the overarching objective—Gay's need to score at a scary level. Averaging less than 20 points per game portends a player whose skill level is closer to that of Luol Deng than Durant.
That's the irony of what Gay does. He has every bit the skill of someone who thunders down buckets, but sometimes hangs back like the Chicago Bulls' man at the 3 spot. At 41 percent shooting, his figure isn't encouraging.
Then again, if he changes how he approaches the rock, he could change his reputation.
By demanding the ball and driving more, he could become one of those admired players averaging more than 25 points per game.