NFL Playoffs: Predicting Every Game from Wild Card to Super Bowl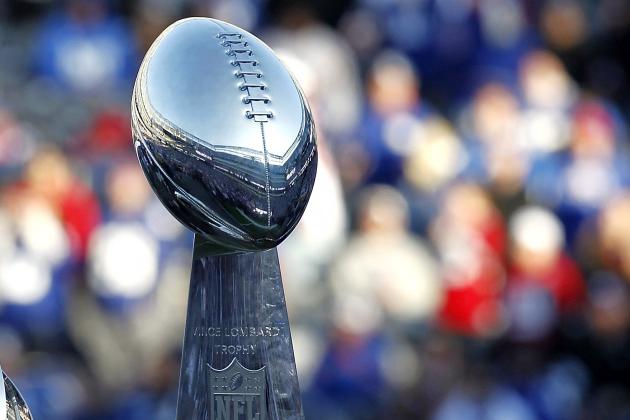 Jeff Zelevansky/Getty Images

After 17 weeks of grueling action, the NFL Playoffs begin Saturday with the Wild Card round to begin the road to Super Bowl XLVII in New Orleans.
Many of us as Bleacher Report writers are analyzing the playoffs and I'm sure I'm not the first to write predictions on how the postseason will go. Just like the NCAA Men's Basketball bracket challenge, predicting who will go to the Super Bowl is a fun way to earn bragging rights amongst your fellow sports fan.
Many of the matchups in the first round feature teams that are similar and rivals that go into round three of their season-long battle.
There are veterans looking to add another ring on their hand, and rookies looking to further deepen their early impact in the NFL.
The potential storylines that could develop as the games conclude excite football fans and writers alike.
But before one can predict the Super Bowl, one must start with the opening round and work their way to the championship game.
Begin Slideshow

»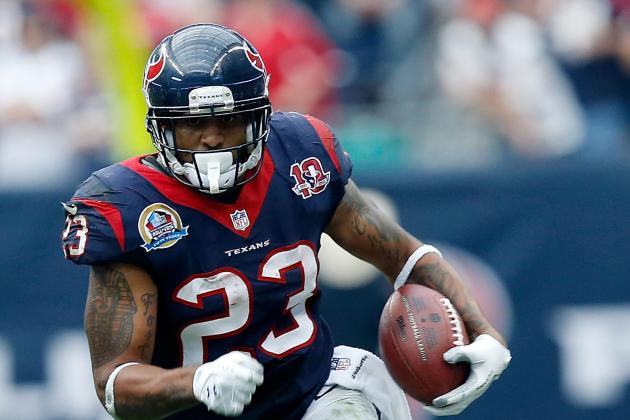 Scott Halleran/Getty Images

These two teams faced each other last postseason as Houston (12-4) topped Cincinnati (10-6) by a wide margin, 31-10.
It could be a closer game considering that Houston limped into the playoffs losing three of the final four games while still clinching the AFC South crown.
Cincinnati has won seven of their last eight games. Led by second year quarterback Andy Dalton, the Bengals are expected by many to win and avenge last season's loss.
But I can't count out Houston's offense with quarterback Matt Schaub and running back Arian Foster. While the Bengals have looked good in the second half of the season, Houston's eighth ranked rushing attack could be the difference.
If Foster can move the chains early, expect Schaub to use the play-action pass to wide receiver Andre Johnson to give the Bengals defense nightmares.
It will be close, but Houston wins and moves on to the next round.
Prediction: Houston 23, Cincinnati 17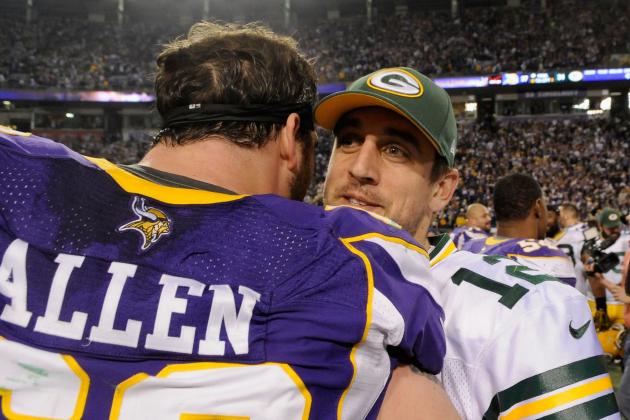 Hannah Foslien/Getty Images

Rivals in the NFC North face each other again for the second straight weekend as the Minnesota Vikings (10-6) visit the Green Bay Packers (11-5) at Lambeau Field.
The Vikings earned their way into the playoffs by defeating the Packers last Sunday 37-34. But that was in Minneapolis.
A lot can be said for Minnesota running back Adrian Peterson's 2,097 yards after coming back from his injury.
But the Vikings are really a one-dimentional offense with quarterback Christian Ponder, who has 18 touchdowns and 12 interceptions.
On the other side of the field, the Packers have Aaron Rodgers leading their offense and had another great season with 4,295 yards and 39 touchdowns.
This game might be close up until halftime, but I can't see the Vikings keeping this game within 10 points.
Prediction: Green Bay 31, Minnesota 14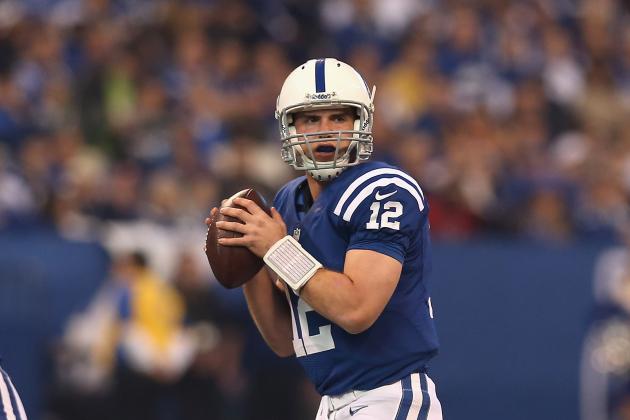 Jonathan Daniel/Getty Images

After reading the news that 17-year linebacker Ray Lewis would retire after this season, I wanted to see the Baltimore Ravens (10-6) make a run towards the Super Bowl.
But the young Indianapolis Colts (11-5), with rookie quarterback Andrew Luck, come into town for the wild card match as one of the biggest surprise stories this season.
Luck has started his career on the right foot with 4,374 yards and 23 touchdowns to lead seventh best passing offense in the league.
While the Colts defense hasn't been among the elites, neither has Baltimore's.
And while a division champion with a sub-par defense can survive, the Ravens offense with quarterback Joe Flacco and running back Ray Rice doesn't scare me as much as the Colts.
On top of that, the Ravens have lost four of their last five games. Indianapolis has won five of their last six, including a victory over Houston to end the regular season.
Prediction: Indianapolis 17, Baltimore 14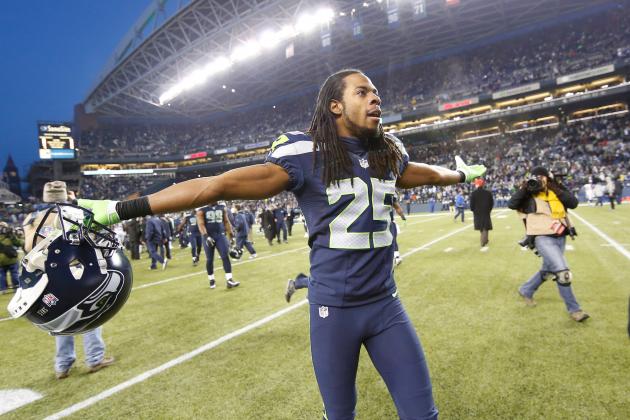 Otto Greule Jr/Getty Images

This game is the one I'm looking forward to the most. The Seattle Seahawks (11-5) are riding high on a five-game winning streak with key wins over Chicago and San Francisco to clinch the fifth wild card spot.
The Washington Redskins (10-6) started the season off 3-6 and then won seven straight games after their bye week to clinch the NFC East title.
Both teams have rookie quarterbacks that have made their respective teams possible dark horses in the playoffs this season.
Robert Griffin III, the 2011 Heisman Trophy winner, made an immediate impact with 3,200 passing yards and 20 touchdowns to compose a 102.4 quarterback rating.
Russell Wilson was given little national media attention until the recent win streak, but has 3,118 yards and 26 touchdowns with a 100.0 rating.
Both teams have bruising rushing attacks with Seattle led by Marshawn Lynch and rookie Alfred Morris leading the charge for the Redskins.
The difference will be defense, as Seattle is a top 10 team against both the pass and rush. They also have cornerback Brandon Browner return from suspension to join Richard Sherman in the secondary, who beat his four-game suspension.
Prediction: Seattle 27, Washington 13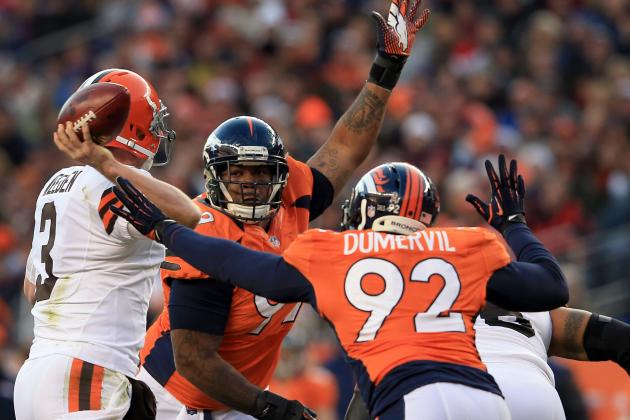 Doug Pensinger/Getty Images

And here's one of those intriguing storylines I hinted at the beginning of the slideshow.
Think about Peyton Manning's old team having to come into his new home at Mile High Stadium in the AFC playoffs. Oh how irony works sometimes.
I think this has some potential to be a back and forth offensive showdown between the Manning and Luck. Some Colts fans might hope this could be a sort of torch passing event, but I think the Broncos offense will be too much for the Colts defense.
Denver's defense is also third against the pass and third against the run. Add that to Indianapolis having an offense that relies mostly on Luck. It will be easy for an elite defense at home to stop the rookie.
Prediction: Denver 34, Indianapolis 13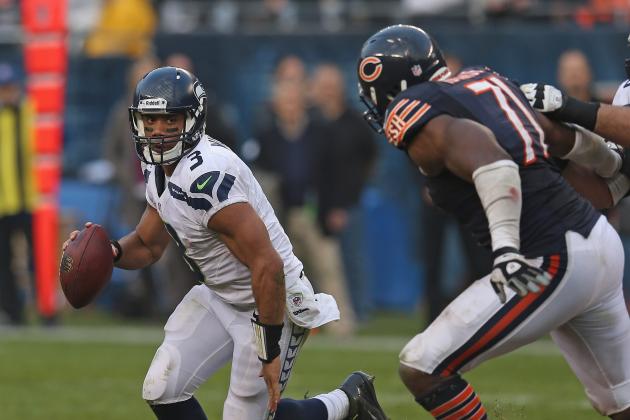 Jonathan Daniel/Getty Images

This feels a bit like déjà vu.
The Atlanta Falcons earn a first-round bye and host a wild card team that ended the season on a winning streak.
This also will end in the same way as last season but with a different team.
Seattle hasn't been a strong road team all season, but started to peak with their December win in Chicago where Wilson had a late touchdown drive in the fourth quarter and again to win the game in overtime.
Atlanta is the top seed in the NFC, but sort of underachieved for a 13-3 team. They had close wins against teams they really should have blown out, including a 23-20 win over Oakland at home in October.
The momentum that Seattle has built reminds me a lot of last season's New York Giants.
Prediction: Seattle 21, Atlanta 20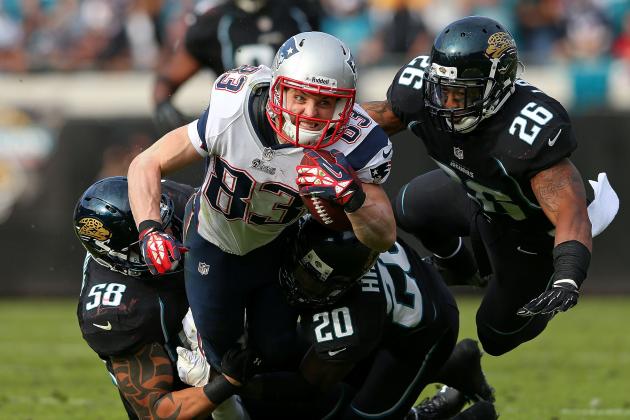 Mike Ehrmann/Getty Images

While Houston has been a favorite to play in the Super Bowl this season, the road to New Orleans once again goes through Foxboro, Mass.
Once again, Tom Brady leads another high-powered offense as he threw for 4,827 yards and 34 touchdowns in the league's fourth-best passing offense.
And while the Patriot defense has one of the lower rated passing defenses, their defense against the run should be able to limit Houston's Foster from getting going early.
If the Patriots can shut down Foster, that can limit the Houston offense that utilizes the play action.
While I want to see someone different in the AFC Championship game, expect New England to advance once again.
Prediction: New England 20, Houston 10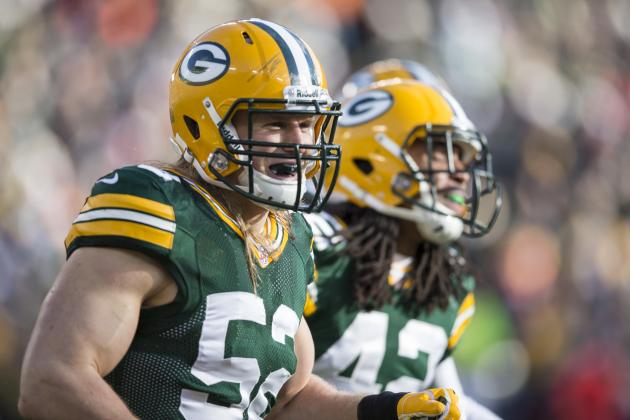 Tom Lynn/Getty Images

So I wouldn't be surprised if many pick San Francisco to top the Packers because of its defense that is one of the best in the league.
But at the same time, the 49ers have underachieved similar to the Atlanta Falcons. They also made a mid-season switch from Alex Smith to Colin Kaepernick at quarterback.
While San Francisco has a key win over New England in December, I still think its tie and loss against St. Louis is a red flag.
Green Bay is also experienced when it comes to the playoffs. While the defense hasn't been that strong all season, I feel Clay Matthews will come up with big plays to stop Frank Gore while Aaron Rodgers leads the Packers to the NFC Championship.
Prediction: Green Bay 24, San Francisco 7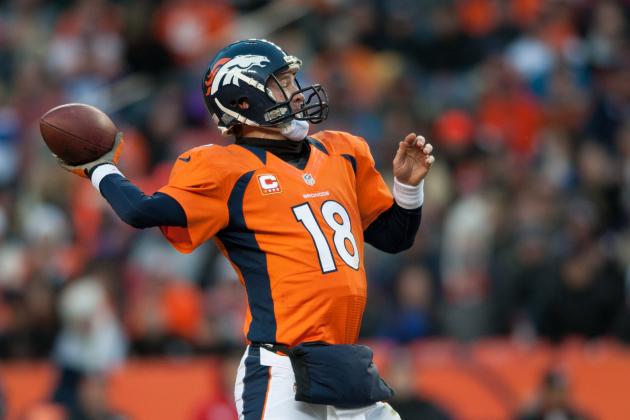 Dustin Bradford/Getty Images

Old veteran rivals meet up once again where they have often competed, the AFC Championship Game.
While Brady and the Patriots have had the better record against Manning, the resurgence in Denver leads me to believe that the Broncos will get to go to the Super Bowl.
Both teams have great passing attacks and I wouldn't be surprised if we see anywhere from 600 to 800 yards through the air combined in this game.
In addition, this game is in Denver and the Broncos do have the better defense.
Manning will have the opportunity to catch up to his brother for championship rings.
Prediction: Denver 41, New England 37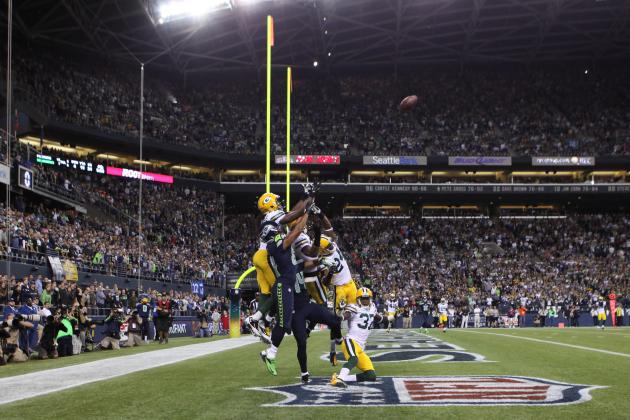 Otto Greule Jr/Getty Images

On Sept. 24, the Seattle Seahawks defeated Green Bay at home on Monday Night Football 14-12.
The interception that was ruled a touchdown pass has haunted fans of both teams. Packers fans have felt cheated and Seahawks fans feel their team never received respect for their win.
It just feels right that these two teams face each other with a trip to New Orleans on the line.
While I really like what the Seahawks offense has done this year with the defense they have, it's hard for me to justify them winning in Lambeau.
It could be close and it could come down to the last play of the game. It could also be just as controversial as it was in Seattle in Week 3.
Prediction: Green Bay 10, Seattle 7
Rob Carr/Getty Images

And now we have two teams that have faced each other before in a previous Super Bowl with John Elway leading the Denver Broncos against Brett Favre and the Green Bay Packers.
But now we have Aaron Rodgers and Peyton Manning facing each other for the Lombardi Trophy.
Both quarterbacks have won the big game before, and both would be looking to do it again.
While I mentioned that Green Bay has the experience, I still feel Denver's defense is much stronger. But both offenses are equal in respect to their star power.
This game could easily go either way and could come down to who makes the big plays at the right time.
I'm a big believer in destiny, and I have a sense that Manning is going to finish a great season that started with him coming back after missing an entire season.
Prediction: Denver 33, Green Bay 28