2 Ways the Chicago White Sox Can Overcome Losing A.J. Pierzynski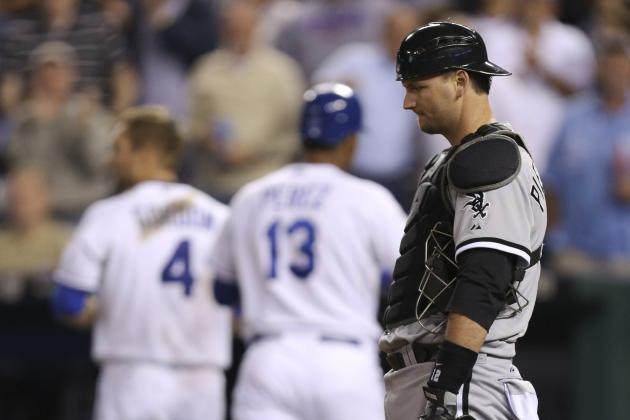 Ed Zurga/Getty Images

Chicago White Sox GM Rick Hahn can respond to the loss of A.J. Pierzynski in two ways: He can continue to improve the White Sox through a series of calculated measures, or he can be aggressive and replace Pierzynski through a blockbuster trade.
Personally, I believe that the White Sox should be prudent and stay the course.
After all, there is only one real way to replace Pierzynski: by bringing in a left-handed-hitting catcher capable of putting up steady offensive numbers and agitating opponents.
Unfortunately, no other catcher possesses Pierzynski's unique skill set, so Hahn should finish what he has already started.
Specifically, he should add a reliever and a left-handed utility bat. With the current roster structured around deep pitching and solid defense, a couple of small tweaks would give the White Sox a 25-man roster capable of winning the AL Central.
On the other hand, there are players out there who could be had for the right package. These players would completely reshape the direction of the franchise.
With an eye on 2013 and beyond, Hahn can stun White Sox fans by going after one of these left-handed superstars currently under contract.
They will take a lot, but each trade is doable and would help the White Sox overcome Pierzynski's loss.
Begin Slideshow

»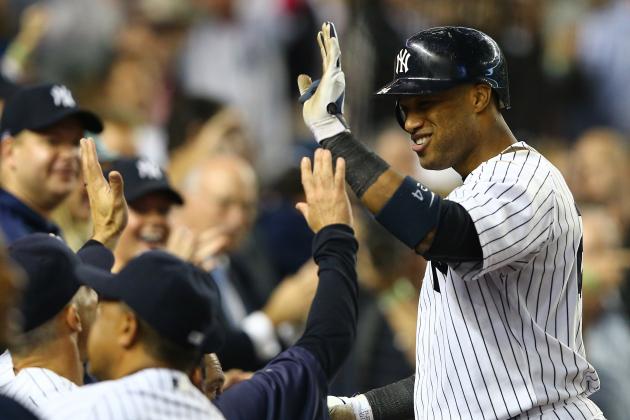 Al Bello/Getty Images

Let's begin with Robinson Cano.
Cano, who finished the 2012 season with a .313 average, 33 home runs, 94 RBI and a .929 OPS, is a game changer.
A package from the White Sox that includes Dayan Viciedo, Gordon Beckham, Gavin Floyd and a minor league pitcher may be enough to pry to Cano away from the New York Yankees. The Yankees may find the deal attractive because of the talent they would receive and because of financial considerations.
It is no secret that Yankees GM Brian Cashman wants to get below the $189 million luxury-tax threshold before the 2014 season. Keeping Cano will make that next to impossible.
See, Cano—a free agent after next season—has stated he wants a fair-market contract for his services. That will almost certainly be more than the $15 million he will make in 2013.
And by unloading Cano's contract and only assuming a one-year obligation to Floyd, Cashman is one step closer to not paying a luxury tax.
Now, with Viciedo playing for the Yankees, the White Sox would have to move Alejandro De Aza to left field and have Dewayne Wise takes his place in center. Additionally, Floyd's departure would leave a gap in the rotation that must be filled. Thankfully, the Sox have more than enough arms in the system to fill that spot.
The Sox would be giving up an awful lot, but players like Cano do not come around very often. Hahn would also have to be ready to commit to a long-term contract for the second baseman, but he is well worth the investment.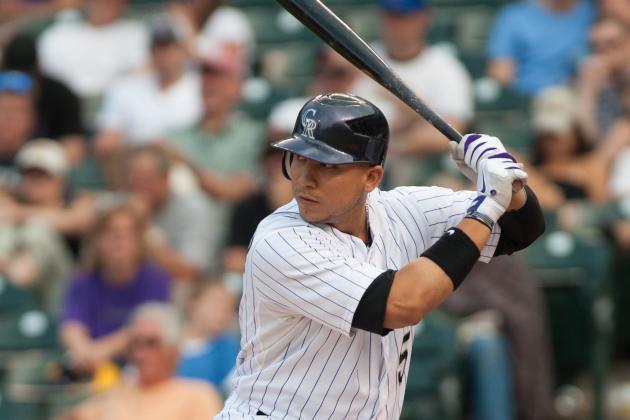 Dustin Bradford/Getty Images

Colorado Rockies outfielder Carlos Gonzalez is another option Hahn could pursue if he wants to reshape the White Sox.
The Rockies are actually the ideal trading partner for the White Sox and are quite willing to listen to trade proposals. Each team has what the other lacks—the Rockies have the hitting and the Sox have the pitching.
Now, to say that the Rockies need pitching is an understatement.
They finished last season with a 5.22 team ERA and gave up an incredible 890 runs. Most amazing, the starting pitching for the Rockies had a .304 batting average against and finished with a staggering 5.81 ERA.
If Hahn were to package Floyd and Hector Santiago—along with Nate Jones and at least one minor league arm—the Rockies may be inclined to part ways with one of the most explosive outfielders in baseball.
Gonzalez is a career .299 hitter who averages 28 home runs and 97 RBI. And although he does strike out a lot, he has a career OPS of .874. Further, Gonzalez has won two Rawlings Gold Glove awards and averages 24 stolen bases per season.
Also, with the addition of Gonzalez—who is under contract until 2017—the White Sox could trade either De Aza or Viciedo for a starting pitcher that will help offset the loss of Floyd and Santiago. Hahn could rely on minor league talent to step up and fill the void as well.
Again, the White Sox would be giving up quite a bit, but the return is worth it because Gonzalez, 27, is the total package.