9 NBA Stars Closing in on Historic Benchmarks This Season
USA TODAY Sports

Many of the NBA's veteran players are approaching various career milestones.
One of the most intriguing things about basketball is that competitive balance has really always been there.
The NBA has seen players grow bigger, faster and stronger over the years, but the simple act of putting the ball in the hoop and stopping someone from doing so won't ever change. The competitive balance is what helps make it such a great sport and league.
It also gives us individual accomplishments and milestones as benchmarks of careers. Surpassing the names of players who ran the court long before and are long since enshrined in Springfield gives players a strong sense of accomplishment and historical respect.
In the NBA, longevity is a rarity, and should therefore be celebrated. That new wave of athletic superstars are rowing older now, and their longevity is really being tested. Kobe Bryant and Kevin Garnett represented a change in the game that has led us to Anthony Davis, Blake Griffin and Kevin Durant.
Now that generation is approaching and succeeding milestones while inking their own names into the tops of history books.
Note: Stats accurate through games on Jan. 3, 2013.
Begin Slideshow

»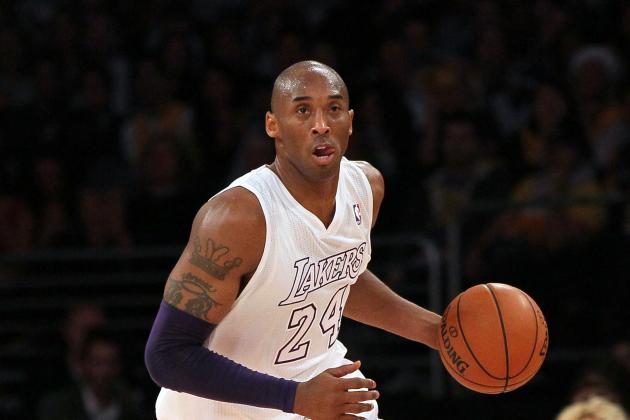 Victor Decolongon/Getty Images

Can Leapfrog Wilt Chamberlain Into No. 4 on Overall Scoring List
By Kobe Bryant standards, Kobe Bryant is having an insane season.
He is posting the best shooting percentages of his 17-year career. At 48 percent from the field and 36.5 percent from three, Bryant is scoring 30.3 points per game.
After 31 games in the 2012-13 season, Bryant sits in fifth place on the NBA's all-time scoring list with 30,423 points. He is the active leader in points but remains behind Wilt Chamberlain, Michael Jordan, Karl Malone and Kareem Abdul-Jabbar.
He remains 996 points behind Chamberlain for the No. 4 spot. That number is very attainable this season. Should he remain on his 30-point-per-game pace for the next 51 games, Bryant will finish 2012-13 with about 31,950. That is well beyond the Hall of Fame center's 31,419 points.
From there, Bryant should be able to hop over Jordan in 2013-14 and then decide if he wants to make a serious run at the top two. Both Malone and Abdul-Jabbar are well ahead of anyone else, sitting at 36,928 and 38,387, respectively.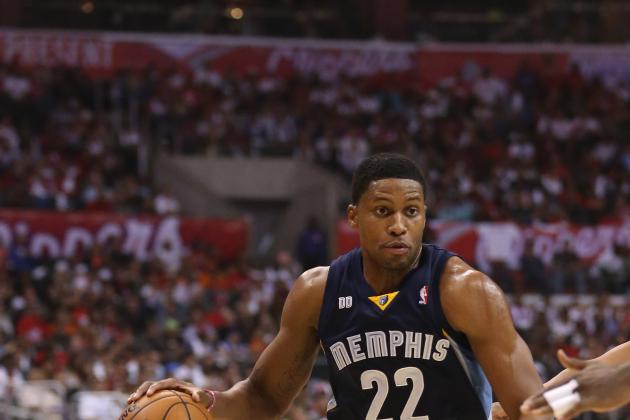 Stephen Dunn/Getty Images

Becoming the Memphis Grizzlies All-Time Leading Scorer
Rudy Gay's 8,343 career points are impressive for a 26-year-old. After just six-plus seasons with the Memphis Grizzlies, Gay has himself in second place on the franchise's scoring chart.
He trails only Pau Gasol, who has been out of Memphis for years now. While with the Grizzlies, Gasol posted 8,966 points total. That leaves Gay just 623 points from the big man's record.
Young franchises like the Grizzlies allow unique opportunities for younger players. That is exactly the chance Gay has right now. .
Gay is averaging 18 points per game this season. With the remaining slate of games, he should finish the season with around 9,240 points.
By the time the Grizzlies roll into the Western Conference playoffs, Rudy Gay will more than likely be the greatest scorer in franchise history.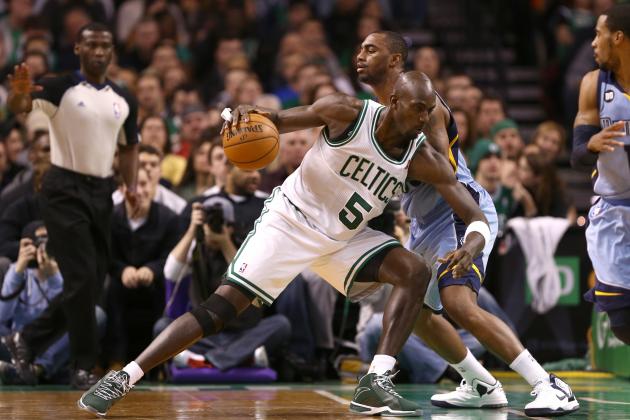 USA TODAY Sports

Slide Into the Top 10 All-Time in Total Rebounds
Naturally, after 17 NBA seasons, one's 18th will bring some milestones. However, it isn't every player who has the chance to solidify a spot in history as one of the greatest to ever play his position.
Kevin Garnett has opportunities galore in 2012-13 to cement his place in the record books.
While his rebounding has undoubtedly slipped in his advancing age, he is still averaging seven per game. If he keeps that up through the season's final 51 games, he will have grabbed 13,888 career rebounds. He is the active leader right now, but that number will vault him from the No. 12 spot ahead of Wes Unseld for the No. 10 slot. A spot in the top-10 rebounders of all time is just another in the long list of Garnett's accolades.
Garnett is also the league's second active leader in points scored behind Kobe Bryant. While he likely won't surpass any benchmark rankings, he will improve his No. 17 standing to the vicinity of Alex English and Reggie Miller at No. 13 and No. 14.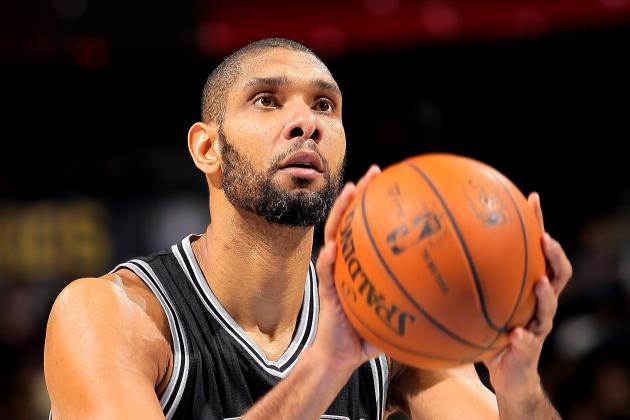 Doug Pensinger/Getty Images

Climbing All-Time Scoring and Rebounding Charts
You would be hard-pressed to find a statistical category for big men that Tim Duncan isn't nearing the top of.
He is right behind rival Kevin Garnett in many of the major categories, while playing two fewer seasons. Despite being roughly the same age, Duncan is still producing at near peak level. His 18 points and 9.8 rebounds per game are just a tick below his career averages, which should allow him to catch up to Garnett and those ahead of him more rapidly this season.
Should Duncan remain on his current scoring pace, he would finish the regular season with more than 24,000 points. As it stands now, that number would vault him from No. 25 into the top 20. However, he will also have to contend with active players like Paul Pierce and Ray Allen, both of whom are between No. 20 and No. 25 on the list.
In the rebounding rankings is where Duncan can do the most climbing. He is only a few spots behind Garnett but is grabbing 2.8 more boards per game right now. Maintaining 9.8 rebounds per game will land him around 13,336 for his career. While that likely won't be enough to best Garnett overall, it will place him inside the top 15 rebounders of all time.
On top of all this, Duncan is in line to become the top scorer in San Antonio Spurs history. He currently sits just 449 points behind George Gervin's 23,602. He should have no trouble clearing that mark during the 2012-13 season.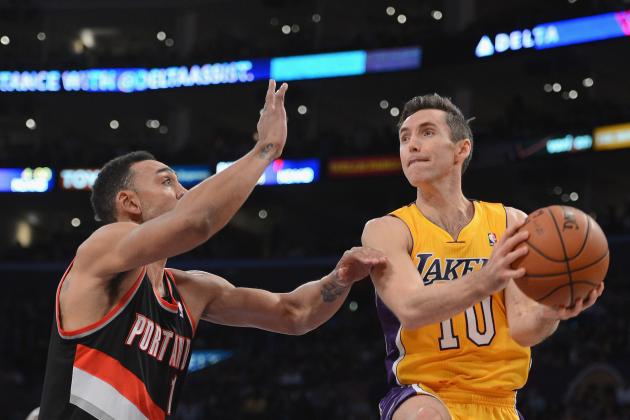 Harry How/Getty Images

Pass Magic Johnson on the All-Time Assist Chart
Steve Nash has joined the Los Angeles Lakers and will soon pass a player their fans are incredibly familiar with, on the all-time assist list.
Since his return, Nash has averaged 9.6 assists per game over five games. The current fifth-ranked distributor in NBA history still has a very good chance at surpassing No. 4 Magic Johnson. He will do so wearing the same colors Johnson did many years ago.
Should Nash stay healthy and continue averaging north of nine assists per game, he'll finish 2012-13 in the ballpark of 10,452 career assists. That number would not only beat Johnson, but also top Mark Jackson's 10,334. Hopping over two players would put Nash at No. 3, just behind fellow active player Jason Kidd, but a ways away from John Stockton's all-time lead of 15,806.
Also of note is Nash's free-throw percentage. His 90.4 percent mark is the highest of all time, but a few slip-ups here and there and he will drop behind Mark Price, who has a nearly identical mark.
Nash has hit the 10th-most three-pointers in NBA history (1,625) but has to contend with quite a few active players ahead of him.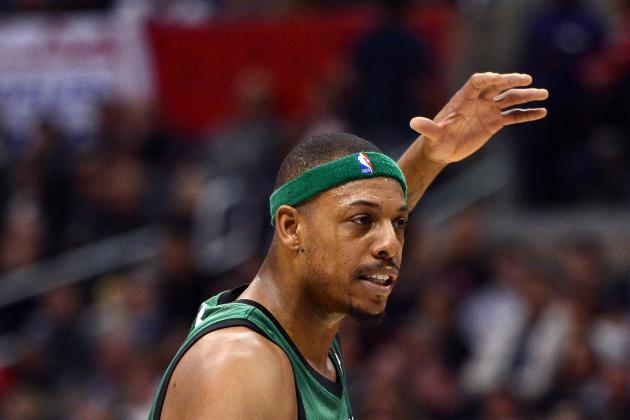 Harry How/Getty Images

Moving Into Top 20 in Scoring and Top Five in Three-Pointers
Paul Pierce is on the cusp of being one of the 20 highest-scoring players in the history of the NBA. As it currently stands, he is No. 23, having already vanquished Elgin Baylor and Adrian Dantley. However, he does have Ray Allen right in front and Tim Duncan burning up from behind.
Should Pierce continue along scoring the 19.8 points per game he is averaging right now, he can finish the season with 24,215. If he gets there, it should be enough to surpass Allen and hold off Duncan, dropping him inside the top 20.
Pierce also sits at No. 7 all time in made threes. There are considerable active players in the top 10 with him, but the career Celtic has the best shot at advancing quickly. He will play more minutes than any active leaders in 2012-13 and is also within range of a top-five spot.
Pierce has hit 1,738 threes in his career. If he hits his 1.9 per-game average throughout the season, he'll finish 2012-13 with around 1,835 treys. Of course, the player he would leap into the No. 5 slot is Chauncey Billups, who is active but injured.
Pierce remains the second-highest scorer in Celtics history behind John Havlicek. Even after a solid performance throughout 2012-13, Pierce will be well over 2,000 short of Havlicek. His 26,395 is not in the cards for Pierce this season but is definitely on the horizon.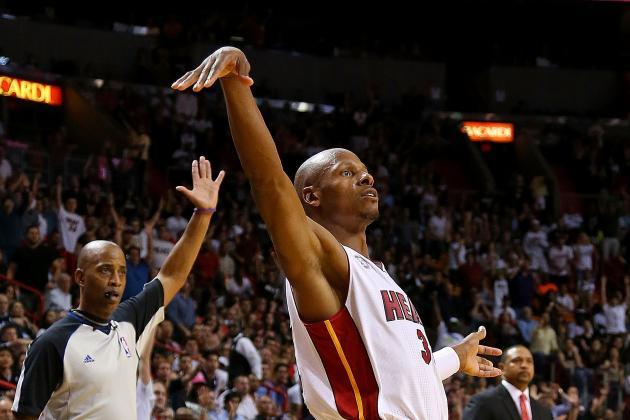 Mike Ehrmann/Getty Images

Slide Into Top 20 in All-Time Scoring, Outside Shot at 3,000 Threes
Ray Allen also finds himself on the verge of a prestigious scoring benchmark.
Allen plays only 25.9 minutes per game now, and that has dropped his scoring to 11.6 points a night. Continuing at such a rate will have him breach Charles Barkley's 23,757 career points for No. 20 all time, but Paul Pierce and Tim Duncan will more than likely close in and hop over him as well.
Both Pierce and Duncan are playing starter's minutes and scoring near their career averages, which should allow them to skyrocket over Allen while he is still active.
The Miami Heat's new bomber is also the NBA's leader in career three-pointers. Nobody in the history of the league has connected on as many deep balls as Allen. There is more there though. He might have a shot at 3,000 threes.
It goes without saying that no one has ever done that, as Allen leads the NBA with 2,770. If he continues to hit nearly two threes per game, he will be over 2,850 total, leaving it to perhaps happen in 2013-14.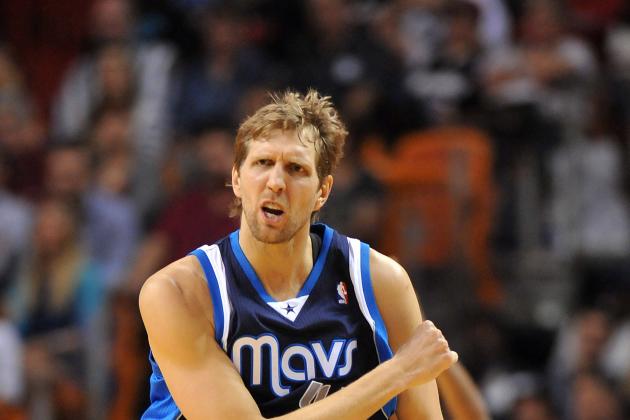 USA TODAY Sports

Climbing All-Time Scoring List
It has been slow going for Dirk Nowitzki as he gets back into the swing of things following an extended injury.
He is averaging just 10 points over six games, but posted 19 against the Heat on Jan. 2. He hasn't averaged less than 21.6 points per game since 1999-00, so we can safely assume he'll be able to get back to 15-20-point production in 2013.
Nowitzki currently sits at No. 19 on the all-time scoring chart with 24,194 points. If he can break 25,000 this season, which would mean scoring 17-18 points per game for the final chunk of the season, then he could potentially hop right into the top 15. Of course, that is also depending on how the other names on this list fare.
He also has a chance to make some history with his three-point shooting. He is just 65 threes away from the No. 25 spot on the all-time list. Averaging just a three a game, as he is doing now, won't get him there this season, but he should continue to slowly ascend that list as he heads into the twilight of his career.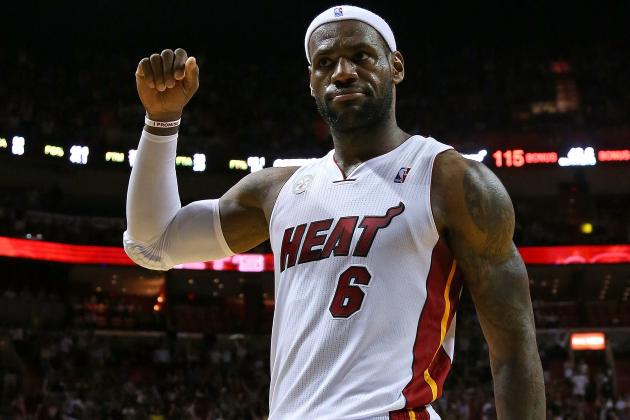 Mike Ehrmann/Getty Images

Become the Youngest Player Ever to Score 20,000 Points
Like most of the players on this list, LeBron James is in a race against time.
However, he is racing a different kind of time. James, who recently celebrated his 28th birthday on Dec. 30, is currently 28 years and five days old.
Kobe Bryant, the youngest player to ever reach 20,000 points, was 29 years and 122 days old at the time. Since James currently sits at 19,389 points, there is a very strong possibility that he will break Bryant's record.
James is averaging 26.5 points per game through 30 games this season. If he keeps up that rate and plays all of Miami's remaining 52 games, he'll finish the 2012-13 season with around 20,767 points. On April 17, the date of the Heat's last regular-season contest, James will be 28 years and 108 days old.
James should break the 20,000-point plateau in roughly 23 more games. That 23rd game is at Philadelphia on Feb. 23. On that date, James will be 28 years and 55 days old, in effect obliterating Bryant's record.
Even more fun (for those outside Ohio); James could break the record when the Heat play the Cleveland Cavaliers on Feb. 24.